ESCOBAR Cash (ECH) - VIRTUAL Cryptocurrency
---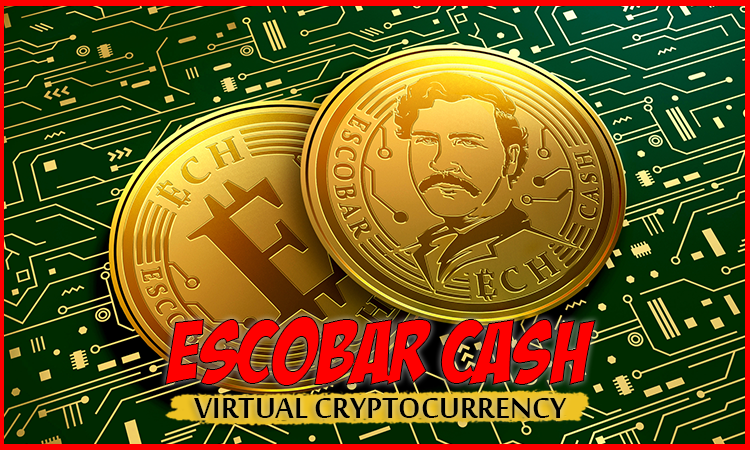 ---
The World´s First Physical Cryptocurrency
Truly Revolutionary PATENTED Technology and NO BULLSHIT!
The Escobar Cash (ECH) is the world's first physical cryptocurrency. They claim to bridge the gap between reality and fiction with their patented technology that allows only them to print actual money embedded with crypto. The blockchain is a fork of the Ripple (XRP) blockchain.
---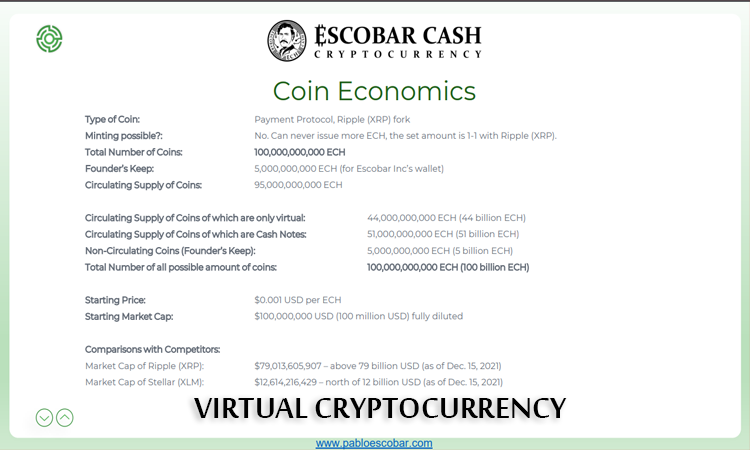 ---
With ECH you can make transactions both inside and outside the blockchain. Outside being as private and anonymous as possible.
Blockchains of today are strategically weak because of the one-dimensional way in which they operate - they rely on energy. Whereas Escobar cash, being the first hybrid cryptocurrency, can operate BOTH in and across different blockchains, and off the blockchain - using the proprietary crypto embedded nodes. Blockchains of today are strategically weak because of the one-dimensional way in which they operate - they rely on energy. In today`s blockchains, whether it´s bitcoin, Ethereum, Cardano or Ripple - you need to have an internet connection to even consider doing anything.
How Escobar Cash Is Different:
Physical Notes
Our patented physical notes will allow you to transact like you would with Fiat Currency.

No Gas Fees
We will be one of the only crypto currencies that will not charge you a single penny on gas fees if you decide to transact via our blockchain.

Limited Notes
There are a very low amount of notes in existence.

Sense Of Ownership
We give you the sense of ownership. You will be able to physically store your ECH in notes.

True Privacy
You decide how to transact. Exchanging ECH notes will be like using fiat bills.

Interoperability
Compatible with any XRP wallet address. Import and export any wallet. More features to follow.
---
Physical Crypto
We hold the patents that allows for a piece of blockchain to be embedded into a bill. We believe this not only to be the logical step for crypto, but a necessary one to get one step closer to mass adoption.
You will have 2 main ways of interacting and transacting with ECH. The first is through physical notes. Where you can physically exchange notes just like you do with your FIAT bills. No need to verify on any 3rd party tool or server. You just hand someone the note. To remove the note from circulation they can Scan it with their app. The amount will then be transferred to the recipient's wallet. The second is by sending ECH digitally over the blockchain, just like any other crypto.
---
The ECH App
We've made the ECH app to be as seamless and easy to use as possible. Soon available in the IOS and Apple store. You´ll never be asked to put ID details or tax details. You will be recommended to put a password, but that's your choice. We will not store said password in our servers. Once you've downloaded the app and it's up and running, you'll be able to send ECH to other recipients holding ECH apps.
Available for IOS and Play Store
We will not ask you for ID or Tax Details.
Plug and play setup.
Download the app and automatically get an ECH wallet. You can also import your ECH wallet.
---
Download The App:
---