How To Write Captivating Posts For Success
---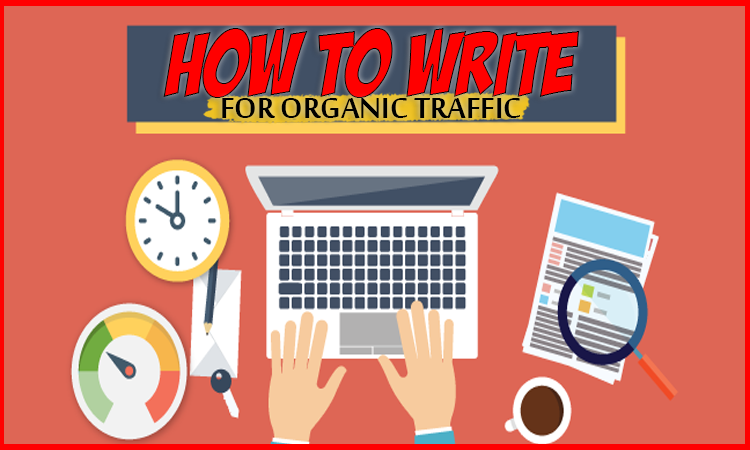 ---
Our Goal Is Traffic And Exposure
Content creators, regardless if you have your own blog, if you are a YouTuber or are creating content on Hive or any of the Hive communities, like LeoFinance, you need traffic and exposure. What you get out of it all comes down to traffic and exposure, so it's the most vital ingredient to be successful.
I truly believe in organic traffic, which is the traffic that comes from search engines like Google, and I am certain of the fact that Hive will reach new heights if we managed to rank more content.
We have dozens of "How To"-posts on Hive that explains in detail how you should optimize your content or how to make your posts "stand out" and attract heavily-invested users that you can get upvotes from. We have anything from "How To Earn Crypto From Blogging In 2022" and "How to make money blogging on Hive" to answers for the million-dollar question "Why can't I get upvotes on Hive?" that covers most the things you'll ever need to know to have a superb start on Hive.
On top of that, we also have tutorials, guides, and shared knowledge about optimization and how to generate organic traffic in posts like: "How To Write SEO Friendly POSTS" and you can even get content ideas from reports like "Top Pages By Traffic - MASSIVE LeoFinance.io Report".
While many- or even most of them are very informational and have been produced to help users create high-quality content, I will talk about something different in this post, that still leads to great results in more ways than one. I will show you what I do, and what you can do to produce content that is bound to yield great success.
---
The Majority Of The Content Is Poor
I would say that the majority of the content that is being published on Hive is rather poor, in terms of optimization and ranking potential, while we have a great deal of really amazing content. I say that because most people aren't producing content to attract outsiders. They are focused on creating inward-facing content.
This might be because most content creators are not in fact writers or actual content creators in the first place. Most people have become content creators/bloggers because Hive has given them an amazing opportunity to make money from content. This is most likely also what the initial idea was when Hive came to life. You wanted to give social media users a platform to earn money from while doing the same thing as they had done for decades elsewhere. You get paid for creating content on Hive, but that doesn't mean that you are going to get paid the most if you have the best content. It is often more about personality and what type of following you have. That's what makes you truly successful on Hive. It often seems to be about who you know and not specifically what you do, but that is fine. You will get to that point sooner or later on your journey. Especially if you learn the tricks and implement techniques and methods that other creators have shared.
With all that being said, Hive is- and has become far more than just a "blogging platform", but even though the existing users are well-aware of the outstanding opportunity they have with Hive, we still lack exposure. The same process of putting your name out there in front of others when you are new on Hive, trying to make your first few bucks, the same applies to the entire ecosystem as well.
Regardless of how great Hive is, how many cool dApps, games, or communities we have, traffic is what eventually decides if we live or die. You might not control what witnesses will decide to change in the future, even though you have something to say about it due to the stake you have. You can have an impact and change the course of Hive with optimized content and traffic though, so it's literally up to you, the content creators to pull in the traffic we are longing for.
---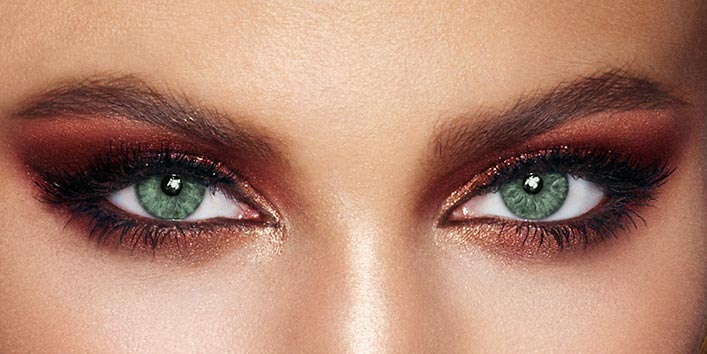 ---
How To Write Captivating Posts
Keyword Research.
Grammarly.
Optimization.
Cover/Image creation.
Tags & Twitter.
---
Keyword Research
Keyword research is essential to figure out good keywords to work with whenever you're thinking of creating new content, but it's not as vital for "the average blogger" on Hive as it would be if you had your own blog, working with affiliate programs and for CPC. It is very important in terms of growth though, as ranking keywords is what it takes to drive traffic.
I use UberSuggest for most traffic overviews and keyword research. Ahrefs and SEMRush are other alternatives I have used in the past. Many of the keyword research tools out there often come with a limited trial period.
If we look at "Keywords By Traffic", we will see these details:
KEYWORDS - VOLUME - POSITION - EST.VISITS - SEO DIFFICULTY
Keywords speak for themselves. Volume or search volume is the number of searches the keyword has during a month. Estimated Monthly Visits from Google for the particular term. SEO Difficulty is the estimated competition in organic search.

While looking at the "Keywords By Traffic", we can see that "coinpayu" has a search volume of 4400 per month. The content we have ranked sits at position 26 with 0 estimated visits and there's a high competition of 77.
This is the reason for the CoinPayU Vs. LeoFinance - Not Even A Fair Comparison post I published just a few days ago. I am throwing things around to see what sticks. When I have analyzed the results I will have all the details I need to improve things for higher rankings in the future.
However, going for high competition keywords is not the best idea. We're likely to benefit a lot more if we focused on "low hanging fruit". That is low search volume and low competition.
Keywords starting with "How To, Best, Where, and What" is often superb to aim for. For instance, if we look at my most recent "Best Way To Earn Interest On Crypto", which I am likely to point at multiple times in this post, I was looking to take advantage of the amazing news of the changed HBD interest rate.
We have seen multiple posts about the HBD interest rate. Most of them are purely informational and discuss how good it is, how much you can earn and why it's such a great change. Few of them are optimized and won't attract outside traffic, which is where the real gold lies with something like this.
---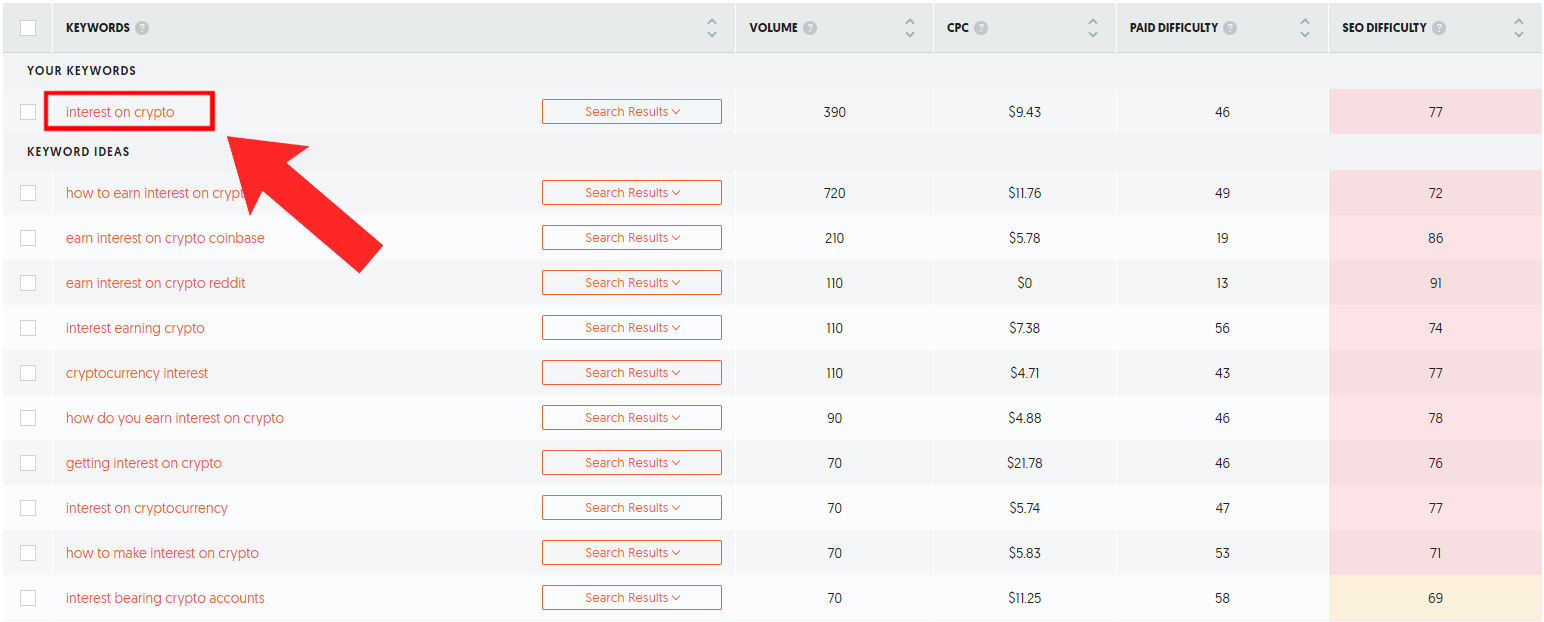 ---
I simply used UberSuggest and typed in "interest on crypto". It shows all the ranked pages for that keyword and it provides keyword ideas for you to use. All of them are highly competitive and many of the pages were published a long time ago, which makes it very difficult to outrank if I publish a new article.
The keyword ideas give you a lot of information though, as search volume for variations of the keyword you are eager to rank. Knowing that keywords starting with "How To, Best, Where, and What" is usually a solid approach, I tried various variations and finally decided to go with:
Best Way To Earn Interest On Crypto
The search volume dropped from 720, 390, 210, etc, but I found a keyword with a search volume of 140 and the SEO difficulty is down from 70+ to a measly 17. In theory, that means a lot fewer searches for the keywords, but it's far easier to rank, which ultimately could lead to my article drawing the majority of the traffic from those 140 monthly searches.
While that is awesome in itself, it is far from everything. I have also used other variations of the keyword within my article. A variation like: "Best Interest Rate On Crypto" for instance, also has a low SEO difficulty and still a search volume of 50 per month.
This makes it possible for my article to rank for multiple keywords, which in turn leads to more traffic over time, due to the search volume from all of the different variations I have ranked.
Less is often more when it comes to optimization.
---
Grammarly
Grammarly is a cloud-based typing assistant that reviews spelling, grammar, punctuation, clarity, engagement, and delivery mistakes. It uses artificial intelligence to identify and search for an appropriate replacement for the error it locates and it is an awesome tool for any content creator.
I don't use this for all of my publications, but I always use this whenever I am creating content to generate organic traffic. It's a perfect tool for creators that are not writing in their native tongue, but I recommend everyone to use this tool, regardless of how good you are at writing and spelling.
To give you a good explanation of how to use it, I used the text above and, here is the result:

Grammarly looks for writing issues and provides me suggestions. This is how the above text looks after I have used Grammarly: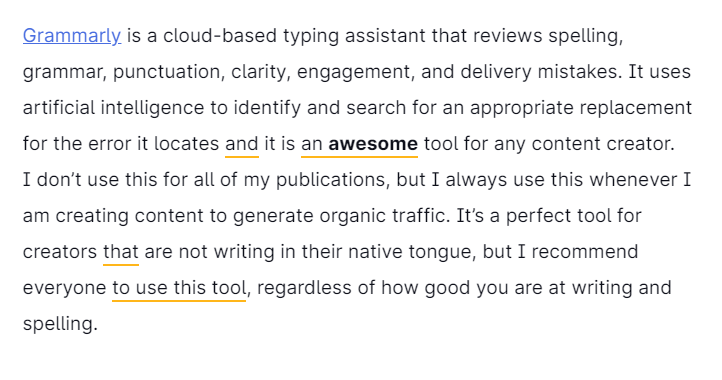 You might think that it's only minor changes to the text, and you are right. It went from a score of 86 to 96 after the changes though, and you should always look for the highest score possible when you are writing optimized content. I recommend keeping the Grammarly score at a minimum of 70, but others claim 60 or higher to be good enough.
This is what Grammarly has to say about the score:
"What is Performance and how is it calculated?
The performance score is an indicator of how accurate your document is compared to documents written by other Grammarly users who set the same goals you did."
"To calculate the performance score, Grammarly calculates the accuracy level of your document based on the total word count, and the number and types of writing issues detected. Then, Grammarly compares the accuracy level of your document to the accuracy levels of all other documents where users set the same goals. A score of 90, for example, means that the writing in your document is more accurate than the writing in 90 percent of other documents with similar goals."
---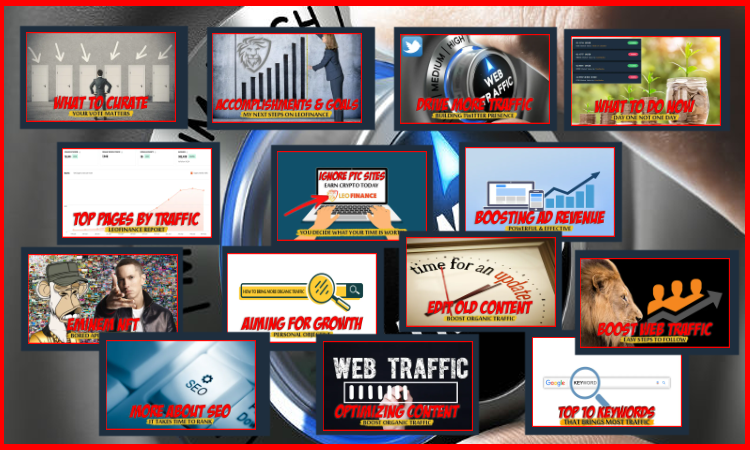 ---
Cover/Image creation
While this can be seen as extremely basic for some, there are still a lot of users who don't use covers in their creations. Even though people are saying that it doesn't matter in terms of rankings if you name the images to your keywords or not, I am personally still doing this whenever I create optimized content. I either go for the full keyword or a variation of it.
If we once again go back to my previous article: "Best Way To Earn Interest On Crypto" you can see that the image name is:
Best-way-to-earn-interest-on-crypto.png
Not having an image is a bad move. You need more than a catchy title to attract eyeballs to your content and that is why I create my own, for each article I publish. This is also my "brand" and how people will remember me. My images are not the best in the world, but it sure beats whatever random Google image some people just blatantly copy and use inside of their content.
---
Tags & Twitter
I previously have talked about Twitter and how important it is to utilize it to BOOST Traffic And SEO Rankings, and it is important regardless of the number of followers you have. I have just over 100 followers at the time of writing this and I had great results on my Tweet.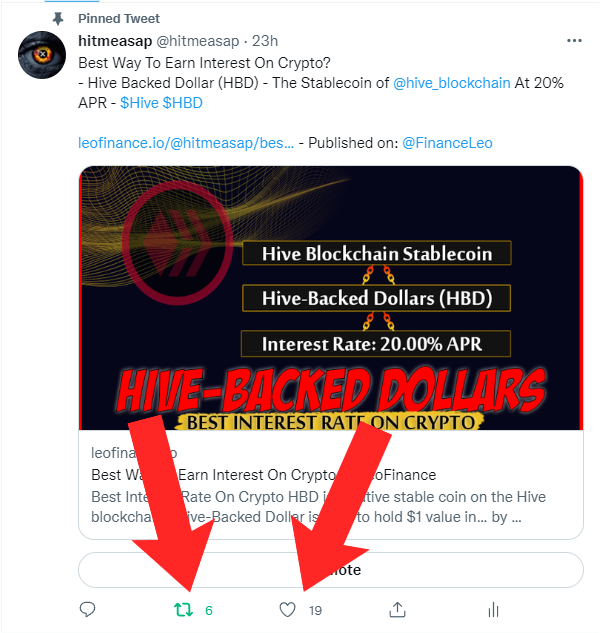 Tweet
In case you're wondering, I retweet some of my tweets after 24-48 hours for more exposure.
---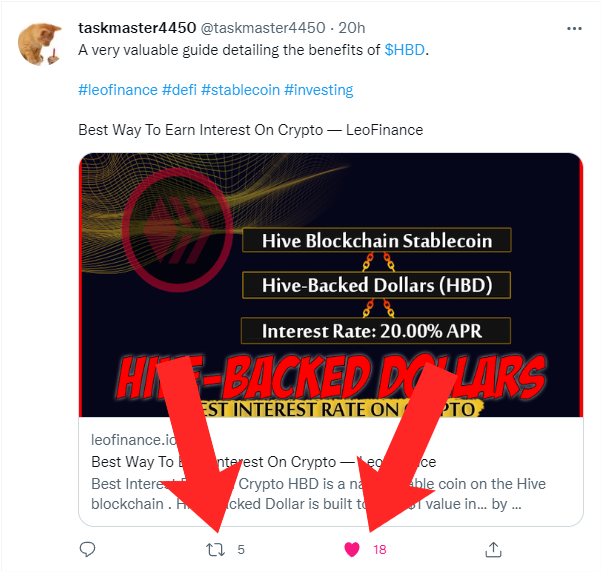 Tweet
Taskmaster4450 picked it up as well. Instead of retweeting my tweet, he made his own and got a bunch of likes & retweets.
---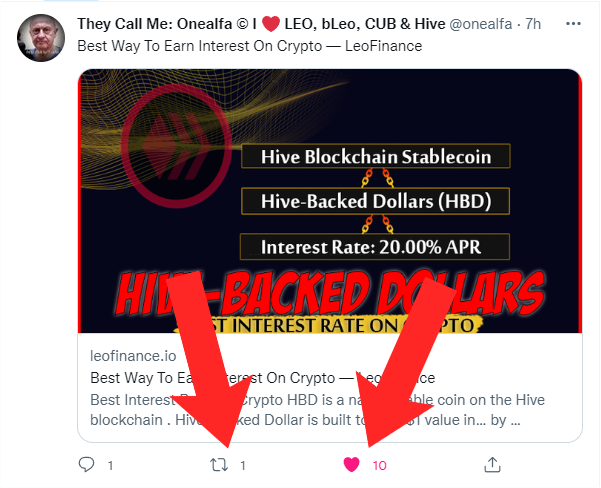 Tweet
onealfa did the same thing. Made his tweet and it turned out great.
---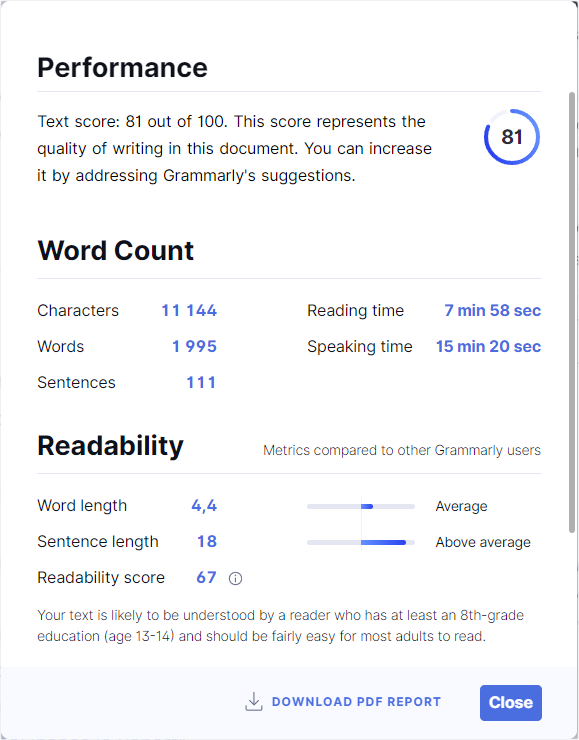 Now You Know.
Posted Using LeoFinance Beta
---