The Fear Of The RED Is The Golden Opportunity
---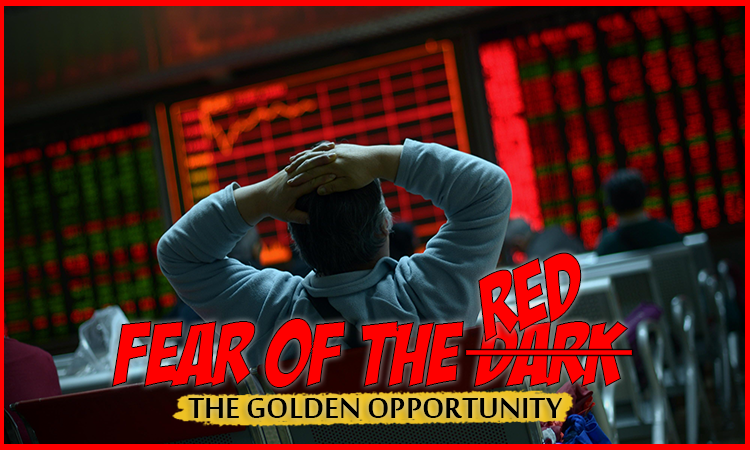 ---
Afraid Of The Dark Red?
Bitcoin is down 8,89% in the last 24 hours and to see our own beloving tokens fall from the skies without a parachute or something like a safetynet is obviously very horrifying. Life savings, dreams of becoming the next crypto-millionaire or pension funds are being shattered with the decline in price.
It is safe to say that people are worried and they should be, because most people doesn't appreciate to lose money. Everyone wants to win, but not everyone will. That would never work in crypto. If you are going to be rich on crypto, someone else has to pay. It's the sad reality.
Someone has to buy when you sell, at whatever price you feel comfortable selling at. Are you looking for 2x or 200x? Perhaps 2000x? - Someone has to pay, and you are fine with that as long as you are not on the end of the stick that pays. - Right?
Look at the mother of all crypto, BTC. Down ~10% in 24 hours. I've already seen people talking about losing $100K, $300K. People have lost their entire life savings according to what some of them claim. I don't know if that is true or not, but I do know that they are telling the truth to some extent at least.
At what point are you willing to let go of your hopes just to save some of your money?
---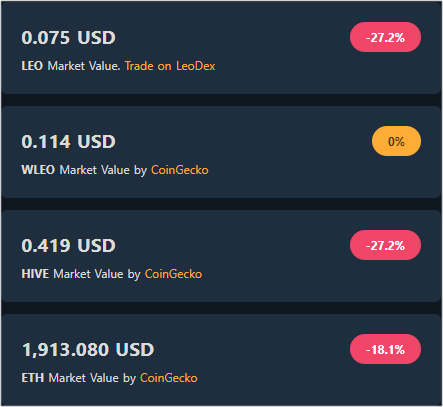 ---
The only crypto I buy frequently is Bitcoin. I have tried a wide variety of things when it comes to Bitcoin. I have tried to buy low and sell high, buy several times per month and I have tried to buy more whenever the price has declined a bit. None of those things worked for me personally, because I don't want to become obsessed.
I buy BTC once per month, for the same amount each month, regardless of the price. It's a long-time investment, that hopefully will pay off in (a few?) years from now. I don't care about the price when I buy, because I have decided to do this long-term investing for X-amount of time. In my specific case I'll continue to do this until 2025 before taking a closer look at my holdings and decide which direction I'll go from there.
I don't buy any significant amounts per month and I don't have a dozen of BTC, but I am buying once per month for an amount of money that I can totally afford to lose.
Other than Bitcoin, I focus on LEO, Hive and HBD. In that order as well, because I've bought LEO for each and any of my HBD rewards for a couple of weeks in an attempt of reaching my first LEO milestone of 5000 LEO.
I reached that goal some hours ago.
---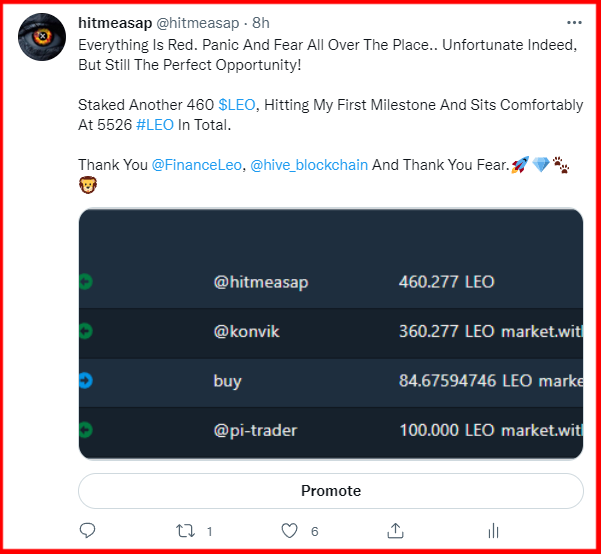 Tweet
---
5526 LEO, pending payouts of roughly 300 LEO where 50% of it goes straight towards my stake and the other half goes to curators. I'll be up to ~5700. With the pending payouts in HBD, if I continue to buy LEO for my HBD rewards, I am likely to pass 6000 LEO within just a few days. (20% more than my initial milestone!)
I don't know for sure due to not having full voting power, but my vote on LEO should be worth ~0.5 LEO. Let's say it's worth 0.5 exactly to make things easier. As you can basically vote 10 times per day at 100% voting power, and recover your VP to the next day, that makes my votes worth 5 LEO in total.
50% of that goes to my own growth and the other half goes to the authors. I am not talking millions or life changing money by any means, but at the end of the day, I grow my account by 2.5 LEO just for voting on content. That's 912.5 LEO per year.
Imagine LEO being worth $1.
How does an extra $912 per year sound like, when the only thing you have to do is to upvote some posts here and there? - I bet you'd be more than satisfied with that.
However, due to the continued growth over time, my vote becomes more powerful as well. Meaning more LEO in my own- and your pockets for each vote.
Don't look at the $ symbol though. Try to look at tokens as tokens instead of money. Especially during these harsh market times. By doing that, you are more likely to hold and continue to invest or contribute. You are likely to remain active while others are running away.
That's the golden opportunity you've been waiting for.
---
This Is YOUR Chance
Hive never sleeps. Heavily invested whales and a lot of other users on Hive is looking for content to curate, regardless of the price. Curation doesn't stop because the market is red. Curation continues, but with a minor twist. And that gives you an advantage.
Activity goes hand in hand with the price on Hive.
People are slowing down during declines because it doesn't feel "worth it" anymore. Honestly, if you could spend one hour on a post and earn $50 or $5, you would always chose $50. It's the only logical thing to do, but instead of going for the $5, people stop producing content and awaits for the green numbers to show up before continuing again. That's the danger of looking at $ instead of tokens.
If you continue to be active and remain consistent in producing content or engaging, it is very likely that you will be seen by others who previously have not been aware of your existence. There's a lot of competition on Hive in general, due to all the people creating content. It can be difficult to get recognition.
How about taking advantage of the space people give you when they decide to become inactive? Imagine the people (curators) relying on user-x to produce content so they can receive curation rewards. When user-x decides to stop producing content, the curators are missing out on curation rewards from that author. They need to recover those curation rewards in some other ways.
That's your chance to shine!
Posted Using LeoFinance Beta
---