Sesión AMA Hive | CoinEX - 250 HIVE en Premios [ESP-ENG]
---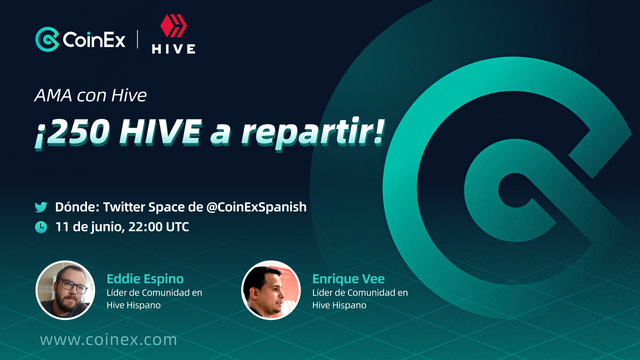 Hola comunidad.
Estamos felices de anunciar que este sábado 11 de junio a las 22:00 UTC, se realizará un AMA en vivo junto al proyecto CoinEX, con la finalidad de hablar de las últimas actualizaciones de la blockchain Hive y del desarrollo de las comunidades que son parte del ecosistema.
¿Qué es CoinEX?
Es un intercambio global de criptomonedas y su visión es hacer más fácil el trading de criptomonedas Sitio Web Oficial.
¿Qué es un "AMA"?
"Ask Me Anything" ("Pregúntame lo que sea" en Español). Es una temática o espacio, para hacer o responder preguntas referente a un tema en específico.
La comunidad de Hive en los últimos seis meses ha estado haciendo actividades que han generado un impacto dentro del mundo de las criptomonedas y blockchain, así que estaremos hablando sobre como ha estado aportado Hive al ecosistema de Web3 esta AMA en vivo.
Esta AMA se realizará en la red social Twitter desde la cuenta del proyecto CoinEX y puedes fijar un recordatorio para que Twitter te avise cuando inicie el AMA:
https://twitter.com/CoinExSpanish/status/1533849633780387841
¿Quiénes estarán representando a la comunidad hispana dentro de Hive?
Eddie Espino (@eddiespino) y Enrique Vee (@enrique89), que tiene gran trayectoria dentro de Hive y son líderes de importantes proyectos dentro del ecosistema, además tienen el conocimiento técnico básico sobre la blockchain para poder aclarar muchas de las dudas de los presentes en el AMA.
Cómo participar:
Llena este formulario con tu pregunta y demás datos solicitados: Rellenar formulario. Si tu pregunta queda entre las diez seleccionadas de la segunda fase, ganarás 25 $HIVE.

Debes estár conectado al Twitter Space este sábado 11 de junio, desde las 22:00 UTC.

Debes seguir a @CoinExSpanish en Twitter Seguir y registrarte en CoinEx aquí: coinex.com/register para poder obtener recompensas.
Recuerda
Fecha: Sábado 11 de Junio.
Hora: 6:00 PM - Venezuela / 5:00 PM - Ciudad de México.
---

Por @doze
---
English version
Hello community.
We are happy to announce that this Saturday, June 11, at 22:00 UTC, a live Spanish AMA will be held together with the CoinEX project to talk about the latest updates of the Hive blockchain and the development of the development the communities that are part of the ecosystem.
What is CoinEX?
It is a global cryptocurrency exchange whose vision is to make cryptocurrency trading easier Official Website.
What is an "AMA"?
"Ask Me Anything". It is a space to ask or answer questions about a specific topic.
In the last six months, the Hive community has been doing activities that have generated an impact within the cryptocurrency and blockchain world, so we will be talking about how Hive has been contributing to the Web3 ecosystem this AMA live.
This AMA will take place on the Twitter social network from the CoinEX project account, and you can set a reminder for Twitter to alert you when the AMA starts:
https://twitter.com/CoinExSpanish/status/1533838158030422021
Who will be representing the Hispanic community within Hive?
Eddie Espino (@eddiespino) and Enrique Vee (@enrique89), who have a great trajectory within Hive and are leaders of important projects within the ecosystem, they also have the basic technical knowledge about blockchain to be able to clarify many of the doubts of those present at the AMA.
How to participate:
Fill out this form with your question and other requested data: Fill out form. If your question is among the ten selected in the second phase, you will win 25 $HIVE.

You must be connected to the Twitter Space this Saturday, June 11, from 22:00 UTC.

You must follow @CoinExSpanish on Twitter Follow and register with CoinEx here: coinex.com/register to be eligible for rewards.
Remember.
Date: Saturday, June 11.
Time: 6:00 PM - Venezuelan / 5:00 PM - Mexico City.
---