Saving for retirement with stock funds - Fidelity Funds - Global Technology Fund, WGTFA
---
A few weeks back I made a post about investing in stock funds as part of a retirement plan. That post got some interest, so I thought I'd do another installment and look at one of the other funds I invest in.
Disclaimer: This is just what I do and I am NOT an expert. Do your own research, etc.
I'm based in the UK, and use a company called Fidelity International for my stocks and shares investments:
Their website is easy and well set up,
Their fees are pretty good,
You can choose from lots of funds from a number of different providers and across different markets and countries,
You can link multiple accounts,
They offer specialist UK accounts which are tax efficient , eg, ISAs, SIPPs, etc,
You can invest in fairly small amounts (eg, £100 at a time).
The fund that is the focus of this post is:
Fidelity Funds - Global Technology Fund W-Acc-GBP (WGTFA)
The fund blurb on the Fidelity Website is:
"The fund aims to provide investors with long-term capital growth, principally through investment in the equity securities of companies throughout the world that have, or will, develop products, processes or services that will provide, or will benefit significantly from, technological advances and improvements. As this fund may invest globally, it may be exposed to countries considered to be emerging markets. A minimum of 50% of the fund's net assets will be invested in securities deemed to maintain sustainable characteristics...."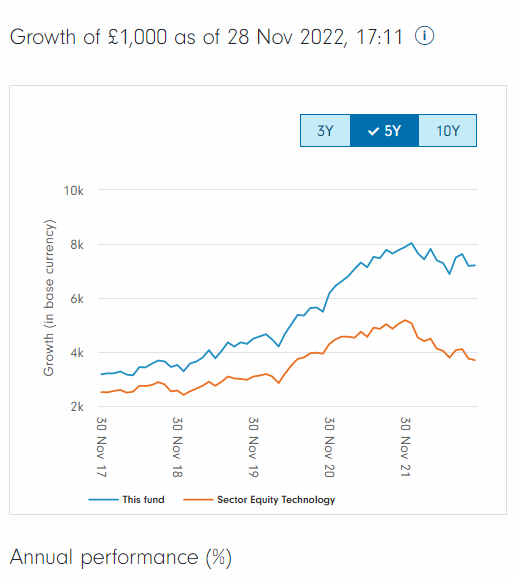 [Credit: 5 year Performance chart taken from the Fidelity website on 28/11/22 @17:49 UTC]
I'm a long term investor (5 years plus), and the graph above shows why I'm interesting in this fund. It has more than doubled in 5 years, has outperformed the sector, and although has taken a tumble (as most funds have) due to recent issues in the world, it hasnt taken the same hit that the sector has.
Some key stats:
Its ongoing management fee is quite high at 1.03% (higher than I'd like to pay !),
It does not payout dividends, but instead sells any dividends it receives for the shares in the fund, to invest back into the fund price,
The portfolio in the fund consists of 102 stock (this is what I like about funds - spreading of risk)
65% of the portfolio is US based, 10% is EU and ~5% is UK (which are key investment locations for me),
The portfolio includes a lot of big tech companies (again a key focus for me), including Apple, Microsoft, Amazon, Salesforce, SAP, etc,
The fund is growth focused (again a key point for me).
I have between 5-6% of my portfolio invested into this fund. I dont think its the strongest performer of those I hold, but I think it will do fairly well over my investment timescale, and so far it hasnt fared to bad during the recent downturn considering the hammering that markets have had. Yes, I could put my cash into a stronger performing fund, but again, I like to spread my risk by investing across a number of funds from different providers, in different markets, sectors and countries. I'm pretty happy with how things have gone with this fund, and I dont intend to switch away from it at any point soon.
I think its a good time to buy more (generally, not just this fund), and I would if I had some spare cash !!!
Anyway, I hope this was of interest, and I'd be happy to do more similar posts about other funds I use in the future.
All the best @hoosie !!!
Posted Using LeoFinance Beta
---