One of the advantages was a disadvantage - Una ventaja resultó ser una desventaja
---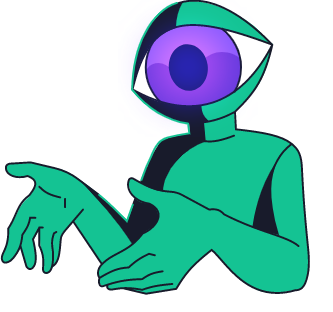 When it came to moving Ethereum from a network running on a proof-of-work protocol to a proof-of-stake protocol, many advantages and of course some disadvantages were suggested.
I published a couple of notes where I mentioned that most of the supposed advantages were to be proven from the moment the merger became a reality.
Concentration
Unfortunately, at least one of my doubts has already been verified and the much-needed decentralization of the blockchain is in danger. According to data provided by Santiment just a few hours after the merger event, they showed that at least more than 46% of the Ethereum consensus nodes are controlled by only two addresses and one of them owns about 30% while the other 16%.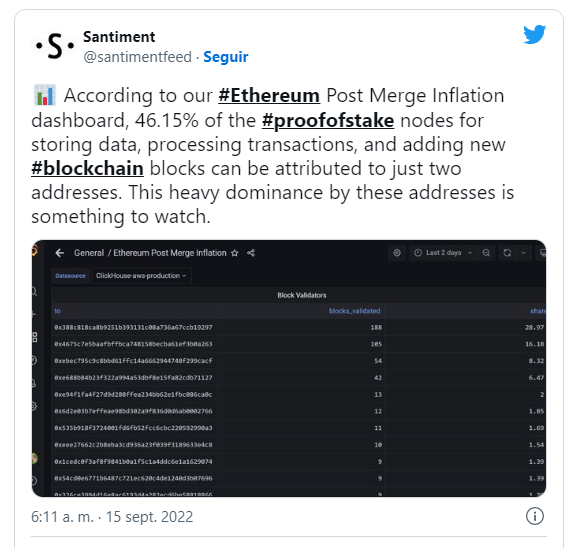 Another report shows that most of the active Ethereum nodes are in the hands of centralized web service providers. Sad and painful reality.
Before and now
I honestly don't know how many mining companies existed before the merger, but I do know that many mined some Ethereum from their own homes, with small equipment that cost just a few thousand dollars, and that ended, not only because of the change to PoS but because the investment to achieve the minimum 32 ETH required to participate in the cake leaves out the vast majority of these small miners. The centralized governance of the second strongest currency in the crypto world whose projects in operation plus those of research and development of DeFi technology, DAO, and others to come are the majority in the ecosystem and are now reeling under the weight of powerful people who will be able to decide that yes and that cannot be done on "their" blockchain.
It sounds horrible. And much more for those of us who have been in Hive for a long time and remember with displeasure the experience of Steem and the acquisition by someone I prefer not to name.
Other advantages to be tested
Other supposed advantages are yet to be proven, I don't want to go into details because many of us have talked about them, I just hope that in some cases the coin falls on the right side.
look the other way
Meanwhile, the creators of Ethereum do not give too much importance to the concentration of power, although this in the future could affect the various principles and postulates of the creation of Ethereum; they are only focused on greater speed and scalability while raising the reduction in energy consumption as the main triumphant flag.
Although it seems that Vitalik and his group are looking the other way, let's say that ecology is fine, something is, no matter what it takes.
This looking the other way reminds me of something that is happening right now in my region, while we have annual inflation whose figures are dangerously close to three digits and the minimum retirement is not enough to cover the basic food basket, the officials of the government get together with the company that produces the World Cup figurines because there are distribution problems and that is if it has to be fixed no matter what.

Cuando se habló del traspaso de Ethereum de una red que funcionaba con un protocolo de prueba de trabajo a otro de prueba de participación, se sugirieron muchas ventajas y por supuesto algunas desventajas.
Yo mismo publiqué un par de notas donde mencionaba que la mayoría de las supuestas ventajas estaban por probarse a partir del momento en que la fusión fuera realidad.
Concentración
Lamentablemente al menos una de mis dudas ya se ha comprobado y la tan requerida descentralización de la blockchain está en peligro. Según datos aportados por Santiment apenas transcurridas pocas horas del evento de fusión, demostraron que al menos más del 46% de los nodos de consenso de Ethereum están controlados por tan solo dos direcciones y una de ellas posee cerca del 30% mientras que la otra el 16%. Otro informe demuestra que la mayoría de los nodos activos de Ethereum se encuentran en manos de proveedores de servicios Web centralizados. Triste y dolorosa realidad.
Antes y ahora
Sinceramente no se cuantas empresas de minería existían antes de la fusión, pero si se que muchos minaban algo de Ethereum desde sus propias casas, con pequeños equipos cuyo costo era de apenas algunos pocos miles de dólares, eso terminó, no solo por el cambio a PoS sino porque la inversión para para lograr los 32 ETH mínimos requeridos para participar de la torta, deja afuera a la gran mayoría de esos pequeños mineros. La gobernanza centralizada de la segunda moneda más fuerte del mundo cripto cuyos proyectos en funcionamiento más los de investigación y desarrollo de tecnología DeFi, DAO y otras por venir son mayoritarias en el ecosistema y ahora tambalean bajo el peso de poderosos que podrán decidir que si y que no se podrá hacer en "su" blockchain.
Suena horrible, verdaderamente. Y mucho más para los que estamos en Hive desde hace tiempo y recordamos con desagrado la experiencia de Steem y la adquisición por parte de alguien a quien prefiero no nombrar.
Otras ventajas por probarse
Hay otras supuestas ventajas que aun están por probarse, no deseo entrar en detalles porque muchos hemos hablado de ellas, solo espero que en algunas la moneda caiga del lado correcto.
Mirar para otro lado
Mientras tanto los creadores de Ethereum no dan demasiada importancia a la concentración de poder, aunque esto en el futuro podría afectar los varios de los principios y postulados de la creación de Ethereum; solo están enfocados en la mayor rapidez y escalabilidad mientras levantan como principal bandera de triunfo la reducción en el consumo de energía.
Aunque pareciera que Vitalik y su grupo están mirando para otro lado, digamos que eso de la ecología está bien, algo es, aunque cueste lo que cueste.
Esto de mirar para otro lado me recuerda algo que está pasando en estos momentos en mi comarca, mientras tenemos una inflación anual cuyos guarismos se acercan peligrosamente a los tres dígitos y la jubilación mínima no alcanza para cubrir la canasta básica de alimentos, los funcionarios del gobierno se juntan con la empresa que produce las figuritas del mundial porque hay problemas de distribución y eso si hay que arreglarlo como sea.
---
Las fotografías son de mi propiedad excepto las que menciono la fuente.
The photographs are my property except those mentioned by the source.
Héctor Gugliermo
@hosgug
Posted Using LeoFinance Beta
---