IceBreak Token (BRK) Whitepaper
---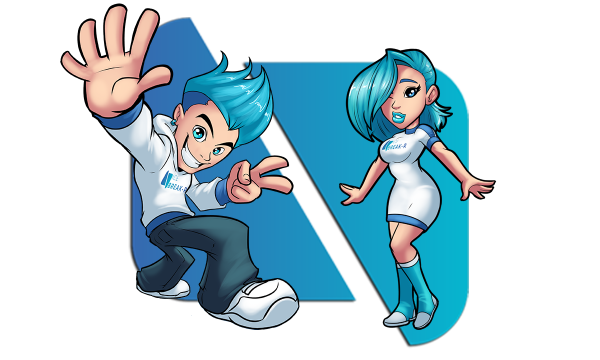 ICEBRK.IO is finally here to "Break The Ice On DeFi" with Hive blockchain!
A brand new platform with a new kind of tokenomics. IceBreak, or BRK token, will be the native incentive & reward token of the ICEBRK.IO network, a DeFi & Web3 community.
Users can earn BRK token through Proof of Brain (PoB), Proof of Stake (PoS) or through liquidity bonding IceBlock tokens (ICEBLK). IceBreak will implement a (3,3) game theory to its sustainable tokenomic design in order to generate Protocol Owned DEX Liquidity (PODL), which creates continuous liquidity growth through perpetual buy pressure and volumes. ICEBRKDAO Treasury funds will go towards DeFi yield farming to generate a continual revenue stream which the project will utilize to buyback & burn the token plus seed invest.
Our community focus will be specifically Web3, Decentralized Finance, blockchain gaming, NFTs and any sort of crypto related dapps. Our mission is to bridge the gap between the Web2.0 and Web3.0 worlds online and embrace the future of crypto and blockchain technologies.
IceBreak token and the ICEBRK.IO platform will be governed by the existing ICEBRK governance token (IceBreak-R.com). The governance committee will have the exclusive right and responsibility to create governance proposals which will influence all major project decisions. These can be anything from the buyback and burn rates, ICEBLK ROI rates, "melt" times, treasury allocations on which DeFi pools to invest into and so on.
How exactly does this work?
BRK is the incentive & reward token for the ICEBRK.IO platform

BRK token will be sold through the AMM DEX on Tribaldex diesel pools (Hive-Engine) for SWAP.HIVE

ICEBLK is the liquidity bond token

ICEBLK token will only be sold through LIMIT ORDERS on the regular Tribaldex exchange trading pairs for SWAP.HIVE

1 ICEBLK token will always have a set value, ie 100 SWAP.HIVE worth of BRK tokens

The market price of BRK will fluctuate but ICEBLK token will always offer an immediate ROI rate against market price, calculated at the time of purchase

Each ICEBLK takes 72 hours to "melt" once it goes into your wallet from the market, after that period they may be redeemed for their representative BRK token value

50% of the ICEBLK funds go towards buying back and pairing SWAP.HIVE:BRK, the other 50% go to the DeFi yield farming pools

BRK token will be bought back and burned using DeFi revenues

DeFi pools will also compound interest and grow over time, building the treasury for further seed investments
For example- Bob buys 1 ICEBLK from Tribaldex and spends 90 SWAP.HIVE. 72 hours later his ICEBLK has melted and he can redeem it by sending it to @ICEBRK. In return he is sent 100 SWAP.HIVE worth of liquid BRK token (calculated at the time that he bought his ICEBLK). Bob can now stake his BRK tokens for PoB & PoS rewards, paid out in more BRK, or he can simply sell them at the market rate into the AMM SwapDEX.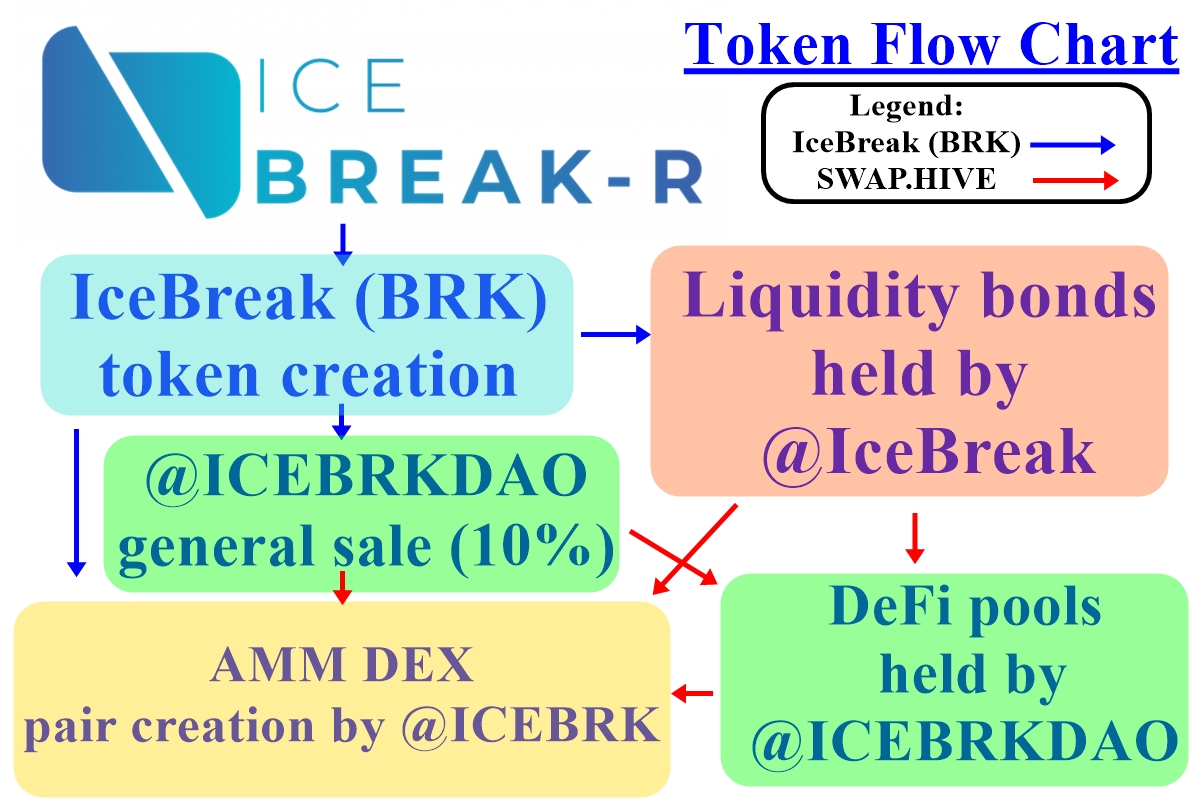 Tokenomics and supply distribution:
Supply- 1 billion max token supply (lifetime), 100 million total (minted) at launch
The initial 100 million supply is intended to last for approximately 10 years, until a new rewards pool needs to be setup or liquidity bond supply runs out. No more tokens will be minted without the explicit consent of the ICEBRKDAO and the community governance.
Staking- 30 day powerdown with 30 daily payments. Delegation will be enabled for stakers to delegate their BRK Power.
Rewards pool- 2% of token supply (2 million BRK) per year will be distributed through Proof of Brain and Proof of Stake, for the first 10 years or until the rewards pool is adjusted if deemed necessary in the future. A total of 20% of the initial supply has been dedicated specifically for these community rewards.
Initial distribution- 1% of supply is for private sale and 10% for general sale on Hive-Engine (any unsold tokens return to liquidity bond reserve fund). 1-3% of the BRK supply will used to create the dieselpool AMM DEX pairs, depending on liquidity conditions being met.
Listing rate- General sale = 0.02 SWAP.HIVE per BRK token. Once the general sale has concluded, or sufficient liquidity has been gathered, we will create the AMM DEX pair at the same rate and begin offering ICEBLK tokens.
Allocations:
50% IceBlock (ICEBLK) liquidity bond reserve, held and distributed by @IceBreak
20% Proof of Brain & Proof of Stake rewards pools (10 year distribution)
10% Hive-Engine general sale by @ICEBRKDAO
8% Project development and team payment (montly payments vested over 5 years), held by @IceBreak-R
5% ICEBRKDAO Treasury reserve (1 year lockup minimum), held by @ICEBRKDAO
3% Hive-Engine AMM pair creation & liquidity fund, held by @ICEBRK
2% Marketing, promotions and airdrops/claimdrops, held by @IceBreak-R
1% Private sale allocation (vested 10 months), held by @IceBreak-R
1% Curation & delegation account allocation, held by @IceBreak-R
Project wallets & purpose:
@IceBreak-R - Vested team tokens & development funding, marketing/promo/airdrop, curation & delegation funds, vested private sale tokens. This is the main project account which will do the majority of the announcements and delegations.
@IceBreak - Liquidity bond reserve funds, IceBlock (ICEBLK) liquidity bond tokens. This account's sole purpose will be to control the liquidity bonding and calculating token payments to ICEBLK holders. Incoming payments will be split from this wallet into @ICEBRK and @ICEBRKDAO wallets accordingly.
@ICEBRK - Diesel pool liquidity (SWAP.HIVE:BRK), AMM pair creation and liquidity fund. This account will hold and grow the entire Tribaldex liquidity pool. 50% of all ICEBLK sales will go directly into this wallet for buyback and pairing of the LP. This wallet will also hold the reserve LP fund (3%) which will be layered into the SWAP.HIVE:BRK pool using DeFi pool profits, and the remaining amount is to be used for the creation of future pairs.
@ICEBRKDAO - DeFi yield farming funds, ICEBRKDAO Treasury reserve funding, general sale funds (any remaining unsold tokens will be combined with @IceBreak liquidity bond reserves). This wallet is specifically to hold the DeFi yield farming assets which will generate a constant revenue stream for buyback & burning, funding LP acquisition and building the overall ICEBRKDAO Treasury balance.
2022 Roadmap:
Q1 Hive-Engine general sale (March)
Q1 ICEBRK.IO full outpost launch, staking rewards pool and delegation activated
Q1 Onboarding incentives and referral programs
Q1 Project integration from IceBreak-R, governance controls and reiteration of rules
Q1 Partnership expansion and outreach
Q1 Seed investment round 1
~
Q2 Quarterly buyback and burn event
Q2 SWAP.ICEBRK token creation to allow governance tokens to bridge to Hive-Engine
Q2 Grow the curation account and diversify holdings to build cross communities
Q2 Seed investment round 2
~
Q3 SWAP.ICEBRK:BRK token dieselpool creation
Q3 Quarterly buyback and burn event
Q3 Seed investment round 3
~
Q4 Full IceBreak-R.com dapp integration with our ICEBRK.IO dapp
Q4 Quarterly buyback and burn event
Q4 Seed investment round 4
Team:
@hotsauceislethal COO and Head of Product Development
@crypt0305 CEO and Lead Developer of IceBreak-R
This post is brought to you by IceBreak-R - Break The Ice On DeFi and join the BSC community!

DISCLAIMER: This IceBreak Token White Paper v1 is for information purposes only. IceBreak (BRK) token is not a security, it is intended to be purely a utility token for the ICEBRK.IO network. There is no guarantee of returns, never expect profit from the work of others. IceBreak-R does not guarantee the accuracy of or the conclusions reached in this white paper, and this white paper is provided "as is". IceBreak-R does not make and expressly disclaims all representations and warranties, express, implied, statutory or otherwise, whatsoever, including, but not limited to: (i) warranties of merchantability, fitness for a particular purpose, suitability, usage, title or non-infringement; (ii) that the contents of this white paper are free from error; and (iii) that such contents will not infringe third-party rights. IceBreak, IceBreak-R.com and its affiliates shall have no liability for damages of any kind arising out of the use, reference to, or reliance on this white paper or any of the content contained herein, even if advised of the possibility of such damages. In no event will IceBreak, IceBreak-R.com or its affiliates be liable to any person or entity for any damages, losses, liabilities, costs or expenses of any kind, whether direct or indirect, consequential, compensatory, incidental, actual, exemplary, punitive or special for the use of, reference to, or reliance on this white paper or any of the content contained herein, including, without limitation, any loss of business, revenues, profits, data, use, goodwill or other intangible losses.

Posted Using LeoFinance Beta
---