LEO&HODL Contest Week 2 (175 LEO) | Focus: Leo Bridges
---
Today was an important day for the LeoFinance ecosystem as it was the first day of the Leo&Hodl Weekly contest. This event is specifically designed to reward Lions with LEO token prizes and upvotes to raise awareness on Leo Products.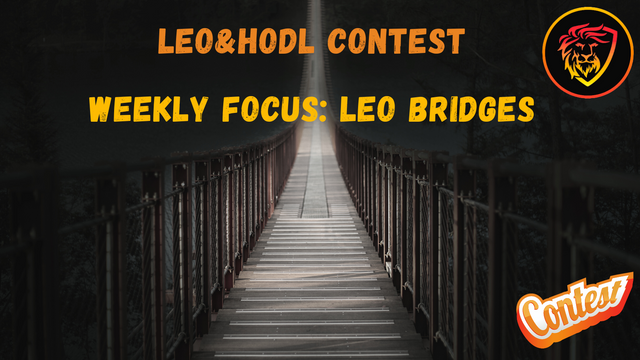 The aim of the contest is to increase engagement among community members, help people explore amazing products of LeoFinance and reward community members for their contribution. Contest Week 1
In the first week, we covered LeoThreads and the reasons why we love them and their importance. This week, the focus has changed. Until September 10 (23:59 PDT of Sept 9), the participants can submit their entries.
The Tasks of Contest - Week 2
This week, we are going to talk about Leo Bridges. Wleo.io is the website that consists of LeoBridges for Hive, Polygon, Ethereum and BNB chains.
If you want, you can design a How-to post for newbies or you can talk about the Bridges as you wish.
Note: You can have maximum 2 entries per week.
The Weekly Focus (till September 10) -> LEO Bridges
In this task, there are several questions to be answered if you wish to write about them.
What are the benefits of LeoBridges to Hive ecosystem?
What are the key points to bridge your Hive assets?
What to bridge and When?
What if we do not go cross-chain in Hive De-Fi?
If you were a Leo developer, What would you add to Leo Bridges?
Also you can talk about:
Your previous experience with Leo Bridges.
Step by step guide for LeoBridges.
Compare and contrast LeoBridges with others.
Details of the Contest:
When your content is ready, you will submit the link on HODL Discord channel named leo-hodl-contest-submission. The entries will be reviewed until Saturdays and the winners will be declared on Hodl Community Leo post.
You can check an example submission.
Total 175 LEO will be shared among Top 3. ( 100 / 50 / 25).
Each proper submission will be rewarded via upvotes.
Guidelines and visuals are very well appreciated.
In the first week of Leo&Hodl Contest, we had a successful event in which all of 4 participants are rewarded for their contributions. We kindly ask you to check Leo Products + CUB projects on @leofinance and get 90% daily liquid payment for your HIVE and LEO delegations to @hodlcommunity.
Thanks for standing by.
Hive on ✌🏼
---