Many Ways to Earn in DeFi ft; CubFinance
---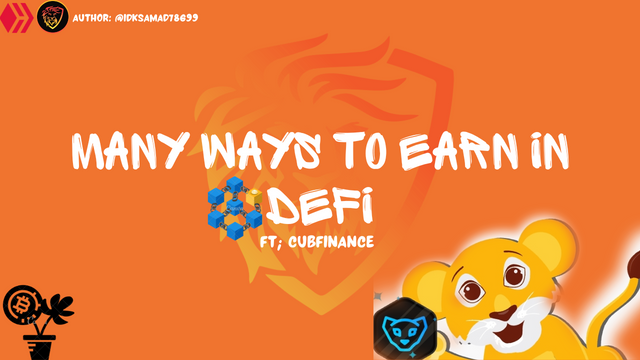 Image Created & Edited using Canva
The FUD after centralized exchanges like FTX collapsing or CEX being investigated had caused a lot of trouble to crypto and many investors.

After all this drama Now people are Realizing the meaning of "Not Your Keys, Not Your Assets" and taking it seriously.
While DeFi is a Decentralized Finance ecosystem where multiple Dapps exist and so, Your Key's belong to you and so your assets.
There are many ways to earn in DeFi and today I'm featuring CubFinance Decentralized Exchange (DEX) on DeFi, Binance Smart Chain (BSC) to explain those ways to earn in DeFi.
---
Many Ways to Earn in DeFi - CubFinance, 1. By Trading
Majority of People keep funds on Centralized Exchanges for just Trading meanwhile on DeFi it is still possible to do Trade.
There are plenty of projects on DeFi and trading or investing money always comes with risk. so, with proper research and keeping other Things in mind we can trade on DEX and can earn by investing in worthy project and making profits from trades.
2. Yield Farming or Staking to Earn Passive income
One of Reason I love DeFi is Yield Farming and Staking Pools is one of finest way to earn when you're sleeping or are away from market the amount of money put in yield farms work for you 24x7.
Let's Have a Look at CubFinance Farms and Staking Pools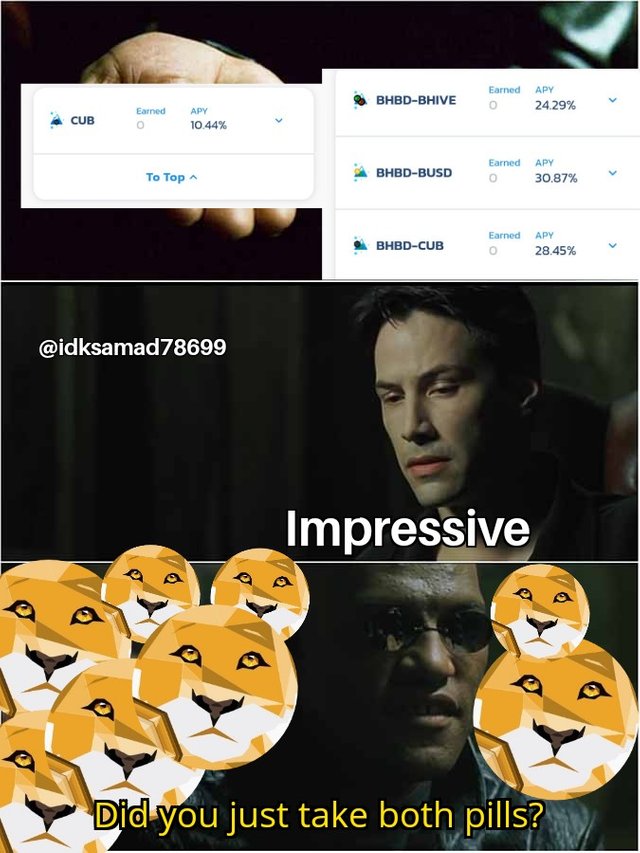 We have many possible ways to earn on DeFi and the one you see in meme is one of it.
Farms and single staking pool both have APR to make that Passive income and yield.
Farms comes with different pairs like CubFinance have two Stablecoin Pair Farms where possible risk is %0 unless Stablecoin Crash's there's no Impermanent loses in those while in volatile coins paired farm there comes Impermanent loses that need to be kept in mind with proper risk management.
Possible Way to Earn through Liquidity Pools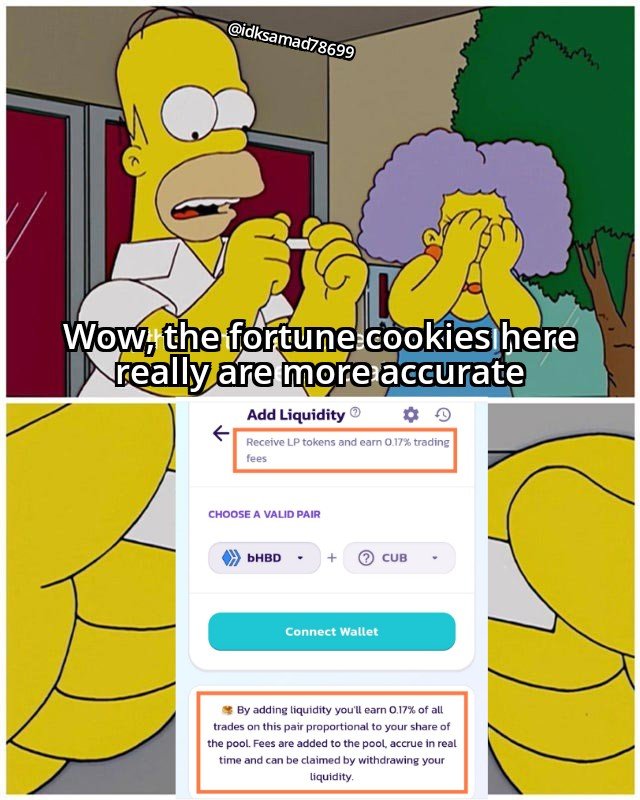 In Centralized Exchanges everytime we do buy or sell and make trading there's a cut as fee Going to Exchange.
While in DeFi, Liquidity Pools exist and people can provide liquidity to earn trading fees. such as by providing liquidity in bHBD + $CUB pair can earn us 0.17% trading fee on all trades or swaps happening on this pair proportional to our share in pool as liquidity can be provided by anyone so it all goes equally in decentralized way and fair system.
But is there anything in DeFi that CubFinance have and others don't?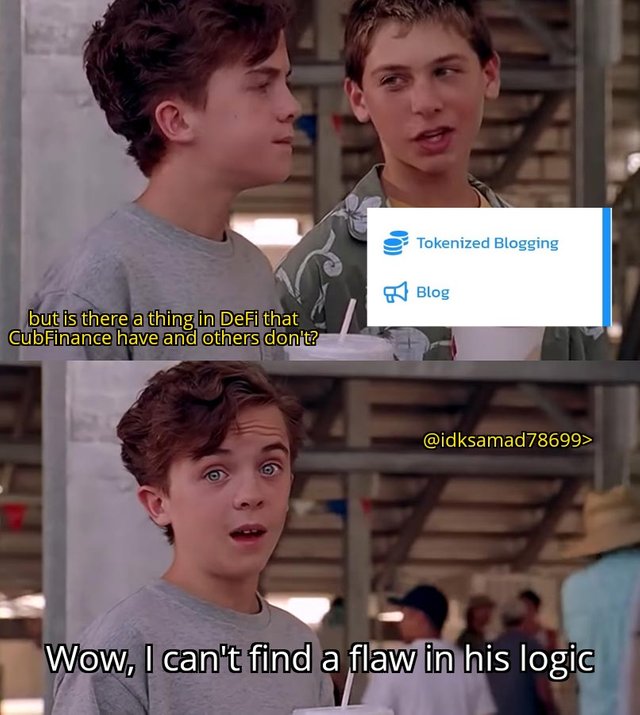 As far I have explored in DeFi there's not anything like Leofinance in DeFi space where you can do blog to earn and make threads microblogging to earn.
---
Other Ways to Earn in DeFi
The DeFi is Huge space and all these possible ways I told above to earn is in just one Dapp and there hundreds of more Dapps exists in ecosystem.
Some other ways I know to earn in DeFi is by Lending protocols. Flipping NFT on marketplace in DeFi and staking or NFT protocols have many things in it is another way.
Many of Play 2 Earn Games on DeFi in different sidechains is also a way to earn.
---
Fin.
in conclusions;
DeFi has a lot opportunities created for all aspect of people Devs, Investors in a Decentralized manner.
DeFi have pro's or cons as well that's why doing Research with proper risk management is key.

As far I think All these possibilities on DeFi is still not many in crypto knows that comes with My Keys and Assets option is sooner or later going to realize by them after all these recent happening like FTX in Market.
---
Memes are all mine & Created Using
Meme Generator
Do not Forget to hit Upvote, Comment and Re-blog.
Thanks for reading.
Greetings.
---

All the content and images are mine except indicated. No copyright infringement intended. Not a Financial Advice. 14/11/2022.
Posted Using LeoFinance Beta
---