Splinterlands Cards Are Both a Buy And A Sell Right Now
---
It's a great time right now to sell Splinterlands cards so I've recently started selling some for the first time.
At the same time Splinterlands cards are a great buy right now so for the first time in months, I've started to ramp up my buying.
While some of that is about the various cards and their placement on the market, there's another strange dynamic in Splinterlands that lets both of these ideas be true: DEC.
I think DEC is going to go back up for a while.
I also think card prices are going to go back up for a while.
Right now though, I think DEC has further to go up than the card prices do, so since selling cards pays out in DEC, its a great time to sell cards, collect way more DEC for them than you would get when DEC goes back up, and collect that nice SPS reward for all that extra DEC for a while.
Then in a few months when cards have doubled in price but DEC has tripled in price, I can use that DEC to buy back cards at a DEC discount even if the USD value is higher.
At the same time though, cards are super cheap right now and the structure of the market and the thinness of the floors in so many great cards is too attractive to pass up.
The catch is, the only way to buy them is with fiat. If you believe DEC heads back up to .01 cent or more soon like I do, buying in DEC is a terrible idea.
For instance, I bought more Furious Chickens the other day for $27 each. When I looked at the DEC cost for those it was 8100 DEC each. Because I look at the fair value of DEC at .01 cent, buying a $27 chicken with DEC is really like spending $81 on a chicken which is an astronomical price since I think the fair market value of chickens is $50 right now.
So to me, if I buy chickens with fiat/credits it looks like this:
Chicken fair value: $50
Chicken current market cost: $27
Expected profit: $23 <--Great deal that I will buy all day!
If bought with DEC already in my account:
Chicken fair value: $50
Current chicken cost in DEC if fair value is .01 cent: $81
Expected loss: $31 <--Why would anyone do this?
This means the chicken and almost every other card out there right now is both a buy and a sell simultaneously. Pretty weird right?
And its because of this weird DEC dynamic that I've been both buying and selling cards. I've been adding using fiat to buy credits to pick up some great deals while I sell other cards in DEC and hold on to it so I can collect SPS at a higher rate than holding the card and get the 3x appreciation in value when DEC heads back up.
So what am I buying?
Let's take a look.
In February I've probably spent around $3000 on cards. Every card I've picked up is for the same reasons: The floor is thin so a little bit of buying will send it up multiples, the card is priced toward the bottom of its peer group, the card has a somewhat limited production.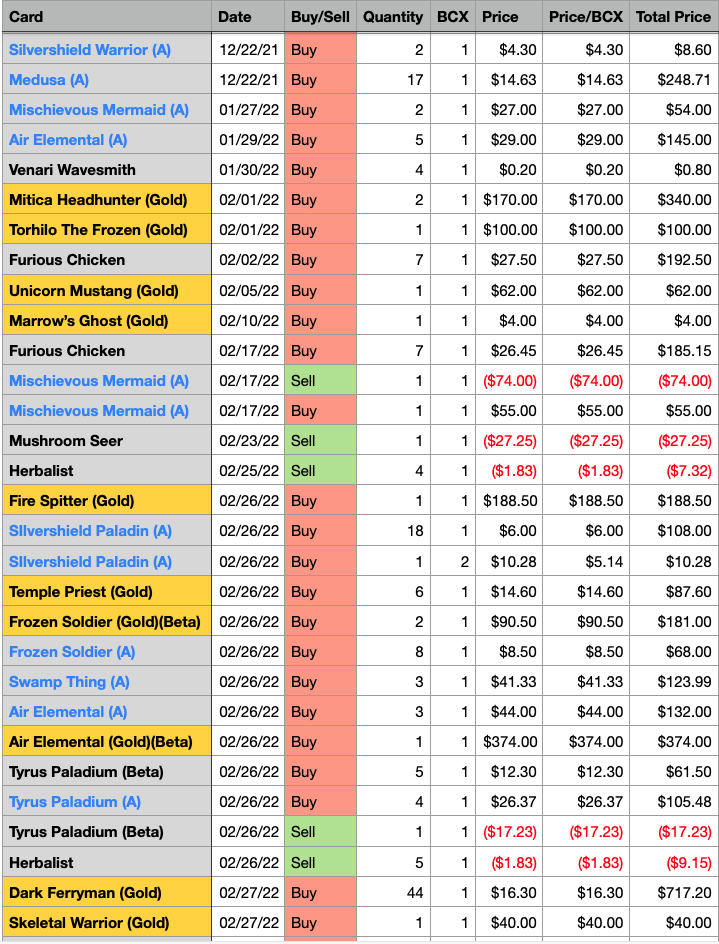 (A) means Alpha card.
As you can see, almost everything I buy is Alpha, Beta, Gold, or in high demand because almost everything I buy is for renting out. Right now though I'm buying with flipping in mind and that still means buying Alpha, Beta, Gold, and high demand cards. These cards are much less likely to have an avalanche of cheaper prices come in when I try to flip them.
Cards like the Mischievous Mermaid that I picked up for $26 and flipped for $74 before reaching right back into the market to buy another one for $55 which I put right back up for $109 (I may raise mine to $159 to make that $99 look more attractive to the market and quicken my sale). I'm already basically break even on this card. take a look at the price gaps. That's 7 cards to get from $69.99 all the way back to $349 where it was at the height of the market. When these were $26 a few weeks ago, it was a no brainer because I know the history of the card and it has great market structure.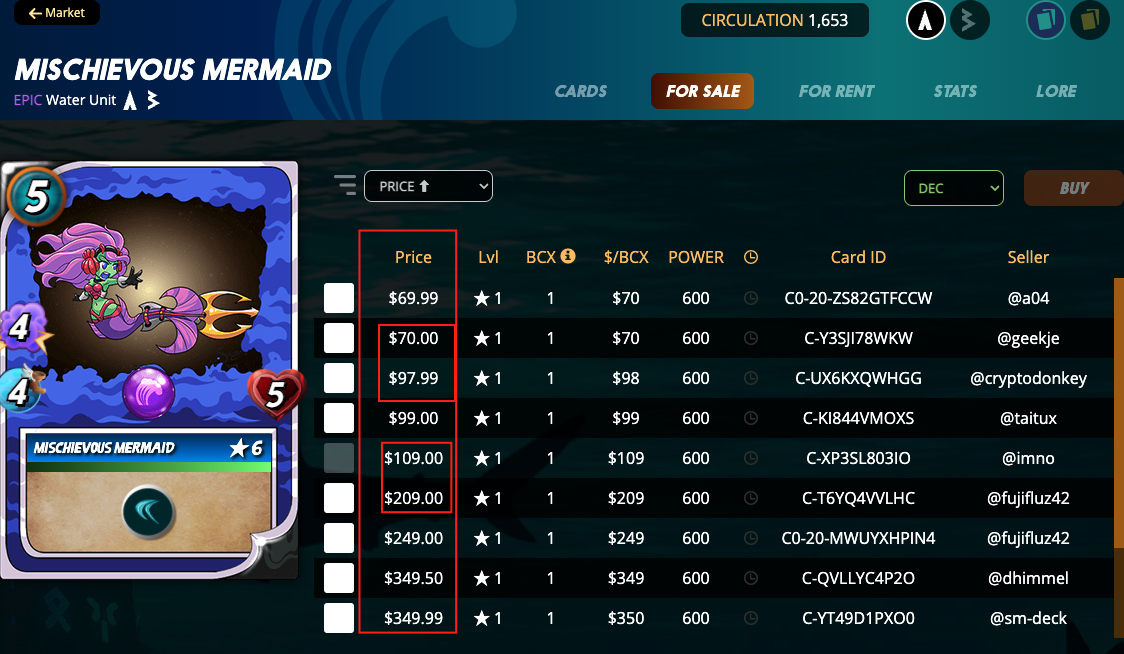 BTW, a04 is running a sales bot. He's always the lowest price on so many cards and if you undercut him, you will be re-cut in a few seconds. He seems to be running out of inventory though. There's another one I keep seeing also called eclipse something or other. There are about 10 sellers currently who are liquidating everything and causing prices to head lower. Some have bots and some are just dumping walls of inventory at dumb cheap prices. Most of them are running out of inventory and that will mark a turnaround in prices that will probably coincide with more discussion of land. If the devs announce a large CP requirement for land, prices will rocket quickly.
Today I bought 6 Gold Temple Priests for $14.60 each and 44 Gold Dark Ferryman for $16.30 each. These are both rare cards with 2000CP. At the height of the 2000CP gold rare cards had a floor of $80. The reason these stood out to me was their position in the market. Take a look at this market now and notice how few cards of this calibur there are until a $20 floor price and then see how there are only a couple more before we jump to $30's and beyond.

Currently there are only 7 of these 2000CP gold rare cards below $20 and only 47 before we see a $30 floor on these cards again. So buying at $14 and $16 today with fiat was again, an absolute no brainer due to market structure. Plus all 44 of the Ferryman cards I bought were from one of the guys liquidating. Getting him out of the market is a huge plus for everyone.
Then there's cards like the Air Elemental Gold Beta which is an Epic card. I picked this up for $374 and there's one more on the market at $450. Then that's it. There's no more on the market at all. And if you look at the other Epic Gold Beta cards, besides swamp thing, the next one up is at $700 and they just move up from there. These cards have 15,000CP and there's only 120 of them in circulation. I would have bought the other one but right now the market for expensive cards is low since you can buy 12500CP Gold Foil Legendaries right now for under $100. Still I'll rent this card out for a few months for about 2200 DEC per month and then I'll sell it for a double when the land expansion causes the ramp up. (or I'll hold it forever because I'm a sucker for rare old things :) )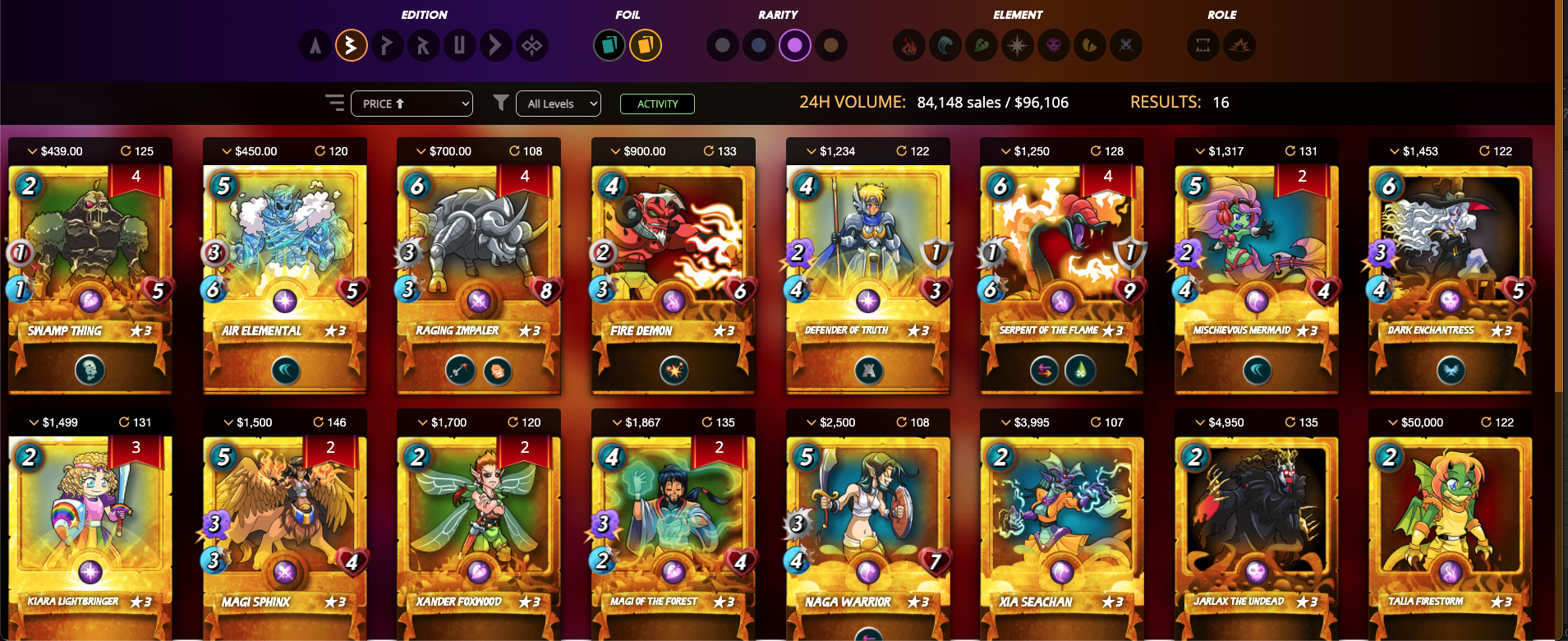 Some of these cards have just been temporarily forgotten about. Like the 17 Alpha Medusas I picked up for $14 each. This was another card with one seller trying to clear out his inventory and selling way too cheap.
While not quite $14, you can see that someone else has the same idea here. Look at the gap between where this guy is selling and me? The problem with listing these dirt cheap walls of inventory is that when potential buyers see it, they don't see a deal. They see endless inventory so they go from willing buyers of one or two cards to no longer being buyers at all because it looks like no one else is interested.
Scarcity drives sales. Signs of other people buying drives sales. FOMO DRIVES SALES!
What these seller are thinking is I'll just post all this at a reasonable price that's way below the going rate and they'll sell really quickly. And sometimes that works if an educated and motivated buyer with the liquidity available and no better deal finds it. More often than not though it turns buyers off and then it causes other sellers to pile in cheaper than you. So now instead of having a bunch of inventory on the market at fire sale prices, you now just have a bunch of inventory on the market at the new normal price and you'll probably have to keep lowering it to ever sell.
Don't do this. It's more work but you should never put in walls of inventory unless the market is absolutely on fire. Same with the rental market. Don't do that shit.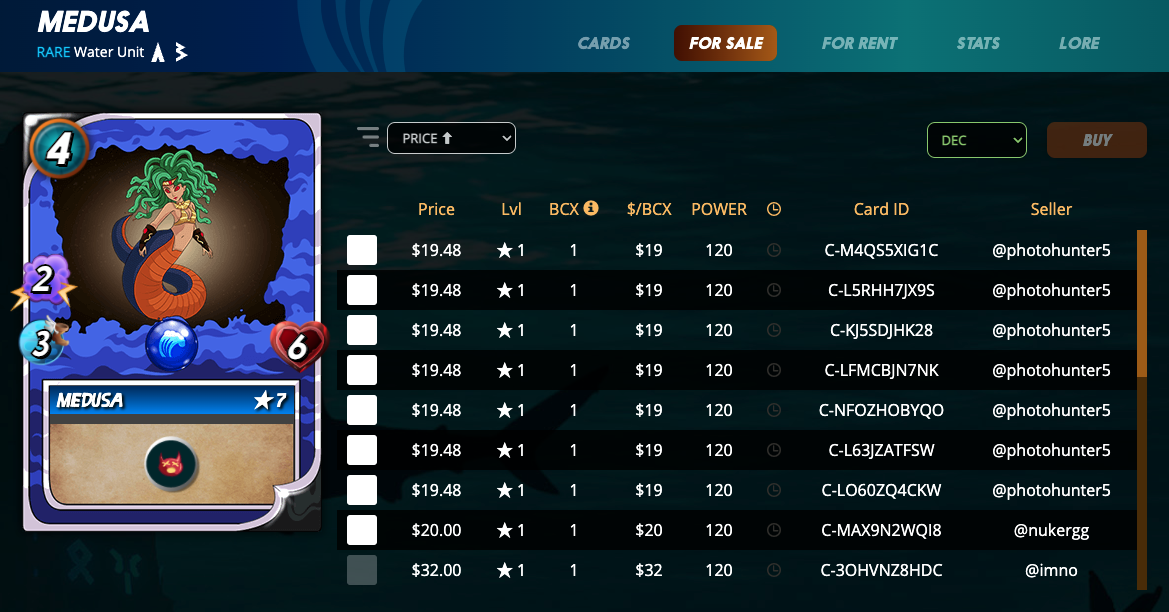 BTW, take a look at the prices after mine. This is what happens when you undercut thinking you're definitely going to get the sale. Someone else undercuts you before you do and soon you have a $175 card with 10 sitting untouched on the market at $19.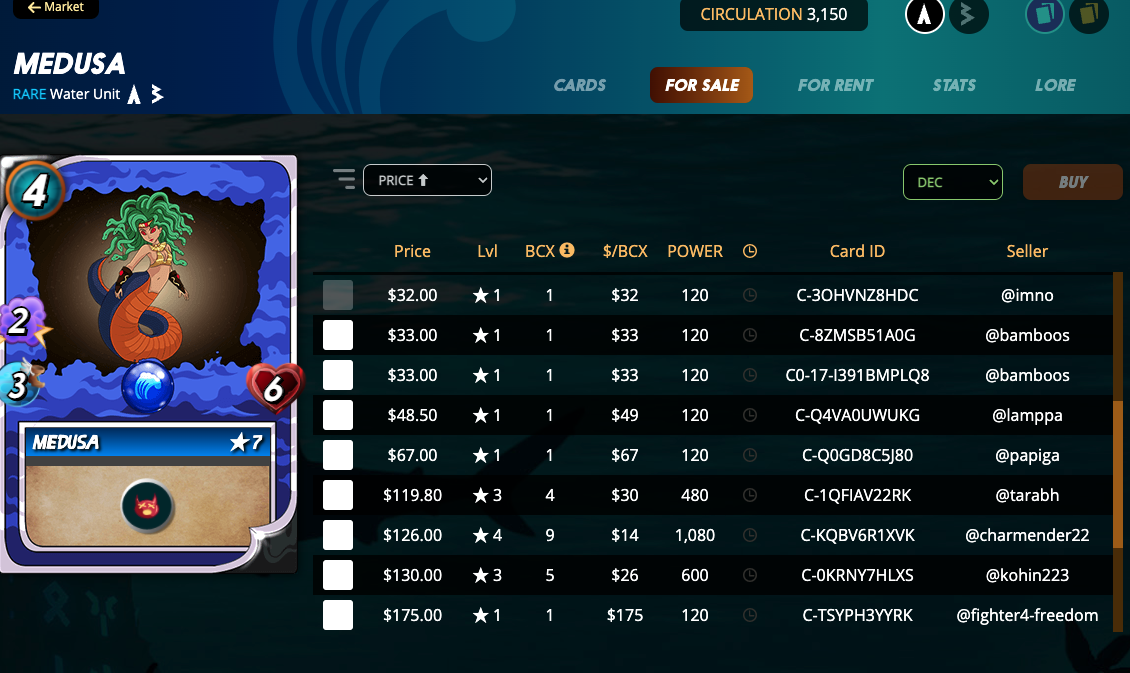 Learn how to price your cards people. It's not all about cheap prices. No one buys prices. They buy perceived value. Tell a story of value with your pricing.
It's worth noting that all of these cards I always buy through monstermarket.io which gives you immediate cashback in DEC (even if you buy with credits) of 3% (60% of the 5% fee = 3% of the purchase price). Also because a bunch of these were bought right before the end of season ramp, I was able to immediately rent them out for another 1% of the purchase price so I immediately got back 4% on most of these cards.
Of course I'll keep renting them out until I see the market conditions to sell them while telling a story of value but for right now, my eye is on liquidating as quickly as possible to build my DEC position while the SPS drop is still going and before the DEC price explosion I'm expecting to come soon.

Posted Using LeoFinance Beta
---