My stake on the use of 50k airdrop.
---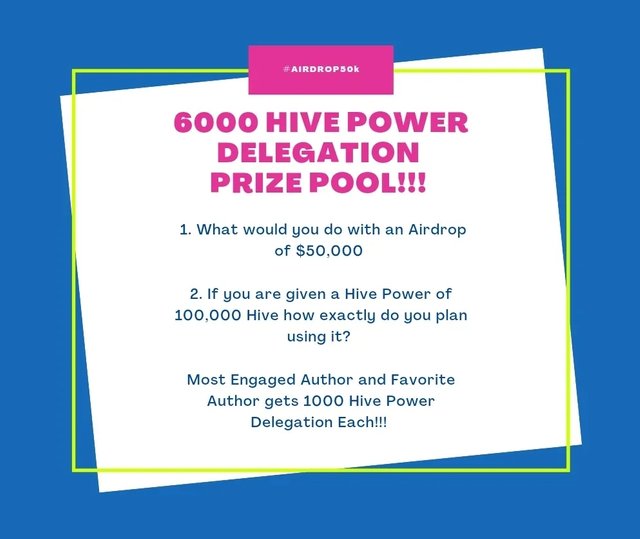 A lot went through my heart thinking so many possible ways to best use this airdrop worth 50K as a typical Nigerian man will say but it can best be deacribed as 50,000 airdrop for better understanding.
Well the first thing that scrolled down my heart is the fact that i will now as a matter of fact be counted among the top and great hivers who initiate ideas and it stand, Making people work hard for powerful result.
But having that thought will be selfish of me if there is no impact in others whom are with me in same platform.
My number one priority when I am in position of such amount will be the hive community. As the saying goes" THE WAY UP IS DOWN"
Making people up is what i will put as my number one priority.
Lifting people up talking of that, i mean empowering the younger ones, help them grow up by simply putting them in the right direction by engaging them in one thing or the other just to make ends from what ever they will get as a result of their participation and it will not just be meeting the ends but also developing their mind set making them think fast, giving out quality stuffs that will also broaden the mind set of who ever comes across their post . Just same way @starstrigs and @Aliento are doing to make sure everyone is carried along and you can see an example of such stuff through this link. Anyone is welcome to join the league.
This will not only help the individual but the platform as a whole will be developed and there will be boost in crypto as we all together move the use of crypto currency to a greater heights.
By the time I am able to achieve this set goals. Then I will begin to think of how to meet my ends and as i do that i will keep on striving for greater heights. Developing my self and also extending it to those that are down.
These are my stake on how I will use my 50k airdrop.
Calling on @dwixer for participation.
---