Joining The Saturday Savers Club
---
October 8, 2022
I've been reading posts about Saturday Saver's Club and I became curious about it. Some blogging friends, @tengolotodo and @coquicoin are already in and have invited me several times to join the club. However, I lack the motivation to take on the tasks necessary for this club. I was actually just lazy to monitor my Hive tokens, especially since I thought savings should be updated every Saturday.
The first reason why I was hesitant to join was that I am not into making goals, especially if it's related to crypto savings and investment due to my recent failures in managing my investments and portfolio on another chain. I become demotivated after, then I just let anything come and go since I can't control the market.
Yet, we can't deny the fact that setting goals could help us track our progress, along with our failures, and motivate us to pursue them. I do have Hive goals, but I don't really care much about them because I don't want to be disappointed if I can't achieve them in the end. So I'll just accept whatever I can accumulate and not worry about the shortcomings.
---
But here comes Saturday Savers. When @shanibeer advised me to comment on the post about it, I saw my name included in the list the next day 😂. Thus, I'm required to update my Hive goals.
Joining The Saturday Savers Club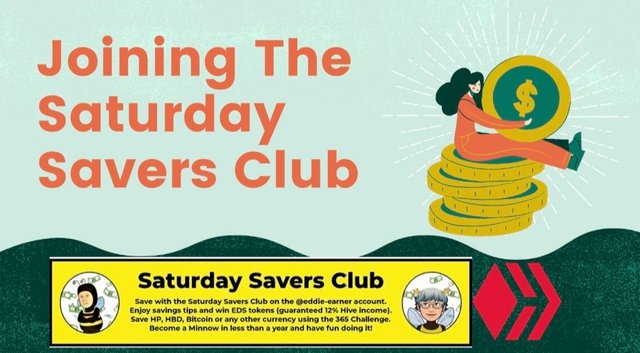 Created in Canva
Primary Goal
As mentioned in my recent HPUD post, my primary goal is to achieve 2000 staked HP excluding the sent and received delegation. Posting status here is just a matter of luck, and I'm grateful if some whales like Appreciator and curators would visit my posts. If not, then I'll accept it. So it's really tough to maintain the earnings as we have no permanent voters here. But I do appreciate their visits, and I feel happy and lucky every time they notice my work.
At the time of writing, my effective HP was 1,925.169 (excluding the received delegations). And if I will deduct the sent delegations, my current balance would be 1,490.63 HP. Thus, I need 509.37 HP more to achieve this goal. Hopefully, I could make it before this year ends.
Secondary Goal
My secondary goal is to save 500 HBD in my savings account. I should have more this time if I didn't withdrew some for important matters. I'm gradually adding HBD to my savings account every time I receive some from my content rewards. Some are used for buying some Hive as I want to save more too for HPUD and future purposes.
At the time of writing, my HBD in my savings is already 241.103, and so I need more 258.897 HBD to achieve this goal.
Hive Engine Tokens
Meanwhile, I don't really have many Hive Engine Tokens and those included in the list are usually used in tipping like PIZZA, LOH, LUV, and POB. I also wish to join LEO Power Up Day someday. I included LEO, DREEM, and POSH because I thought they are worth holding. I feel like I still need to learn more about Hive Engine Tokens as I only know a few of them. I was surprised one day to see more kinds of tokens in my wallet and I didn't even know where do they came from.
Another token I want to know more is the EDSMM which I've been seeing in @tengolotodo and @coquicoin's posts.
I'm also adding Ecency Points in those tokens I want to save because it is too useful in tipping and boosting content. Besides, its price is also increasing and I thought it's one of the tokens that should be saved for the long term.
---
You might wonder, just like me before, What is Saturday Savers Club?
Saturday Savers Club was initiated by @eddie-earner, probably nine months ago based on the post I read. The purpose of this club is to encourage everyone to set goals and save any currency for any purpose.
As what Eddie said:
Reasons to Save

Become a Hive Minnow
Build an Emergency Fund
Clear Debt
Pay for Christmas (or other celebrations)
Have a Crypto portfolio


Photo credit to @eddie-earner
To know more about it and the perks of joining the club, you can visit this link below.
Saturday Savers Club with @susie-saver | 2022 Launch and FAQs
You can choose to make a post or update about it every Saturday, or monthly, depending on your preference. As for me who have a job in the real world, it's tough to monitor my assets weekly, so I'm doing it monthly or if necessary. The main point here is to save and be motivated to grow our assets.
Uncertain things come like a bolt from the blue, so it is much better to have more savings so we have something to pull out in case that happens. Nowadays, we should be practical as the world is getting pricey. We should think about the future and not just savor the present day by extravagantly spending money on unnecessary stuff.
Save more and spend less! That should be the goal.
I hope you will join this club too and save for your future 😊.
Happy weekend. Happy Saturday Savers!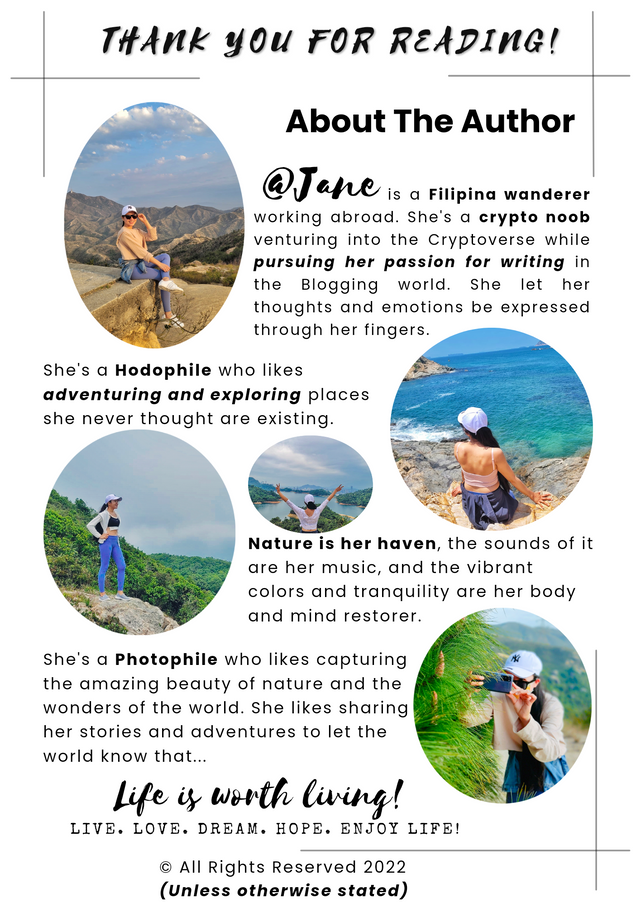 Posted Using LeoFinance Beta
Posted Using LeoFinance Beta
---