"FALLEN ANGEL - FORGET ME NOT" - Art Process, The Meaning & My "Dirty Little Secret" :)
---
Today I got a treat for you. I will reveal one of my "painting secrets" to you. We could say I'm celebrating my first power up (steem power) in a while. Feeling positive changes in the air and I hope you do as well!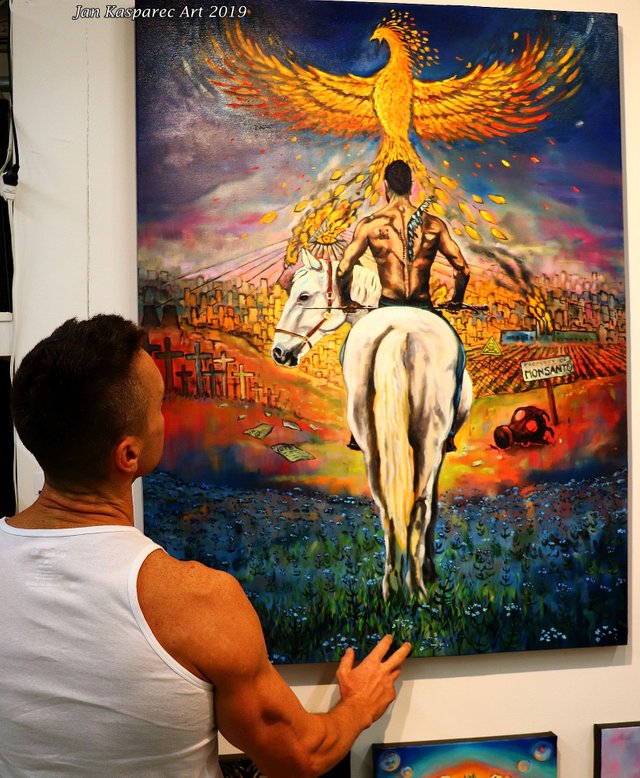 Fallen angel- Forget me not, is a very special art piece to me. Probably one of the most special ones as far as the meaning goes.
Let's begin by that confession then:
That guy on a horse (...remotely similar to a chair)
....is me
I had the idea about the painting very clearly in my mind. A fallen angel, sitting on a white horse, impassively overlooking the burning "all seeing eye" and all the venom (represented by Monsanto in this painting) that plaques our beautiful Earth going down in flames while Phoenix rises from its ashes into the sky.
one problem - I didn't have a model who would sit on a horse for me
And so I had to go to that one resource which is always here for me- which is me.
This was obviously not the first time that I have "posed" for the purpose of my art. It is very difficult to get a picture of a model online in the exact same pose that you want to see on your canvas. And yes, unlike many might think, it is also near impossible to paint human body in great detail "from the memory" alone.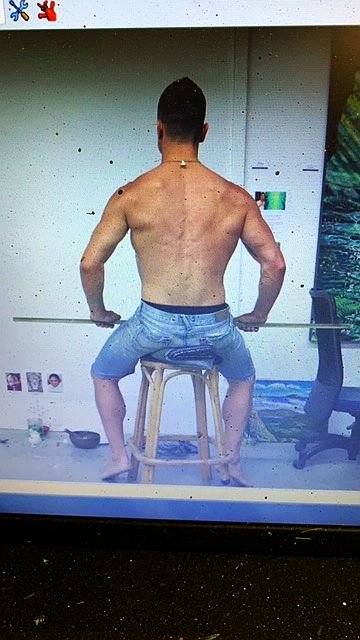 Hope you like my horse:)
This funny screenshot makes me still chuckle. Me as fallen angel sitting on a horse, resting my hands on a mighty sword, bitcoin address tattooed on my back. Although , in all honesty, I do sometimes feel like it. Often. Like the misunderstood rebel in the midst of brainwashed population who are just not ready to accept that this whole "Earth-show" is a combination of Trueman show and Matrix without the funny part, and that slavery did not end, it's at its very peak.
Anyhow, that's another story for another time.
Now I will show you how this paintings came to be
: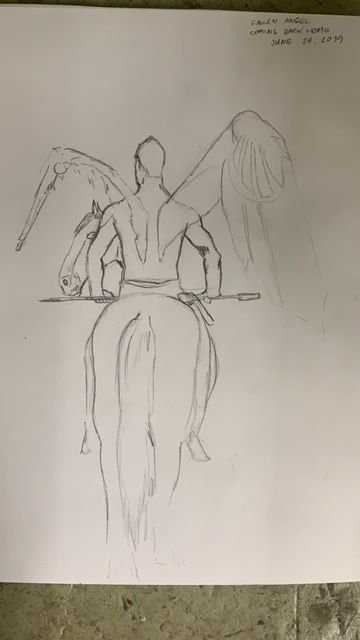 initial sketch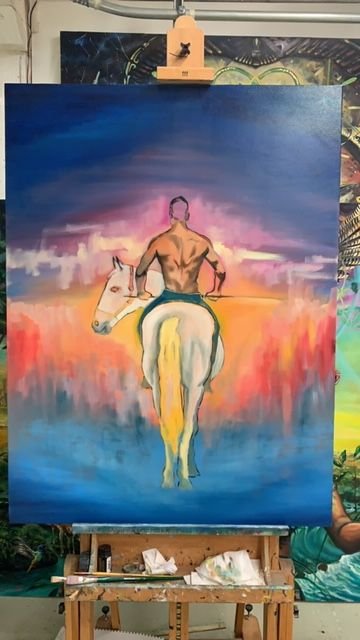 First layer of oil on my 4 feet canvas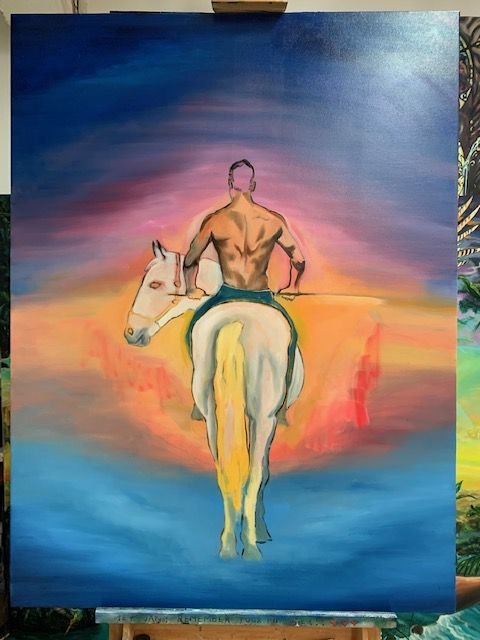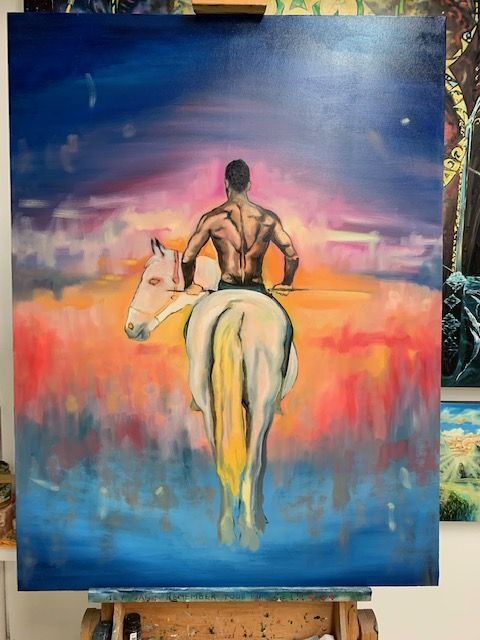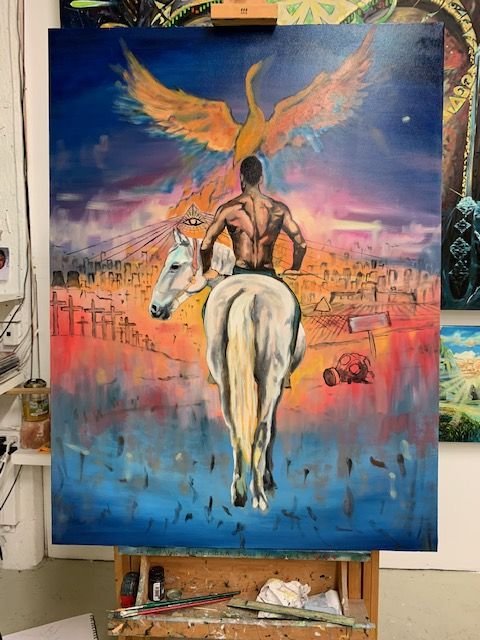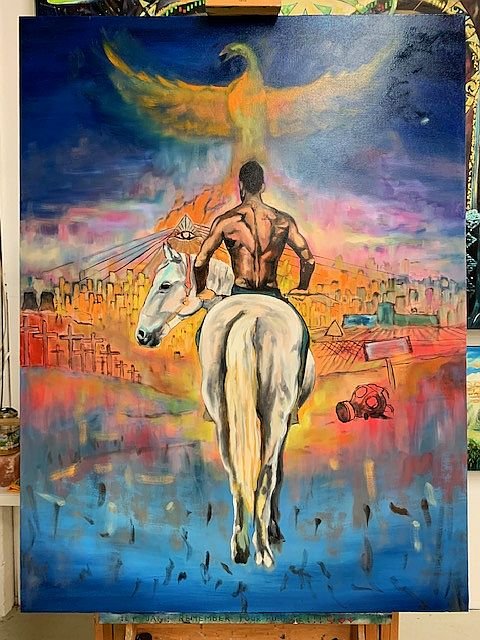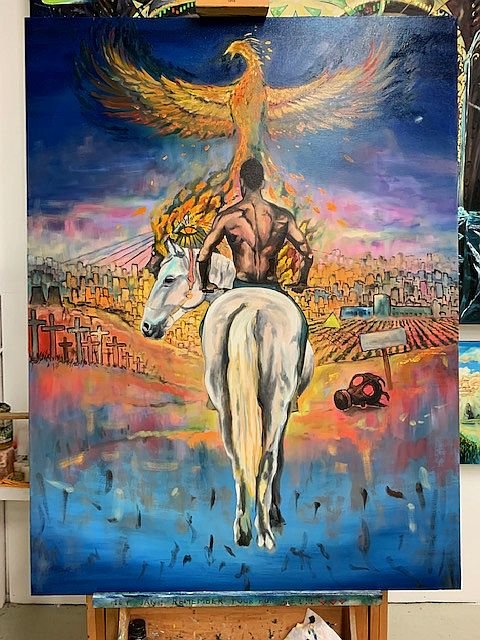 first signs of "forget me nots", a flower which I chose specifically for their name- NO CRIME AGAINST HUMANITY WILL EVER BE FORGOTTEN
.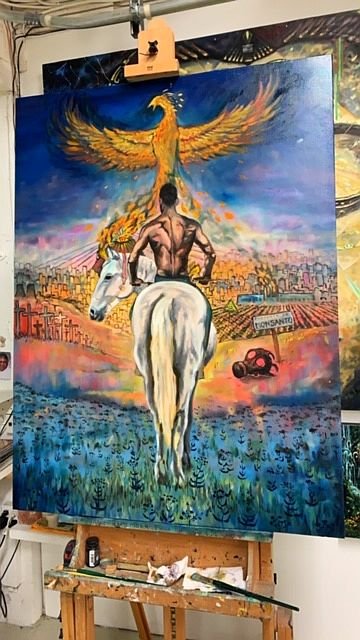 Here is the official story of the Fallen Angel that I wrote for The New Agora newspaper, which put it (together with my other two paintings) on its cover!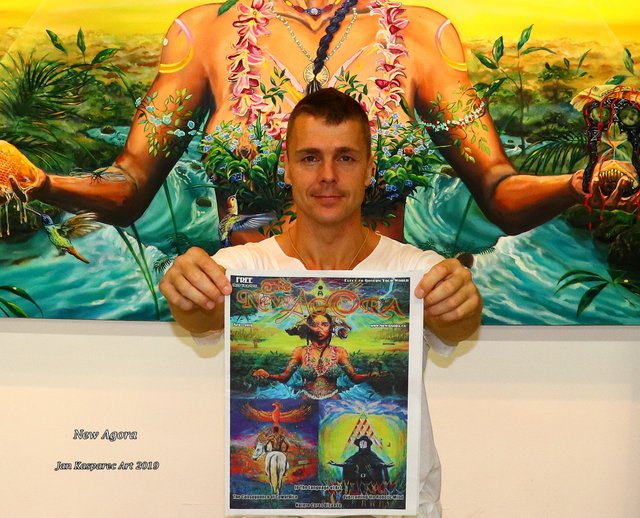 Three of my paintings on the cover of The New Agora- newspaper that actually publishes truth.
.
He is the Fallen Angel. Poisoned by the likes of Monsanto, disgraced by the slavery system that shackled the humans for eons. One of his wings a burned stump and second one entirely chopped off. There were times when he could fly free on this beautiful Earth and his incarnated form was aware of his higher energetic bodies. The times before The Fall. Before the illusion of separation from the Divine that put everyone is the survival mentality and rat race has fallen upon Gaia. The rule of each for their own, eye for an eye, oblivious of our divine nature and oneness with the rest of Cosmos. But the time of his resurrection has come. The time of the Great Awakening. The time of Remembering. Mounted on his white horse, he quietly observes the burning Eye, out of which the Phoenix is rising, to found The New Earth, the true Fellowship of humans, the Great Synarchy, the beginning of New Era. The days of the Great Illusion are numbered. Nothing but Truth can last forever.
#FINAL RESULT OF THE PAINTING
: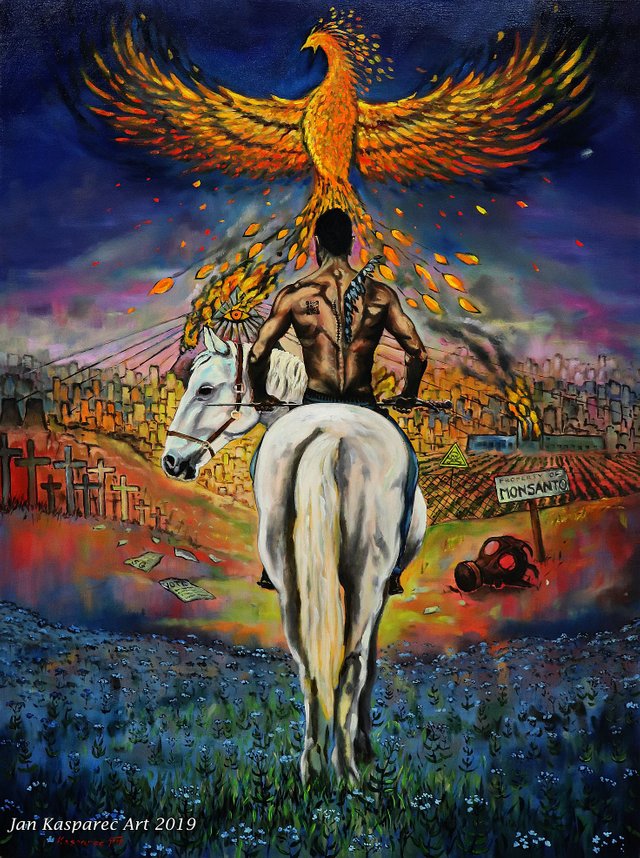 Noticed the bitcoin address on his back? That's how we roll baby!
I hope you liked my confession, painting process and the Fallen Angel story.
Hopefully many of you can relate.
The day when the house of cards is going to collapse is coming!
Love & Truth will prevail!
Thank you for your support
Much Love,
Peace
Jan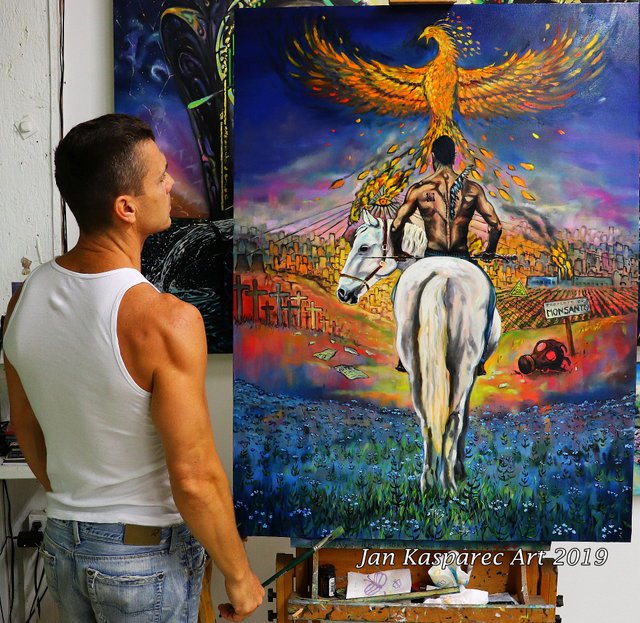 ---