Cub Finance: My Migration to Version 2 Farms
---


If you haven't read about it before, Cub Finance is moving their farms to Pancake Version 2 in one of their latest post. The zero fee for deposits will last for 48-72 hours so people should still have time to move their liquidity.
The process itself wasn't that bad with a few tutorials that came out but I did run into a few issues. In fact I highly suggest going to LeoFinance Discord or the @leomarkettalk chat if you are having issues. Some of us who are active in the @leomarkettalk will be more than willing to try to help.
Cub Finance Version 2 Migration
First off there are two good resources that will help you go through this process. The first is the guide by leofinance. The second is a video showing the process for those who want something more visual. Another good post is this post that clarifies the process of converting your version 1 liquidity into the base tokens.

I won't expand too much on it too much but I thought I would give a slight overview using the comment from Khal.
Unstake From V1 Farm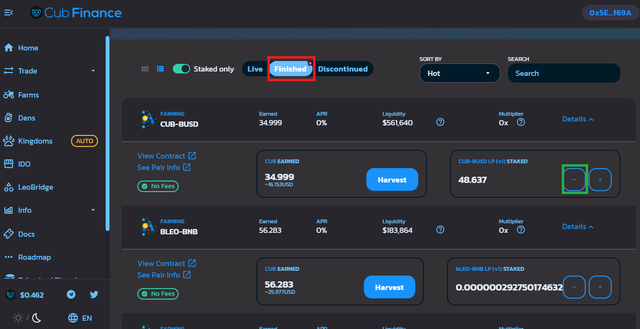 First off I think unstaking from the farms is relatively easy as you can find this in the
finished farms
(red box) and then go to the green box to unstake your tokens.
Un-LP from CubFinance AMM Page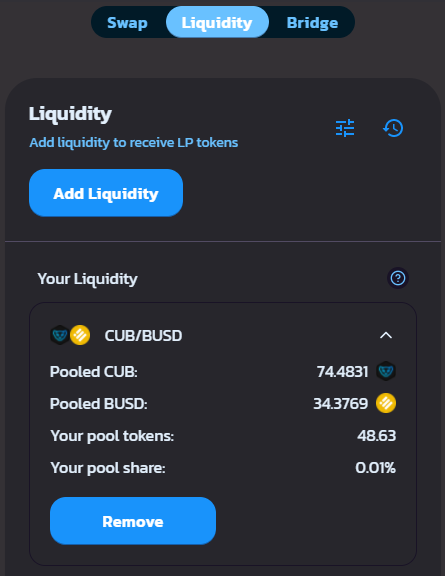 I think people would be confused on where to go to Un-LP your existing tokens. You can go to the
liquidity page
to see your unstaked liquidity. You will have to wait some time for the liquidity to show up in the bottom box. After you click remove, you go to another page where you have to approve the removal contract. It was
one of the things others were confused about
.
Re-LP on Pancakeswap V2 AMM page

I found the easiest way to do this is to go to the
ongoing farms
and then click the red box for getting the LP under the Farm you want to enter. It will open up pancake swap for you but I have noticed that I had to refresh a few times when the tokens did not load up properly. Another thing to note is that you will also have to approve the contract for the specific tokens (bLEO, CUB, BUSD, BNB) before you can supply the tokens and get liquidity tokens in return.
Restake from CubFinance Farms Page
Now that you have to the liquidity, you can just go to the ongoing farms, approve the Farm contract and then stake the tokens. I didn't bother here since most people migrating are already familiar with this step.
My transaction log

As you can see above, the transaction list should look something similar to above. You have to first unstake the V1 LP and remove the liquidity to get back your tokens. After you go to pancake, approve the corresponding tokens if you haven't done so in the past then add liquidity. Once you have your liquidity, approve the new farm contract and stake your tokens.
In total it was about 0.004 BNB in transaction costs which is about $1.6 or so. I actually did exchange 49 bLEO into BNB thinking that the transaction fees would be larger but I was probably overkill in getting enough BNB for transaction fees.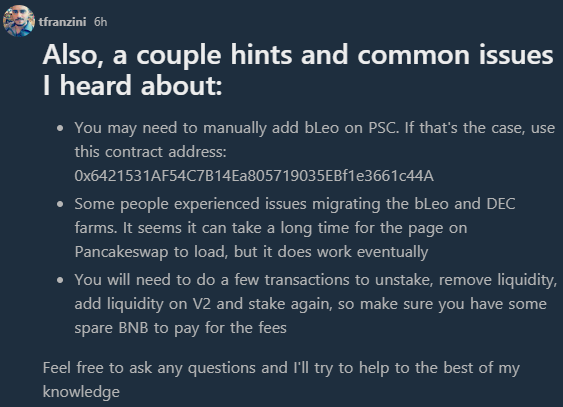 Also here are some common issues and hints that I have heard around in the
@leomarkettalk
post.
My Cub Finance holdings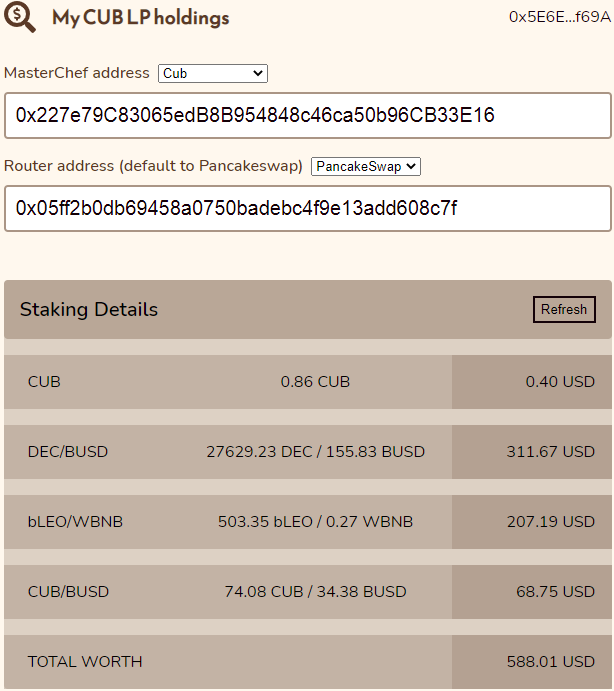 This is my updated values from my Cub Finance investment. The first line is the Cub Den but I didn't stake enough CUB there so I don't think it's worth the fees to unstake it right now. I did add to my bLEO/BNB position this month but both LEO and CUB has dropped in price. As for my DEC/BUSD position, it was part of my plan to use my in-game DEC earned in Splinterlands and get
my DEC to work for me
.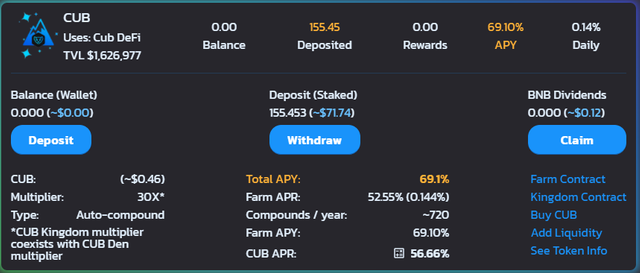 Any of the leftover CUB I got from the migration process was added into my Kingdom. It was around 97 CUB from almost 2 month's worth in the Farms. It's unfortunate that I didn't earn much BNB dividends over the period but this should increase the BNB dividends I will get in the future. Hopefully it will generate enough BNB to cover all my transaction fees in the future.
Please make sure to invest only what you can afford to lose and nothing I said is financial advice. Feel free to leave a comment if you read my post. If you have any questions, feel free to ask and I will do my best to answer.
Posted Using LeoFinance Beta
---