CubFinance: November Add into the bLEO/BNB farm
---
It's been a month since the last time I touched DeFi and I am glad to do it on time this every month. I saw a post about the fixed-term staking. One thing to note is that the old CUB kingdom is no longer paying out any rewards and I mentioned something similar in an earlier post this week. So please make sure to move your funds over to the new kingdom if you still want some returns.
CUB
It looks like the roadmap documentation page is still blank 2 months later. I liked to look at this to see what is planned to the platform so I hope they do fix this page. Besides this, there is also the new CUB kingdom that I talked about earlier. I highly suggest anyone with funds in the old kingdom to migrate over to the new kingdom because the old kingdom is not paying out any more rewards.
PolyCUB
There have been no changes in the PolyCUB roadmap. I don't really remember seeing anything about PolyCUB in my post feed recently and it's been mainly updates about LeoThreads or CUB instead.
Monthly Add
I sent 401 LEO tokens over to my metamask wallet using the the wLEO bridge. After removing the 1 LEO token fee, I was left with 400 LEO tokens. Of which, I changed half into CUB and the other half into BNB to be added to the bLEO/BNB pool this time around. The reason I invested 400 LEO was that I missed out on the CUB add last month due to some hard drive issues.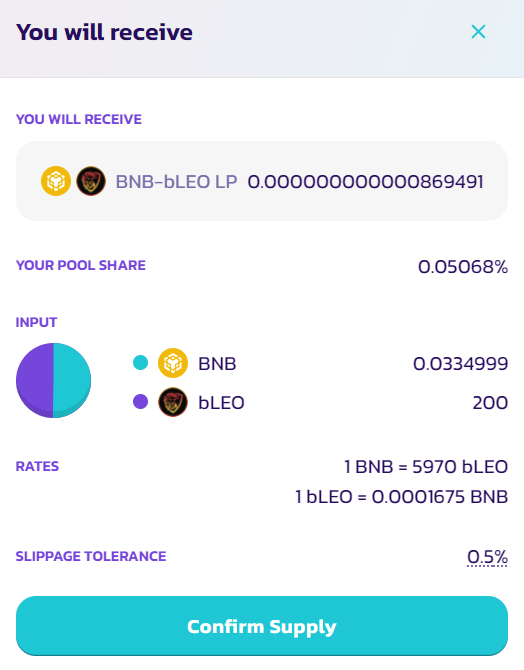 Out of the three farms that I am in, the bLEO/BNB was returning the highest and I thought it would also be nice to increase the liquidity here for people entering and exiting the platform. It also reduces the number of transactions that I had to do. However, it does look like I had to increase my BNB balance by selling off the CUB I farmed. I should have enough to cover transactions for a while now though.

Above is the fixed-term staking for 12 months. I should earn more than before but I am not sure if the numbers are correct. I wasn't expecting to see a 10x yield boost for the kingdom but maybe I am missing something. I remember the yield boost being almost 2x 5 days ago and I won't be getting the extra CUB until the staking period is over.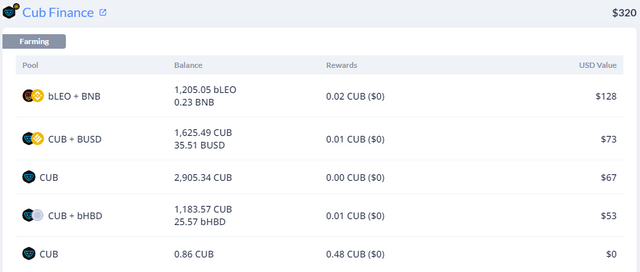 My portfolio last month is above and my current portfolio is below. It tracks my CUB and PolyCUB positions through debank.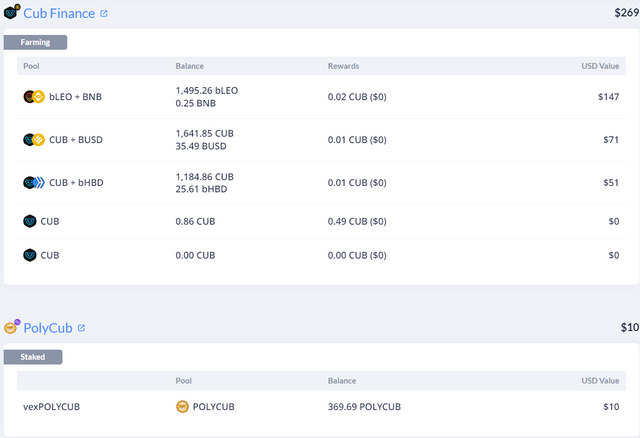 CUB has gone down in price slightly compared to two months ago and the bLEO/BNB pool had bLEO increase in price slightly. It does look like the debank interface for CUB doesn't count the new CUB kingdom properly so the actual value of my Defi investment in CUB should be about the same in fiat value. PolyCUB has taken a nose dive and the value seems to have been cut in half.
Please make sure to invest only what you can afford to lose and nothing I said is financial advice. Feel free to leave a comment if you read my post. If you have any questions, feel free to ask and I will do my best to answer.
Posted Using LeoFinance Beta
---