Splinterlands: Passive Rental Income Update #6
---
Last season was great on my rental income, but it looks like the rental market is cooling off this season. It's been around 3 weeks since my 5th update on my rental strategy. I still haven't been doing such a great job at draining my energy capture rate but I have been able to fight a bit more on a few days. The amount of income I got for relisting my cards was honestly kind of shocking and I am going to set some time in the new few days to capitalize on the end-of-season rentals.
Rental Progress
My original post, where I announced my strategy, shows my general motivation for doing choosing this strategy. Everything from that posts still holds even if the price of everything from cards and DEC has dropped. There are bull and bear markets for everything and I would not be surprised to see DEC drop to its soft peg of 1k DEC per $1 eventually.
Purchases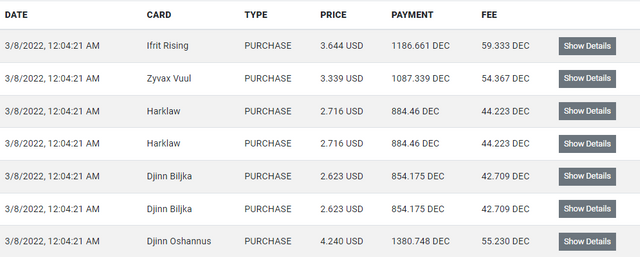 As always, I used Monster Market to purchase my cards for the cashback. The cards I bought this time around were even cheaper compared to the ones I bought in my last report. In a way, I was not expecting the DEC value of the legendary cards I purchased to lose around 20%-25% value in just a few weeks. They are still in print so it's to be expected for prices to drop and I believe they will go back up in price once they are out of print.
The last time I said I was unsure about the chaos legion legendary cards and I bought two of them to try things out. It doesn't look like they have much demand though from what I have seen. However, they should still provide some good rental income at the end of the season.
Income
My income and all rental price management are done through Peak Monsters because of the tools it provides me. While I am still getting a decent amount of income, I find the current season lacking in terms of revenue. Also, this post isn't on the last day of the season so the rental income is roughly around where I expected it would be. I didn't modify the prices of my rentals in the past few days so the cards rented out are a bit less than I would like.



Above is my previous report's income and below is my current income.



Overall, my income still isn't that bad for it not being the end of the season. A few hundred DEC a day adds up over time and it should be able to buy me a few legendary cards each season. The most important part is the last few days of the season when it comes to earning DEC though.
Conclusion
Prices are a little bit cheaper now and they should pay off for themselves over time. I like to gather cards because I can always combine them to make higher-level cards in the future if I need them. The price of these cards should go up once they are out of print and I am just planning to gather as much as I can. In a way, I might decide to sell some of these extra legendary cards and buy some of the cheaper ones in the future. Rental prices are down this season though so I wonder how many cards I can buy next season. I will be watching over the next few days to make the most of my rental income for the end of the season.
What are your plans regarding rentals in Splinterlands?
Feel free to leave a comment if you read my post. If you have any questions, feel free to ask and I will do my best to answer.
Posted Using LeoFinance Beta
---