Airdrop Alert - Several weeks to prepare. #SHADE
---
It's been quite a while since my last post - around 2 months. The real world has had me very distracted, and combining that with some serious writers block, I've just been MIA for a bit. To try get back in to the swing of things, I thought I'd highlight an upcoming airdrop I'm targeting.
Shade Protocol.
The first is a new project I'm looking to get involved in is called "Shade Protocol", being launched on the Secret network eco-system. For those that are not aware, Secret ($SCRT) is a privacy focused platform, built on a Cosmos SDK based blockchain, with a rapidly growing eco-system. #IBC is coming, so at some point these privacy features will have a link to the entire Cosmos IBC eco-system, including #ATOM, #OSMOSIS and soon #TERRA.
From what I can tell, the SHADE token will be the staking and governance token, as well as a mint token (along with SCRT) for a privacy focused algorithmic stablecoin to be called SILK. It looks like Mainnet is targeted for Q1 2022, with new features like leverage and derivatives to follow.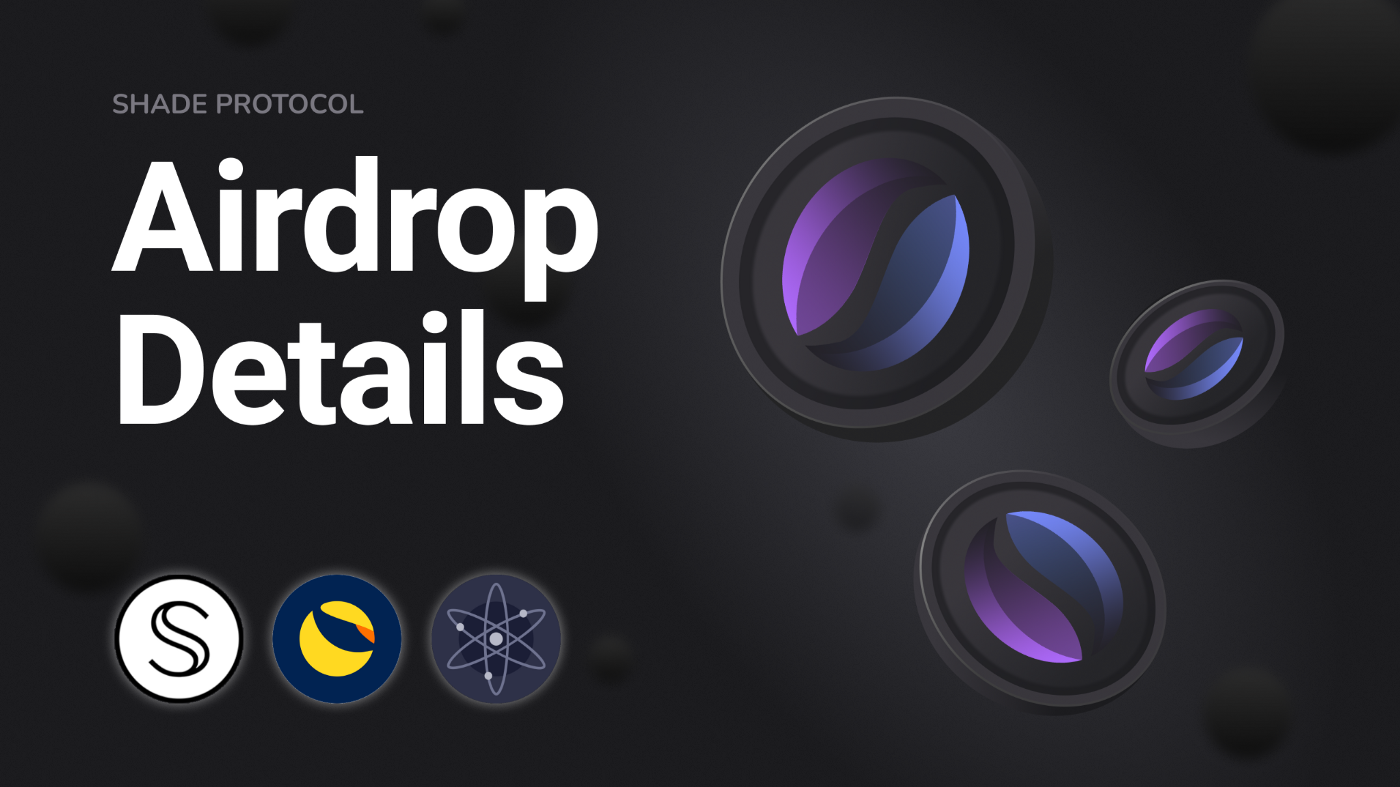 Image Source: Shade Protocol blog post
---
How to participate:
The full details about how the airdrop will work can be found in this blog post from the team. The best thing is that it will be allocated based on snapshots beginning on the 7th November. That gives people plenty of time to position if you are keen to get involved.
Here are my highlights from how the drop will work:
First snapshot Nov 7.
Will cover 36 days of staking from then.
1.45 million total airdrop - total supply of SHADE will be 10 million.
36% of the airdrop to stakers of Secret (SCRT)
32% to ATOM stakers.
32% to LUNA stakers.
Can earn from each of the above pools.
Bonuses if you stake outside the top 10 validators on each chain (encouraging decentralization)
Don't stake to 0% commision nodes or importantly, exchange nodes (Coinbase, Binance, Kraken for example).
Self custody will matter, coins staked on exchanges won't be included.
---
I've personally been aware of Secret for a while, but have not gotten on board yet. I do plan to position for this airdrop with both ATOM and LUNA stake (I'm currently in the process of moving/restructuring some of my portfolio to add LUNA). I'd encourage you if you have assets in these chains to read the official blog post linked above, and keep an eye out for more details:
Thanks for reading, I'll keep you updated as we learn more about Shade.
I'm also looking to try something, by building up a list of people who would like to be tagged when I post certain content, so you don't miss it. For this post, If you would like to be tagged in future #Airdrop or #shade posts (or both), just let me know in the comments.
Cheers,
JK.
Posted Using LeoFinance Beta
---