Cosmos Based DeFi: Part 4 - Thorchain
---
By now, I would imagine that it would be quite difficult to be in the crypto space and not have heard of Thorchain. The project has captured the imagination of many, including many here on Leofinance with it's cross chain swaps and liquidity. We all know the story now, cross-chain Uniswap equivalent, but with so much more on the way, and a token called RUNE that has already charged into the top 50, but seems to only really be getting started.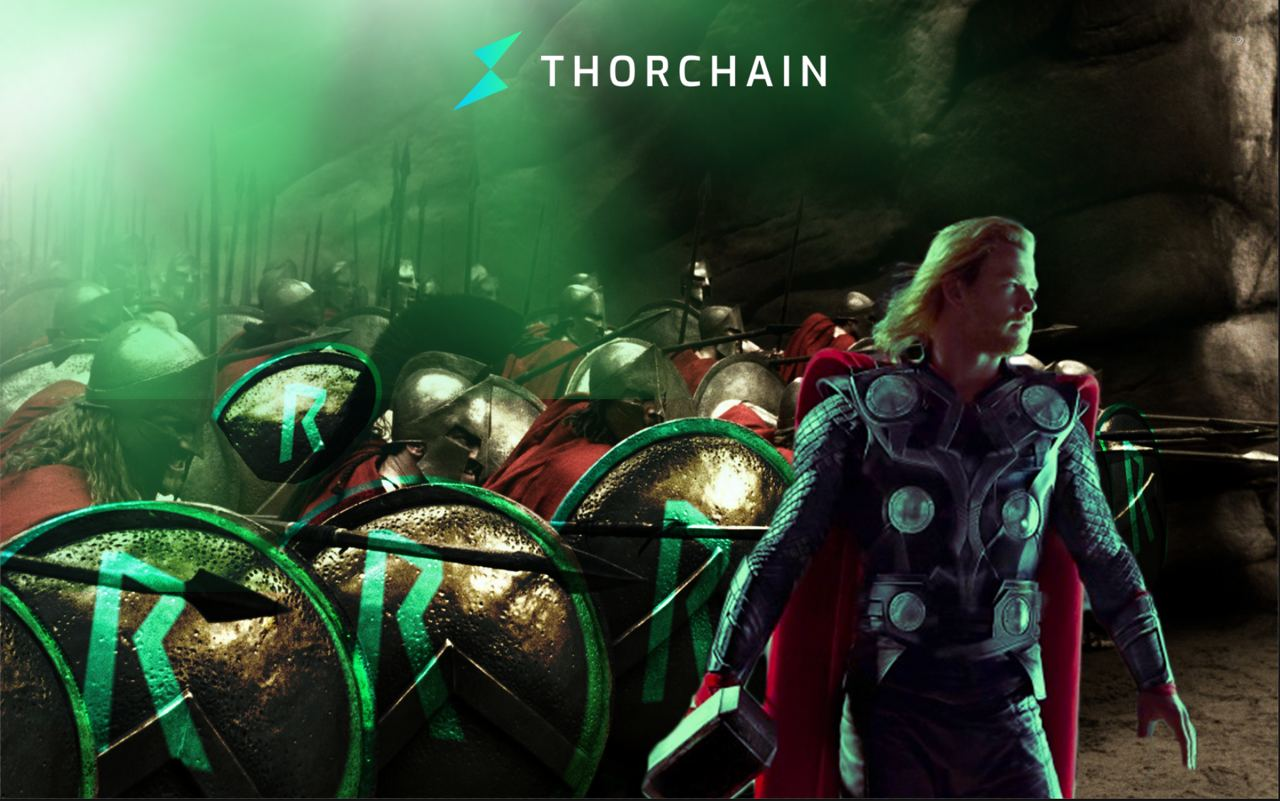 Image created by "Ledgermex" in the Thorchain Meme's Telegram channel.
But what you may not know is that Thorchain itself is a Cosmos based chain. Thorchain built it's protocol on a Cosmos base, as it is fast, and low cost to run. The transaction requirements and node structure of Thorchain would have required a robust, but highly flexible chain that could be adapted to suit Thorchain's specific needs, making a Cosmos Tendermint type chain the perfect fit.
IBC.
The IBC upgrade that has been mentioned in all my previous "Cosmos Based DeFi" posts is relevant to Thorchain. As part of it's multi-chain work, linking Cosmos (ATOM) was investigated a while ago, in a similar manner to how they link other chains. A decision was made to take a different approach, and instead (once multichain chaosnet was stable) enable Thorchain itself with the IBC upgrade. This means that rather than just ATOM, Thorchain could very easily be linked to any other Cosmos (or even non-cosmos) chains that have applied the IBC upgrade.
In their most recent Dev update, Thorchain mention this work and how it is progressing.

Source: Weekly Dev Update 91
So, once this work has been done, potentially any chain that has enabled IBC will be able to have its token pooled with RUNE, and available to swap across the vast array of coins also linked by Thorchain.
Dex links
The most interesting thing for me will be watching the positioning as Dex's link to Thorchain to access and facilitate more options. Thorchain is not trying to cover everything in the market, it is trying to bridge the major economically significant eco-systems, and leave the "short-tail" assets (good, but less economically significant / low market cap) projects to other Dex's.
Think of it this way. Existing Dex operations are mostly like the streets in your local suburb. The local roads all link together and enable you to get around your part of the world. But to go somewhere different, you need a highway. Dex's like those mentioned in my previous post, are the suburban streets, linking all the parts in one area. Then, to get to a different area, you head to the onramp and down the highway, before exiting and finding your chosen destination.
So, lets say you are holding a bunch of BAT tokens on Ethereum. You have done a bunch of research, and decide you want to invest in a token called DVPN. This means you have an erc20 token, and want a lowcap cosmos based token. Currently, to get there, you would have numerous steps along the way. You would likely swap the BAT to ETH. Then deposit on a centralized exchange, then trade to USDT, then likely move it to another exchange that covers DVPN, then trade again to your new DVPN investment, and then withdraw from there to your wallet. Lots of twists and turns on a windy backroad to get from one suburb to the other.
Soon, the process will be much easier. A UI will exist (Shapeshift for example) that will be linked to many Dex's, and route orders whichever way works best. You will simply enter your input (BAT) and your desired output (DVPN) with a wallet address, and it will do the rest. Behind the scenes, it will: Swap BAT to ETH on Sushiswap (use the local suburban roads to get to the onramp); Swap ETH to ATOM on Thorchain (race down the highway to get to the next suburb); then use Gravity Dex or Osmosis to swap ATOM to DVPN (take the Thorchain offramp and drive the local streets to get to your destination).
All of this WILL be available this year, and will be completely decentralized, and non-custodial, every step of the way. No CEX's involved at any point, no KYC or middlemen.
---
Too many words, give me the TLDR.
Thorchain is a Cosmos chain.
Adding IBC will enable ATOM and other Cosmos tokens like Akash (AKT)
Linking to another Cosmos Dex like Gravity DEX will link any IBC enabled chain to Thorchain.
Decentralization becomes more user friendly.
Win for the Cosmos eco-system.
---
In particular, keep an eye out for links and cross-over's with Sifchain. Sifchain has designed it's tokenomics with Thorchain as a reference, and there is some overlap between them with some of the Sifchain team having worked on /with Thorchain at some stage. The synergies that linking the two will produce are interesting.
Thanks for reading part 4 of my look into Cosmos based DeFi. Check these articles for previous editions:
"Cosmos Based DeFi" series:
---
Cheers,
JK.
Posted Using LeoFinance Beta
Post shared on Twitter
---