Akash network (AKT) just keeps plugging away and building an awesome business for the future. And that is what it is, a business. Unlike most crypto projects, which are crypto things for crypto people dealing with crypto's, Akash is so much more. The decentralized cloud marketplace they have built is more than just crypto, the way I see it. It is a tokenized competitor for AWS, Google cloud and the like, targeting an industry with many hundreds of billions of dollars of revenue. The revenue it captures will be shared with token holders once "Take income" is enabled.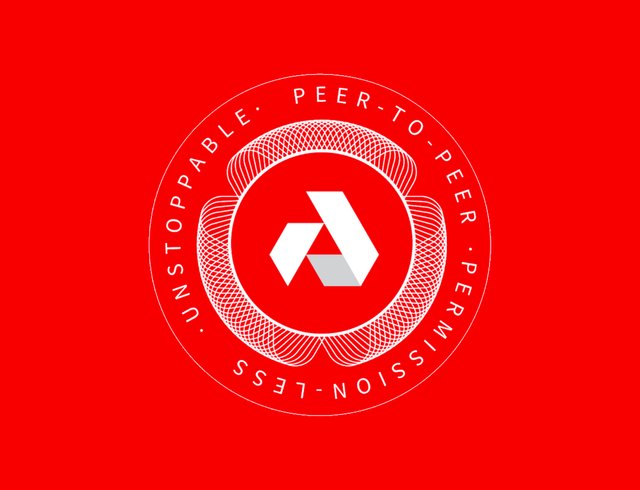 Image Source: Akash blog
Imagine owning a token that receives a share of Amazon Web Services revenue (not profits, REVENUE), paid and claimable every 3 seconds. That is the reality of holding AKT. 20% of all the revenue that the marketplace receives (in whatever token people choose to pay with) get's converted back into AKT, and added to block rewards to go to AKT stakers every block... Every 3 seconds, AKT stakers will have more revenue they can claim, with transactions costing a tiny amount. This has not been enabled yet, the target for the activation of "take income" is next year. But that is how it will be. For now, block rewards alone are payed to stakers, and they currently return around 56% ROI, which you can boost over 70% by compounding regularly.
Akash is the project I am most bullish on for the long term. It's not going to make me rich next week, but in a few years I am looking at Akash income replacing my current fiat employment income so I can retire from the workforce and go full time crypto. After moving some funds around yesterday to buy the dip in price, Akash is now my single biggest bag. Having said that I am now about halfway to my target AKT holdings.
Here is some of the most recent news from Akash:
Certik partnership.
Image Source: Akash blog
Many of you here on Leofinance would have heard of Certik - they are the audit outfit that has audited our very own Cubfinance's smart contracts. You can read all the details in the Announcement post, but here are my thoughts on this partnership. Firstly, Certik are a well known crypto security outfit, auditing and monitoring crypto projects and specifically smart contracts. But that is only part of what they do, there is their own blockchain, which manages many processes and makes the live security scores they produce immutable. Another Cosmos SDK chain, they have validators and nodes and a utility token all as part of their service.
The first point here is that the security audit people are teaming up with Akash for cloud services. There is a guide for their nodes on how to shift and run on Akash, and other functions of their service onto Akash, and will enable their (Certik's) clients to move to Akash. This statement from the announcement post sums the potential for this partnership up best in my eyes:
Through this partnership, CertiK's clients will be able to decentralize their cloud infrastructure on Akash's permission-less, censorship-resistant, and lower cost cloud platform, while ensuring on-chain protection backed by Certik's trusted products and services. Akash Network's community will be able to leverage Certik's industry-leading suite of security solutions to secure deployments and node operations on decentralized cloud.
The synergies here are excellent. A security monitoring service, with a decentralized network of nodes running the monitoring and oracle services, running on a decentralized cloud (which is also much cheaper than the centralized mainstream alternatives, and offering the Akash network to their clients (largely DeFi projects like CubFinance) just makes so much sense. And is bullish I think for both sides of the partnership. Makes me want to take a look at Certik's token (CTK) and see if I should invest in it?
HashQuark partnership.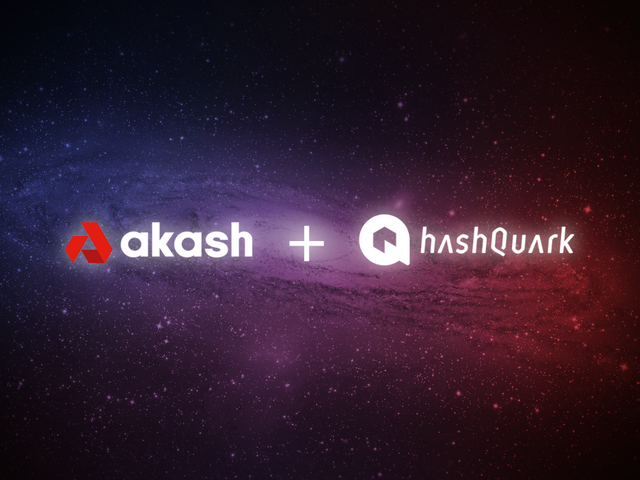 Image Source: Akash Blog
So firstly, HashQuark is something I have never heard of. From reading this announcement post it seems they are a major node operator, validator and staking service provider across multiple blockchains.
Currently, HashQuark runs nodes for over 40 blockchain projects including Polkadot, Klaytn, Cosmos, Dfinity, and has partnered with the world's leading crypto wallets, exchanges, and capital firms. HashQuark will also be joining Akash Network's validator set.
We were amazed by the concept of Akash's decentralized open-source cloud and recognized the significance and need for a DeCloud in the entire blockchain industry. Akash is lower-cost, more effective, and flexible, and HashQuark has expertise in blockchain infrastructure, a solid foundation for the decentralized cloud. We believe our partnership will help provide cloud services in a more decentralized manner.
These quotes from the blog post highlight for me the opportunities that this partnership represents, and is another key "vote of confidence" if you like in Akash's decentralized cloud service. A major staking and validator teaming up with Akash is a good sign, nodes and validators performance depends on a reliable and fast service, and a major operator partnering with Akash is an exciting development.
AKT Availability.
Currently, AKT is not an easy token to acquire. The token is only listed on a limited number of lower tier exchanges. There is no Binance, Bitrex or major exchange. Also, exchange availability is further limited for U.S. citizens, as some are geo-blocked (without a VPN anyway) from some of the exchanges that do list AKT. Also, it is not currently listed on any DEX's, or available as a pegged asset anywhere else.
But all that is about to change. A major CEX listing is an unknown quantity. Possible, now that the Akash mainnet is running and performing successfully, but the team can't say anything so until it happens (if it happens) it's all just speculation. By being one of the first cosmos eco-system chains to enable the IBC (Inter-Blockchain communications) upgrade, Akash will have access to other exchanges that may make a major CEX irrelevant.
Gravity Dex
What is definitely coming is DEX access in the Cosmos eco-system. Gravity DEX, which could be considered to be the upcoming "native" (for want of a better term) DEX for Cosmos projects, is close to launch. (Soontm, lol). This is likely to launch late May/early June from what I have seen in Cosmos circles. AKT will be front and center in this DEX, and likely the ATOM/AKT pool will be a great way to access SKT. ATOM is readily available and has many fiat and major exchange access, and then a simple swap on this new DEX will make AKT sooooo much more accessible for many crypto investors. This should help drive the price, as more people can get AKT much easier.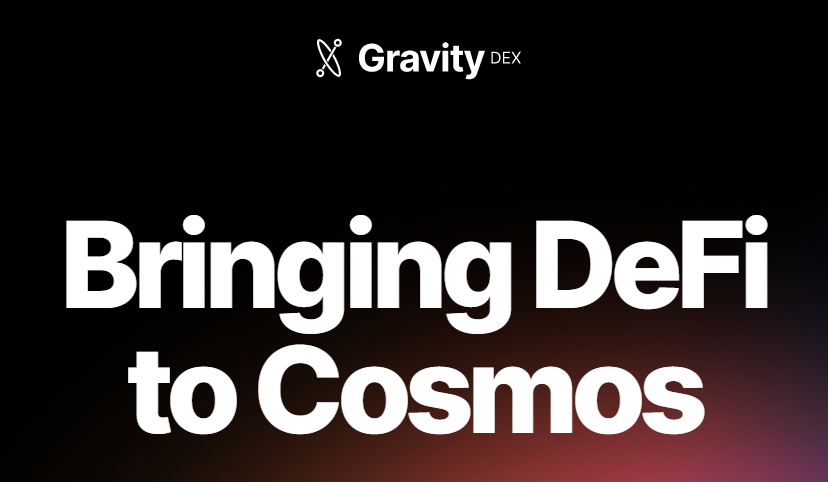 Image Source: Gravity Dex website
Osmosis
We have already seen screenshots from another upcoming Cosmos based DEX currently under construction, called OSMOSIS. I'm not sure of timing, but would expect it will come sometime after Gravity Dex, perhaps 2 to 3 months away. It looks to be more along the lines of Balancer than anything else in the DeFi space, and that will enable all sorts of interesting opportunities. I'm most looking forward to this one, as I have qualified for a small airdrop of it's future native token - OSMO.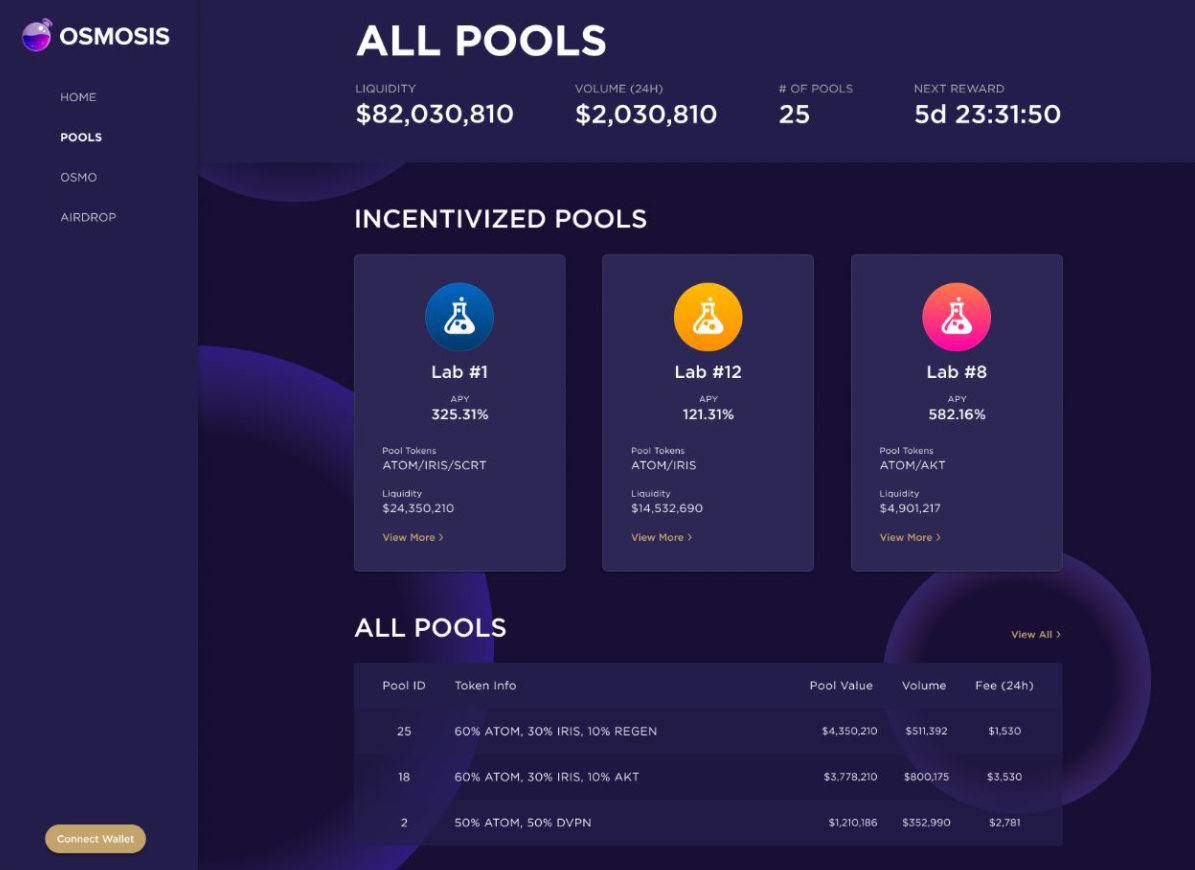 Sifchain
This is a project that is currently up and running, with tokens that are pegged ETH tokens, and its native "ROWAN" token. It has had what I see as a troubled start, and much work to go. I won't go into too much detail here, I will have a future post all about Sifchain coming soon. But once Sifchain upgrades it's chain with IBC, it to will likely have an AKT pool on it. Stay tuned for more info about Sifchain in a future post.
Thorchain
The ultimate of all DEX's, in my opinion, is Thorchain. Like Sifchain, once Thorchain (also a Cosmos SDK chain) enables IBC (currently work in progress) then AKT could be added to Thorchain easily. The only question mark over that is whether there would be enough available liquidity to make that happen. If it does, then buying AKT becomes a readily available process for anyone in the world, from almost any major coin or token, with a simple swap. I know if AKT does end up on Thorchain that I'll be near the front of the line to add liquidity to a pool there.
---
There is so much overall going on for Akash that it is very hard to see it staying around a $300 million Market Cap token. The long term is incredibly bright, and a major improvement in token availability and access is just around the corner.
Not Financial Advice, DYOR, etc.
Further reading:
Cheers,
JK.
Posted Using LeoFinance Beta