Nomic upgrade happening, BTC rewards about to go live.
---
Nomic ($NOM) has been a quiet little project being developed in the IBC eco-system. The first use case it is working on is a bridge to bring Bitcoin in to the Cosmos. Their Twitter is quiet, with just one tweet a few days ago. Previous to that, the last we heard from the team was 1st Feb.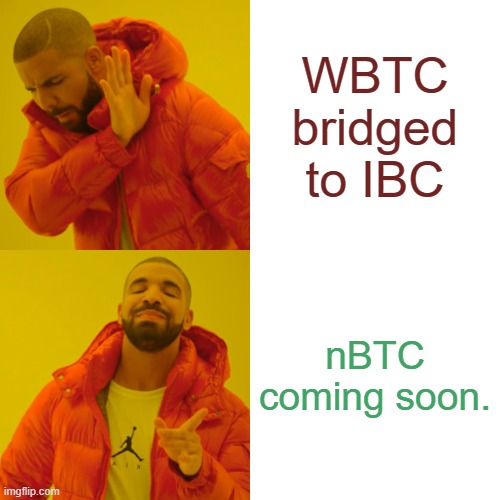 Meme generated via Imgflip
Recently, Cryptocito interviewed the team, and we learned a lot about the project and how it will work. The exciting news is that having staked $NOM will generate $BTC yield. Nomic's first product is a Bitcoin bridge to the IBC eco-system. The fees that this generates will be in Bitcoin, and will be distributed to $NOM stakers.
Here is the full interview for you, to understand how the project works:
Source: Cryptocito YouTube channel
What we learned:
BTC bridge goes live on chain, with the upgrade activating July 5.

$NOM stakers will start to earn Bitcoin Sats. Without any promises, the team mentioned a very, very rough estimate of potentially 1 sat per NOM staked per day. Obviously this could be totally off mark, and will depend on bridge utilization.

The BTC bridge is just the first use case, all future products will also have a goal of generating income in Sats for NOM stakers. Returns should grow over time, from a low early base.

Initially, the bridge will have a 20% fee (yes 20%). This high fee is to discourage large deposits early on. Small test funds to begin with, so safety can be tested and the bridge safety can be proven.

IBC will commence for nBTC in a future update - date TBA.

After that, the subsequent update will enable IBC for NOM, and then NOM can finally have some price discovery.

There will be two more airdrops to happen of NOM tokens. No details, but likely for ATOM stakers, possibly others also but nothing confirmed.

The team is small - just three engineers and one community manager.

The NOM chain is custom built, and does not use the Cosmos SDK, but will use IBC.

The plan for the Bitcoin that LUNA had purchased was for it to be bridged using NOM, but that obviously won't happen now.

The other great resource to learn about $NOM is this post produced by Nomic validator @carbonzerozone.
Also, you can also check out this blog post from the team. There is another detailed document that goes in to technical details of one of the key security features that distinguishes Nomic from other decentralized bridge options, and you can find that here
I mentioned in a post a couple of days ago, that taking a look at a projects Github is always a good idea to see the development work that is occurring. In that spirit, here is the link to Nomic's Github. Looks like plenty of recent activity with the chain upgrade to enable mainnet BTC being the most recent work done.

So there you have it, very soon those of us that qualified for the original airdrop will be earning Sats. nBTC will soon be available in the Cosmos eco-system, and a decentralized bridge built by Nomic will bring it to chains like Osmosis.
Did you get the first NOM airdrop? Been compounding ever since?
I'd love to hear your thoughts in the comments below.
Thanks for reading,
JK.

If you enjoyed this post, here are some more you may like:
As a reminder, here on Leofinance you can find a dedicated hub for Comdex content and information. There is also a Community page for Thorchain We would love to see more contributors come on board, and bring your own perspectives to the growing Leo community. If you would like to contribute content on these projects, and possibly monetize your efforts, feel free to get in touch.
Posted Using LeoFinance Beta
---