Each week, I plan to create a news post highlighting and summarising important developments happening on Thorchain. Any important news from the Dev team itself, some analysis, and importantly community developments as they happen. Thorchain has a very strong, dedicated community behind it, and community built tools and projects are a huge focus. Welcome to Episode 1.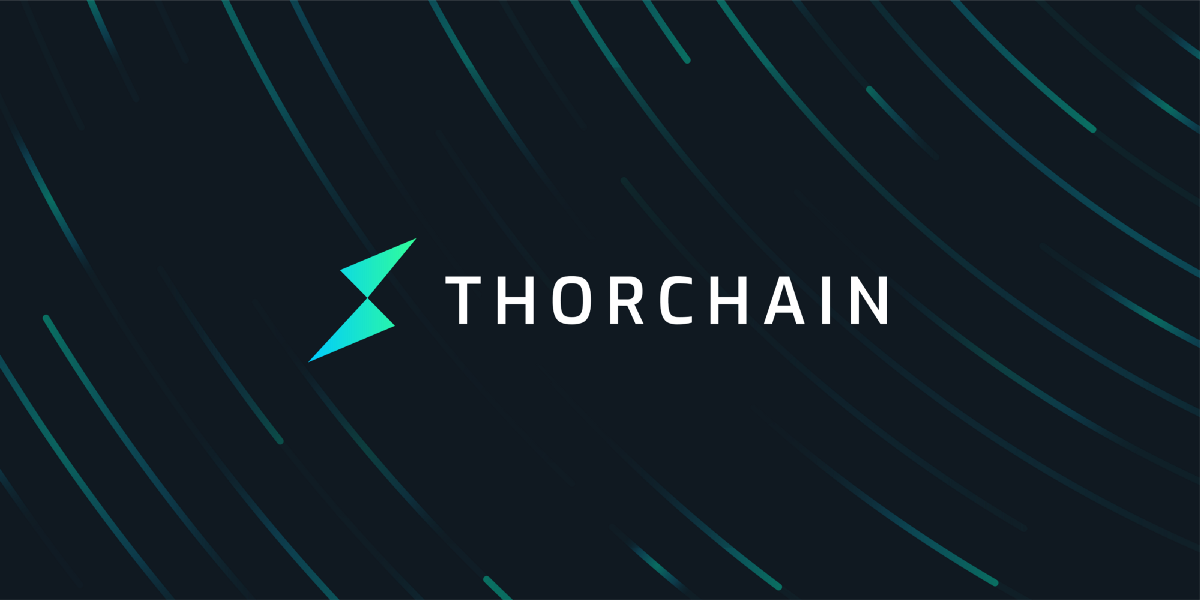 Farewell Runevault.
The Runevault staking program has been running since the early days of the project. The goal behind it was to distribute the RUNE token out, and get it in the hands of the community, building that community up over time. It was always planned to be phased out as the true use of RUNE became available, being bonding for node operators and adding to liquidity pools for other investors.
The final week of Runevault rewards has occurred, and it is now recommended to unstake your RUNE, and plan for life as an LP. Currently, LP options are limited to Binance chain assets. Binance chain has been where Rune was developed, but Thorchain is a seperate chain, and Rune token will migrate soon to become a native Thorchain asset. Binance chain will end up being just one of the "cross-chain" options in time.

BTC testnet.
A testnet implementation linking BTC is imminent. Dev testing and internal work has been a priority of the last few weeks, and a public testnet is coming soon. This is the first step towards a native BTC, cross chain Liquidity Pool and Swap availability.
A little tidbit, with some speculation on my part here. Eric Voorhees, the CEO of Shapeshift, has appeared in the Thorchain telegram channel on occasions, and in Thorchain discussion threads on Twitter, on record as saying he is following the project. A few days ago, he put out the following tweet:
Anyone know where I can get some testnet Bitcoin in reasonable quantities? Willing to pay.

— Erik Voorhees (@ErikVoorhees) October 30, 2020
Now this is purely speculation, but if he is on record saying he is following Thorchain, and he is trying to source "reasonable quantities" of testnet Bitcoin, around the time that a BTC testnet for Thorchain is coming to life... Well, you join the dots, but is it a stretch to consider the possibility that Shapeshift may plug in to Thorchain as a source of liquidity for their swap service?
Pure speculation from me, potentially just a coincidence.

Talk of a RUNE ERC20 token.
This conversation happened in the Thorchain trading telegram: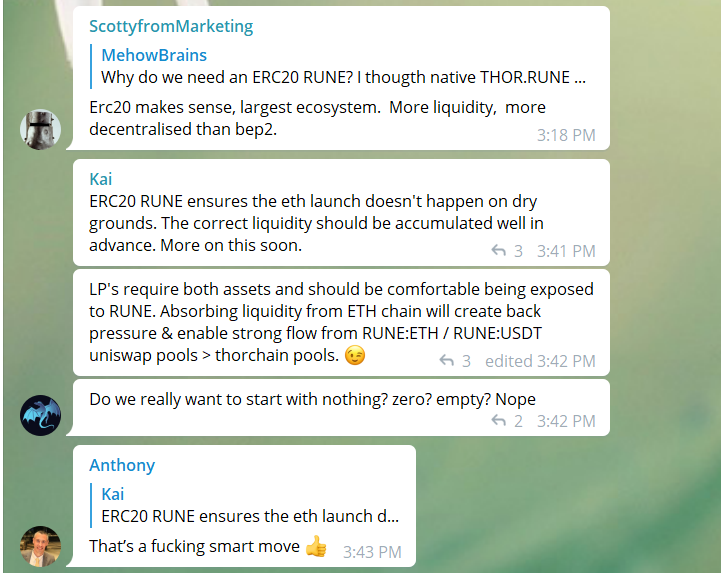 I then asked about the process by which this would happen, and got the following responses: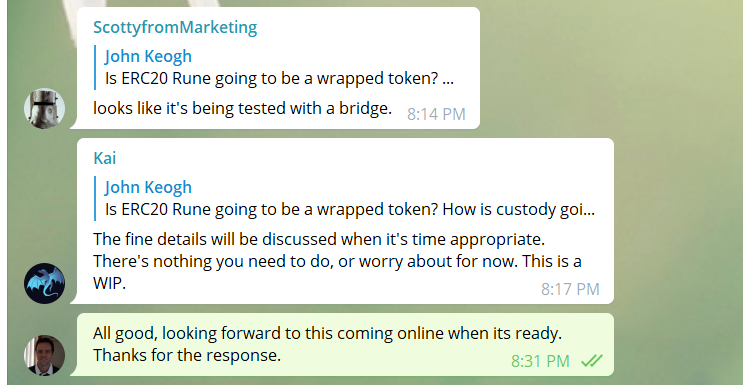 For context, the Kai in these quotes is a Thorchain project lead. I think an ERC20 RUNE, as a stepping stone on the path to native ETH and ERC20 is likely. It appears the team are slowing on native ETH integration, and I'm not sure if the original plans of "by Christmas" is still accurate.

Price.
Like most Altcoins, RUNE has trended lower over the last week, drifting from around 45c to 38c currently. There are a couple of factors aside from the general DeFi bear market that could suppress the price for another week or two, mainly the retirement of Runevault.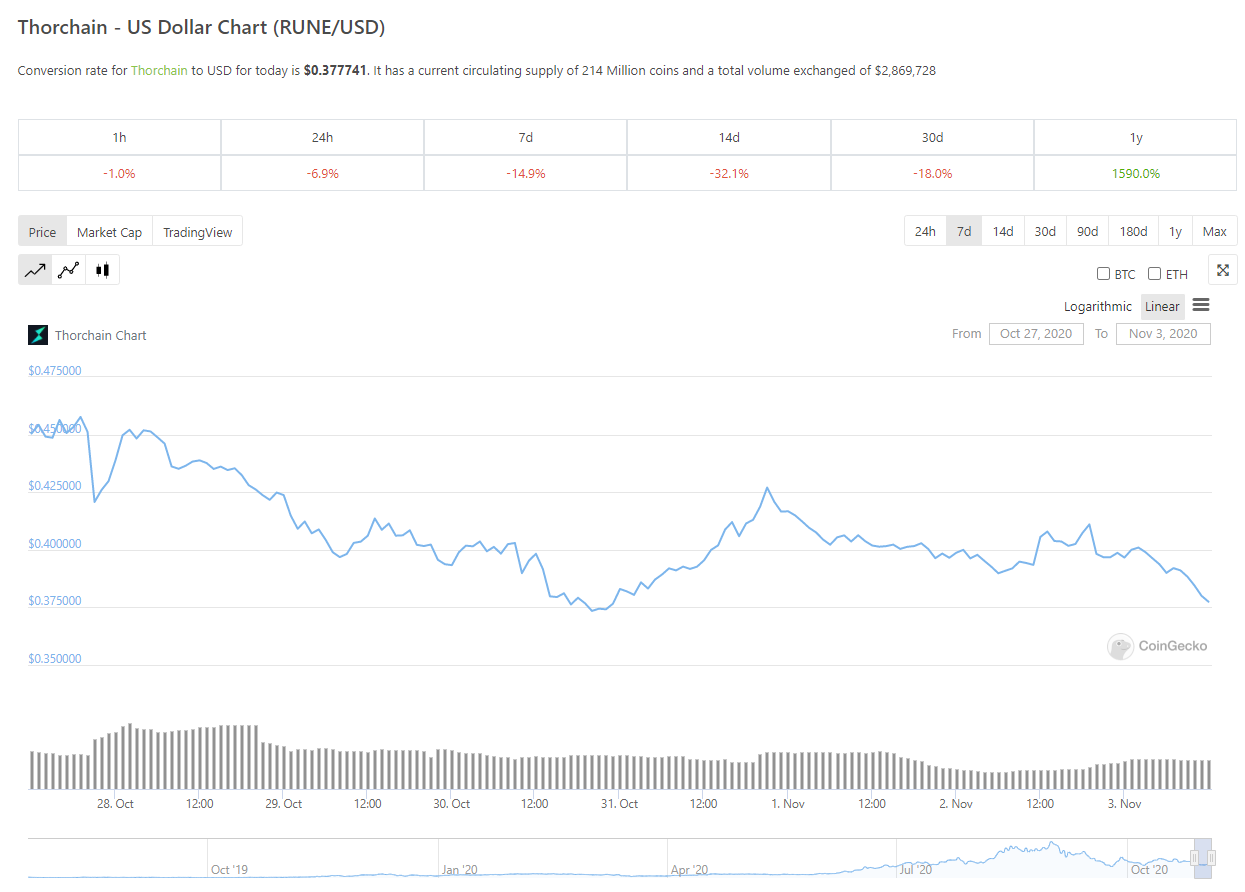 Source: coingecko

So there you have it, just a few highlights and things that the casual observer may have missed from the last week for Thorchain.
If you'd like to learn more, here are some previous Thorchain related articles:

Posted Using LeoFinance Beta