A record-breaking $680 million raise at Sorare: The next big thing in sports NFTs.
---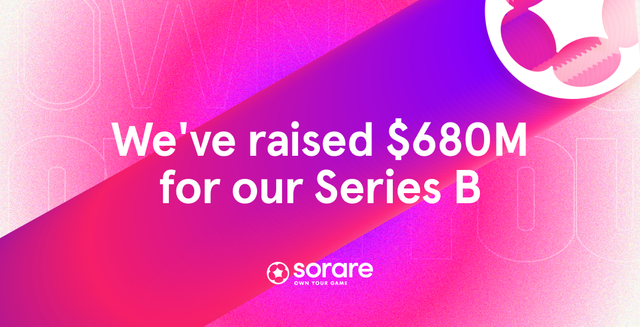 Hello everyone,
Big news from the soccer fantasy game based on NFTs Sorare.
Sorare raises a record $680 million Series B round to build the next sports entertainment giant, leveraging NFTs.
As one of the Sorare builders, Nicolas Julia says:
"Record-breaking Series B is a huge statement of intent that will greatly improve our NFT fantasy gaming experience for millions of sports fans" Sorare now has over 180 clubs, 6000 licensed footballers, and 600,000 registered users and we're only getting started. We are innovative and have built a model that has set the foundations for the next world champion in sports entertainment
This fundraising will help deliver our key objective: to create the next world champion in sports entertainment, by leveraging NFTs. To achieve this, we will use the funds to:
Continue to build a world-class team.
Sign new partnerships bringing the top 20 football leagues onboard and the top 50 national teams.
Accelerate on mobile and marketing, our fantasy game will be a mobile-first experience that fans globally will know about.
Expand into new sports — we've received interest from leagues and fans across the globe to replicate our model in other sports.
Football can change lives, it brings happiness and should be accessible to all. We are going to work with and support community-led initiatives that aim to bring the magic of football to young people from disadvantaged backgrounds.
You will be out of the game even now?
By registering with the link below we both receive a limited card when you collect your first 5 cards
https://sorare.pxf.io/9WObK4
Obviously, you can enter the game without clicking on the link. https://sorare.com/
Thank you for reading!
Cheers!
Resources
https://medium.com/sorare/sorare-raises-a-record-680-million-series-b-round-to-build-the-next-sports-entertainment-giant-c9c987e4a26d
Posted Using LeoFinance Beta
---