Report | One Month on LeoFinance and 2021 Goals
---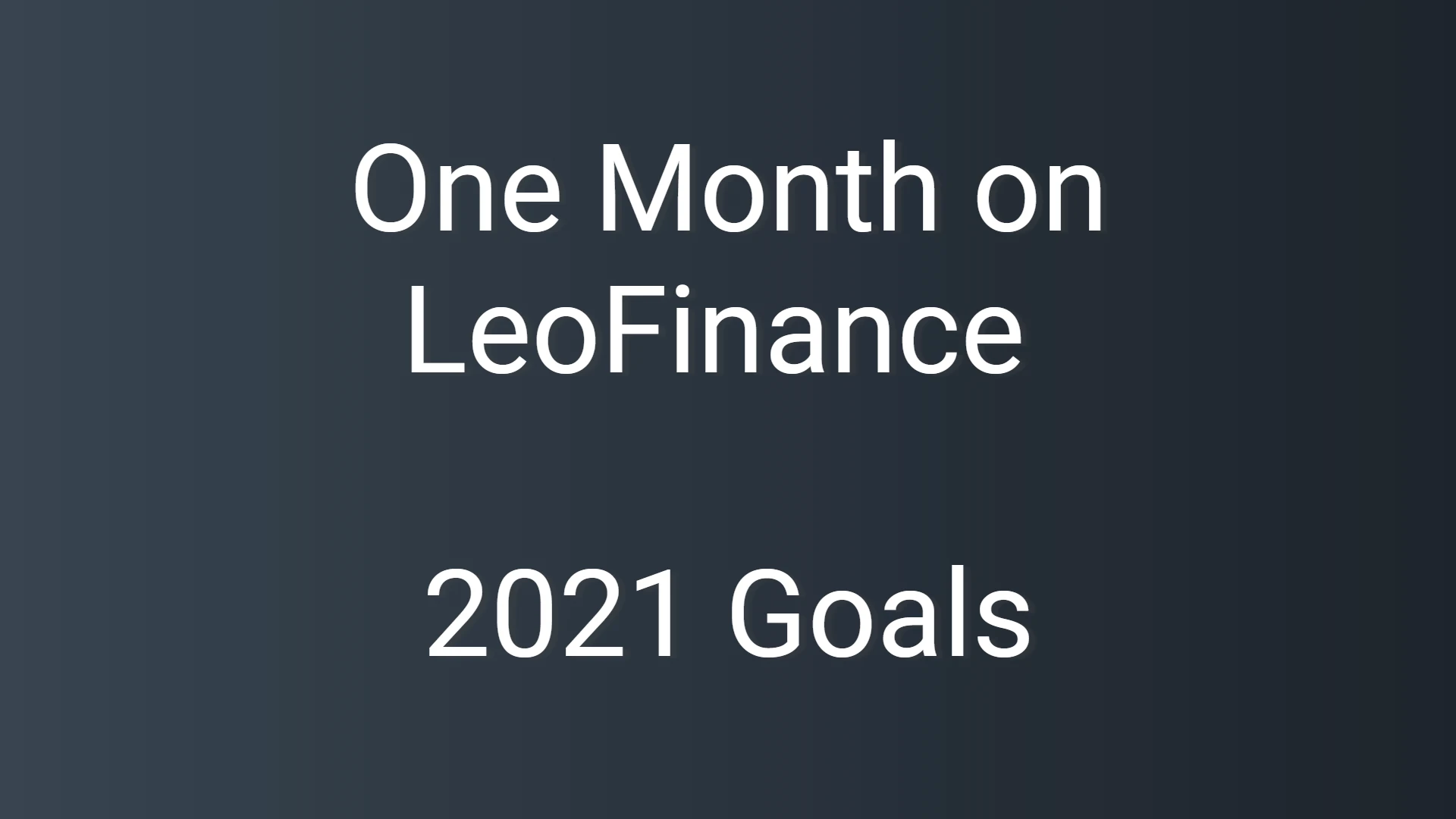 It was almost one month ago when I wrote my first post here on LeoFinance. I did receive a nice and warm welcome from most of you. Because of that, I felt that LeoFinance is a strong community where each other support, and that I wanted to be part of it.
Also, I discovered that this place is always opened to debate and learn from different experiences and points of view, this results in a healthy community.
For me, it was a month to experiment and discover new things. As consequence, I started a few small projects on the Hive Ecosystem, so If I had to keep it short I would say: blogging, gaming, and investments.
Blogging
I had to say I didn't write on a blog in 10 years and it was in Spanish. Therefore, writing posts in English is not being easy for me but I have the feeling of improving, I'd have taken classes at the language exchange school of my city but due to coronavirus I avoided it but probably I'll try again later this year.
So far last month, I was able to write 12 posts and nearly 80 comments between Hive and LeoFinance. This activity generated around 35 Leo and 20 Hive and an invaluable amount of joy and satisfaction for myself.
My vote value right now is 0.004 in Leo and 0 in Hive. These whopping figures translate into 0.001 Leo and 0 Hive curation rewards, resulting in 25% and 100% respectively (not bad, right?).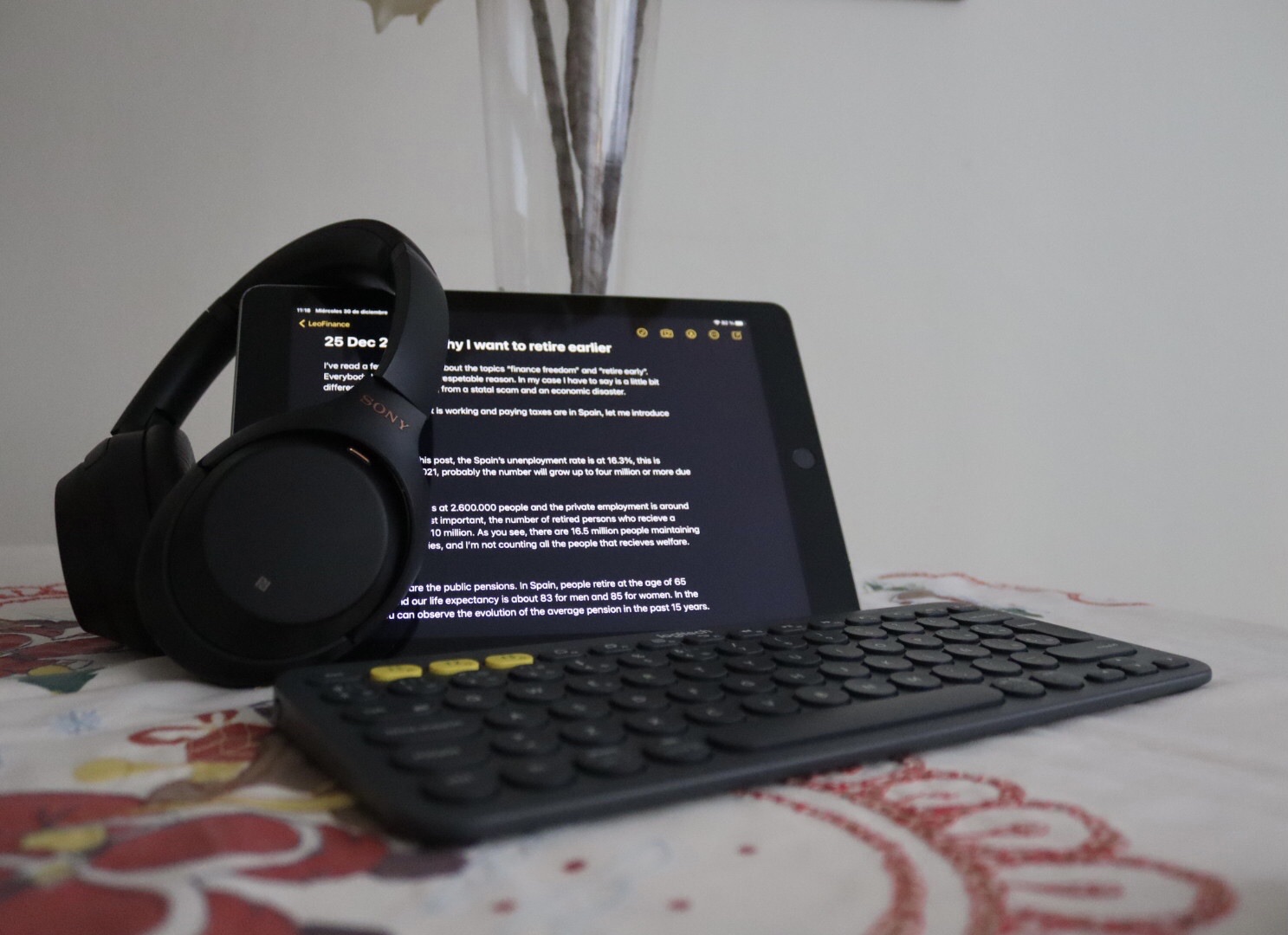 My minimalist rig. An iPad 9.7" (330€), Logitech K380 (35€), and Sony wh-1000xm3 (280€) playing synthwave music 24/7.
Gaming
Looks like 2021 will be the year of web browser games again, at least for me. Who remembers Ogame, Ikariam, Travian, Habbo Hotel, and many others? These were good old days and a lot of bad nights.
In December, I started to play all the complete pack of browser games on Hive. Because I didn't play long enough, I will do a quick review:
dCity — I earn 27 SIM per day, which is nice. It doesn't pay for the rent yet.
Rabona — I'm currently on my first season. The game will have new features to generate some passive income. It looks promising.
RisingStar — The most active game, but the most rewarding for a newbie. I opened my first card pack in a short period of time and I'm near to open the second one.
Brewmaster — Slow pace, simple but complex at the same time, and funny, I love it (who doesn't like to brew some beer?). I'm sitting on a pile of 44 CBM and hundred of water on my inventory.
Splinterlands — A big disappointment. I'm currently stuck at bronze III and losing almost all the matches trying to complete the daily quest. My routine on this game consist of reach bronze III and wait for 14 days to open 5 chests. Definitely, the game is broken at low tiers and won't recommend to new players because it doesn't seem to be fixed in the near-mid term.
Ocean planet — Soon.
Investments
A few days ago I delegated all my HP to @leo.voter and is returning 0.003 Leo per day, I consider this pretty nice for nearly 17 HP. Other than that, I earned some SPT, PAL, NEOXAG, and many others. I delegated all my SPT to @monster-curator because the user behind is doing a fantastic job curating Splinterlands content, a job for which I don't have enough time. However, I'm still looking for other accounts to delegate the other tokens on my wallet.
Also, I bought my firsts LBI tokens, 19 in total. The team behind (@lbi-token) is pretty solid and they are doing an awesome job. Therefore, I will be buying more LBI each month.
New Goals
For this year, my goals will be based only on my previous month:
Earn a minimum of 50 LP per month from posting.
Reach the 1000 LP mark by the end of the year.
Write a minimum of 15 per month and 30 by the middle of the year.
Write a minimum of 25 comments per month and 50 by the middle of the year.
I will keep my activity on the rest of the Hive communities but I will focus more on LeoFinance. Also, I will write one high-quality post on my personal Spanish crypto blog per week, and I will be also writing translated versions of my posts between LeoFinance, my blog, and vice versa.
For my personal goals, I'll keep improving my writing skills to deliver more and better high-quality content, and also my English grammar because sometimes I feel the lack of skill. Said that, if you would like to share any good resource with me about those 2 topics I will be eternally grateful to you.
I hope this year will be better for all of us in each aspect of our life. I wish you a happy new year!
Special thanks and mention to @tbnfl4sun, without your help, I wouldn't have enough RC to engage this much on Leo.
Posted Using LeoFinance Beta
---