How To Thrive On Hive...The Challenge!
---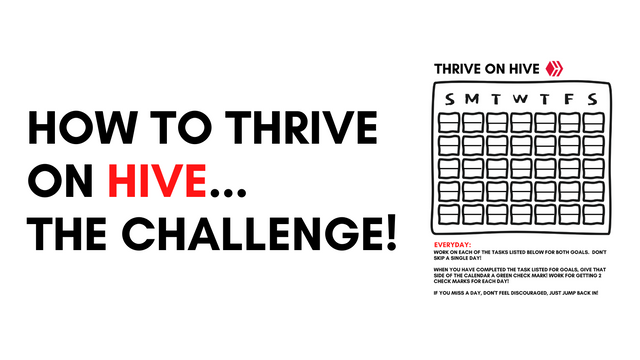 A few months ago, I did a post that detailed some strategies that newer members of the community could potentially implement for their journey on the blockchain.
I feel like I can speak to a huge number of us because...
I had very little technical knowledge especially about blockchain when I first started. I didn't know a single person either. And to top it all off, I didn't have stashes of crypto I could flip and become a whale overnight.
I defined the grind on Hive. And these strategies I spoke about, seemed to work well for me. And not only on Hive, but across all platforms when it came to building a business. It did not require massive upfront costs, it did however required...Grind!
The original 'plan' was called the 5-500-500 formula.
It worked like this....
Engage with 5 different members of the community. Whether it's through commenting, re-blogging, interacting, whatever you felt comfortable doing...Just make sure at minimum you engaged with 5 different people a day.
Which led to attracting 500 followers on chain. This meant you were delivering value and was a good gauge on how well you were doing on Hive!
And finally, shoot for the target of reaching 5000 Hive Power. Simple enough, the more value you bring to the blockchain, the more you will be rewarded.
There was no time limit, just a plan to follow which I lived by for the first year of being on chain.
A few months ago, I revised the plan and basically put it down to 2 goals!
This was my little 'cheat sheet' I drew for it...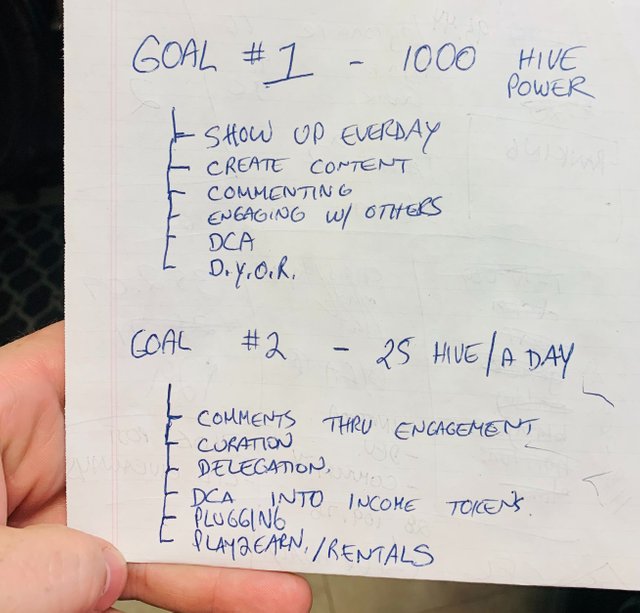 The first goal was to reach 1000 Hive Power. And I showcased some strategies you could use, everyday to learn about Hive, grow your account and continue to add value to the blockchain.
The second goal was almost a by-product of reaching the first goal because after you hit 1000 Hive Power, you could target reaching a Hive income level daily to grow your account. I set the target at 25 Hive per day. Which again, is not crazy and out of reach for most people on hive if they put in the work.
Again, I followed that up with some strategies people could follow to help achieve that goal.
(I know that reads 'plugging' on the second last point, but it's meant to say blogging lol)
I was looking at this list today and thought it would be cool to go over some of these points and maybe even create a little checklist to help you on your goals....
Here's how it works:
Step 1: Download the checklist here! It's a PDF file, and personally, I love to print things like this out. There is something very powerful about 'checking off' a calendar when you complete an assigned task for the day! If you can't print out the PDF, here is the image you can save if you like...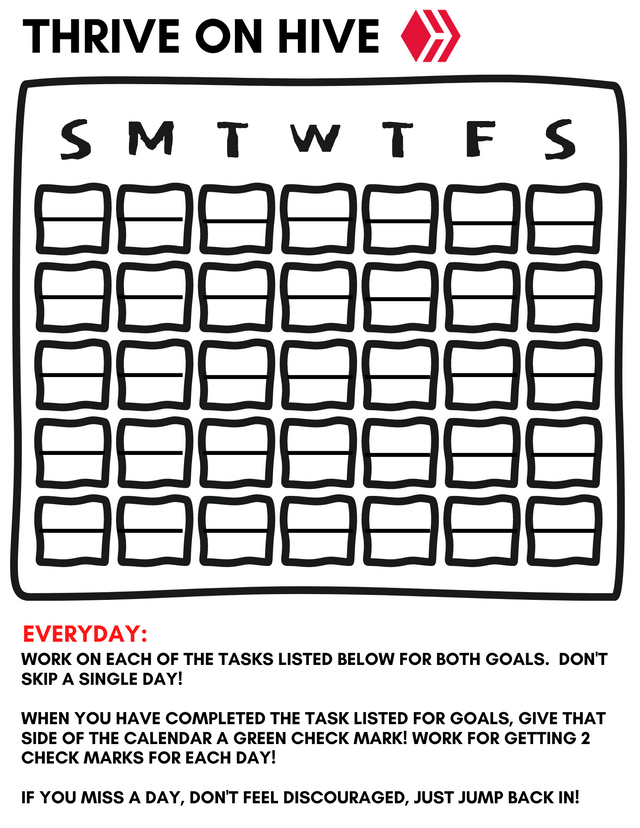 Step 2: Follow the steps outlined! These are just some recommendations but I know when I followed these, my journey got that much sweeter! While it's not required to do every single one every day, I know personally, it works! If you can't download the PDF, here is the image from page 2 with the tasks to complete each day.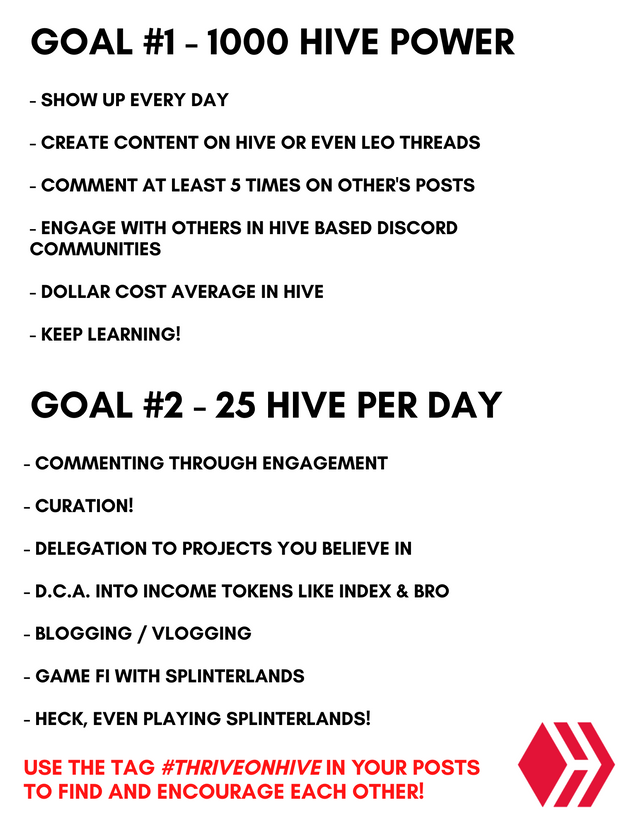 Step 3: Do the work! If you skip this step, well...This isn't school. No one is 'checking' your work. However the best part of Hive is the community. So this is why I thought it would be cool to have a tag for this challenge...
And that way, we could monitor how many people are taking part in the challenge, support each other and I know personally, I'll be rewarding participants with some upvotes, tips and HSBI shares as well!
Heck, who knows....If this takes off, maybe we can get some donations coming in to reward participants and what not...However the biggest reward will be...
Seeing your Hive account grow! You will be adding value to the blockchain and in the process getting to build relationships with this amazing community every single day going forward.
So...Are you up for the challenge?
---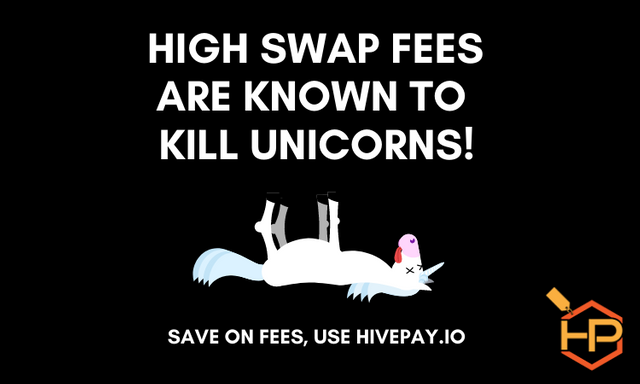 Save BIG on all your Swap.Hive / Hive needs with HivePay:
Vote for our Witness Node (clicktrackprofit) On..
Hive:
https://peakd.com/me/witnesses
https://wallet.hive.blog/~witnesses
Gift and tip CTP tokens to awesome content creators using the brand new @CTPtips Bot!
Stake CTP and use the prompt !CTP to gift tokens to your favorite creators!
---