Proof of Keys: My Exit From CeFi
---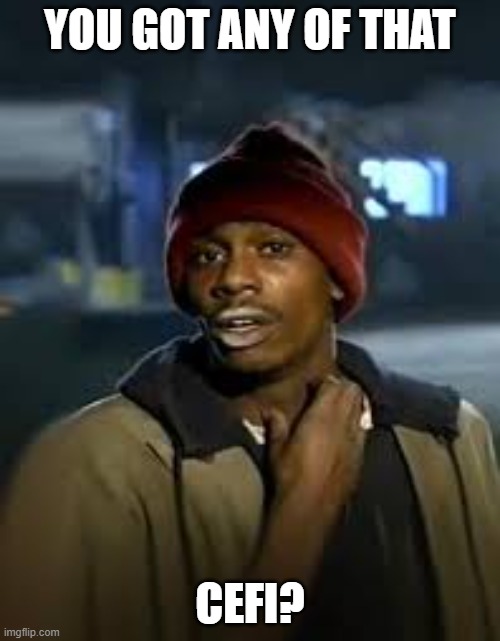 In and Out of CeFi
I posted a little while ago that I was beginning to remove my crypto from various CEFI platforms like BlockFi, Crypto.com, Nexo, Celsius, Voyager, and Abra. This was mainly because they began nerfing their rates and implementing tiers. Then the SEC stepped in, and the platforms began to lock deposits into interest bearing accounts. That made me a bit uneasy. A little while later, the Celsius FUD started bubbling up.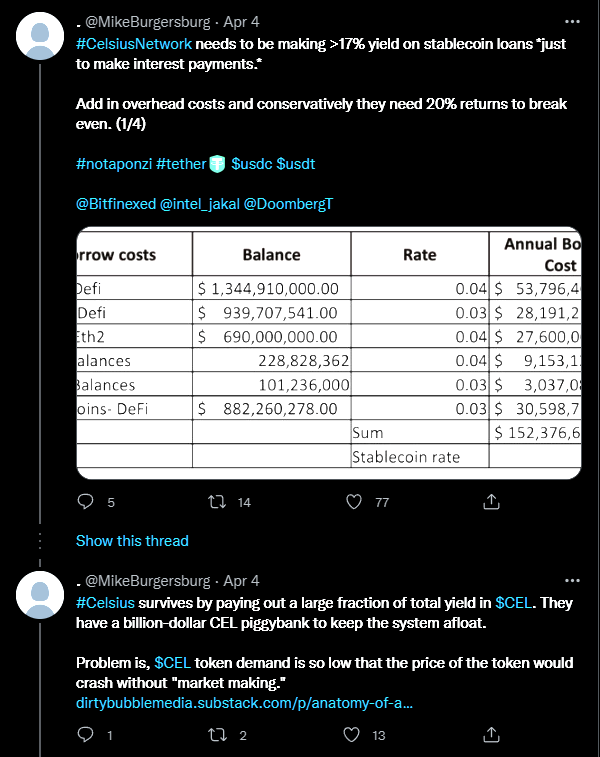 Not Worth It
It was at this point I decided that the juice just wasn't worth the squeeze, so I began to remove my holdings and place them into cold storage. I just didn't feel great about having my precious Bitcoin, ETH, etc. on these platforms. It was the perfect time for a 'proof of keys' exercise, which is the act of sending your crypto from custodians to cold storage. I figured I could remove my crypto from them for a time, and then reevaluate and send them back at a later date. I removed my custodial crypto from every single provider save one, which was Ledn. Ledn has always been very transparent with their reserves, and they get regular audits. They also DO NOT have a platform token. So besides that tenth of a BTC and some USDC on Ledn, EVERYTHING got removed. That level of risk was acceptable to me. Then came the LUNA collapse. LUNA is not CEFI mind you, but I think it got people to start taking a closer look at yield products. From there the FUD and rhetoric started to accelerate with some prominent Bitcoiners piling on.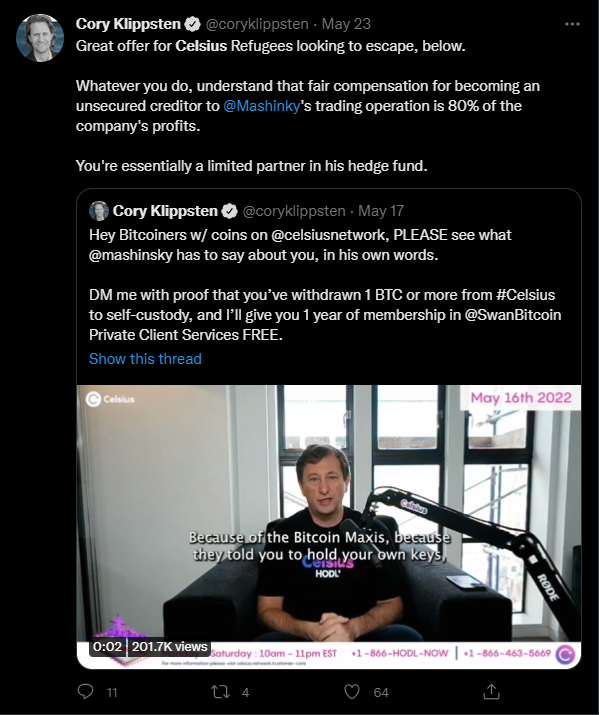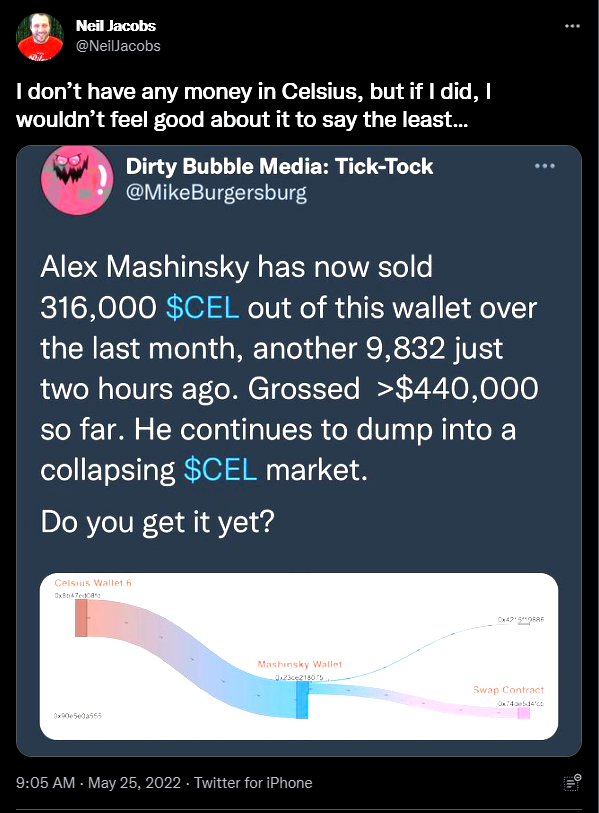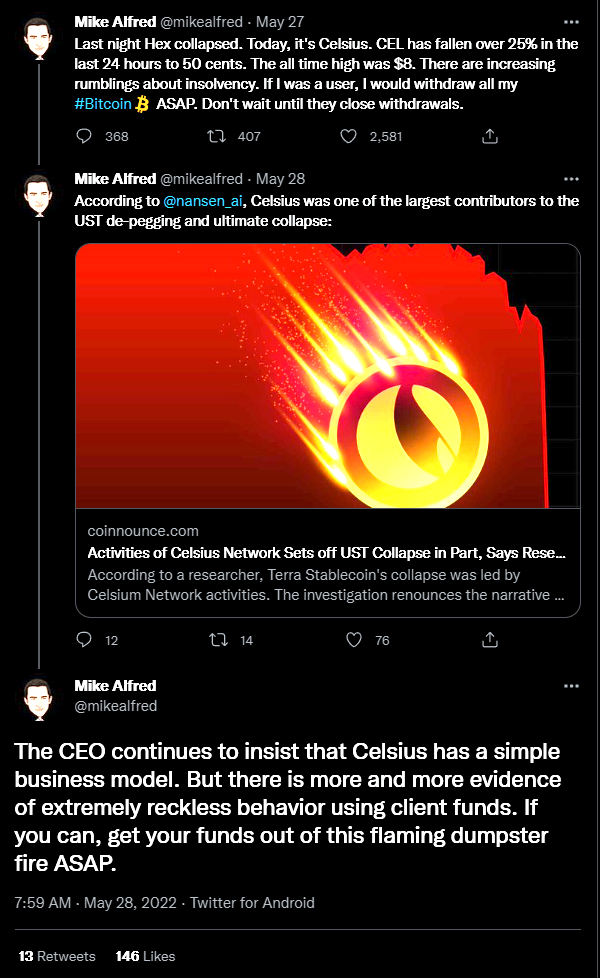 Despite this some people continued to defend their business model.

It then came to light that 3AC had taken a massive amount of loans from Celsius and Voyager and dumped it all into LUNA and UST. I figured for sure there would be a bank run on Celsius, which would probably result in an overall bank run on all CEFI platforms. I was right.


The Aftermath
Some were able to get their funds out on time, but many were trapped. Some were even forced to keep depositing collateral into Celsius to keep from getting margin called. I have never used leverage, but it was still sad watching all of these people throwing good money after bad in the hopes they would get their Bitcoin or ETH back.
Two of the platforms, Celsius and Voyager, are going through bankruptcy proceedings even as we speak. I highly doubt people will ever see their funds again. To the CEFI platforms, they constituted a loan from you to them, which they defaulted on. You never really did 'Unbank Yourself'.
I escaped, but not completely unscathed. I left a little ZRX on Celsius, which was really nothing compared to what I could have lost.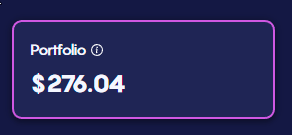 I also lost a little ADA on Voyager.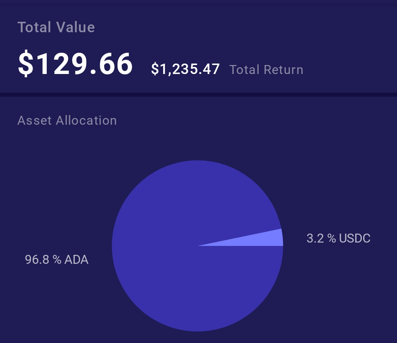 So far it doesn't look like any deadly contagion hit Crypto.com, Nexo, or Abra. It did hit BlockFi, who liquidated 3AC, and it appears they will not have to take the bankruptcy road of Celsius and Voyager. BlockFi had no platform token, is VC backed, and they frequently touted their risk mitigation strategy. I think they may come out of this alright. I still pulled my funds out, mainly because they were the first to bend the knee to the SEC and locked additional deposits. I still have the BlockFi credit card though, and continue to stack sats with that. BlockFi isn't remotely as sketchy as Celsius in my opinion.

In Conclusion
I feel really bad for people who lost money. In retrospect I don't think I could have convinced anyone to follow the same path with the proof of keys exercise. Few people are as skittish as me. It's just another reminder that we are early. This has left me plenty gun shy of leaving much crypto with CEFI custodians. I'll be keeping the majority in cold storage for now. This did get me to take an even closer look at DeFi on Ethereum, Aave in particular. I sent a little stETH there to play around with. I even took at a small DAI loan and sent it to my Crypto.com card. Worked like a charm. As with any investment, please don't put more money into them than you are prepared to lose!
Posted Using LeoFinance Beta
---