MicroStrategy now plans on buying roughly $1 Billion worth of Bitcoin!
---
MicroStrategy won't stop until they are the largest Bitcoin HODLer in the world!
MicroStrategy announced yesterday that they would be doing (another) convertible debt offering to the tune of $600 million in order to buy more bitcoin.
More on that announcement can be seen here:
https://hive.blog/hive-167922/@jrcornel/microstrategy-to-buy-another-usd600-million-in-bitcoin
The idea was that they would sell convertible debt that could be converted to shares of MSTR stock or cash with the proceeds being used to buy more bitcoin.
It's a controversial move that they've already done one time prior:
https://hive.blog/hive-167922/@jrcornel/microstrategy-can-t-get-enough-bitcoin-adds-another-usd150-million-to-it-s-previous-usd400-million-announcement
However, is this wasn't enough, after making the announcement yesterday morning, they came out today and said they upped the $600 million offering to $900 million with the possibility of being filled north of $1 billion USD: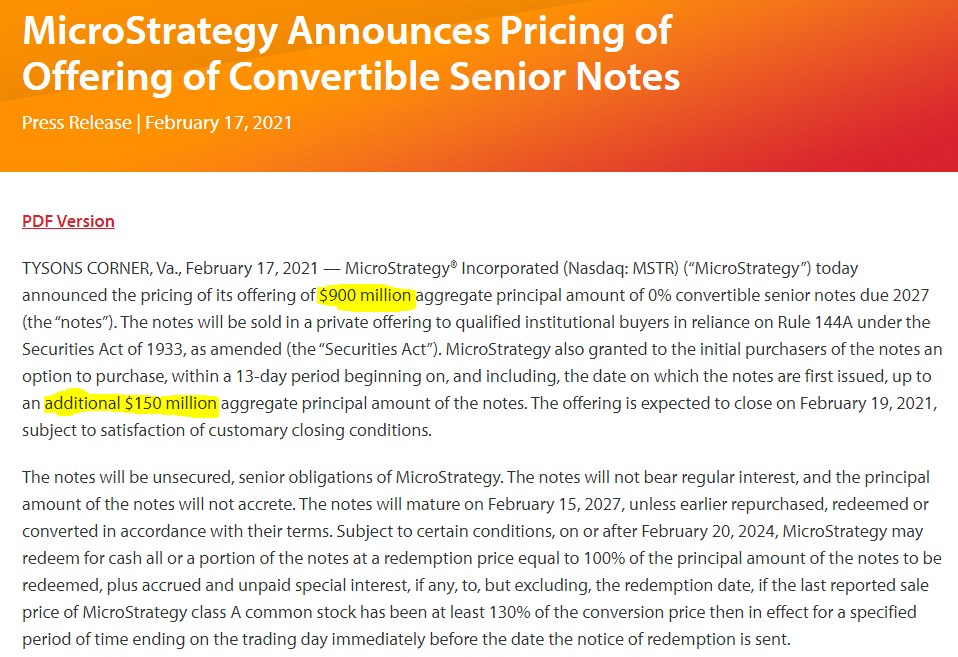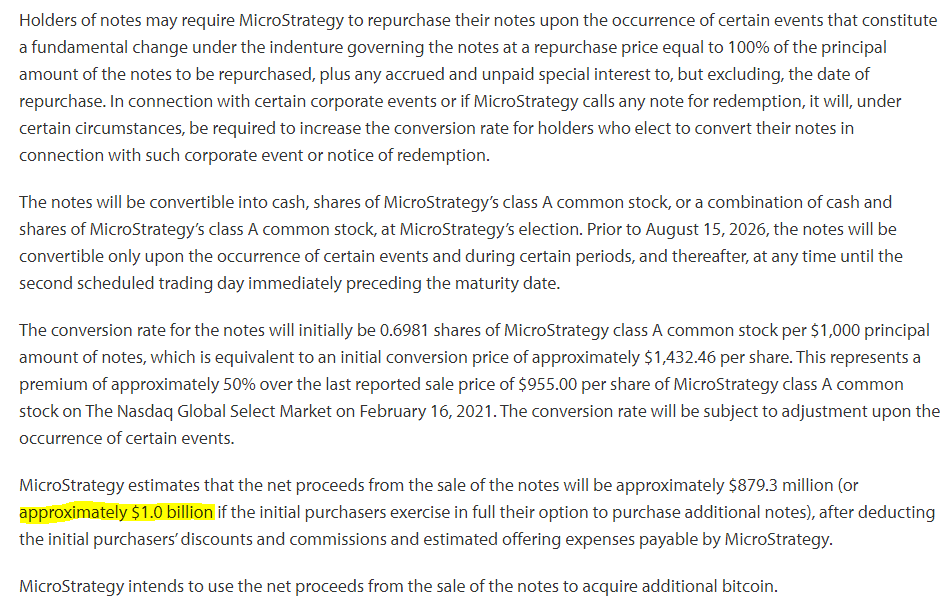 (Source: https://www.microstrategy.com/en/investor-relations/press/microstrategy-announces-pricing-of-offering-of-convertible-senior-notes_02-17-2021)
Again, with all the proceeds being used to buy more bitcoin...
Another $1 Billion coming into Bitcoin shortly...
The offering mentioned above is expected to close on Friday of this week and the proceeds expected to be invested into bitcoin shortly after.
Which means...
We could see another $1 billion flowing into bitcoin as soon as this Friday.
Say what you want about Michael Saylor, but they are telegraphing their moves before they even do them so there is no risk of regulators saying Saylor is talking up an investment after he buys it.
Which is a very smart thing to do at this point.
A big part of the bull case for bitcoin is coming at the expense of gold.
We knew that money may flow out of gold and into bitcoin, but just looking at the charts it looks like it's already been happening.
Check it out: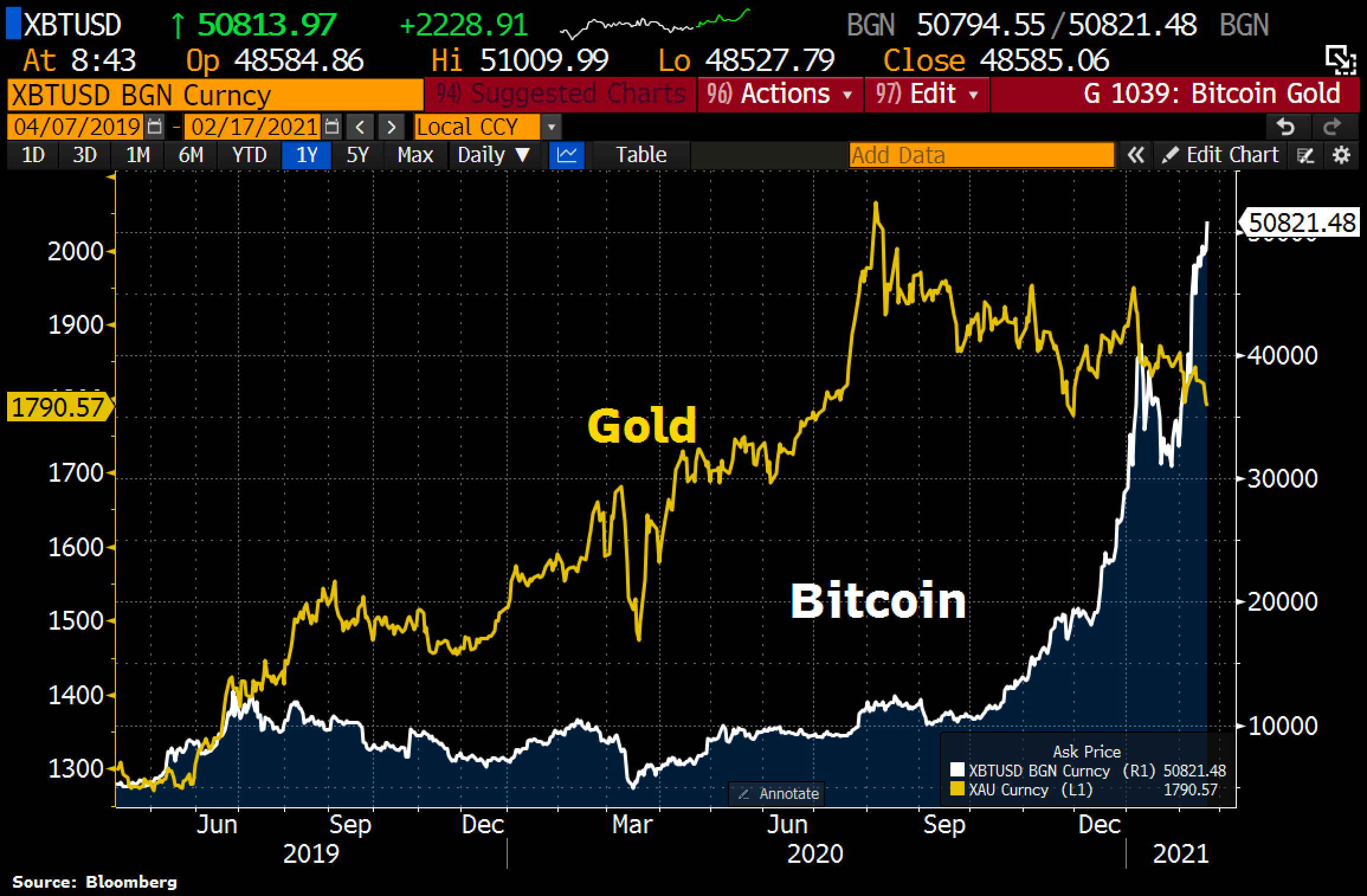 (Source: https://twitter.com/Schuldensuehner/status/1361944837742874631/photo/1)
Gold peaked back in August and has been declining basically ever since. Peaking over $2k and now trading under $1800 an ounce.
Bitcoin was around $12k at the time gold peaked and is now trading at $52k.
Anyone holding gold needs to seriously reconsider as I think this trend is going to continue over the coming years.
Gold has a place, but the store of value money in there is going to be moving to the better alternative, bitcoin, and Michael Saylor is going to do his part making sure that happens.
Stay informed my friends.
-Doc
Posted Using LeoFinance Beta
---