Being among the 30 most rewarded LEO authors! How did I do it?
---
Today, I am celebrating milestones that I never had planned.. And I would like to share my story with you.
Yesterday evening was a very peculiar evening for me.
I received a notification that my name was mentioned in the new post by @leofinance
I took a quick look and I saw that the Title was "LEO Authors Are the Most Rewarded Users on Hive" .. I never thought that my name would be included in the Leaderboard!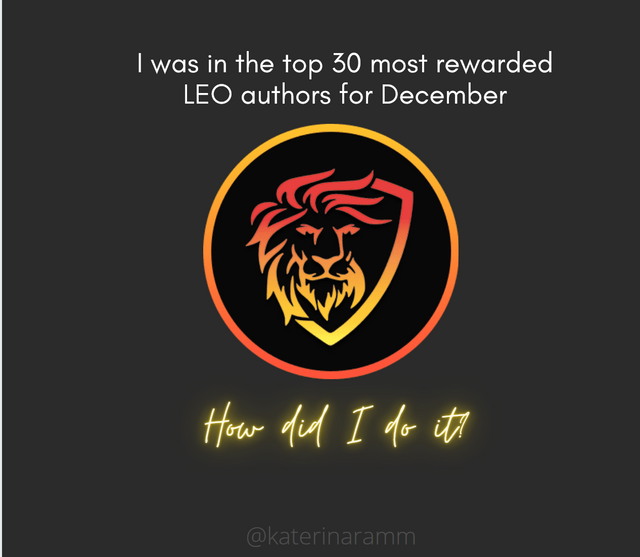 Yes my friends
I was the 29th most rewarded LEO author in the month of December!
(If you don't believe me, here is proof!)


What did I do to deserve such an honor? I was among names such as @taskmaster4450, @rollandthomas, @trumpman, @khaleelkazi, @acesontop, @behiver, @filotasriza3 (κι εσύ εδώ;) (and more, please check out the post for all of them :))
I am of course grateful, this amount of rewards is something really unbelievable for me and I would never have imagined that I would accomplish that.
I am thankful to all the leofinance users how supported my posts and who commented, and of course grateful to @onealfa who took the time to read and visit a few of them :)
Thank you!!!
But .. wait? How did I get there? What are my secrets?
Well no hidden secrets, but I would like to share a my actions with you :)
(1) (Almost) Daily LeoFinance posts
I posted on Leofinance almost on daily basis. And of course I checked out new posts as more as I could.. It is important to have a consistency in your writing behaviour.
Of course the content should be original, yours, not copied pasted and any information mentioned or image included should have a source
If for instance I post about LeoFinance Witness being now in the 32nd place so please everybody upvote, I shall include the link where I found this info here by @behiver.
(2) Ok, you may ask.. But what can I write about every single day?
I can tell you what I do .. I have a list of subjects that can be written any time (such themes could be a review of an app, a crypto experience of yours, a set of tips for a specific subject etc) and to this list I go when there is not a current topic to write.
For instance if I wish to share an airdrop, a new dApp, an event (such as the VR Hive Fest) etc ..
(3) Pay attention to the posts' appearance
It is important for a post not only to have good content but to look nice. I pay attention to the headlines, to the images used and I try to keep things tidy so that the post can be easily read :) Not sure if it always works, but
(4) Feel free to promote your posts on other platforms
We are not always on leofinance .. we are digitally everywhere ;) So why not try to promote leofinance in other channels?
I usually promote my leofinance links at
If you ask why, it is because other lions may be in other platforms and that way they get to see my posts (or wannabe lions ;))
I spot often posts by @bagofincome @alexvan @acesontop @lordneroo @khazrakh and more .. in other platforms! I always visit in case I have missed when curating!
(5) LeoFinance Discord
I know it is not easy to be everywhere, but Discord is a place where instant communication between a community is is possible. Also, announcements take place and it is very important to be there to be able to get help if needed. (Or of course to help if anyone is asking something that you can answer ;))
Being active in a community is always a win-win, so you earn in new friends and knowledge and it is always a mutual thing :))
Join us on Discord https://discord.gg/QMEd372
(6) Try to be genuine and authentic in comments
Unlike other platforms (such as Publish0x) - in leofinance, comments are often rewarded (and sometimes even more than a post itself :)) If you comment only to comment, it will be obvious. Comment to be useful, to be helpful, or to ask a real question. This will get you noticed :) And replied to! So, again .. a win-win situation!
(7) Repost in hive
I repost my post in the hive blockchain - so all my hive followers can see it not only the community in LeoFinance
(tip - you can also set it to be auto reposted if you visit the settings in Leo .. hihi this is a secret ;))
(8) Beg @trumpman for upvotes
If none of the above works, then I suggest that you go to @trumpman and ask him to support you :P
Ok, that is a joke, but jokes aside - his posts are useful and you can check out the channels he is in, the games he is playing and I know that he can be really helpful when he wants to :))
Thoughts?
I would like to hear more advise of anything that I left out from the rest 29 top LEO authors or from anyone reading this :)) Let's share our knowledge, experience & tips!
Thank you for visiting, once more!
(Top image created in canva with free to use elements)
If you are new in LeoFinance you may want to check out this post
Who am I?
I am Katerina from Crete, Greece. An enthusiastic content creator with a passion for photography. Interested in the blockchain technology, in new social media platforms and in trying to educate new users who wish to explore the blockchain social media world and its possibilities!
---
Previous post about noise.cash LeoFinance Beta
---
Last day today to participate in the free-webinar about DeFi by University of Nicosia LeoFinance Beta
---
Posted Using LeoFinance Beta
---