New CoinMarketCap Learn & Earn Campaign for Only1 (my answers included)
---
I have stopped participating at CoinMarketCap Learn & Earn Campaigns, because .. I have never, ever earned anything.
But today I noticed a new campaign of something really interesting.
An NFT platform, created on Solana - Only1.
I was curious of course so I had to try it out, so I tried to find the answers (please see below) and even if I dont earn anything, its ok - I will at least try out the platform soon (so do wait for another post by me :))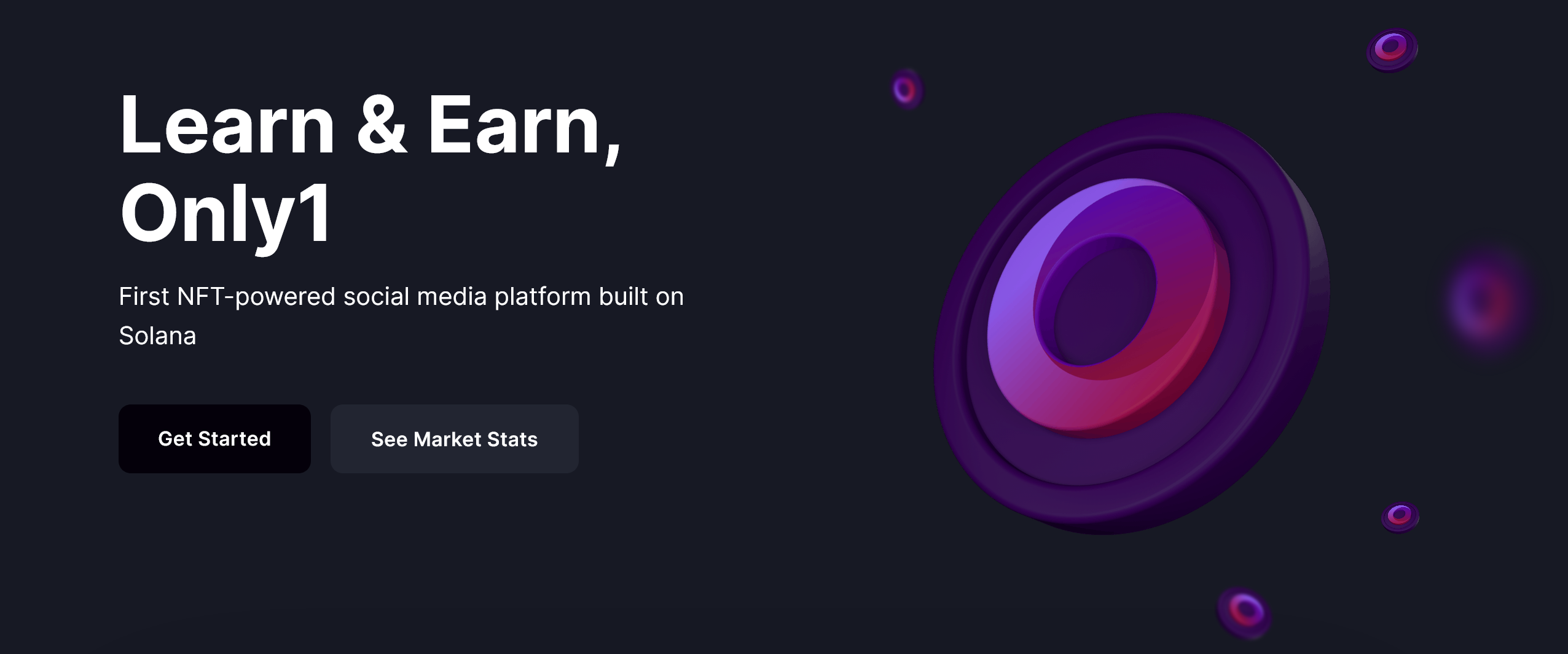 What is Only1?
Only1 is the first NFT-powered decentralised social platform built on Solana. We help creators monetize without third parties via creator staking pools. Our native token and NFTs grant holders unique access to the creators, ability to govern the platform and rewarded for doing so.
What info you will need before starting to answer the questions
Be logged in CoinMarketCap
Have your Binance user id
Have a Solana Wallet (they only accept SPL wallets such as Phantom, slope or sollet) - I donwloaded Phantom
Add Only1 to a public CoinMarketcap watchlist and have it at an easy to find tab
This is the link with the info and the link to the quiz:
https://coinmarketcap.com/alexandria/ko/article/learn-about-the-only1-take-a-short-quiz-to-earn-like
And here are the questions & my responses.
Kindly always do your own research!
Question 1 (after all the info and verify you are human etc)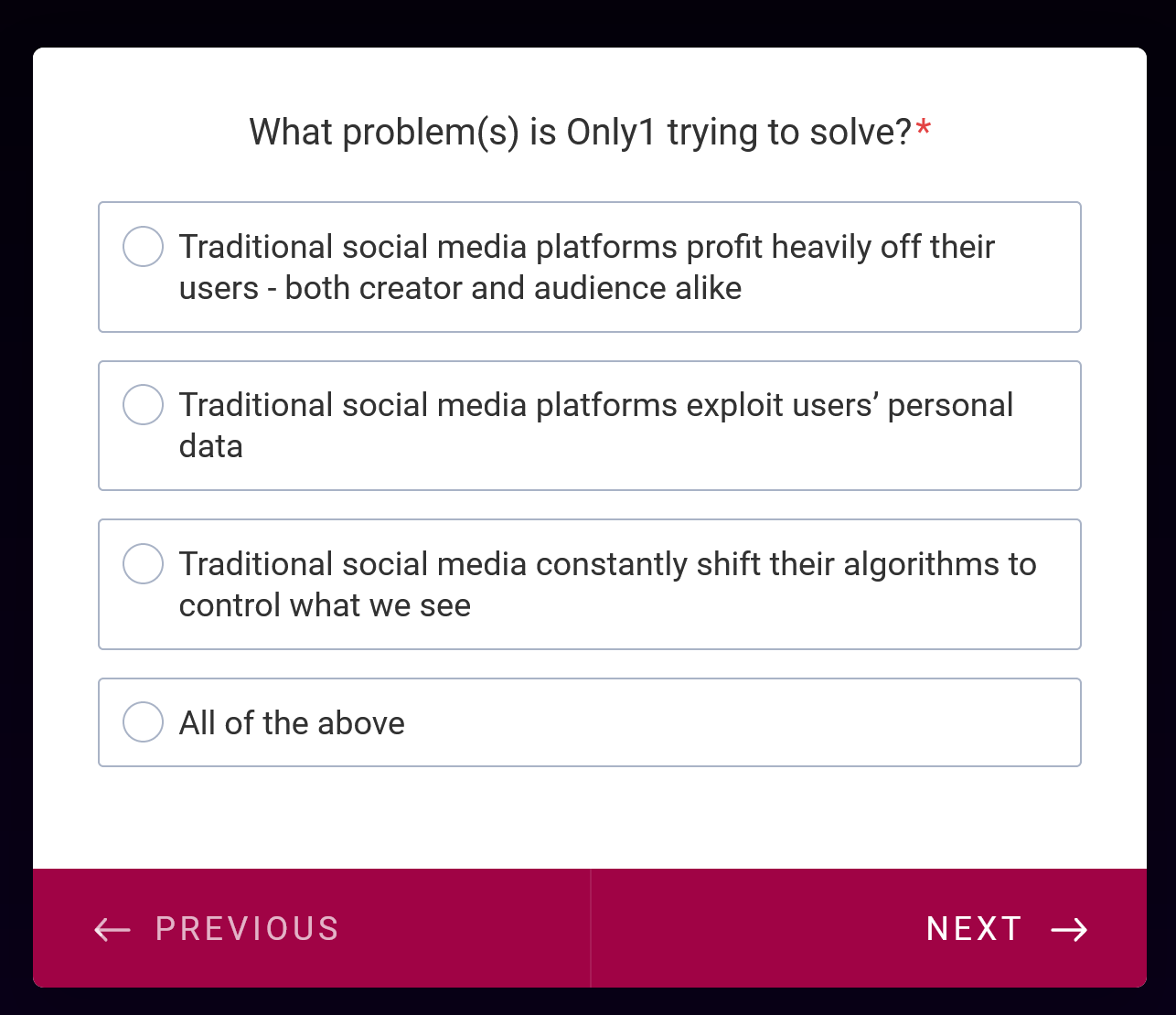 I answered All of the Above
Question 2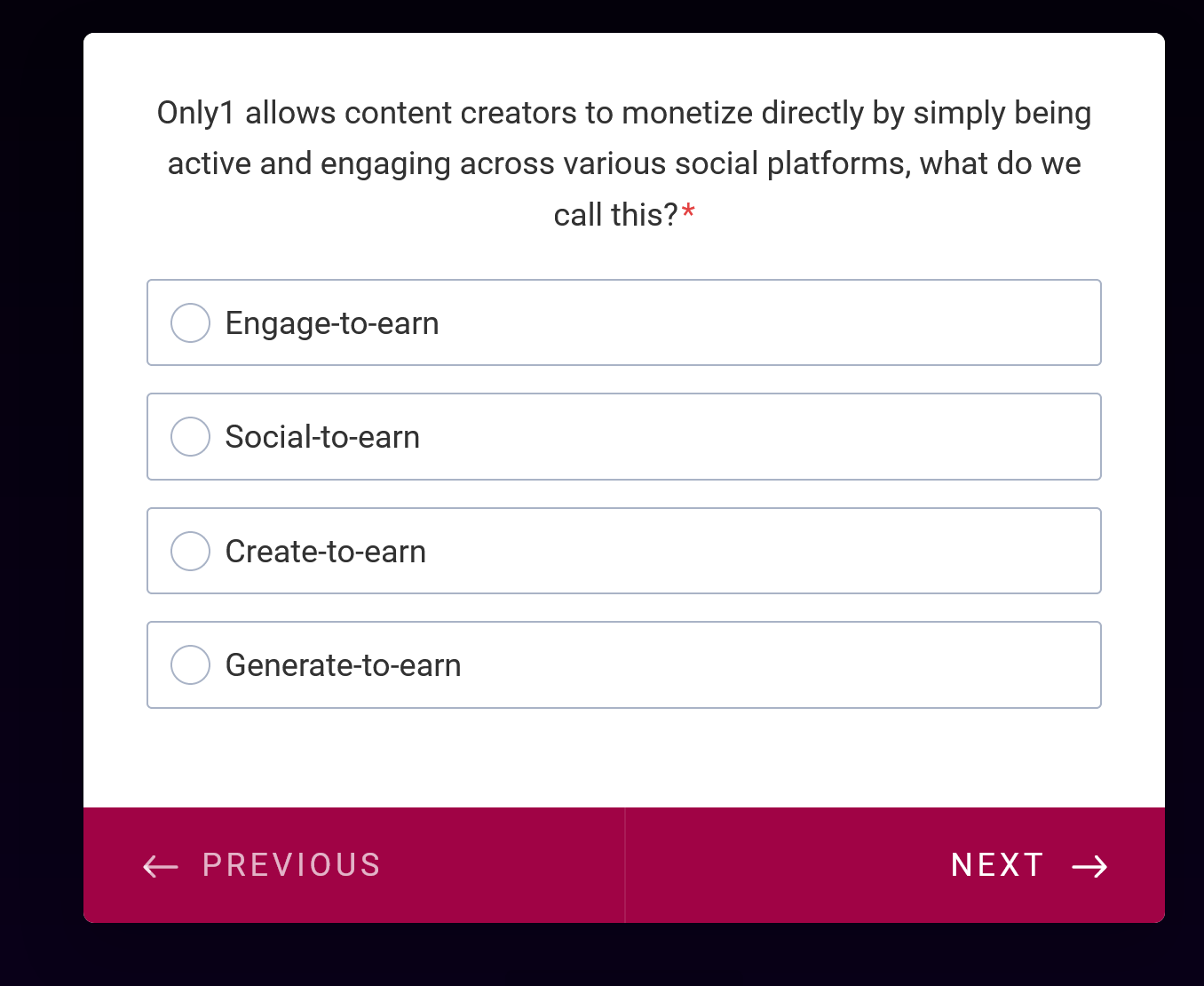 I answered Create-to-earn because of this: https://only1.io/create-to-earn-c2e/
Question 3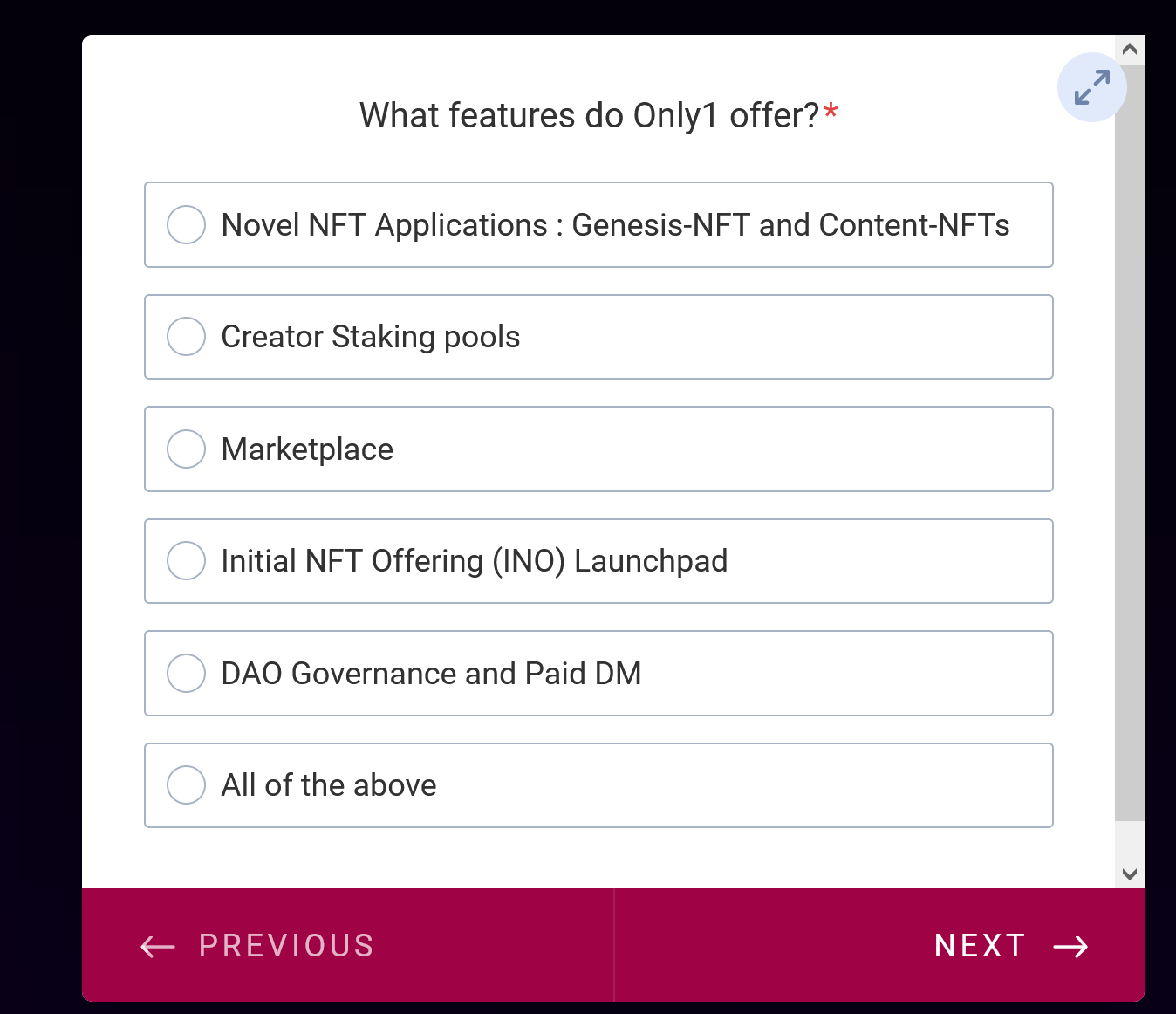 I answered all the above (I remember those from the Videos)
Question 4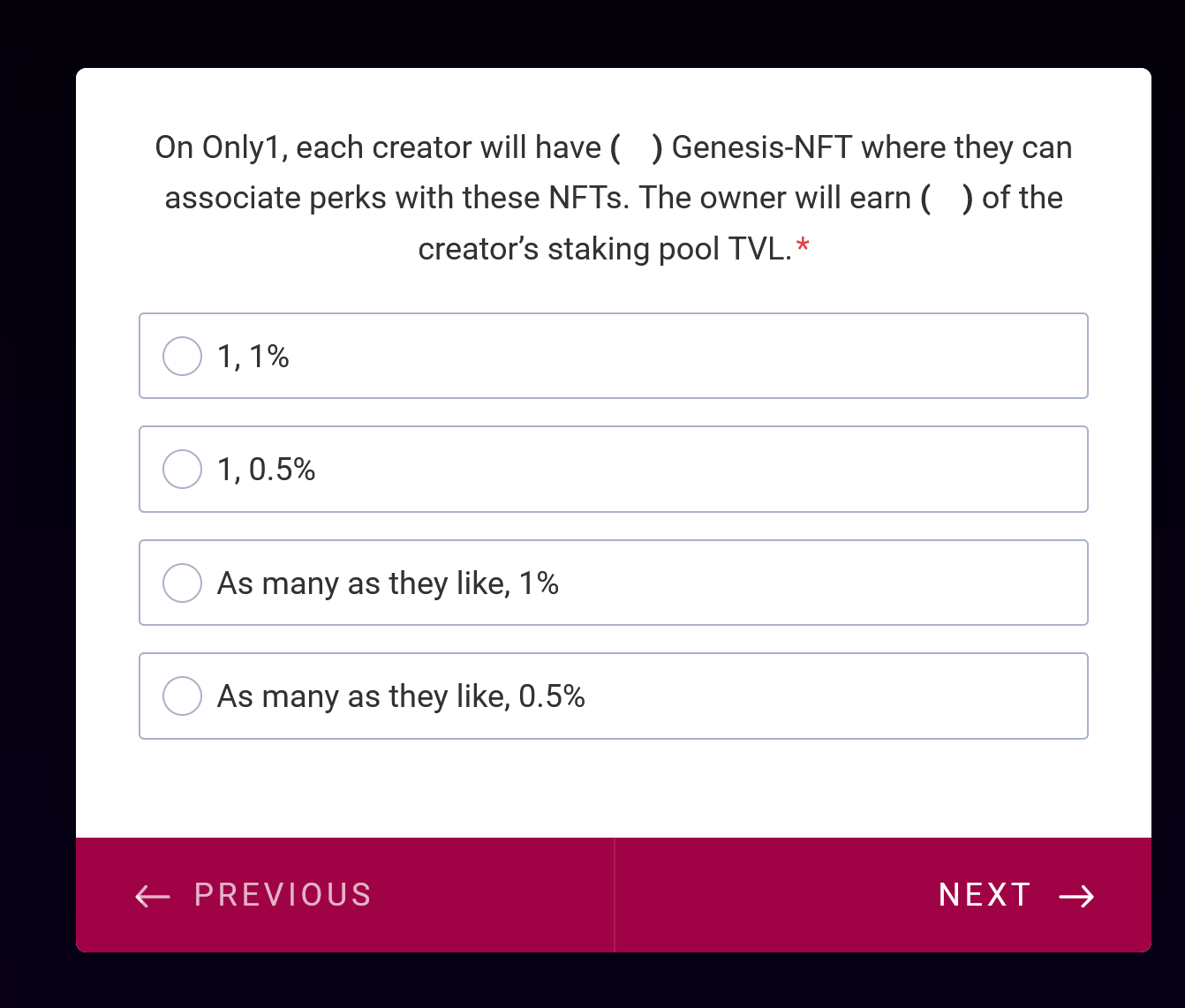 I replied the first one (1,1%) as per their video and info here > https://coinmarketcap.com/earn/videos/genesis-nft-and-how-to-stake-and-earn-from-creator-staking-pool
Question 5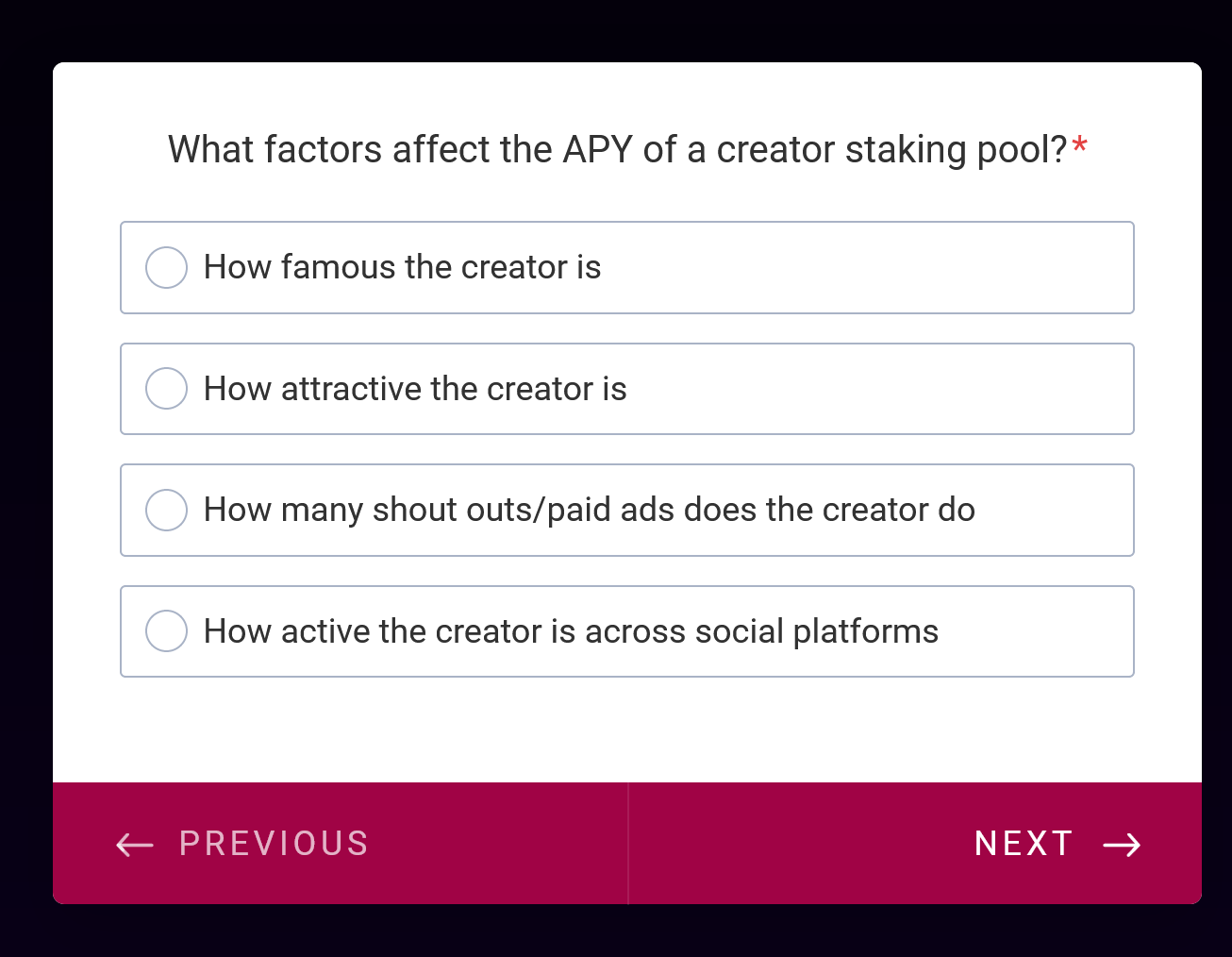 I answered the last one, how active the creator is (see above video)
Question 6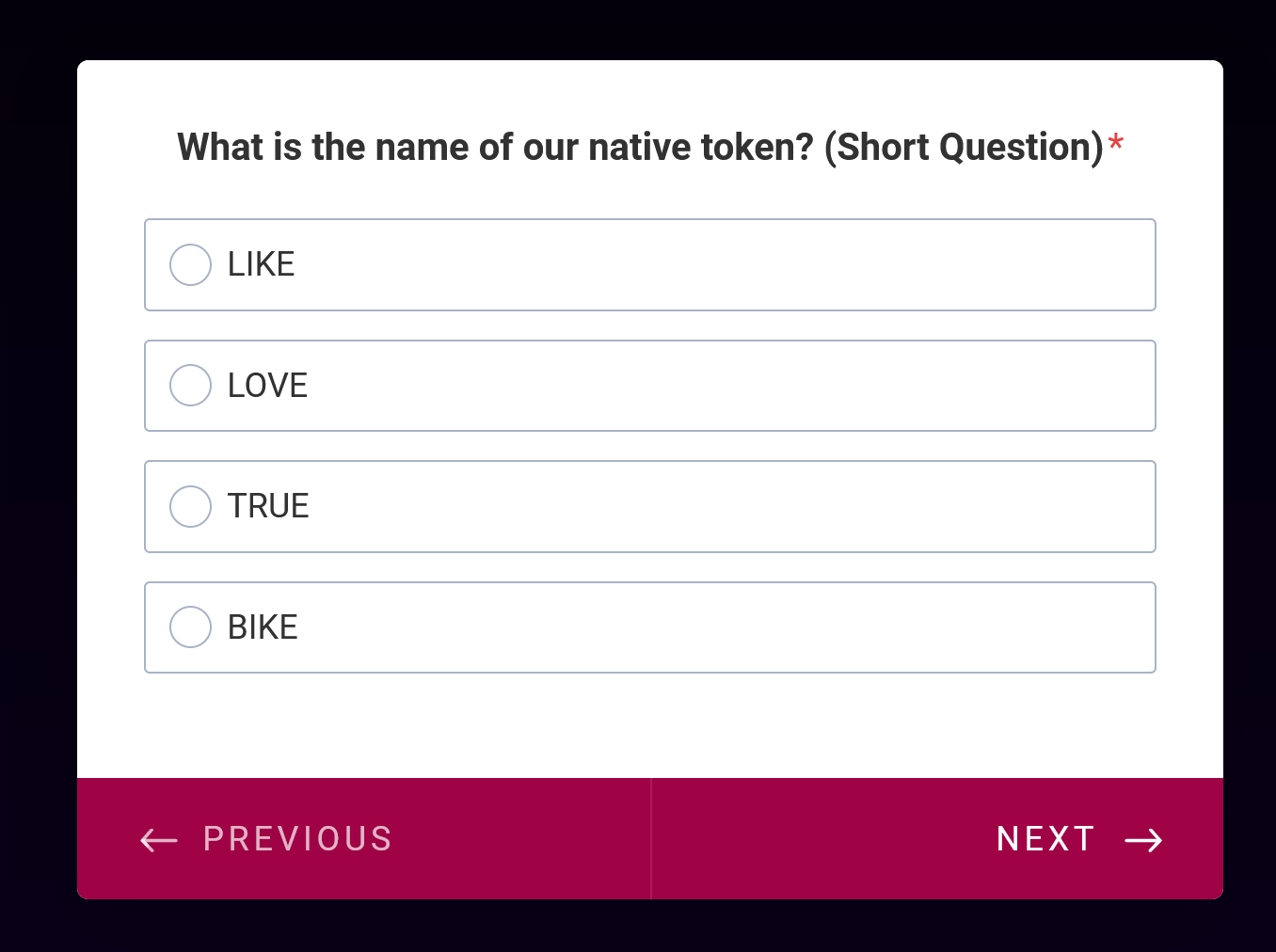 Of course .. $LIKE
Question 7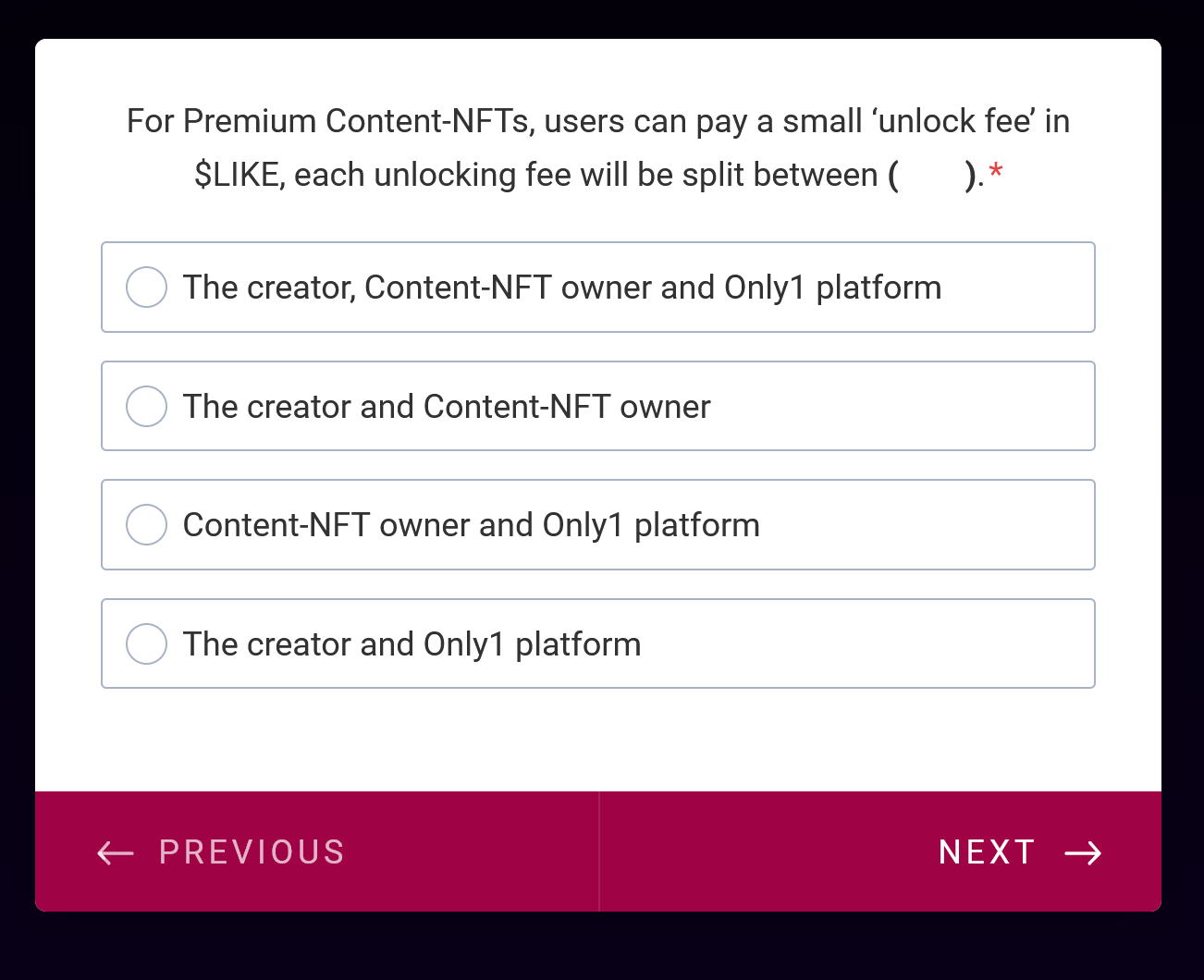 The first one, everybody wins.
Question 8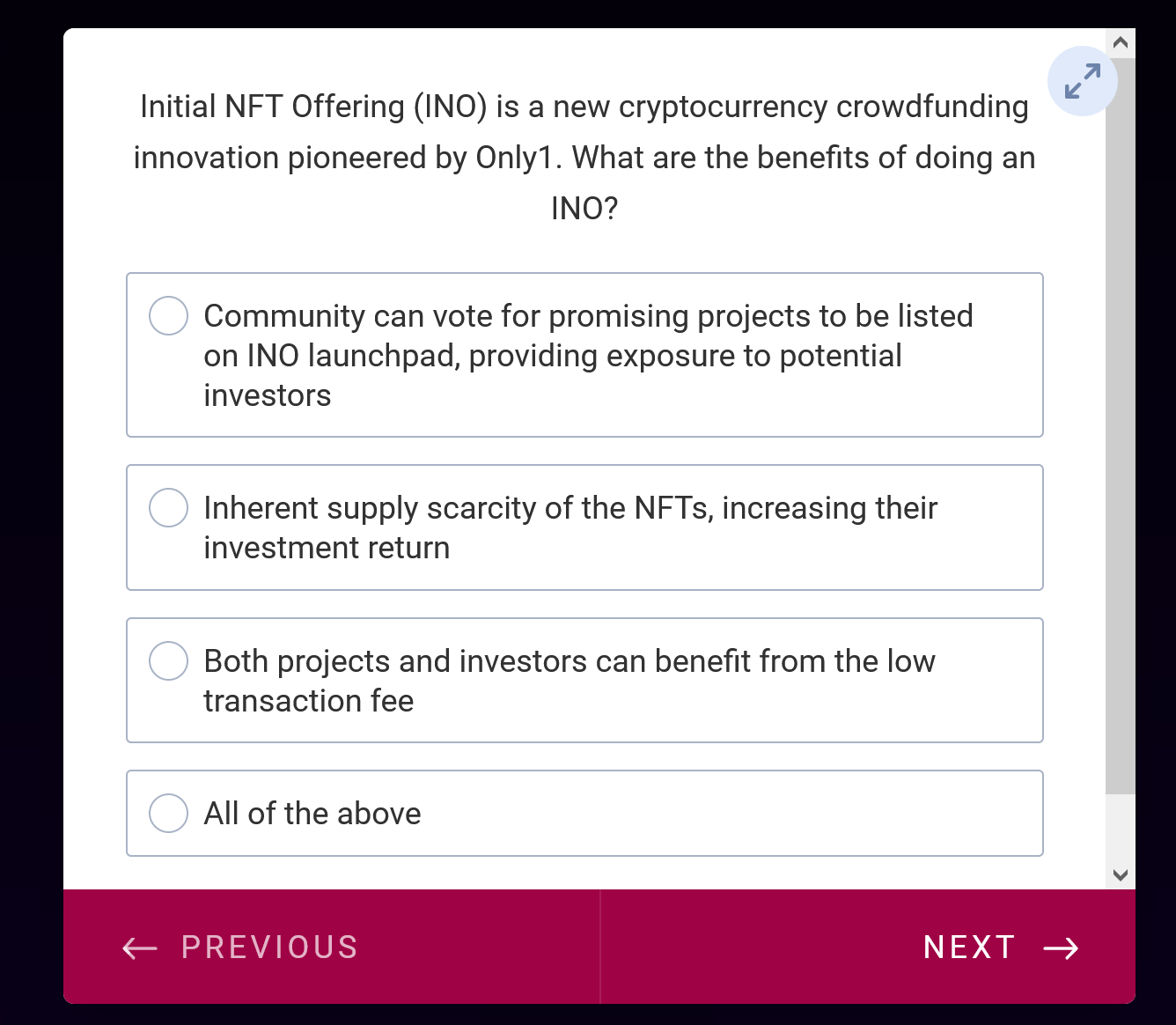 All the above
Question 9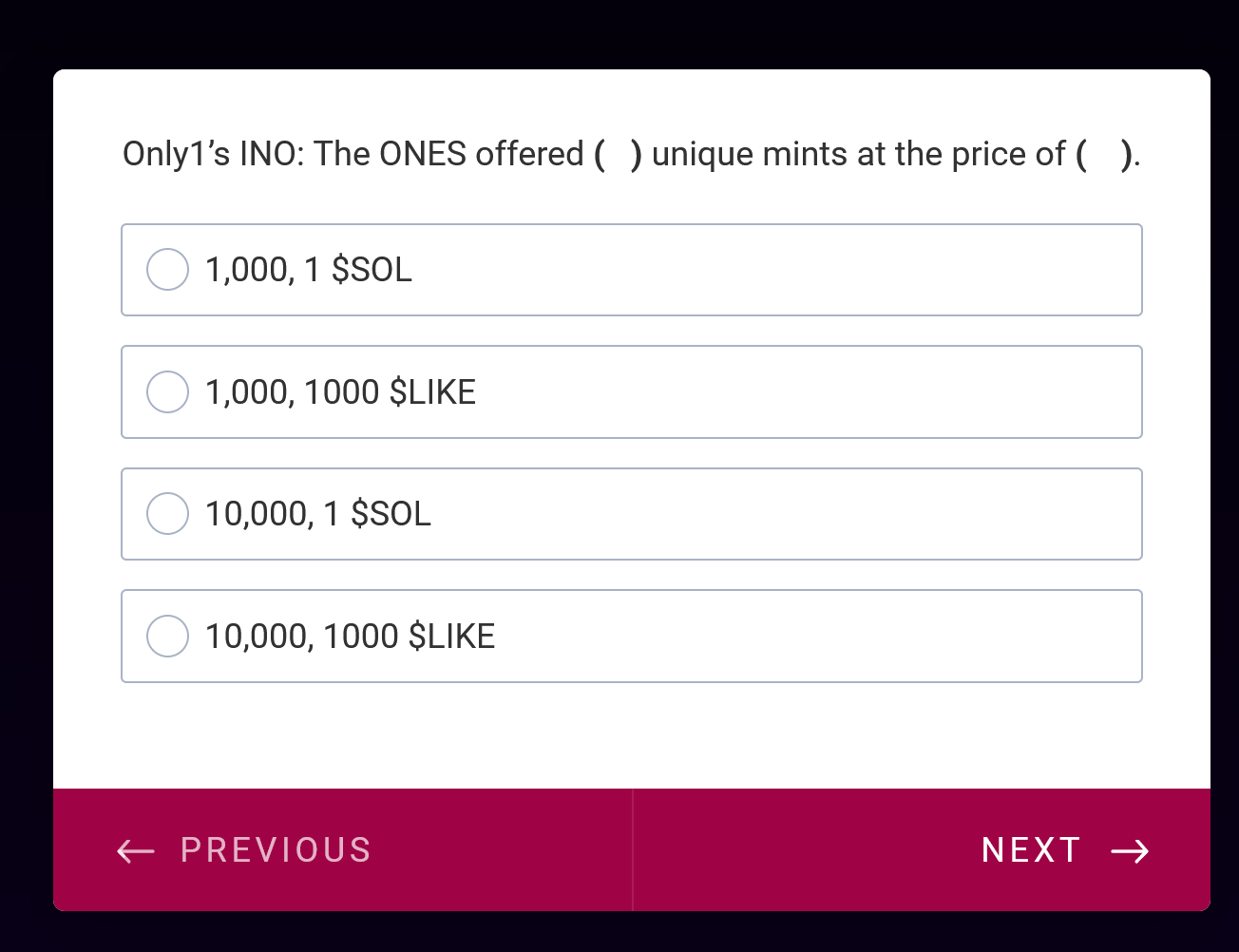 And the answer is .. 10,000 Unique mints at the price of 1 $SOL

Question 10 (last one)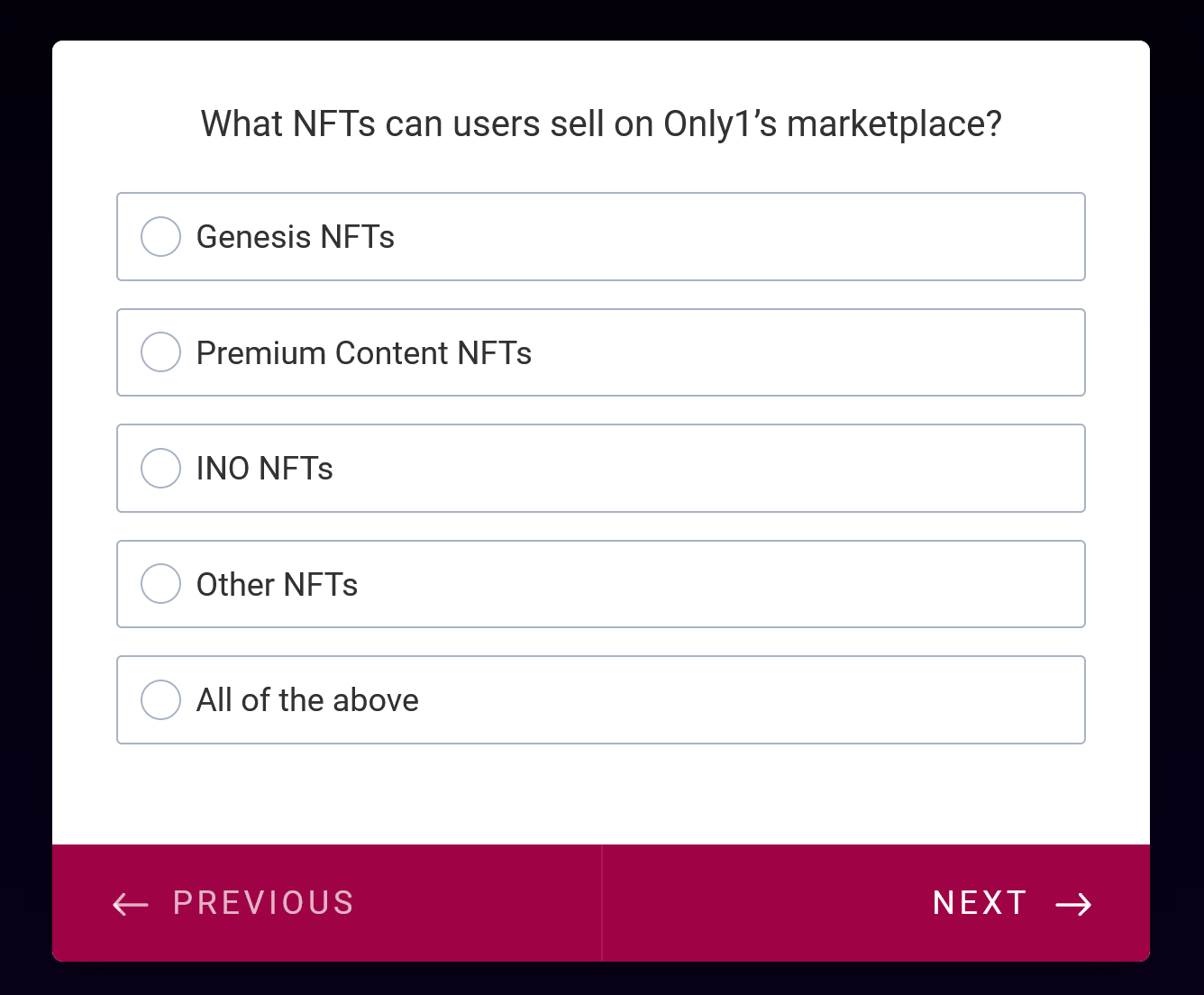 All the above
Then you will be asked for a SOLANA address

I am opening a wallet here:
https://phantom.app/
What do you think?
Will you participate to the Campaign?
---
Some important info:
CoinMarketCap users can learn about Only1 (LIKE) and take a short quiz to get rewarded! The Only1 (LIKE) reward tokens will be distributed randomly among the users who complete the quiz successfully before the campaign concludes.
The Only1 (LIKE) "Learn & Earn" Campaign's reward pool consists of Only1 (LIKE) tokens worth $200,000. Successful users will receive Only1 (LIKE) tokens worth $5 as well as 50 Diamonds as a reward!
The Only1 "Learn & Earn" Campaign will run from 2021.11.23 (11:00 AM UTC) to 2021.12.22 (23:59:59 PM UTC).
---
If you have not yet signed up for CoinMarketCap, this is your chance to join and earn diamonds and rewards!
If you use my referral, we will both earn some Diamonds!
https://coinmarketcap.com/invite?ref=M8TCI0Z6
(I have not yet used any of the Diamonds earned, but you never know.. ;))
---
Thank you for visiting!
---
Appendix!
I am just leaving this here:
Screen shot 26/11/2021 - 12:31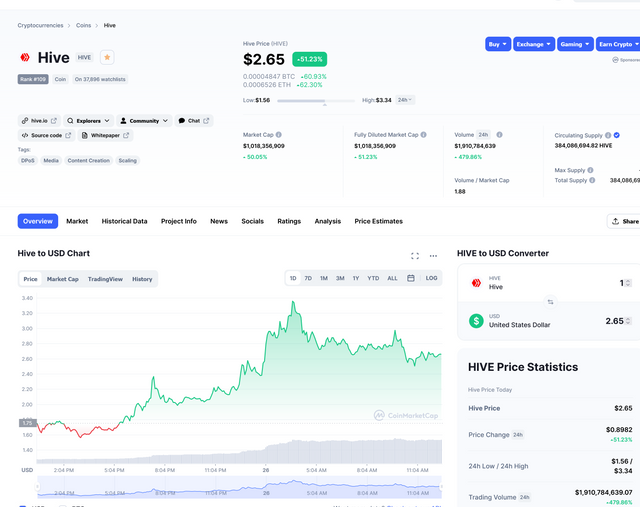 Posted Using LeoFinance Beta
---