New Twitter Monetization Options on the way + One Bonus
---
Twitter to offer monetization options soon!
If you are reading this, then you are used to being rewarded for your content. Hive/LeoFinance (etc) users understand how important one's content, and know the importance of being appreciated & rewarded for what you publish.
This has not always been the case with traditional social media. In order for someone to monetize their content & social media time, they should have a very large amount of following and earn money in indirect ways.
It seems that Twitter is about to change this! Let's see what they have been up to!
Bitcoin tipping coming on twitter?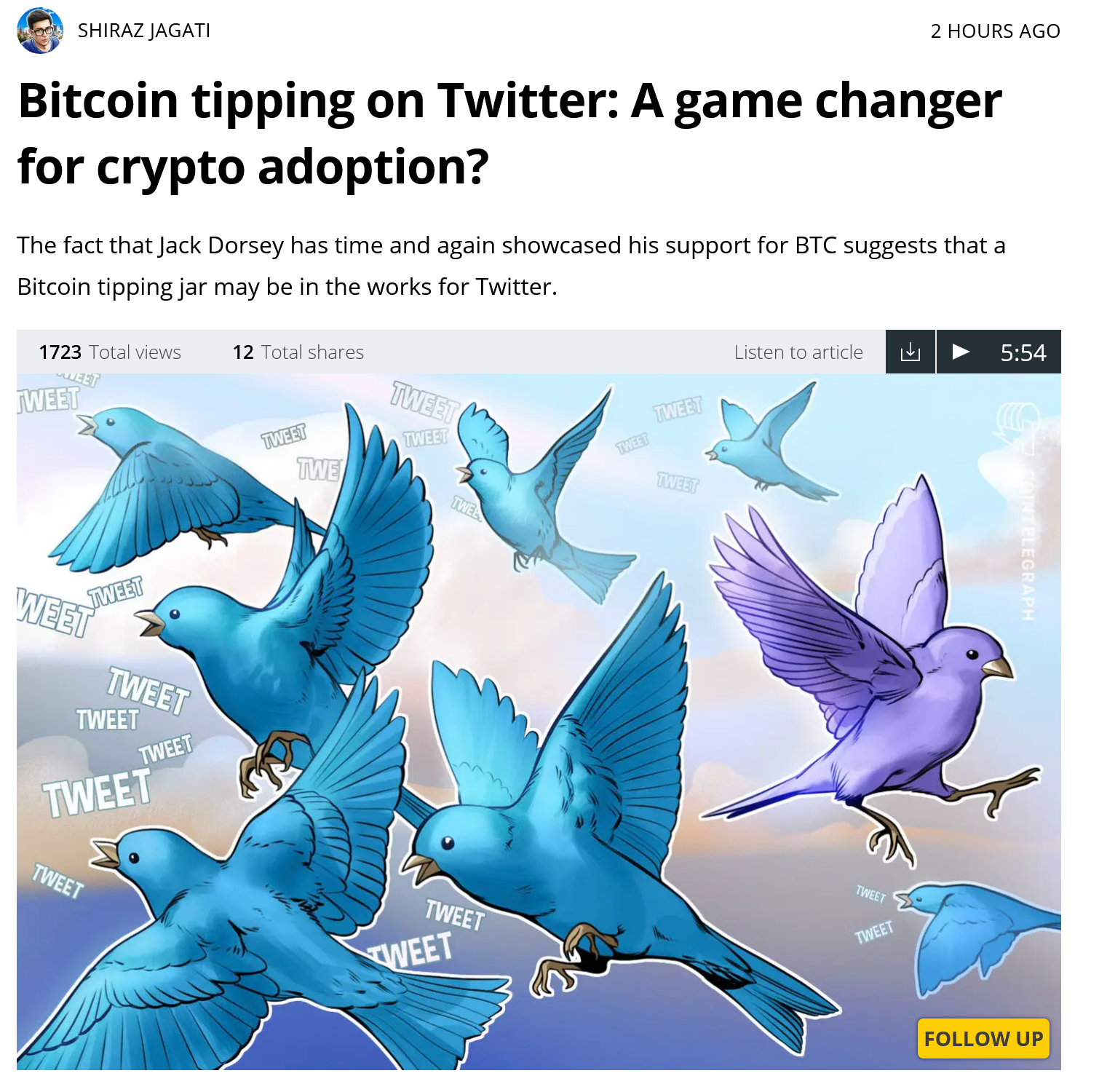 According to CoinTelegraph.com, while the new Twitter IOS beta is still in the works and could have new crypto-implementations, "Merrick Theobald, vice president of marketing at crypto payments firm BitPay, told Cointelegraph that as more major mainstream business entities like Twitter embrace crypto and openly support Bitcoin and blockchain tech, it will help to push the industry forward since "Blockchain payments are the best way to transact online," adding: "Twitter's desire to add Bitcoin to the Twitter Tipping Jar embraces this new and different approach to financial technology and will help accelerate adoption."
The word has been out since May, when Jack Dorsey (Twitter CEO) had hinted that they had a "Bitcoin Tip Jar" in mind so that the twitter users would be easily rewarded with a button's touch.
It will be very interesting to see what will come out of it and if all of it stays as rumors or if this becomes a reality (and when)
https://cointelegraph.com/news/bitcoin-tipping-on-twitter-a-game-changer-for-crypto-adoption
But that's not all!
Twitter launches Super Follow - but only at the US (for now)


(Screen shot from WeRSM)
It seems twitter is in a roll!
The platform has presented a new way for creators to earn revenue, by sharing exclusive content with subscribers only. This is being enabled by Super Follow - a feature that has officially launched only to selected American users who have previously requested to participate.
It remains to be seen how they will do it and when (if) they will launch it for all content creators.
Of course, the users will be required to have a great number of followers or else that would make no sense - as an option.
To me, it is like the Patreon, but you will get to do it using the same platform where you share content on a daily basis -
If you are located in USA, you may still be included in the group of users. BUT - there are prerequisites to be met
Applications are still open to join the waitlist for creators wanting to set up a Super Follows subscription. They need to be over 18, have at least 10k followers, and have a minimum of 25 tweets posted in the past 30 days. Also, they need to be located in the U.S. and follow Twitter's Super Follows Policy.
Eligible users can apply by tapping on 'Monetization' and then selecting Super Follows.
It also deserves to be noted that only IOS users both in the US and in Canada can Super Follow these accounts. However this will soon (as per Twitter statement) be rolled out to IOS users globally with android users to follow shortly.
Source and further info: https://wersm.com/twitter-launches-super-follows-monetization-option
So what do you think? Do we have enough time to reach 10K followers on twitter? :)
---
Did you know ?
In fact, there is a way to monetize your content via twitter (and hive) :)
If you are not familiar with $POSH (Proof Of SHare) token, it is a token offered for users who share hive content on twitter...
More info here: https://hiveposh.com/ and I will share a full tutorial about it soon!
I would love to know your thoughts!
In my opinion, we do still need the traditional social media, many, too many users are still there! :)
Posted Using LeoFinance Beta
---