Welcome November - My October 2022 Statistics
---
November has arrived!
I am not sure about you, but it September & October were very busy months for me and it seems like they were ages passing too quickly. I do not complain, everything is a lesson and we should be grateful for them.
In this post, I will try to make a post about my earnings/statistics of the previous month - October 2022.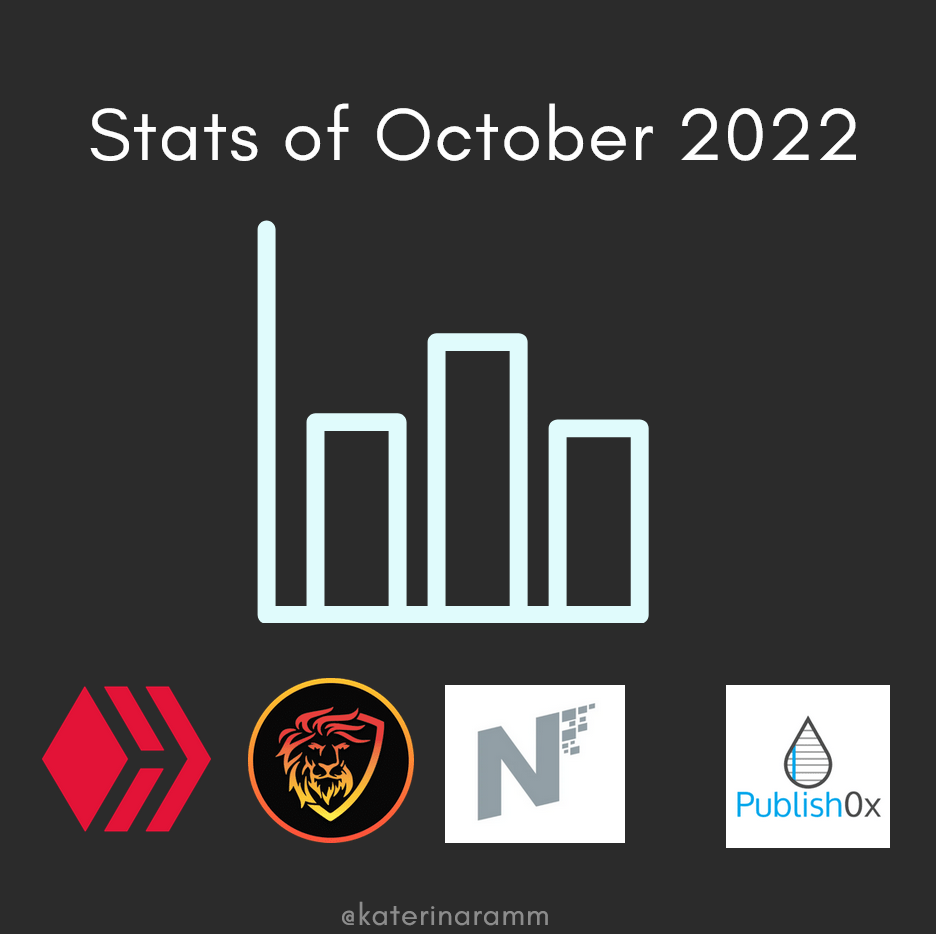 My earnings for October
I am still trying to see what kind of statistics I will keep on a monthly basis so please, if you have anything to share or to propose, be my guest! Let me know below or dm me!
For the story to be complete - this is my previous month post so now without further adieu, lets move on to Octobers 2022 statistics.
In this post I will include the below:
Hive
Leo
Noise.app
Publish0x
Because they are the main channels where I am active and as I mentioned, I am still working on the best way to keep my earnings data.
Overall Data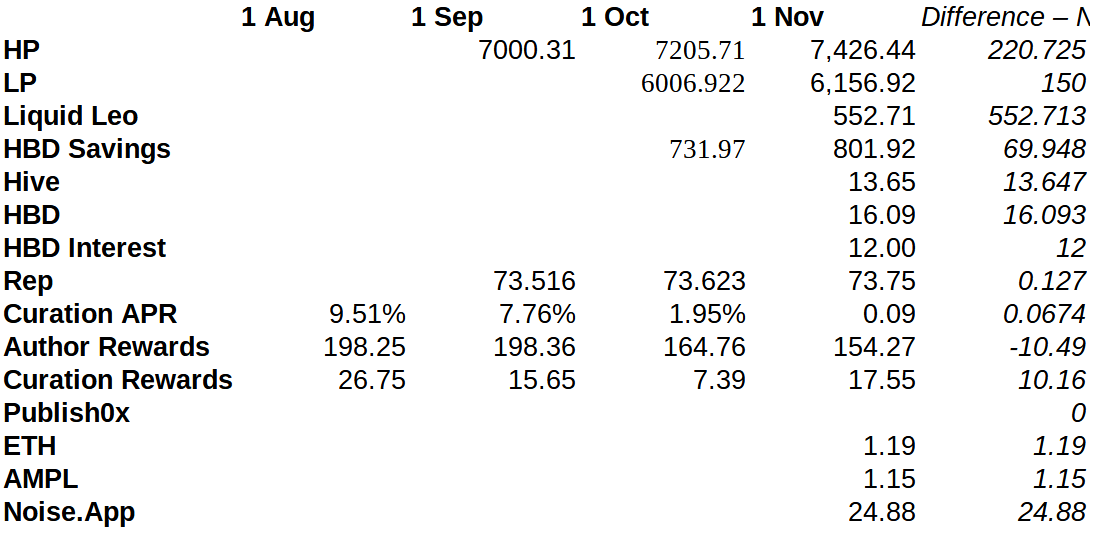 As you see there are many cells that I have not been filling, and this is not right. I keep thinking of new data to enter - but I also need an easy way to fill the spreadsheet.
In general I am happy with the outcome, I have to say that I was active daily in all these platforms reading articles, writing and supporting the authors that I follow.
On Hive
We see that there was an increase of 220 HP in one month and I also managed to increase my HBD savings by almost 70 $. I also received 12 (apx) HBD as a result of the 20% interest.
On top of that, there is a remaining of 12 Hive and 16 HBD
From HiveStats, I got the amoutns of 154,27$ as author rewards and 17,55$ as curation rewards. What I do not know is if these amounts include both liquid HBD and HP received?
November shots
Just a pause
| Leaf on the ground | Landscape |
| --- | --- |
| | |
---
End of pause
LeoFinance
This was certainly one of my best months!
I was very lucky to have won the bad luck prize by the one and only @onealfa so my curation rewards have been quickly growing!
Even though my Leo Power increased only by 150 this time, my liquid leo increased by a lot (i do not have previous month stats) and at the next LPUD I will be contributing biiig time :)
And who knows, maybe I ll win a good luck prize :)

Posting here because I may want to start writing down the number of follows/followers too
Publish0x
I have been writing some of the posts that I believe also interest the readers over there. I do not publish everything, because I wish the content to be relevant.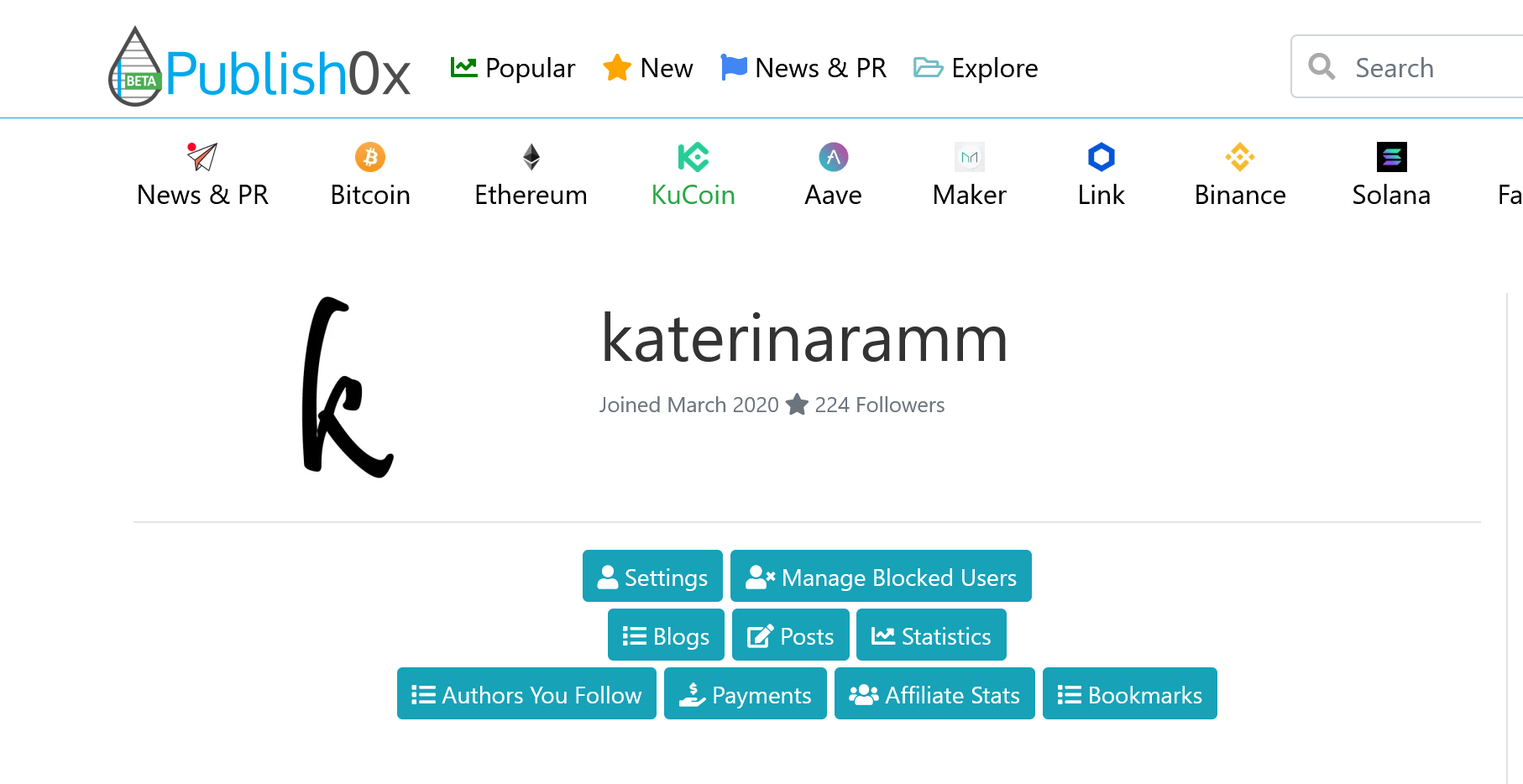 I only have 224 followers there so the amounts I am earning are currently very small.
We are talking about 1.19 $ in ETH and 1.14$ in AMPL
Still, I am happy that even my older posts get some views so I will continue posting and reading!
You can follow me here: https://www.publish0x.com/@katerinaramm?a=y1aKpxJbQG (aff link)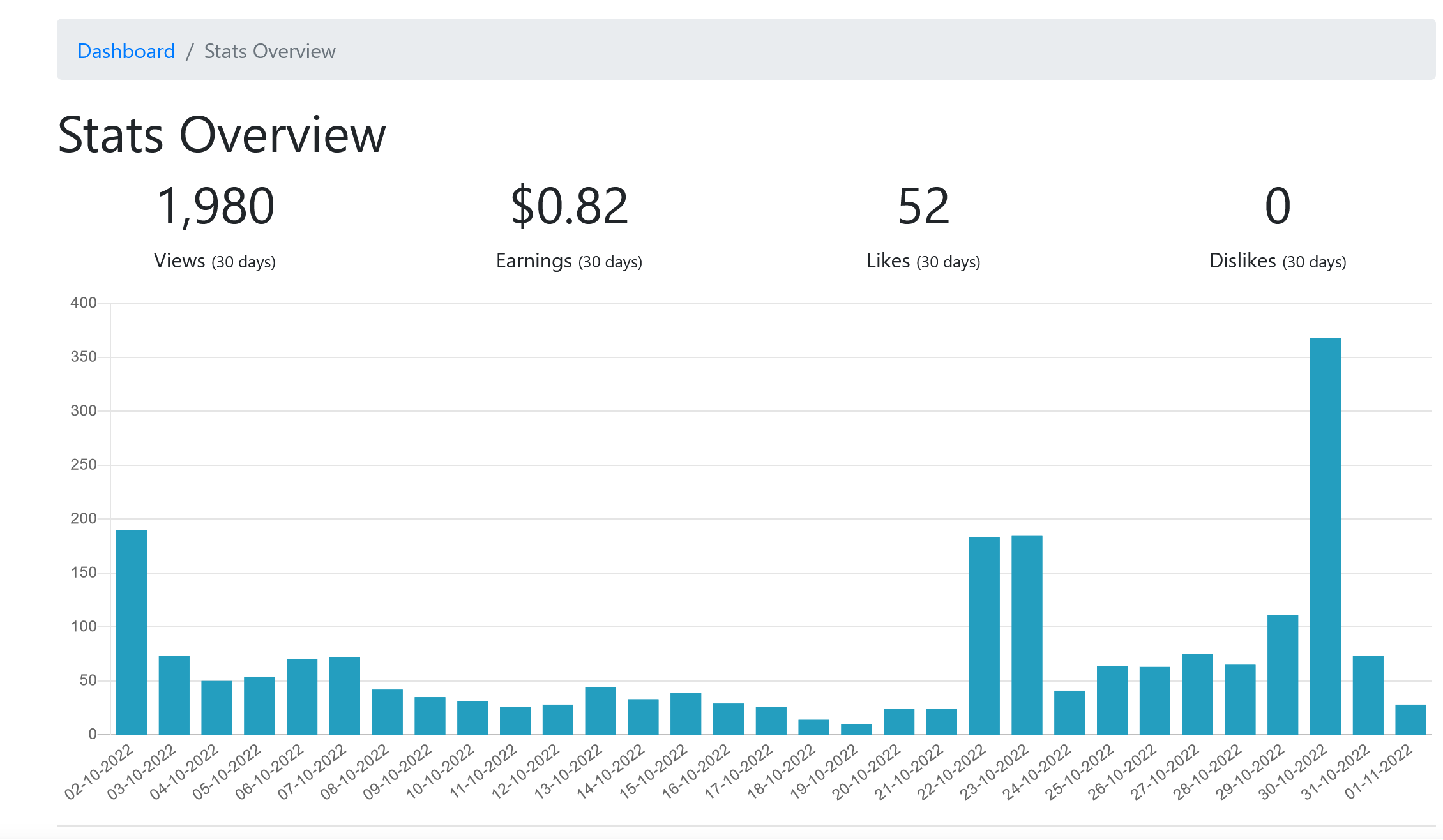 Noise.App
Noise app is an invite-only platform, where users can be rewarded in BCH, BTC, ETH (and via paypal) - I have received a few donations in BCH and I am happily posting some of my updates & photographs there too! I should mention that there are many users from hive/leo & from publish0x that have also been there (and also many from read.cash)
If you wish to know more, please read my recent review
If you are there feel free to connect (and comment below) at https://noise.app/katerinaramm
If you wish to join, use my invite link https://noise.app/invite/1b3juyaj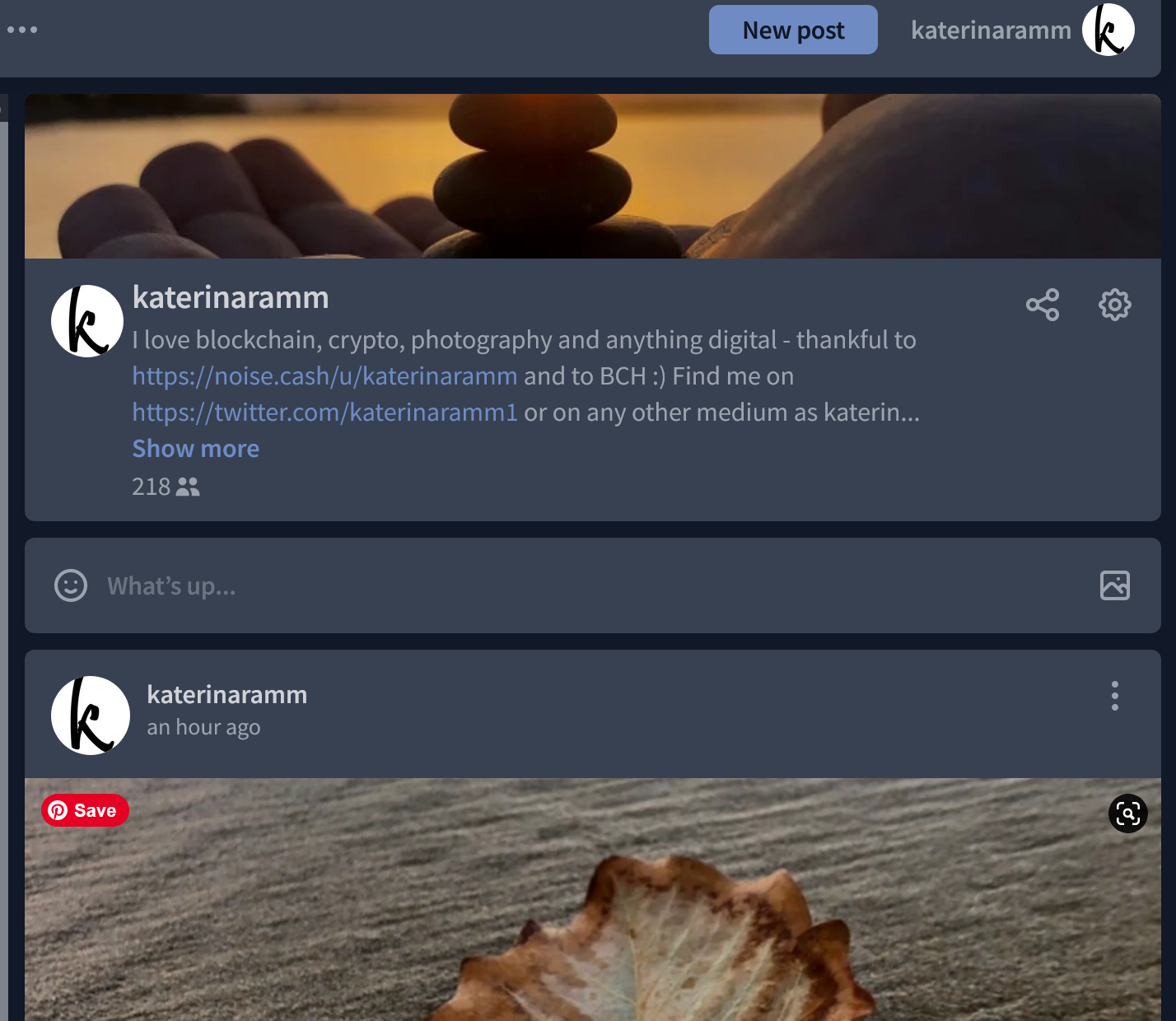 I am grateful to say that since Sept 21st, I have made appx 25$ (in current BCH rates) from noise.app
Overall
Overall I can say I am happy from October and there are some more plans for November.
I try to squeeze all my internet activities & work & studies within a day and these weeks have been hectic, but it is worth it.
How about you?
Do you share your monthly statistics?
Feel free to share your link below!
Thank you for visiting!
Posted Using LeoFinance Beta
---