RE: The Dogcoin Effect: Mail Call from HK Colonial coins and Nyssacat373
---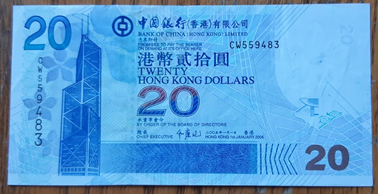 The bar will be a Special piece and I hope that my descendants or members of my immediate family do not sell it unless it was very urgent or part of a once-in-a-lifetime business opportunity.
I can understand what hopes my Great grandfather to see his descendants thrive at a new place, if not in China but in Canada or the US. I have never met him but What I do remember that he died earlier than expected. He must have of blamed himself for the loss of the business and then the farm, that anxiety and burden could very well his shortened life.
I very much appreciate your comments
@bdmillergallery
, BTW I've just decorated my comments section with colorful Chinsese Banknotes. Check it out.


2005 Bank of China (Hong Kong) $20 Banknote
Posted Using LeoFinance Beta
---