**BREAKING** It's Official - As Anticipated BlockFi Files Chapter 11 Bankruptcy
---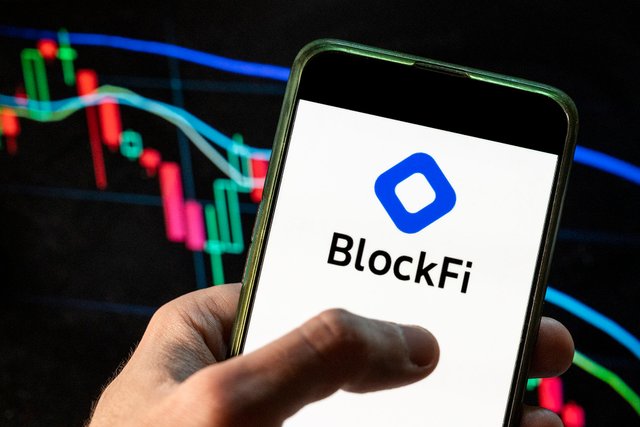 Photo Source
After days of speculation surrounding the financial viability of BlockFi due to the implosion of FTX, today, November 28, 2022, BlockFi filed Chapter 11 Bankruptcy in the District of New Jersey. This bankruptcy filing covers not only BlockFi, but its eight subsidiaries as well. See e.g. Andersen, D. BlockFi files for bankruptcy, as many expected, cites FTX collapse for its troubles. (Accessed November 28, 2022).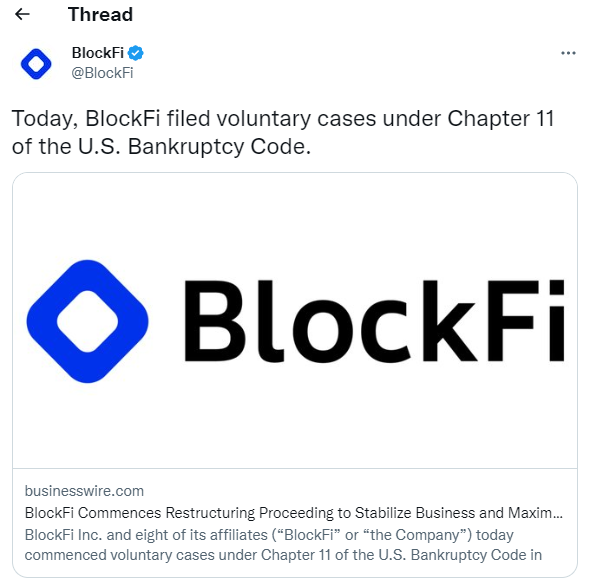 Photo Source
The contagion effect caused by the FTX collapse throughout the crypto industry has claimed yet another. Mark Renzi of Berkeley Research Group, BlockFi's financial adviser, is quoted as saying:
With the collapse of FTX, the BlockFi management team and board of directors immediately took action to protect clients and the company [...] From inception, BlockFi has worked to positively shape the cryptocurrency industry and advance the sector. BlockFi looks forward to a transparent process that achieves the best outcome for all clients and other stakeholders.
[Barrabi, T. and Moynihan, L. Crypto lender BlockFi files for bankruptcy as FTX contagion spreads. (Accessed November 28, 2022)].
Earlier this month, BlockFi initiated a halt in withdrawals from the platform. This halt remains in effect an is not altered in any way by the bankruptcy filing.
As set forth in a company release, BlockFi disclosed has $256.9 million in cash on hand at the time of the filing. It is BlockFi's belief that this sum will be sufficient to permit the continuation of certain operations while the company restructures. In the Bankruptcy proceeding, BlockFi has filed typical 'First Day' motions with the Court wherein it seeks permission to continue to pay employee wages and benefits in the absence of disruption, and further seeks permission to retain certain 'business critical employees' while it restructures. BlockFi reports that it has commenced an internal plan to significantly reduce its costs - including labor costs.
[See e.g. Businesswire. BlockFi Commences Restructuring Proceeding to Stabilize Business and Maximize Value for all Clients and Stakeholders. (Accessed November 28, 2022)].
It should be remembered that back in July 2022, in order for BlockFi to avoid bankruptcy, entered into a deal with the now disgraced SBF and his FTX entities wherein the deal included a credit facility in the sum of $400 Million as well as a $240 Million option to purchase the platform outright. In an update on its website, the BlockFi Team noted:
BlockFi today voluntarily filed petitions for Chapter 11 reorganization. You will be able to find the official announcement here. This action follows the shocking events surrounding FTX and associated corporate entities ("FTX") and the difficult but necessary decision we made as a result to pause most activities on our platform. Since the pause, our team has explored every strategic option and alternative available to us, and has remained laser-focused on our primary objective of doing the best we can for our clients. These Chapter 11 cases will enable BlockFi to stabilize the business and provide BlockFi with the opportunity to consummate a reorganization plan that maximizes value for all stakeholders, including our valued clients. Rest assured, we will continue to work on recovering all obligations owed to BlockFi as promptly as practicable.
[BlockFi Team. Important Client Update - November 28, 2022. (Accessed November 28, 2022)].
The Bankruptcy Petition stated BlockFi has more than 100,000 creditors. Its estimated assets and liabilities were reported as being between $1 Billion and $10 Billion. BlockFi likewise warns that any expected FTX recoveries will be delayed resulting from the FTX platform meltdown.
This is currently breaking and updates will be given when available.
Posted Using LeoFinance Beta
---