Coin Center Expected to Challenge Tornado Cash Sanctions Imposed by U.S. Treasury
---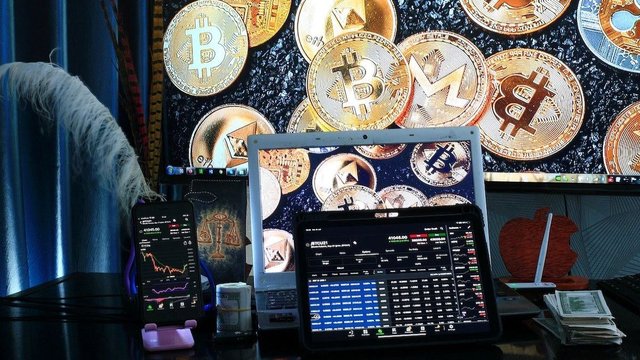 Photo Source
"Cryptocurrency policy advocacy group Coin Center, from United States, expressed its intentions to pursue administrative relief for individuals affected by cryptocurrency mixer Tornado Cash sanctions, which have been initiated by the Treasury Department's Office of Foreign Asset Control (OFAC)..." [FE Digital Currency. US Treasury expected to be challenged by Coin Center on Tornado Cash sanctions. (Accessed August 16, 2022)].
In a Monday blog post, Coin Center executive director Jerry Brito and director of research Peter Van Valkenburgh alleged OFAC 'overstepped its legal authority' when it named cryptocurrency mixer Tornado Cash and 44 associated wallet addresses to its list of Specially Designated Nationals, or SDNs, on Aug. 8. The directors claimed Treasury's actions could have potentially violated U.S. residents' "constitutional rights to due process and free speech" and they were exploring bringing the matter to court.
[Wright, T. Coin Center may challenge US Treasury's sanctions on Tornado Cash in court. (Accessed August 16, 2022)].
By way of reminder, on August 8, 2022, "OFAC effectively barred U.S. residents from using Tornado Cash and placed 44 USD Coin (USDC) and Ether (ETH) addresses connected to the mixer on its list of Specially Designated Nationals. The department alleged that individuals and groups had used the mixer to launder more than $7 billion worth of crypto since 2019, including the $455 million stolen by the North Korea-affiliated Lazarus Group. The protocol was also at the center of some recent hacks and exploits in decentralized finance, including a $375-million attack on Wormhole in February and a $100-million hack on Horizon Bridge in June" [Wright, T. US Treasury sanctions USDC and ETH addresses connected to Tornado Cash. (Accessed August 16, 2022); see also, Nagoda, K. U.S. Treasury OFAC Bars Residents From Using Tornado Cash and Added 44 Addresses to the Specially Designated Nationals List. (Accessed August 16, 2022)].
"We believe OFAC has exceeded its statutory authority by sanctioning the Tornado Cash smart contract. Coin Center is exploring a court challenge.' In Coin Center's analysis of the case, the non-profit argues Tornado Cash has no control over its application. [Daily Hodl Staff. Cryptocurrency Advocacy Group Says Regulators Overstepped Authority by Sanctioning Tornado Cash. (Accessed August 16, 2022)]. In this regard, Coin Center's argument specifically is:
The power afforded the President by IEEPA is broadly drafted, but it is nonetheless only a power to block property. The thing being blocked must be "property" and it must be property in which some foreign country or national has an interest [...]
[T]he Tornado Cash Entity does not have a property interest in the Tornado Cash Application. It has no legal right to control that Application, and, perhaps more importantly, it has no physical ability to control that application. Moreover, that application is not even 'property' in any reasonable sense of the word. The Application is non-proprietary software residing simultaneously on the computers of every person around the world running the Ethereum open source client. It is no more the property of the Tornado Cash Entity than the phillips-head screwdriver in every American's home toolbox is the property of its inventor, Henry F. Phillips. If the Tornado Cash Application is not "property in which some foreign country or national has an interest" (50 U.S.C. §1702), then the Tornado Cash Application cannot properly be added to the SDN List or blocked under the specific powers granted by Congress to the President in IEEPA. Someone—more on whom later—should be able to challenge the designation as being made outside the bounds of the statute and therefore invalid.
[Brito, J. and Van Valkenburgh, P. Analysis: What is and what is not a sanctionable entity in the Tornado Cash case. (Accessed August 16, 2022)].
To simplify the argument above set forth in a more succinct manner: "By treating autonomous code as a 'person' OFAC exceeds its statutory authority" [Id].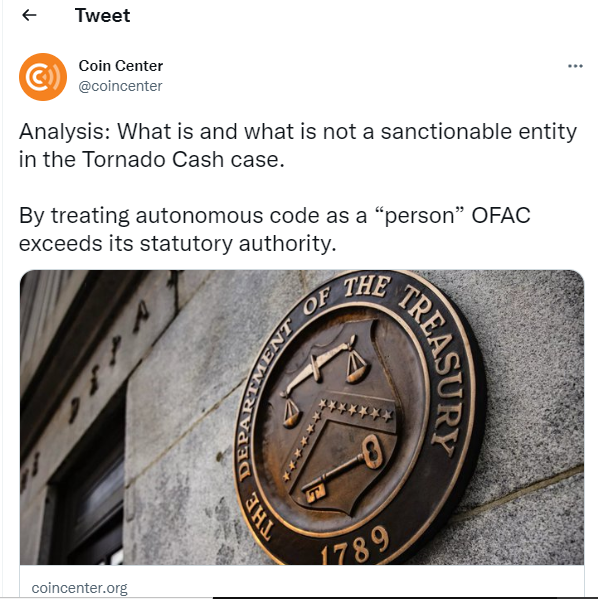 Photo Source
In this author's view, the legal argument made by Coin Center above is both interesting and meritorious. However, the Brito/Van Valkenburgh 'Analysis' goes on to present several other theories as to why the sanctions against Tornado Cash should be lifted. In summary form, these alternative theories are:
"OFAC's Designation of Certain Autonomous Contract Addresses Denies American's their Liberty and Property without Proper Procedural Due Process - The Fifth Amendment requires that any deprivation by the federal government of a person's life, liberty, or property, must allow for notice, the opportunity to be heard, and a decision by a neutral decisionmaker. As we've discussed, the addition of the Tornado Cash Application addresses to the SDN List means that Americans can no longer use that tool, even for wholly legitimate reasons related to their personal privacy while online. That is a restriction on the liberty of every American" [Id].

"An Overbroad Interpretation of IEEPA Substantially Chills First Amendment Protected Speech - If the SDN List becomes an ever expanding list of specific open source protocols and applications that are "blocked," then isn't that a restriction on the publication of speech? The government could argue that the ideas expressed in those specific pieces of software (identified by a list of smart contract addresses) are not being blocked. Merely, the ability of Americans to send messages to those specific contracts, to use that software, is what is being blocked. Restraining conduct (even expressive conduct like marching in a protest) as compared with mere speech (like publishing a book) receives less protection under the First Amendment" [Id].
For an expansion on these very interesting legal arguments, you are referred to the complete Brito/ Van Valkenburgh 'Analysis' which may be accessed by clicking here.
Based upon the foregoing, it is Coin Center's intention to proceed forward as follows:
First, we will seek to engage OFAC, share our views, and hopefully hear theirs. We have also had inquiries from members of Congress about the situation and we will continue to brief interested parties there. Second, there are innocent Americans who have funds trapped at listed Tornado Cash addresses. We will do our best to help them apply for a license to withdraw those funds. In addition, the DeFi Education Fund has announced that it will be petitioning OFAC to issue a "general license" that would cover all affected persons without each having to file individually and we will support that effort. Finally, we will begin exploring with counsel a court challenge to this action.
[Id].
Moreover, Cointelegraph's information mentioned that after the announcement was made on the sanctions against Tornado Cash, individuals related with the cryptocurrency mixer were cut off from some centralised platforms. Roman Semenov, co-founder, Tornado Cash, stated that developer platform GitHub suspended his account. In June, Coin Center pressed charges against the US Treasury at federal court, on the grounds that the government body provisioned an unconstitutional amendment in the infrastructure bill, which was signed into law by Joe Biden, president, United States of America. The group declared that the law's provision aimed at gathering information about individuals and their cryptocurrency transactions.
[FE Digital Currency, supra].
Posted Using LeoFinance Beta
---