The Contagion Claims Another Victim - Zipmex Files for Bankruptcy in Singapore
---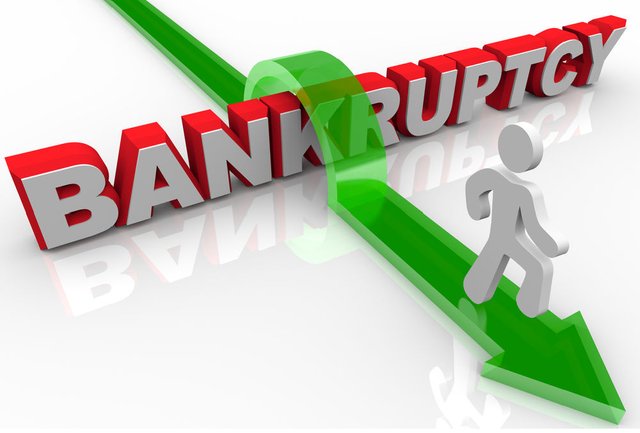 Photo Source
On July 20, 2022, Zipmex paused withdrawals on it's platform: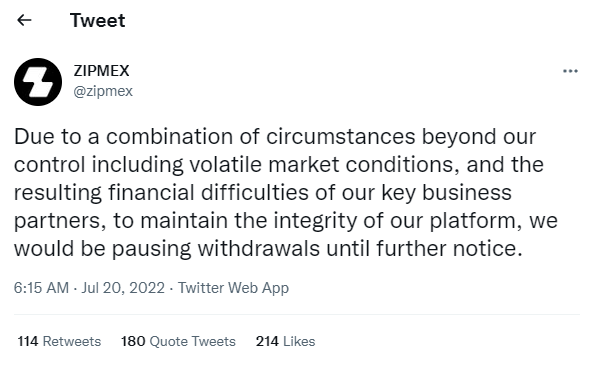 Photo Source
Now, fast forward to yesterday, July 27, 2022, "Thai cryptocurrency exchange Zipmex said that its solicitors in Singapore, Morgan Lewis Stamford LLC, filed five applications under Section 64 of Singapore's Insolvency, Restructuring and Dissolution Act 2018 on behalf of the company" [Sun, Z. After weeks of rumors, Thai crypto exchange Zipmex files for bankruptcy in Singapore. (Accessed July 28, 2022)]. [The full text of Zipmex's Moritorium Announcement may be accessed by clicking here].
It should be noted that this announcement comes only about one week following Zipmex's Co-founder and CEO, Marcus Lim denying Zipmex was facing any financial trouble; [see, Hall, J. Breaking: Zipmex suspends withdrawals as CEO denies financial trouble rumors. (Accessed July 28, 2022); see also, Nagoda, K. Another Victim? Zipmex Suspends Withdrawals. (Accessed July 28, 2022)].
In announcing the Moritorium, Zipmex noted:
This helps protect Zipmex against third-party actions, claims and proceedings while it is active, and enables the team to focus all our efforts on resolving the liquidity situation, without having to worry about defending potential claims or adverse actions while we are doing so.
[Zipmex. Moritorium. (Accessed July 28, 2022); see also, Crawley, J. Zipmex Files for Bankruptcy Protection in Singapore. (Accessed July 28, 2022)].
"Zipmex added that this does not mean the liquidation of the company, whose status has not changed since its last update. It plans to continue operating its trade wallet, NFT platform and other offerings, with no service interruptions planned" [Pymnts. Thai Crypto Exchange Zipmex Seeks Bankruptcy Protection. (Accessed July 28, 2022)].
Zipmex already filed for bankruptcy last Friday but did not disclose the act until Wednesday. All of its subsidiary entities, consisting of Zipmex Asia Pte Lt, Zipmex Pte Ltd, Zipmex Company Limited, PT Zipmex Exchange Indonesia and Zipmex Australia Pty Ltd, were included in the filing. Furthermore, Zipmex says that a case conference regarding the bankruptcy filing has been scheduled for 4 pm UTC Friday and that creditors had just until the deadline of 10 am Thursday to inform solicitors that they wished to attend.
[Sun, supra].
To refresh your recollection as to how Zipmex wound up in this situation:
Here is where the apparent troubles begin for Zipmex. "Under the Thai License, they are strictly not allowed to touch customer funds. However, Zipmex has a product on the exchange called zip-up that effectively lets users move funds under the Singapore entity to earn yield" [Id]. So to earn this yield, Zipmex loaned Babel Finance approximately $100 Million which loan is presently at risk of default. Seems that in June 2022, Babel Finance halted withdrawals allegedly due to 'unusual liqidity pressures'. As a result of this, Zipmex is now feeling the squeeze.
[Nagoda, supra].
Presently, "Zipmex claims that it's in the advanced stages of securing new investments to relive its liquidity crisis. Currently, Thailand's Securities and Exchange Commission is asking affected investors to register complaints against the firm on its official site" [Sun, supra].
Posted Using LeoFinance Beta
---