Things are feeling more like 2017 by the day. Bitcoin Mass Adoption has arrived in more ways than one. As we see new entrants into the space, we're going to see a growing need for both fundamental and surface-level content about crypto.
Today, Maisie Williams tweeted about Bitcoin. She didn't just make a nonsense tweet about Bitcoin, she said "should I go long on Bitcoin" which I find especially interesting.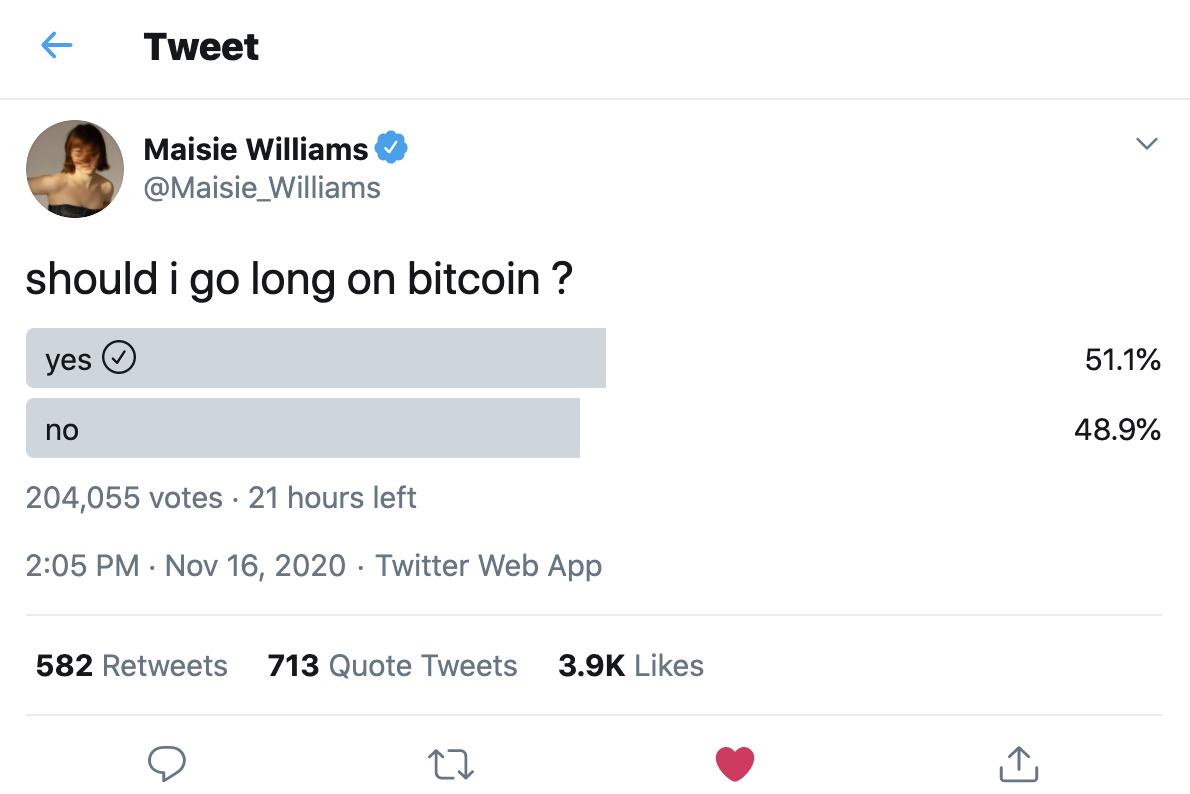 Didn't think that was bullish enough? Look who replied to her: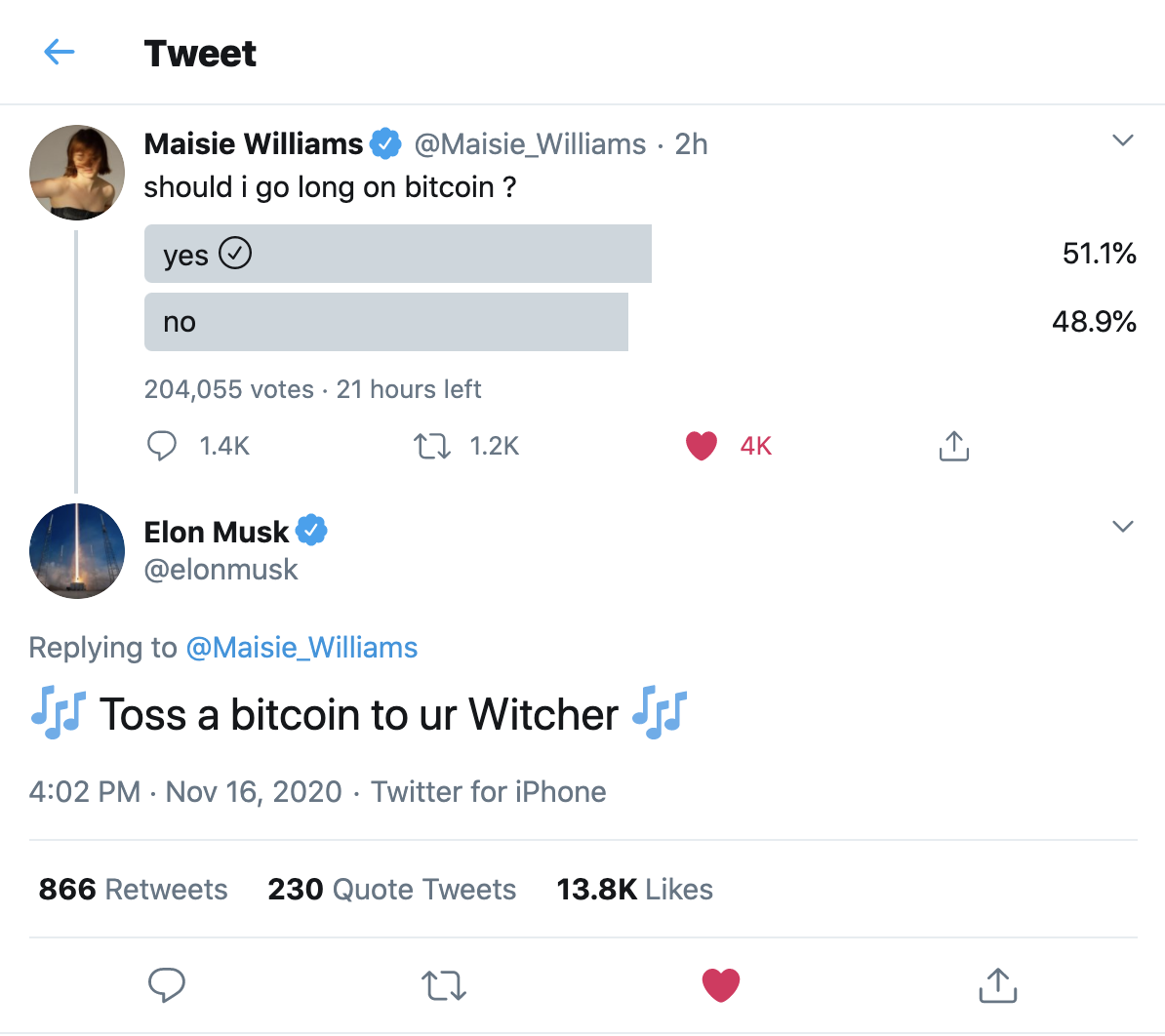 $20k here we come?
First They Reject You [...] Then the Celebrities Tweet You
Looks like we're in the celebrity phase of the Bitcoin cycle. Many of us have already been exposed to this in 2017 but it definitely has a different feel this time.
Rather than a bunch of celebs being paid to join "crypto ICOs" and tweet promotional jargon about the next IoT, they're actually just tweeting about BTC.
Many influencers in the space like Pomp have discussed this bull run as being different than 2017. One of the main things you'll notice is the level of education and usability that is in crypto today versus 3 years ago.
Back in the last major bull cycle, people gravitated toward fast money. In this cycle, the conversation is largely around BTC as a store of value and hedge against a macro environment where central banks are printing massive amounts of money and devaluing fiat.
The conversation is turning to value rather than speculation.
How Does This Help Us?
As Bitcoin hodlers, there is an obvious benefit. The majority of my portfolio is Bitcoin (BTC) which makes a bull run especially important.
For LeoFinance and Hive, we all can recall what happened to Steem during the last bull run. Altcoins saw a great deal of money pour in which increased the price and thus, the value of content creation/curation rewards.
This increase in price led to a massive wave of new signups.
Personally, I'm focusing the majority of my resources at onboarding new users by making it easier than ever to signup to LeoFinance x Hive. An important part of that is also creating a platform that is worth using. Steemit managed to attract a lot of users in the last bull run and that was with a poorly designed UI and a pretty horrible marketing/community management strategy.
With LeoFinance, we're focusing on user experience (UX) design from the ground up. Everything is designed and implemented with our current and future users in mind. As we enter the next bull run, LeoFinance will serve as a net to draw in new users to a vibrant, user-friendly and fun platform to use for information and entertainment each day.
One thing is obvious: a massive bull run in Bitcoin is going to lead to a subsequent massive wave of attention on https://leofinance.io.
Growing our core userbase and signing up new accounts is our #1 priority. In the next 6 weeks, you're going to see some massive changes to the LeoFinance that are all aimed at this mission.
We started with Metamask lite accounts with our LeoInfra project but there is so much more on the way. Can't wait to unveil that. For now, I'll just sit back and count my Bitcoins as we continue to buidl for the wave of incoming users.

LeoFinance is a blockchain-based social media community for Crypto & Finance content creators. Our tokenized app allows users and creators to engage and share content on the blockchain while earning cryptocurrency rewards.
Follow @leofinance for official updates
Posted Using LeoFinance Beta