Bitcoin Will Be Greater than $110k By the End of 2024
---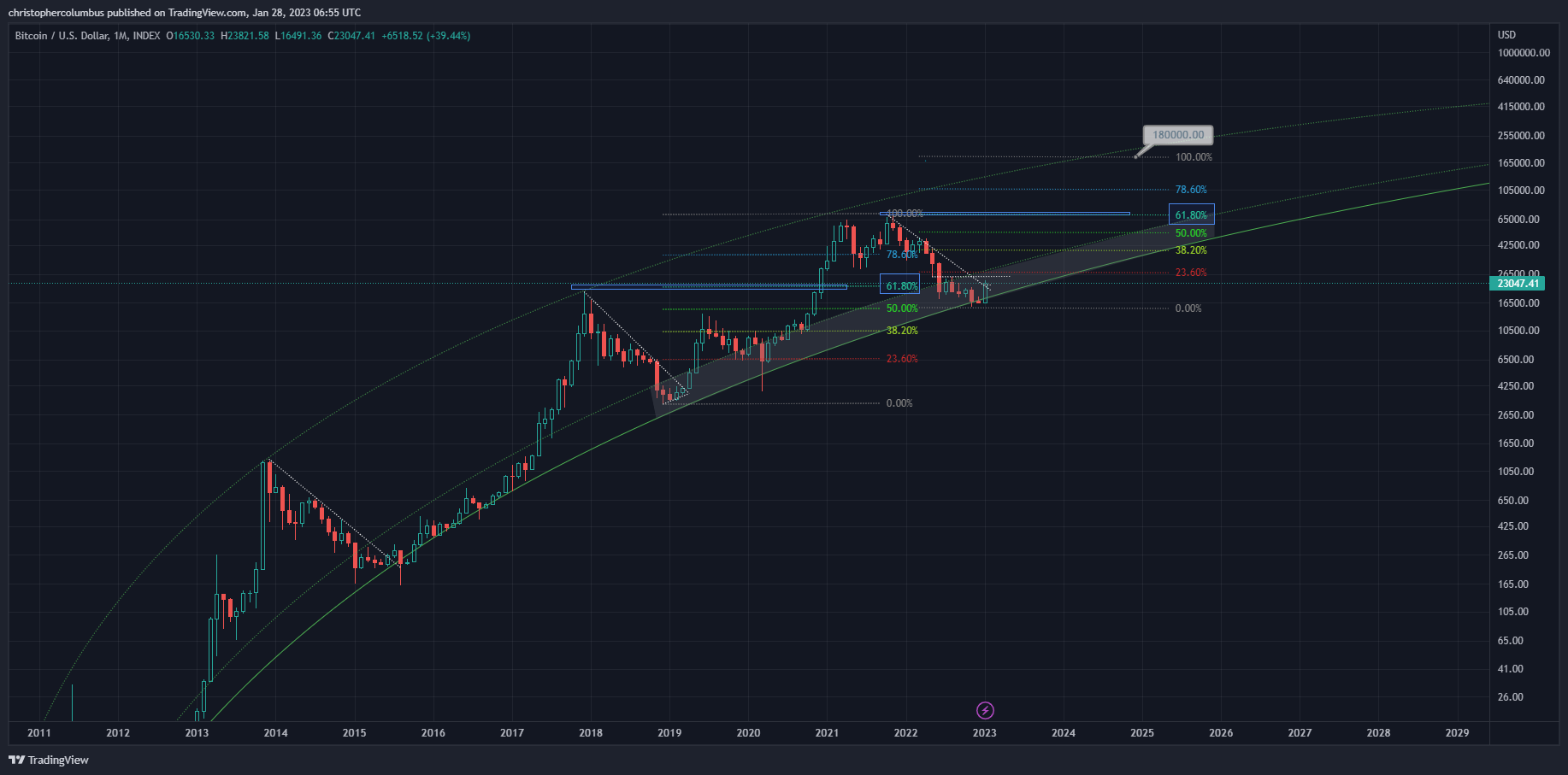 Bitcoin price predictions are as common as altcoins. People love to throw them around and talk about where BTC is headed on XYZ timeframe.
I've always looked at price predictions as a broad framework to have an idea of where we're headed long-term. That being said, I've never planned my life around price predictions and believed in them enough to move my portfolio around.
To invest in things like Bitcoin, we need to have future price predictions. If you didn't believe in any future price prediction, then what would be the point of investing in BTC?
So my approach is to read a lot of opinions and then form my own assumption for the future price of Bitcoin. I typically land on the conservative side of things but I also like to have a few different targets. For example, a few years back when BTC was sub $3k, I was imagining a day when it would be above $10k - conservative. Then I had dreams of it being $20k+ or even $100k at some point in the next decade.
Those moonshots keep you extremely motivated, but you make plans around the conservative guesses. Your expectations can be outperformed but should never be let down because of outlandish predictions. That's how you stay sane.
Bitcoin Will Be Greater than $110k By the End of 2024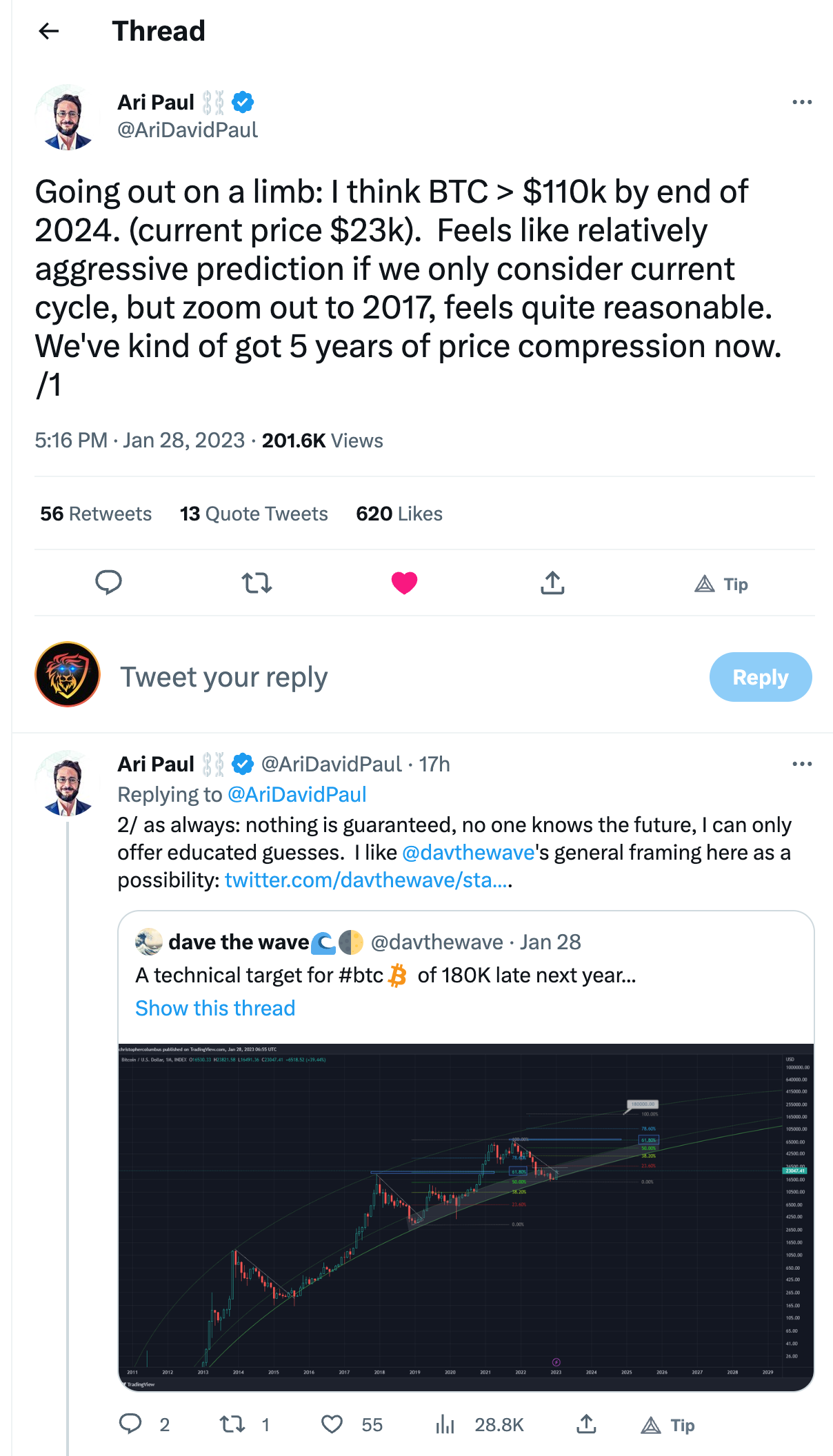 src: https://twitter.com/aridavidpaul/status/1619474488688795648?s=46&t=I1i04BvO7MXASjQZCCrFeg
I saw this Thread on Twitter today and thought it was generally sound. There's some technical and broad fundamental reasoning behind this prediction that BTC will be greater than $110k by the end of 2024.
Wishful thinking will tell us to wholeheartedly believe in this prediction and start buying all of the bitcoin we can at the current price.
Pragmatic thinking will tell us to consider other alternatives. One thing I liked about this thread is that he was intellectually honest:

Be Intellectually Honest With Yourself
Okay I want to see BTC at $110k as much as you do. We all want that to happen. It would be life-changing for pretty much anyone reading this post right now.
That being said, intellectual honesty can keep you out of trouble as an investor. Like I said - have some conservative bets on Bitcoin to coincide with your long-term moonshot bet.
My moonshot bet on Bitcoin has always been to see it at greater than $100k. I will likely never sell a large % of my BTC until that happens.
More conservative bets on Bitcoin tell me that I should expect somewhere in the range of $30-$60k BTC within the next 5 years.
Next 5 Years? I Thought this Was for 2024
The thing that I find funny about price predictions is timing. Everyone adds a time to their prediction but how in the hell is anyone supposed to know wen something will happen?
The ultimate soon in this universe is a price prediction. I never buy into timeframes. I always look at things on a 5, 10 or even 25 year timeframe.
Sure, I'd love to see $110k BTC by the end of 2024. We all would. But I don't see why the end of 2024 has anything special for Bitcoin that the end of 2023 doesn't.
There's no rhyme or reason to the timing of these predictions.
Instead, I look to the horizon. 5 Years from now, Bitcoin will be greater than $110k... That sounds reasonable given the historical performance of Bitcoin.
And now we press on! I keep dollar-cost averaging and stacking more and more BTC on a daily basis. IDC if the price is $16k or $26k. It won't matter 5 years from now when it is >$100k.

About LeoFinance
LeoFinance is a blockchain-based Web3 community that builds innovative applications on the Hive, BSC, ETH and Polygon blockchains. Our flagship application: LeoFinance.io allows users and creators to engage & share micro and long-form content on the blockchain while earning cryptocurrency rewards.
Our mission is to democratize financial knowledge and access with Web3.
Twitter: https://twitter.com/FinanceLeo
Discord: https://discord.gg/E4jePHe
Whitepaper: https://whitepaper.leofinance.io
Our Hive Applications
Join Web3: https://leofinance.io/
Microblog on Hive: https://leofinance.io/threads
LeoMobile (IOS): https://testflight.apple.com/join/cskYPK1a
LeoMobile (Android): https://play.google.com/store/apps/details?id=io.leofi.mobile
Delegate HIVE POWER: Earn 16% APR, Paid Daily. Currently @ 2.8M HP
Hivestats: https://hivestats.io
LeoDex: https://leodex.io
LeoFi: https://leofi.io
BSC HBD (bHBD): https://wleo.io/hbd-bsc/
BSC HIVE (bHIVE): https://wleo.io/hive-bsc/
Earn 50%+ APR on HIVE/HBD: https://cubdefi.com/farms
Web3 & DeFi
Web3 is about more than social media. It encompasses a personal revolution in financial awareness and data ownership. We've merged the two with our Social Apps and our DeFi Apps:
CubFinance (BSC): https://cubdefi.com
PolyCUB (Polygon): https://polycub.com
Multi-Token Bridge (Bridge HIVE, HBD, LEO): https://wleo.io
Posted Using LeoFinance Beta
---