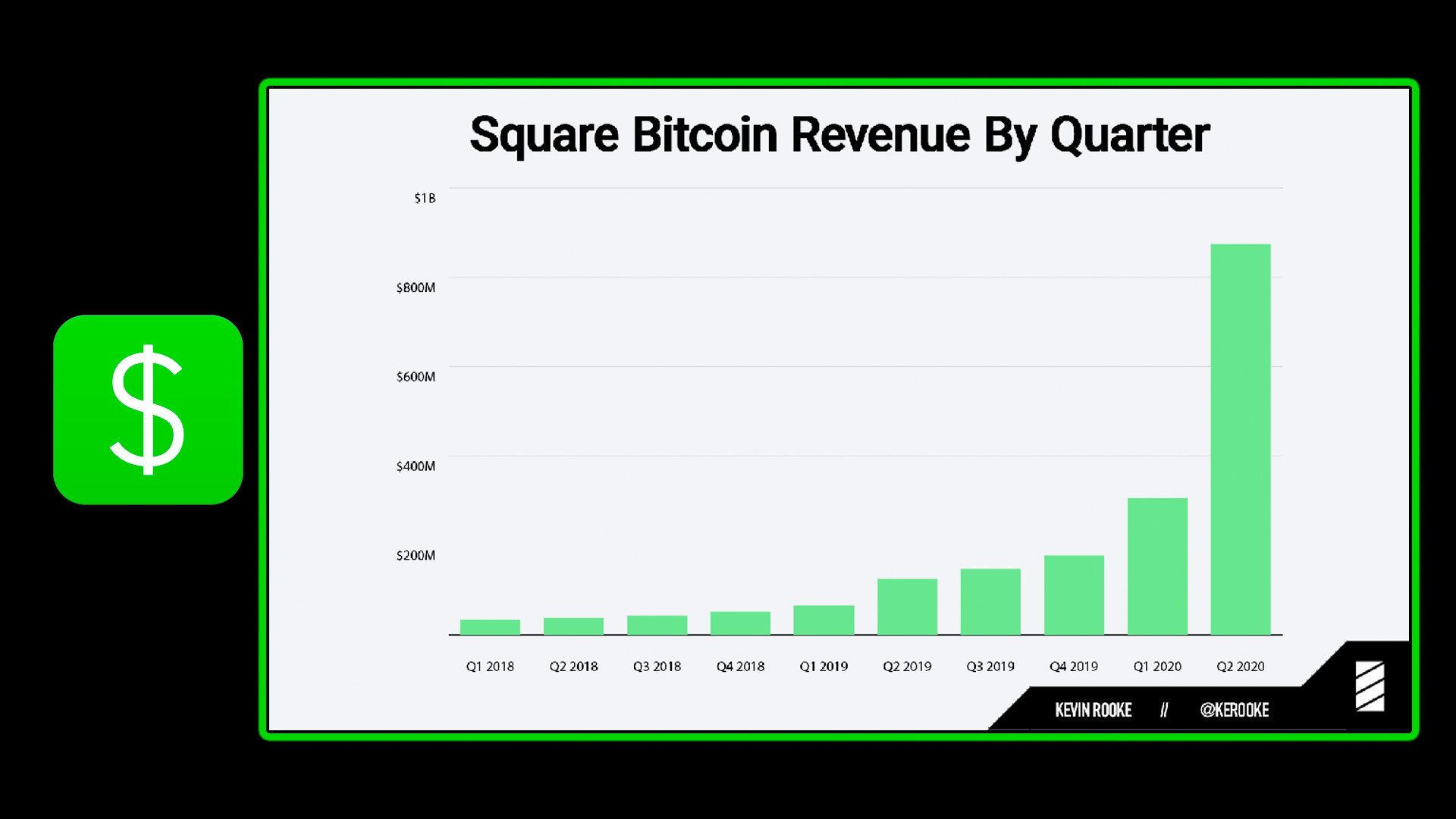 Square (SQ) is one of my long-term positions in the stock market. Yesterday, they reported their Q3 earnings and things are looking quite amazing on all fronts. In this post, I'll focus more on their Bitcoin revenue, the square cash app and how BTC sales are impacting the company.
In Q3, SQ reported $1.63 billion USD in Bitcoin revenue which marks a massive increase of 1,100% compared to their Q3 report from 2019.
Square also famously purchased $50 million USD in Bitcoin (4,709 BTC) and claimed it on their balance sheet as a treasury asset. This purchase is now worth over $74.8 million USD according to their Q3 report. As other company's follow suit, Square (SQ) is going to gain even more attention for this purchase and their innovation for merging great technology with an intuitive UX for Bitcoin purchases and the Cash App ecosystem.
---
Related:
Square: A Trillion Dollar Company in the Making
---
The Square Cash App allows users to buy and sell Bitcoin. Unlike other applications like Robinhood, users can also participate in P2P Bitcoin transactions, withdrawal Bitcoin and deposit from external sources.
Their visa debit card allows cash app customers to instantly sell BTC for a small fee and then use fiat currency (USD) to spend their cash app balance on ever day goods.
I've been a daily user of cash app for close to 2 years now. Over the past year, I've become active in the cash app ecosystem - using the app and the Square Debit Card to spend my BTC at local restaurants, on gas, pay bills, etc.
The app is extremely convenient and over the 2 years that I've been a cash app user, it's become more like a bank account and less like Venmo. Needless to say, I realized back then that there was incredible potential in an app like this led by someone who is a Bitcoin bull like the rest of us.
With all of this said, I don't think the app is great for Bitcoin trading. A few friends and family have asked me if I recommend trading BTC with the cash app ecosystem and I definitely do not.
Instead, I look at being an active Cash App customer as being someone who uses their Bitcoin exchange mainly for the following activities:
Bitcoin withdrawal
Bitcoin deposit
Bitcoin transactions
Automatic recurring purchases
Automatic Recurring Purchases
This last point is one of the most interesting ones. You may remember a post I wrote several months back titled "The Best Way to Start Buying Bitcoin"
In that post, I talked about a buying strategy that I researched for friends and family who continually asked me how they should get involved with Bitcoin. Prior to 2017, I was telling them to just invest some amount that they are comfortable losing. Just buy some BTC and forget that it exists.
Since the great rise and subsequent bear market for BTC, Bitcoin trading and crypto in general, I changed my tune. Instead of telling them to buy BTC outright, I offered some research that I compiled:
Buy $10 a day with automatic recurring purchases.
Guess who makes that extremely easy? The square cash app bitcoin exchange.
Now, all of these people who wanted to get into the digital assets space could do so by simply signing up for a cash app account. They could link up their bank account/debit card and have a bitcoin purchase come out of their account each day / week / month.
I've helped more than a dozen people become a cash app customer and link their bank account. It's ridiculously easy and the amazing thing is that they don't have to bother with learning about the space all at once.
In building LeoFinance, I've realized a lot of key ideas when it comes to onboarding users. One of the most important lessons is to give them as little as possible to learn out of the gate. Make lesson 1 super easy, interactive and fun and then deepen the lessons as you go.
Getting people to become "bitcoin actives" is no easy task. It takes an immense amount of work to get people to simply understand the most foundational concepts of the digital assets world. Getting them to then set up some sort of account and begin a programmatic (non emotional) bitcoin purchase schedule is that much harder.
The Square Cash App Bitcoin user interface couldn't be easier to use. It makes becoming an active customer and more importantly, an active user of Bitcoin faster and more intuitive than ever before.
So with all of this said, it's no wonder that Jack Dorsey's Square (SQ) is reporting ridiculous levels of revenue coming from BTC. Their revenue is doing nothing but skyrocket as customer demand for digital assets increases with Bitcoin's popularity as an emerging asset class.
As we get more people into the space, the Bitcoin price is on the verge of breaking out to those high price targets that people like Plan B have touted for years on end. Getting new users a wallet and teaching them through easy UIs like Square's cash app so that we can eventually onboard them into holding their own private key is right on the money.
Posted Using LeoFinance Beta