The Ethereum 2.0 Deposit Contract is Nearly 50% Staked
---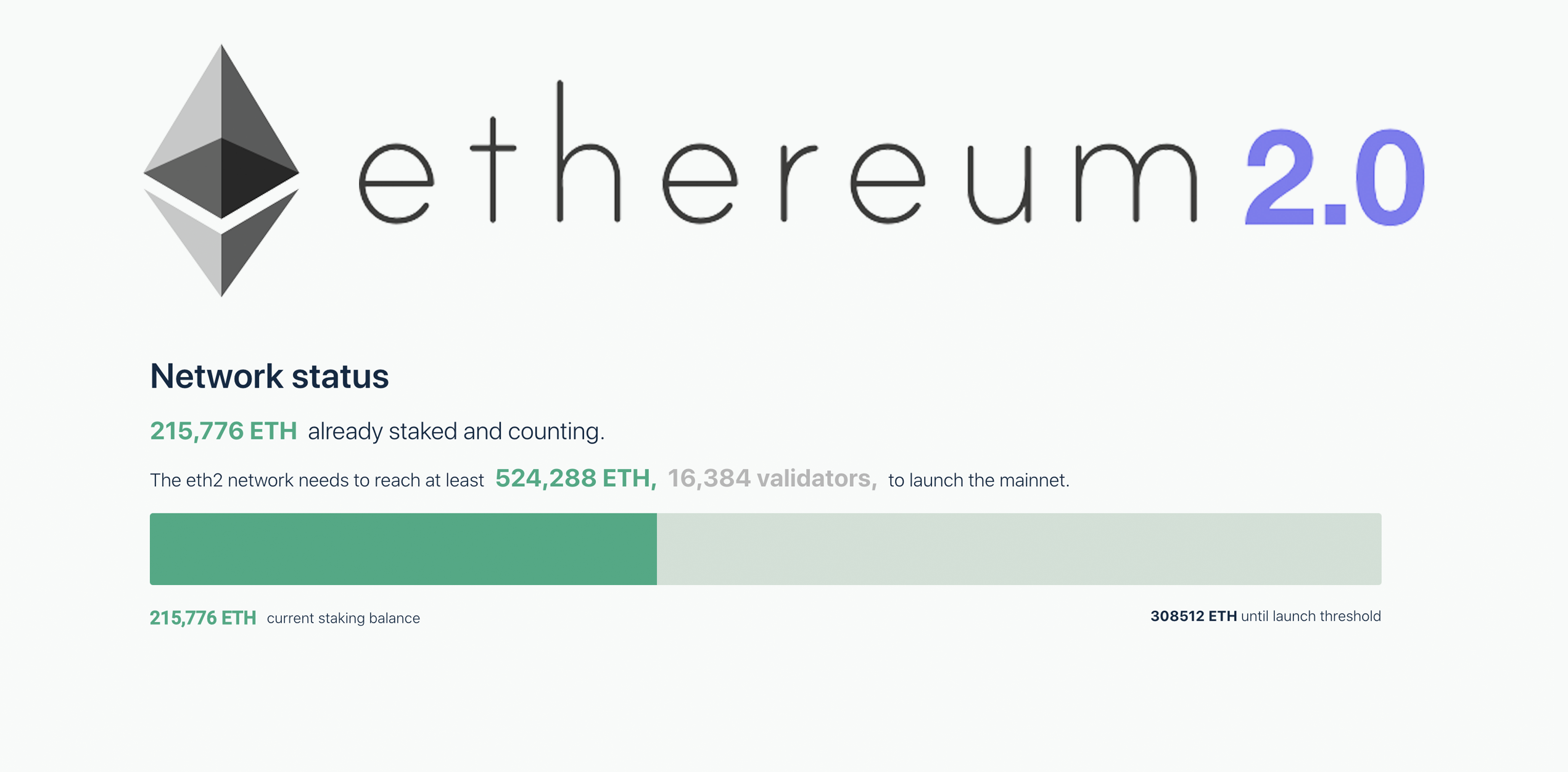 We're closer than ever before to the Ethereum 2.0 mainnet launch. The Ethereum 2.0 deposit contract recently surpassed 200k ETH, putting it at 41% of the necessary eth deposits to launch mainnet.
While many watch the total ETH being staked in this contract to get a sense of when the genesis event will occur and the network upgrade takes place, many others are already wondering what their staking APR will be once the deposit contract launch is complete and the Ethereum ecosystem sees a new era of scalability.
Proof of Work got the Ethereum network this far, but Proof of Stake (PoS) is what will take DeFi, Ethereum and the tokenization of everything to the next level.
What is the ETH2 Deposit Contract?
If you're not familiar with ETH 2.0, then a quick description might serve you well: Ethereum is a smart contract ecosystem that benefits upon other applications and communities leveraging flexible blockchain technology in order to service the existing Ethereum community and the crypto space at large.
While Ethereum is easily one of the most utilized blockchains in the world, many point fingers and show proof of its lack of scalability and user-friendliness. Much of these issues lie at the core of the Ethereum blockchain itself.
ETH2 is slated to fix all of that with major implementations and innovations like shard chains (fractional blockchains within a blockchain), proof of stake and other essential network upgrades.
On November 4th, 2020 the Ethereum 2.0 deposit contract was launched. This contract is one of the first key steps in officially launching the Ethereum network upgrade that "could change it all".
Many sites have started tracking this contract address. Many even try to extrapolate a launch date for ETH2 by taking this contract address and tracking the total eth being deposited to it on a regular basis. Whether ETH2 launches December 1st or January 1st is somewhat irrelevant to me.
What I'm keeping an eye on is the developer attention around this. As Ethereum developers respond to the eth2 deposit contract, other smart contract and upgrade activity will take place surrounding this event.
You can track the total ETH and other important info regarding the ETH2 deposit contract on https://launchpad.ethereum.org/.

Why Would Anyone Stake ETH?
There are a number of reasons to stake ETH and become a network validator. One of the most obvious is the staking reward that comes along with being validator.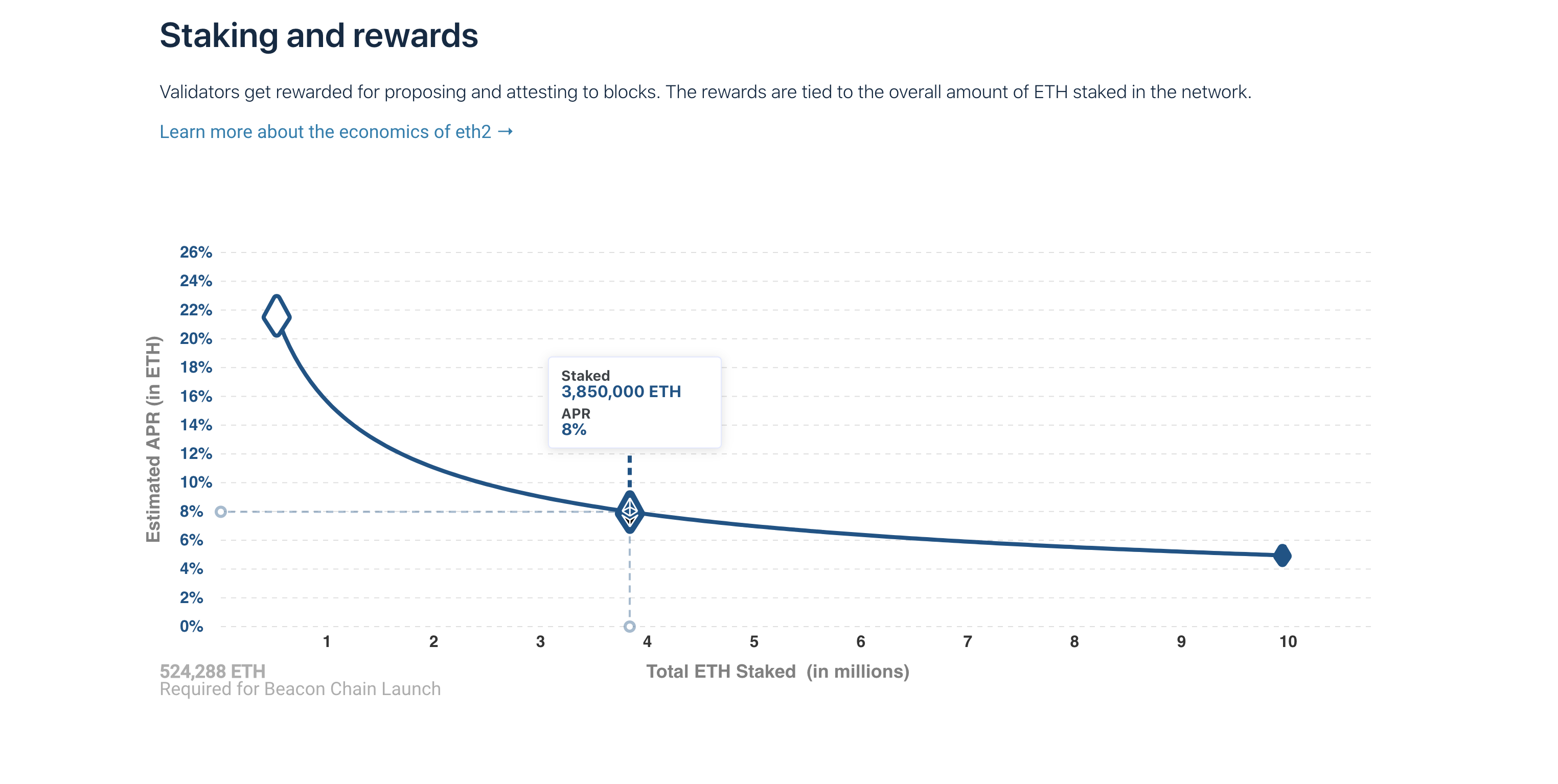 As we see this ETH2 deposit contract fill up with the necessary ETH, we get closer and closer to the mainnet launch.
Another interesting thing to keep an eye on is the simultaneous bull market that crypto is entering more broadly.
There is a lot of attention right now on the Bitcoin price and a ton of people are flooding into the crypto space.
With all of these new investors (and also old investors getting wealthy), there will be an increased level of attention on the reward economy. For Ethereum, yield farming has already played a major role in the ecosystem.
ETH staking will provide a safe alternative to yield farming but at lower yields. In my opinion, this will drive a lot of people to become network validators so that they can earn a "safe" return, but it will also seed the idea of yield in the minds of many others.
Personally, I think one of the most bullish things about this whole "new network", scalability approach and staking reward economy is the increased focus on the idea around earning yield on your crypto assets.
The crypto economy is rapidly expanding and in my opinion, this launch is going to be one of the major catalysts for an explosion in the ETH price in 2021. The Bitcoin price is fun to watch, but ETH2 is going to blow peoples' minds as the tokenization of everything sets in and we seek a new wave of bullish developer activity.
LeoFinance is a blockchain-based social media community for Crypto & Finance content creators. Our tokenized app allows users and creators to engage and share content on the blockchain while earning cryptocurrency rewards.
Follow @leofinance for official updates
Posted Using LeoFinance Beta
---