Bitcoin & The Descending Channels
---
It's been a while since I was here. If you have read my previous post "Bitcoin & 3-Day Curse" we talked about how we have never seen three green daily closes in a row, but the day after the post we saw the curse breaking. It was one of Dubious Speculation, Ben likes to do and that's the Statistics & the Math.
Anyways, I have been seeing people asking about when is the major big move towards upside, or people who bought aa top especially the ALTS suffering and keeping the BTC dominant, are really hopeless (in loss as well). These people are mostly in for temporary and never studies understand the bigger market cycle or what's coming. They just jumped in the market without really knowing the mess and now they are crying. Enough about the shit talk, let's move about current market sentiments.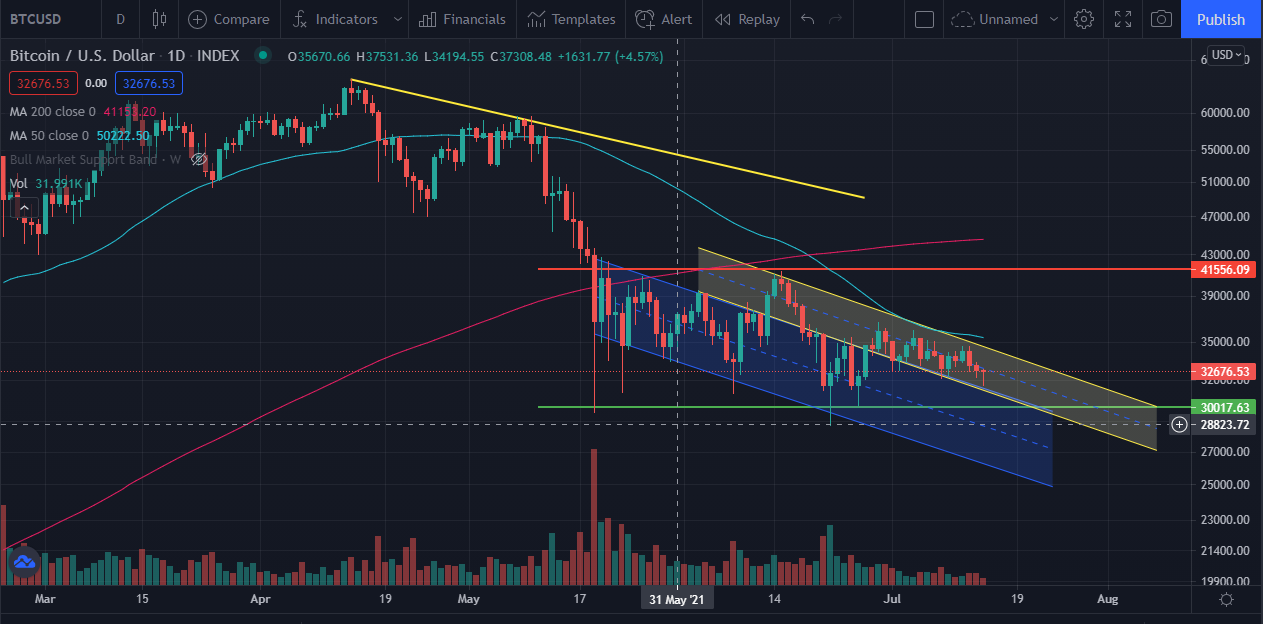 If you have been following @edicted , he already talked about "Market Breakdown" which is just happening right now. On Macro Level we need to understand that when Bitcoin is under 20 Week Moving Average, ALTS don't hold much stronger as BTC and with a small BTC downside movement they can go multiple xx towards the same. If we observe the above chart, we realize that we are in a falling/descending channel for a while. This is going to be the case till we know the support around 28-30K is gone for a bigger downside move. We have already tested 30K for couple of times and even at one moment we were close to 28K.
The summer seems like we will remain below The Bull Market Support Band for some more time. This sideways action can last 2-3 more months and who knows, even we can a 20K or 25K BT at some point before getting back on track. How I see the market right now is , this is the best time to get into the market. Start dollar cost averaging daily weekly or monthly. By market I means Bitcoin, start gathering ups those sats as these times would never come once this time passes. Right now Bitcoin is dominant, Bitcoin is cheap, Bitcoin is Gold & Bitcoin is stable, far more stable than any other crypto (of course excluding stable coins) --> Bitcoin is the KING. Get the king before you get anything else.
Ethereum 90 Days ROI in summer is mostly like 1, means it remains somewhat at same price during summer. Ethereum upgrade would be hopefully live in first week of AUG and we can see ETH 2.0 rolling out within a year. If you have accumulated enough BTC and want something else, this is the 2nd best thing you can get real cheap. Things can be more risky here but after DEC or JAN things will be heating up again for ETH at least as history suggests. Till then BTC will also have gone enough consolidation and my already be on track towards 100K or even 300K as some mad geniuses predict. I would keep my target close to 100K and that would be a realistic milestone.
Don't Buy Alts right now unless you understand them and the market.
This is not financial advice. See you sometime again. Feel free to share your thoughts about market in comments.
Posted Using LeoFinance Beta
---