Bitcoin & The Three (03) Day Curse
---
Market Summary
Market has been volatile in last 2 days. It even fell below 29K$ for some moments on Binance but missed my by order at 28K$ as it bounced back to 34K next two days. Almost everyone has noticed that we are in short term/temporary down turn and this could even last for few weeks or months. In chart below it can bee seen that after peak around 64K we had second peak at 58K and since then we ae on a falling roller coaster. Secondly, We have been in a descending channel or whatever you want to call it. We did beak upwards last week but were rejected just below 200 Day MA, and fell back in the channel. Currently, BTC is again at top limit of channel and we can see a reversal here and bitcoin can keep on going sideways like this for few weeks. The important thing here is a 03 Day Curse.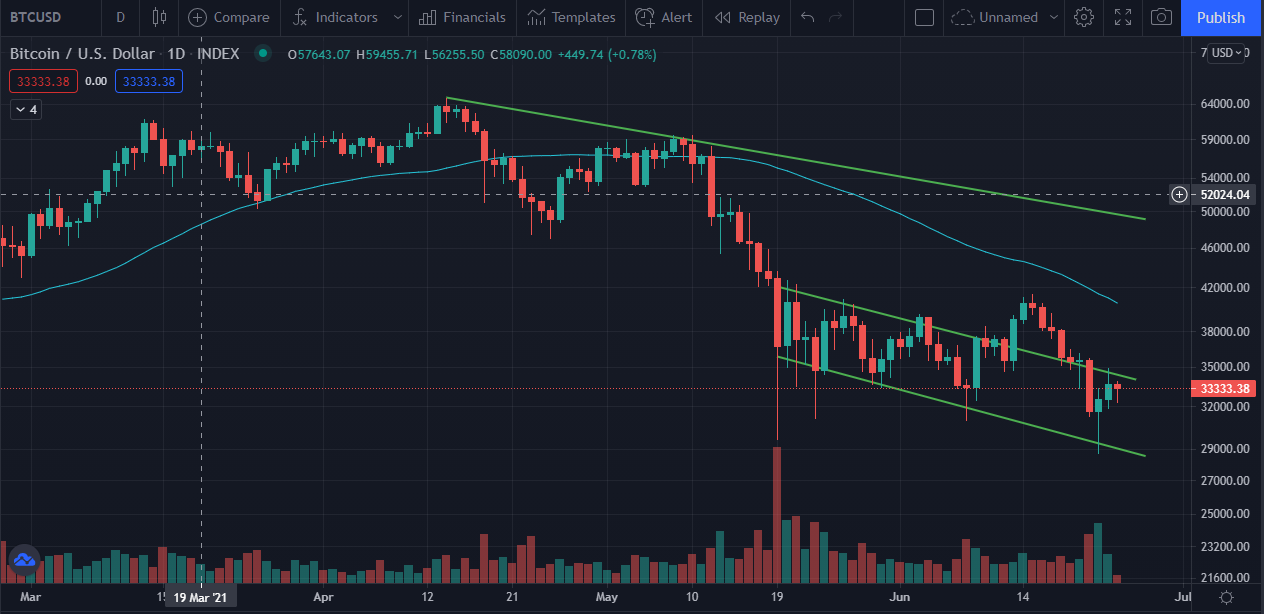 The 03 Day Curse
If you notice the daily chart, it's been a while since we have seen 3 Daily green candle closes. To be exactly, it's been 74 Days ( about 2 & a half month) since we saw three consecutive green candles. After 12th of April, you can note that we had one or two green candles then the red start popping out. This is the three (03) day curse. It's not really an indicator but we can notice it. I believe the day we break this curse ca be the day of hope to see the bull market resuming it's way to put an all time high.
This is really important, as before 12th of April, there was more green in charts than the red. The case after that has been really the opposite & we have been seeing a lot more red & blood than hopes and shines. Overall market sentiments would change when feds stop spreading FUD around and more positive news comes around.
The Wyckoff Accumulation
Most of us have already heard of this one recently. BTC has already show a Wyckoff distribution patter and now it's sideways pattern is indicating the accumulation patter. I believe we have already entered in Phase C. This was the spring test & it's not over yet. Time will tell that it will play out or not. You can see more details in the below chart. you can track live updates on this link.

I have strong inclination towards Wyckoff accumulation to play out. As well, I think BTC will go sideways for few more weeks or months before resuming this bull run. We may see a top at end of 2021 or in Q! of 2022. My guess for the top is something in between 100K to 150K, But if BTC hits 300K as many are predicting before the end of year, I will not be surprised and would accept that I have been wrong. Remember we should have realistic targets and if something outperforms it, it give more pleasure. Till then Stay strong and stay safe.
Signing off,
@khan.dayyanz
Vote for @leofinance as witness by clicking on the below banner if yo believe they are bringing value to Hive & Crypto world.

Posted Using LeoFinance Beta
---