HBD in Savings offering 10% APR | Witness Overview
---
Today embarks the day when HBD in savings account is finally offering 10% interest rate. HBD is native hive blockchain stable coin which is pegged to 1$ USD. The mechanism is quite interesting as one can always redeem HBD for 1$ equivalent amount of HIVE. Unlike other stable coins, this is purely controlled by blockchain code & is safe to hold HBD in wallets as no one is in control of your crypto other than you.

Not You Keys, Not Your Crypto.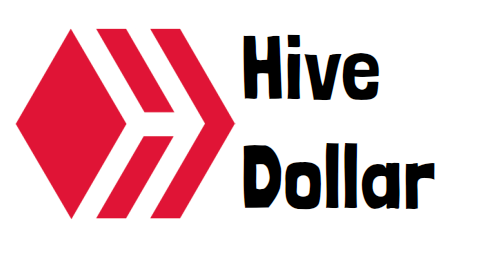 Source
You can read more about stability of HBD on @taskmaster4450 blog here. Our goal today is too look, What interest rates are top witnesses going for? This can also help you remind to cast your favorite witness votes and who you chose to secure the blockchain.
Top 21 Witnesses & Their HBD Interest Rate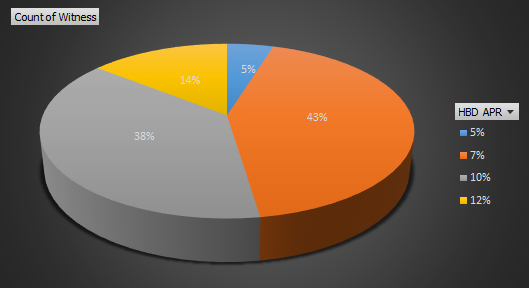 Out of Top 21 Witnesses one is gong for 5%, Nine are in for 7% , Eight are for 10% & Three for 12%. Median comes out to be 10%, so You can see in your peakd wallet, 10% interest rate is shown. It is paid after 30 days & you need to do and HBD transaction to claim it.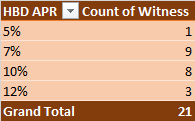 Witnesses that are not in top 21, are either supporting 7/10% but there are many who hasn't even touched this parameter and is currently 0. You can check full witness list & their HBD APR here.
I have already starting accumulating HBD as I want certain portion of my portfolio to be stable. 10% APR is really decent APR if you consider the affect of compounding the APR becomes 10.41% as one would receive at least 12 payments in a year. & Who knows Koreans can still pump HBD to heights, that would be an added advantage.
If HBD becomes stable, it can really open ecommerce era on HIVE. Would you prefer to hold HBD over other stable coins? Answer this in comments.
Vote for @leofinance as witness by clicking on the below banner if you believe they are bringing value to Hive & Crypto world.

Posted Using LeoFinance Beta
---