Renting 2.0 will be another major game changer for Splinterlands!
---
Ever since I got deeper into Splinterlands, the ability to rent out my cards to other players has been one of my favorite features the game has to offer. It's still such a unique thing in the trading card world and serves to show just how awesome it is to truly own your cards as NFTs. In the traditional trading card world, there were basically two things you'd do with any given card. You'd either play with it or you'd just store it somewhere to eventually sell it later on once its value had increased. In no way would you ever rent your cards to another person. There's just too much risk involved with that. What if that person looses the card? Refuses to give it back? Damages it while playing with it? So while you were waiting for the card's value to increase, there was nothing else to do with it.
In the blockchain world, though, you can lease your card to another player without any risk involved at all. So any card you don't want to play with yourself can be rented to other players looking for cheap ways to improve their deck. That way, you are able to earn some interest on your cards while still holding on to them with the ability to sell them later if you choose to and without the risk of loosing it or having it damaged. While the concept is pretty amazing and I'm already renting out more than hundred cards right now, it never really took off as much as it should have. Early next week, this is going to change dramatically, as that's when Splinterlands is going to release Renting 2.0.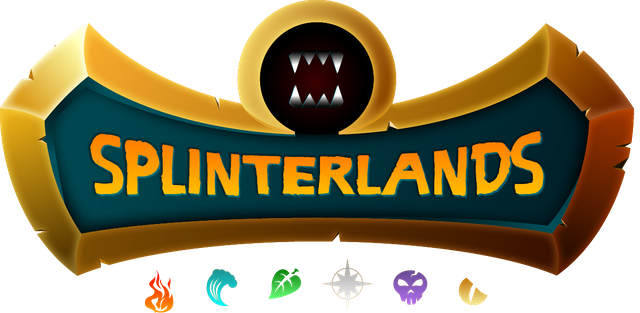 There's a lot to be said about that new version but for today, I'm going to focus on the two key issues that have been holding back the whole feature. First of all, you had to visit a third party site in order to rent cards as that functionality was not available within the game client itself. While that would have been an issue on its own to some, it's really the second part that held back the whole system: You needed either Hive or HBD (Hive Backed Dollars) in order to rent these cards. Now don't get me wrong, I love Hive and I have a decent amount of Hive powered up. But as a matter of fact, it's a very niche blockchain and a lot of people probably never heard of it before joining Splinterlands. While the game does create a Hive account for you and lets you claim your keys, it's up to you to figure out how Hive is working. With the different keys and addons that need to be installed, this is already something a lot of people will shy away from. Add to that the fact that it's not exactly easy to buy some Hive without jumping through several hoops and you might start to understand why a lot of people simply never used the rental service.
For Renting 2.0, this is going to change fundamentally. Instead of using Hive/HBD all renting will now be done using Dark Energy Crystals (DEC) which is Splinterlands own ingame currency. This not only solves the aforementioned problem, it does a lot more for the whole system! By using DEC, people get access to renting cards without ever having to deal with Hive/Hive-Engine/or anything else related to the blockchain. In Splinterlands, you earn some DEC with every single game you win. You get it from your daily quests, you earn it from your season rewards, you win it in tournaments, and you receive it as payment if you sell your cards. In short, there's basically no way to interact with the game without earning some amount of DEC on the way. Because of that, even the newest of new players will be able to rent some basic cards once they've completed their first few matches, allowing them to improve their deck (and power rating!) right away without ever having to invest anything from outside the game.
This also makes it a lot easier to keep track of your expenses for rentals compared to your daily earnings. In the old system, you had to convert your DEC to Hive, move that to Peakmonsters, and rent the cards you wanted. While you made the payment in Hive, the fees where listed in dollar. Since Hive tends to fluctuate in value quite a bit, you never knew exactly how much Hive you would need for what rental. Now, with the new system, it's as easy as it gets. If you earn 1000 DEC on average a day and spend 500 DEC on your rentals, you are doing good. If it's the other way around, you should look into changing things as soon as possible.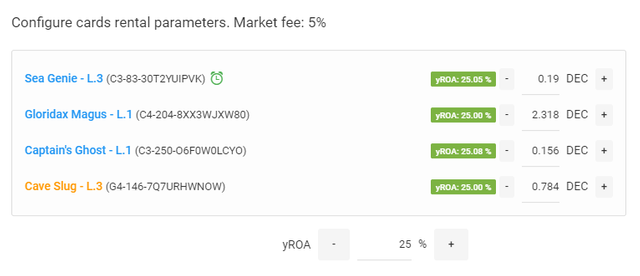 Please note: This screenshot is taken from the Beta version and may change before release
At the same time, using DEC instead of Hive will make listing less valuable cards a lot more worthwhile. Prior to the change, the lowest daily price was 0.001$ and obviously, that wasn't cheap enough for a lot of low level common and rare cards. It was even hard to find renters for a lot of level 1 Epics. With the new system, the lowest asking price is now going to be 0.1 DEC which equals 0.0001$ - so only a tenth of what we had before!
Now you might think "who's going to put in any effort to earn 0.0001$ a day?" and obviously, no sane person would do that one card at a time. But the guys at Peakmonsters have us covered on that as well. There will be ways to list dozens of card at a time - you just select the cards you want to lease out, select your expected yearly return, and the system does everything else for you. Once the cards got listed, you don't have to interact with them in any way unless you want to change the price or remove them from the market.
It's a win-win situation for all of us really. New players will be able to rent some really helpful cards for a fraction of a cent while card owners will be able to earn a little extra on all the cards they hold but don't need currently. I expect things to take some days before everything is getting into motion but I'm quite confident that this whole system is yet another game changer for the Splinterlands economy. Eventually, we'll see new players routinely start renting cards almost immediately after joining the game. People will have the real decision whether they want to actually buy and own cards themselves or if they are content with just leasing them in return for a (possibly small) part of their daily earnings.
As I've said above, there's more to the new system than what I've covered here, but I feel like this is the most important aspect by far. The new system is probably going to be released next Tuesday at the latest and once things are running smoothly and I've found time to check everything out, I'll probably get back to you with a follow up article. Until then, that's all from me for today. Thank you all for reading and see you next time!
---