I got my First LPUD Badge, What next?
---
happy new weeks friends in the Leo community and Hive. It is a new week. Push forward to achieve your dreams with fresh strength. Let go the hurts of yesterday.
---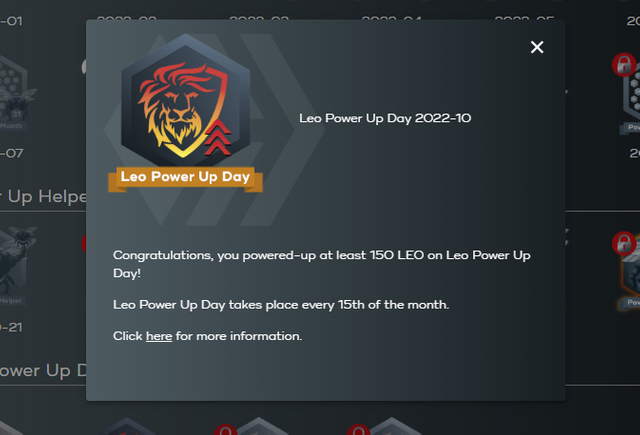 ---
Yesterday, I participated in my first ever Leo power up challenge known as LPUD and I was able to stake 151 Leo tokens. Congratulations to me. I have learnt to appreciate myself each time I make significant step in the direction of my goals.
---
From Splinterlands to leofinance... my hive reach is growing.
---
I told myself it is time to get serious on hive,. perhaps this turns out to be my long awaited employment. I started off my journey of seriousness with the splinterlands community. The past 3 weeks there has been beautiful.
Through #threads promotion on twitter, I got to know more about the leofinance interface even when I was using the tags and posting in the community weeks ago. I made my first post using leofinance.io and it was my LPUD report.
---
I never miss a lesson
---
Thank you to all that have engaged that post already in upvotes and comments. Special mentions are @forexbrokr, @shortsegments an @ifarmgirl-leo. I have visited their blogs, followed them and read their posts to engage their awesome contents.
---

---
One of the comments that got me to have a rethink on Leo was from forexbrokr. He said my future self will thank my today self for buying and staking LEO. That is the wish of every investor that it gets better in the future.
learning more about hive and committing more attention to it is a conviction and I am preparing my heart for what it will bring in the future. Read about many hive users and their success stories and I am motivated to also take steps that may give me similar or better testimonies.
---
The Badge is Beauiiful, what next?
---
Hivebuzz notified me as a comment that I have received a personal badge. It is beautiful. Though I missed the first badge for last month, I will do my best to ensure I do not miss the next ones.
---

---
I am still trying to understand the Leo community and the whole of what they represent. many questions to ask, I hope there would be willing hearts to answer. First is what is the future of LPUD badges? My few weeks of acquaintance with splinterlands has exposed me to NFTs. Will there be the possibility of monetizing the badges in future?
---
Thank you again to all the creators and developers on Hive. Thank you all my teachers here on Hive. Thank you for those who mark my scripts with their upvotes. I am happy to see that I am growing in understanding this environment, but more interesting is that I am paid to to learn on hive.
Thank you all, I love you.
I am @kingswill. Let's meet and greet.
---

Posted Using LeoFinance Beta
---