CUBLIFE (CL) - Weekly report #30
---
Authored by @silverstackeruk
Hello, LBIer's and CLer's. Welcome to this weeks CUBLIFE (CL) token update. We are going to look at this week's CUB harvests, reinvestment and weekly dividend APY. This update post is released weekly, dividends are paid in LEO every Friday at 9 pm UTC and new CUBLIFE (CL) tokens are issued once per month every 21st.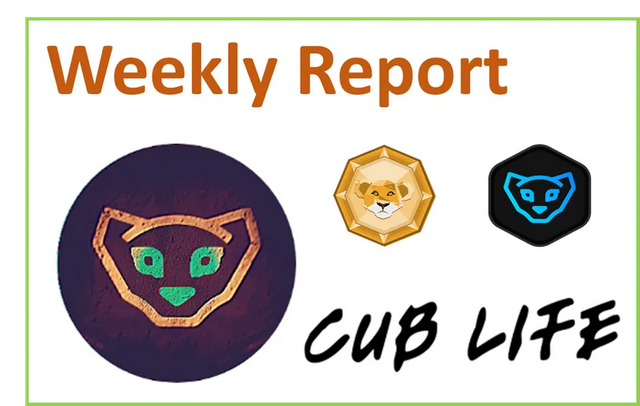 What is CUBLIFE?
CUBLIFE (CL) in a nutshell is a hive-engine token dedicated to investing in CUBfinance that pays out weekly dividends in the form of LEO. All LEO/HIVE raised from monthly token issues is invested in CUBfinance. 50% of weekly harvests are converted to LEO and issued to CL token holders, 40% is reinvested back into the platform and 10% goes to LBI as an operators fee for maintaining and actively managing the wallet.

Weekly Income
Harvests this week are up 20% on last week which is a good start. The APY this week is 21% which is perfect, we've been over 205 the past few weeks and everything over 20% is very good i think with the state the markets are in.

Blue = BSC
Orange = POLY
Black = Gas tokens

The wallet took a hit of around $400 this week and bLEO/BNB retakes the top spot for biggest holding. Pretty mush everything is down a few percent. With a total of $6500 in LP tokens, i think CUBlife is doing better than most. Our wallet peaked at around $18-19k so we're down 65%. I know thats a big number but fact is both LEO and CUB which were our biggest holdings are down much more than 65% from peaks and we've done well to preserve some value. Most of the market is down 60-70% so CUBlife has preformed very well.
Remember we have more crypto each week as 40% of harvests are reinvested back into CUBfinance to keep it growing. We started with the top 3 farms shown, everything below has been bought with harvests for free. Pretty cool?

This month's CL token issue
Every 21st of each month, new CL tokens are issued to those that have sent either HIVE or LEO to the @cublife before the end of the 20th. The month goes 21st-20th. If you send in funds on the 21st, you'll be waiting till next month. Conversions take place once per month on the 21st with new CL tokens being minted to the same value as the existing ones in circulation. There are 12 CL token issues per year.
You can transfer LEO/HIVE or HIVEp from hive-engine. If you send both LEO and HIVE, you will receive 2 token issues, 1 for each. You can confirm your funds have been received in the table below which are posted weekly and updated 2-3 times per week.



The markets are still wrecked from FTX and I don't see them recovering that much to the honest. Im, sure there is a huge ripple effect that will take place, FTX was connected to over 100 different companies.
CUBlife is still on the same plan for now. Collect harvests, convert 60% to LEO and reinvest the rest into the stable LP. When the time goes, I'll convert the stables into LEO/BTC/ETH/BNB and then we wait for the next moon😁
Dividends will go out this evening. We're still split near even better CL stakers and liquid holders, its nice to see that investors like both equally. Have a great weekend and we'll be back next week.
Posted Using LeoFinance Beta
---