Let´s go to the SUPER farm
---
Authored by: @hetty-rowan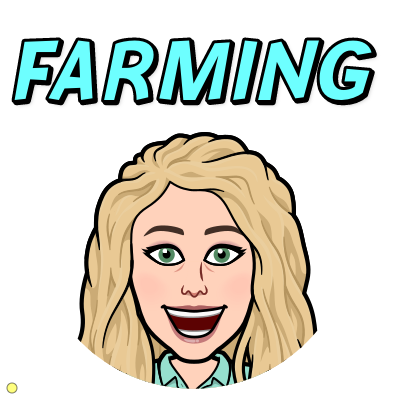 How useful are all those coins?
The crypto markets are flooded with coins. But you can have doubts about the usefulness of all those thousands of coins. Of the thousands of cryptocurrencies on the crypto market, only a small number are actually usable. Often a project is launched without a product. Many projects have big plans, but they still have to realize them first.
As a result, many tokens from just as many projects are of no use at all. It then only becomes interesting for speculators, who expect, or even just hope, that the project and the associated token show a 10x, 100x or even 1000x in the future.
However, for this to happen, it takes a lot of time and even more energy for the project. And the question is usually whether the team members who start their projects in good spirits can also sustain this in the cut-throat competitive market that crypto has become today. Where in the early years of the crypto market, investors had two options: HODL or sell. Many more options have been added over the years.
This way you can use the coins, by staking them or by farming them. For this, you will receive even more coins as a reward. In addition to these ways to increase your investment, you can also influence the project itself. DeFi projects often allow holders to vote or give them space to share ideas.
SuperFarm (SUPER) focuses on making a token usable. In addition to the options mentioned above, SuperFarm sees many more opportunities for a project's coin.
What is SuperFarm (SUPER)?
SuperFarm is a decentralized protocol, which focuses on making tokens useful. The protocol is a cross-chain protocol, which means that communication can take place directly between different blockchains.
The utility of a token is realized in a unique way. Many projects try to involve investors in their projects, for example by offering farm pools. SuperFarm goes one step further. The project is designed in such a way that any token can act as an NFT farm.
Any project can implement this innovative way of farming. SuperFarm gives projects the opportunity to set up farms in a simple way but also helps to set up new tokens and NFTs, which can be traded on their own marketplace.
SuperFarm makes crypto mainstream
Most people in the world are not actively investing and have little financial knowledge. This makes it difficult for the crypto market to become the norm worldwide. NFTs are a great opportunity to market blockchain technology.
NFTs can be processed in any market, but the gaming sector is the easiest way. Gamers spend more than $180 billion on games every year. In addition, the average age of gamers is around 32 years. These numbers are almost identical to the characteristics of users active in the crypto market.
Because of this, SuperFarm has the vision that video games are the means to make cryptocurrency and blockchain mainstream. It gives something recognizable within the complex world of the blockchain. In addition, a play-to-earn model is a lucrative option for gamers, and they can benefit even more from a game by investing in a game early through an IDO.
Superverse
SuperFarm also focuses on the metaverse by developing the Superverse. The Superverse combines the most important pillars of SuperFarm. In the Superverse, video games and NFTs are combined with SuperFarm's partners.
This allows SuperFarm to make its token useful. Due to the cross-chain possibilities on the platform, the Superverse is not only interesting for certain ecosystems, but also for ecosystems beyond. An example of this is the release of NFTs, which you can obtain through various activities on different blockchains.
The token of SuperFarm: SUPER
SUPER as a token plays a major role within the SuperFarm ecosystem. The ERC-20 token will be used for various actions on the platform. It is, among other things, the payment method on the SuperFarm platform.
For example, holders of the coin will have the opportunity to vote on proposals. Going forward, the platform will be fully decentralized, with token holders fully owned.
In addition to the participation, token holders are also rewarded for staking the coins themselves. For this, you will receive extra SUPER as a reward for staking. Isn't that great?
You can also bet SUPER for farming coins. This act allows you to earn exclusive NFTs as a reward. In addition, as a SUPER holder, you also have exclusive access to new NFTs from projects that collaborate with SuperFarm.
Features of SUPER
Token ticker: SUPER
Total Tokens: 1,000,000,000 SUPER
Number of tokens in circulation: 999.998,077 SUPER
Token type: ERC-20
Where can you buy SUPER?
SUPER is too obtained through various platforms. In total, the coin is available on more than 20 platforms. Among these platforms are a lot of reliable options. You can buy SUPER tokens on Uniswap, Binance, KuCoin, and PancakeSwap (CAKE) among others.
Suitable wallet for the token
SUPER can be stored in a software wallet in addition to the exchange. This token can be stored on the Trust Wallet, the MetaMask Wallet and the Binance Chain Wallet. In addition, you can also store SUPER on a hardware wallet.
The SuperFarm team
Here we come to an interesting bit, because who doesn't know Ellio Trades? And it is precisely this Elliot Wainman, from the Youtube channel Ellio Trades, who is the CEO of SuperFarm. On the channel EllioTrades, he talks about blockchain-related topics every day. If you don't know him yet, it's a must to follow. Both on Youtube and Twitter.
In addition to his work for Superfarm, Wainman is also CEO of Dapp Evolution, a company focused on blockchain video games. Prior to this work, Wainman spent several years with Tictolabs and Fonda & Fraser LLC.
Another key member of the SuperFarm team is Andy Anderson. He is - as he describes it himself - the creative director within the company. Anderson also gained experience at Enjin (ENJ), a well-known crypto company that focuses on gaming and the metaverse.
Anderson sees his work as a unique opportunity. He sees the blockchain revolution as progress that is greater than the industrial revolution. Besides these activities, he has been active as a trader for more than 8 years.
Name: Elliot Wainman
Function: CEO
Experience: Youtube - EllioTrades, Tictolabs, Fonda & Fraser LLC
Name: Andy Anderson
Function: Creative Director
Experience: Enjin, Trader for more than 8 years
SuperFarm's future plans
The SuperFarm team is far from finished with the project. There are major developments on the project roadmap. For example, there are big plans for NFTs. There will be a marketplace where you can buy and sell unique tokens. In addition to this form of trading, it will also be possible to trade your NFTs with other collectors.
In addition, developments are underway with its own multiplayer game, called Imposters. These plans go hand in hand with developments for video game software, in which blockchain technology is used for the optimal gaming experience. In-game trading will also take place at Imposters.
The popularity of SuperFarm
Thanks to the Youtube channel EllioTrades, the channel of co-founder Elliot Wainman, the reach of the project is enormous. EllioTrades has over 500,000 followers. Most projects are not very active on Youtube, which is what makes SuperFarm stand out.
A number of projects use Youtube for a small number of instructional videos. However, there is more to get out of the medium. Videos ensure that you come across as reliable and knowledgeable. The Livestream function on Youtube also ensures that projects can communicate directly with investors, making this group feel more involved.
A huge number of people are reached via Youtube, but there are more channels where SuperFarm has a large number of followers. Twitter is a popular medium for many investors to follow crypto news. This also applies to SuperFarm, with the Twitter account reaching nearly 180,000 followers in the first weeks of November 2021.
With almost 71,000 followers, SuperFarm also reaches a large audience via Telegram, making this platform the most important social media channel of SuperFarm after Twitter and Youtube.
Besides Youtube, Telegram, and Twitter, SuperFarm uses two other channels. However, the numbers reached through these channels are insignificant compared to the three aforementioned social media channels. About 1,200 followers are reached via Reddit, while the platform of Medium reaches 6,900 followers.
Despite these numbers being relatively low, the amount of followers on Medium is very impressive. Medium is a website where authors can post articles and then pay readers to read unlimited monthly.
The almost seven thousand followers on Medium is therefore very high. Major crypto companies such as Chainlink (LINK), Litecoin (LTC), and NEO (NEO) have 2,400, 500, and 3,000 followers respectively. SuperFarm has more followers than these three projects combined!
Critical note
But every project has pluses and minuses. Not one project is perfect. And SuperFarm isn't perfect either. There are many other marketplaces where you can trade NFTs. Although these marketplaces have less to offer than the opportunities SuperFarm offers.
The advantage of marketplaces like OpenSea and Rarible is their amount of users. These platforms are used by a large audience and are also better known with a large audience. If these platforms offer the same services as SuperFarm, this could be a threat to the project.
The fame of platforms such as OpenSea is still dwarfed by the fame of trading platforms. This is because trading platforms are the first introduction for new investors when buying crypto coins. The world of NFTs is often one step further.
At the time of writing (November 2021), several trading platforms have established their own NFT marketplace. For example, platforms such as Binance and FTX already have their own NFT marketplace, but Coinbase is also busy executing the same plans. These platforms together have around 100 million users. It is of course also possible that these platforms will partner with SuperFarm, which could be a huge opportunity.
Conclusion
SuperFarm's project has very unique characteristics. Farming NFTs is another major step in the development of blockchain technology. Especially because of the cross-chain possibilities, SuperFarm is a promising project in my opinion.
The popularity of DeFi and NFTs has increased enormously in the first half of 2021. The trends for the second half seem gaming and metaverse. Few companies are using all four trends of 2021, but SuperFarm delivers. Besides the popular topics, SuperFarm has a huge reach on social media. This is largely due to CEO Elliot Wainman's YouTube channel EllioTrades. For projects, it is very important that a community supports your plans.
Despite the mainly positive sounds about SuperFarm's plans, a critical note is in order. The crypto market is a hugely growing market that continues to innovate. It is therefore advisable for investors to look at the developments surrounding other marketplaces in addition to the plans and implementation of SuperFarm.
For example, the NFT marketplaces of major exchanges could be a danger to SuperFarm. But at the same time, this is an opportunity if the trading platforms make use of SuperFarm's knowledge and experience. This can be both an opportunity for the company SuperFarm, and if the company SuperFarm goes well, the coin SUPER will most likely go SUPER.



Posted Using LeoFinance Beta
---