Authored by: @hetty-rowan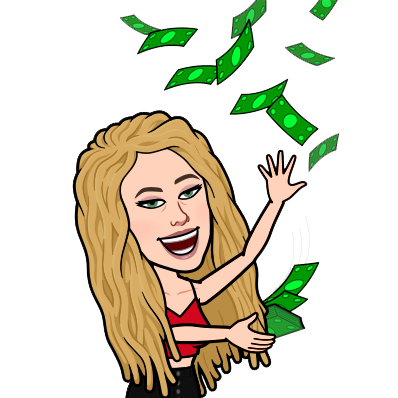 Wonder what Bitcoin is doing!
It's Tuesday again, it's that day that I can make someone happy. While the rain is hitting the windows here, and I'm staring at a half-red portfolio, I wonder what Bitcoin is doing. I came across a message on Twitter that the exact same thing is happening NOW as in 2017 where Bitcoin had the top on December 17, 2017, and Ethereum then doubled again with the top on January 13, 2018. After that, the MEGA BEAR MARKET hit by -95% for Ethereum… And then when I see that some of my altcoins have gone down by 12%, and also at the exact same time… while I was sleeping. Then I wonder a bit what is happening.
Some food for thought
Fortunately, I also saw the altcoins recover a little while I was wondering what to do now, but it gives me food for thought. Is this bull market going to last as long as we all hope, of course, or is the end of the bull market closer than we all would suspect and IS this time different as 2013 and 2017.
It's becoming a job ... LOL
I don't know yet, but I will definitely pay more attention to it… and don't just assume that it will last for a long time. Of course, I also read the messages from… We're just getting started… And believe me, I want nothing more than this to be true. Maybe, it is also the case that I am only now really aware of the fluctuations within the crypto, but anyway ... Now that I finally have something to add, I will also do everything I can to increase this instead of getting rid of it.
Off to today's contest!
And while I was so distracted by everything that happened, I also accidentally threw 2x sweetener in my tea… Sigh. I'm going to get my brains together and off to today's contest. Because that is what you want to know of course.
What have our Chiliz been up to in the past week?
Droppings at exactly the same time
As you may have noticed it was an eventful week, and Chiliz also dropped to 48 cents last night. Meanwhile, the Chiliz is back at 50 cents, but that again makes me think, WHAT was the matter? Many altcoins that see a big drop at exactly the same time! Very strange …
Anyway, none of that is important for the contest. What is important is what the price of 1 CHZ was last Friday at noon!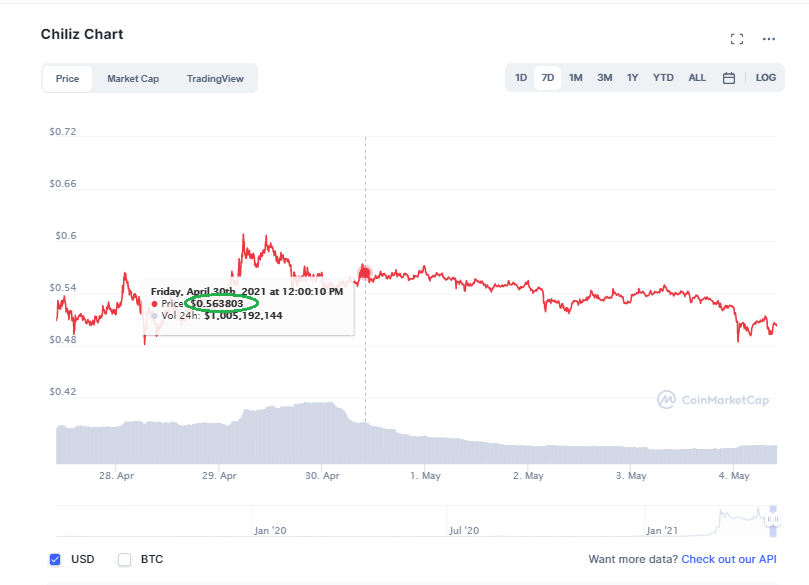 And you can see that in the screenshot. That was 0.563803 to be very precise. None of you guessed it 100% right. But of course there was someone who was close to this price with his prediction. And that was @bashadow this week



So on behalf of @ lbi-token, this week we congratulate @bashadow on the prize of 2 SPI won.
It will be sent to your wallet as soon as possible.
Telcoin's mega run
Then this week. As I mentioned yesterday, I was not in the mood to start a new search for a new coin. I lived too much in the intoxication of "WINNING", and the mega run that Telcoin went through.
Consolidation now
At the moment Telcoin seems to be consolidating for a while. And let's hope it stays that way for a while. I think it mostly depends on what Bitcoin is going to do. My experience with Telcoin is such that if Bitcoin drops, Telcoin does the same. We shall see.
What do you think 1 Telcoin is worth this Friday, May 7, 2021, at noon (CET time).
Please leave the answers here in the comments for next Thursday 6 pm (CET time).
Good luck everyone!
P.S. If you have the idea of ​​getting into Telcoin then it is possible that now is the time to do so.
** NO FINANCIAL ADVICE **


---
The prices this week?
Same as every week, you choose from the following 3 chests!
Chest 1: 5LBI
Chest 2: 2 SPI
Chest 3: 5 LEO
See you next week everyone… and enjoy your day!
Posted Using LeoFinance Beta