Cub Finance Audit is Live | $20m TVL, Kingdoms Update and LeoBridge
--- The entire DeFi and Binance Smart Chain space has been skyrocketing. When we first started thinking about and buidling CUB, we realized how big BSC would become in the crypto space and charged head on into this emerging blockchain.
Last night, BNB crossed $500 for the first time. It's currently around $575 after just recently breaking through $600.
Binance Smart Chain is still a monster in the making. Most people don't realize how valuable this blockchain is in the current landscape of DeFi. Ethereum obviously has some qualities that make it superior to BSC - better decentralization, more development, more capital, more mainstream attention and adoption - but BSC has some qualities that make it far superior to ETH in the current moment.
Low fees, fast TXs, low barrier to entries... all of these qualities enable apps like Cub Finance and BSC is quickly becoming one of the most valuable blockchains to build on. This is just the beginning of an influx of capital and development on the Binance Smart Chain and LeoFinance has spent the last 2 months positioning Cub directly in the middle of it.
$20 Million Total Value Locked

It feels like just a few weeks ago we all celebrated $10m TVL. In fact, CUB was started just a few weeks ago. Each day has started to feel like a month for most of us.
With Kingdoms around the corner, we believe Cub will blow past $20m like it's nothing. Kingdoms allow BSC users to pool capital through a Cub smart contract which then goes out and pools capital on other BSC platforms.
That contract collected the LP rewards on other platforms and utilizes it to reinvest in the base pool assets. Cub Finance also adds a small multiplier to the contract which means that users earn both the LP incentives that other platforms pay and then earn CUB on top of that APY.
This is DeFi composability at its finest. Here's an example:
Pool capital (BTC, ETH, DOT, BNB) in a Kingdom vault
Kingdom smart contract pools on another BSC platform (i.e. Goose or PCS)
Kingdom contract earns EGG or CAKE LP rewards
Kingdom autosells EGG or CAKE for the base asset (BTC, ETH, DOT, BNB) and compounds it in the user's pool position
Kingdom contract also earns CUB rewards and sends to the user's wallet to harvest
User is earning APR in the base asset + CUB
Utilizing Smart Contracts, Kingdoms allow users to essentially earn rewards on two separate platforms at the same time. It also takes the non-CUB portion of those rewards and autocompounds it into the base asset position (i.e. pool BTC in Kingdoms and earn BTC + CUB).
Our setup for Kingdoms is one of the most unique pooling methods on Binance Smart Chain right now. We think Kingdoms will position CUB for $100m + TVL with relative ease.
The development of Kingdoms has been a bit slower than expected as we ended up needing some updates to the Smart Contracts, backend and UI that we weren't expecting. The Smart Contracts and Backend are nearly ready and we just started on the UI today.
Once Kingdoms are released, you'll find an entirely new design on the CubDeFi site for Kingdoms which will plug directly into the Kingdoms smart contracts we created.
At launch, the following vaults will be available in Kingdoms:
BTC (replace den)
ETH (replace den)
DOT (replace den)
CAKE
WBNB
WBNB-BUSD
We're trying to roll Kingdoms out before the end of this week / April at the latest. We'll keep you updated on our dev progress and any bumps in the road that we discover.
LeoBridge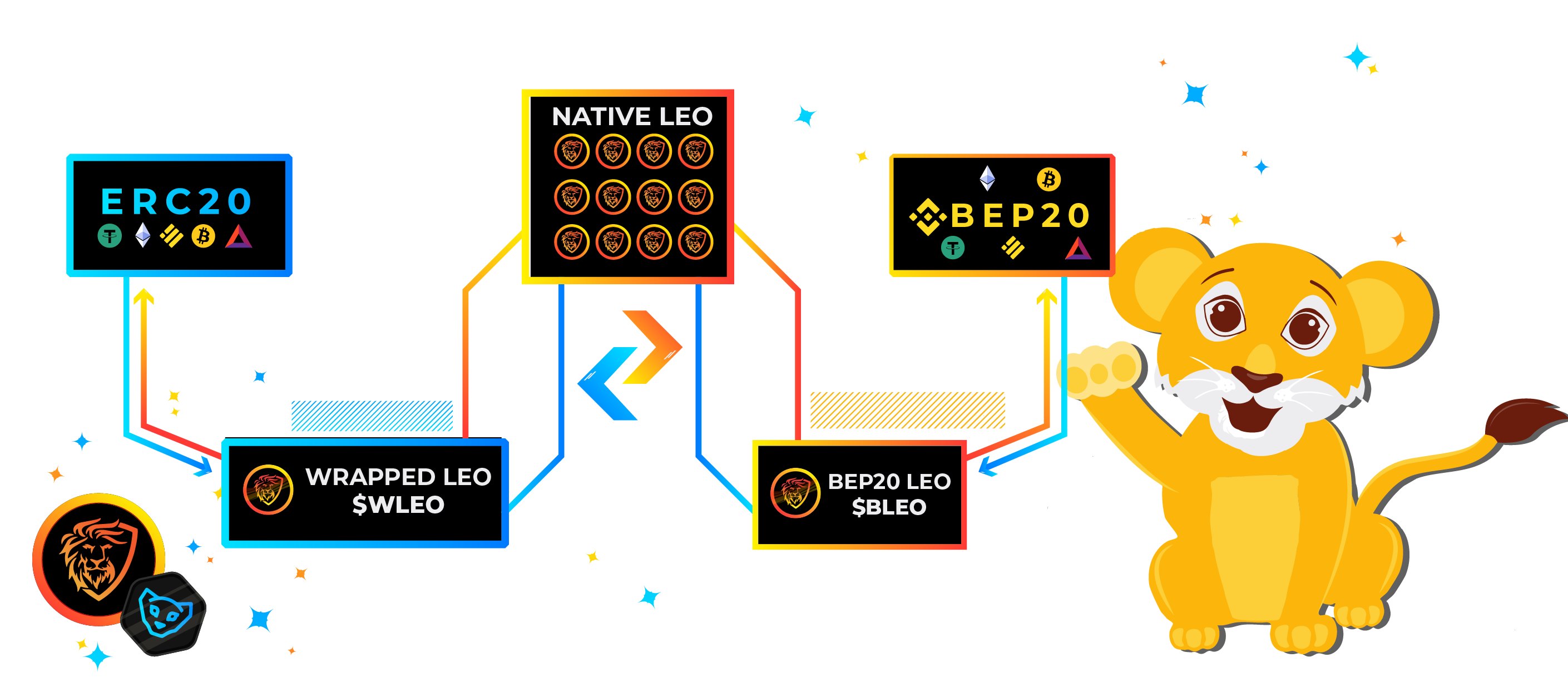 LeoBridge is probably one of the most ambitious projects we've ever taken on. There is currently still no easy method for converting an ERC20 into a BEP20 in a decentralized manner via smart contracts. Right now, the easiest way to do it is via Binance.com which is both centralized and closed off to a large % of crypto users.
The backend for LeoBridge has been ready for a while now. We targeted a release date of about 2 weeks ago but the UI has required a lot more development than we expected.
Originally, we were going to fork the Pancakeswap UI to handle Bridge TXs. We spent some time working on that and then realized that LeoBridge was too complex for that web page. We went back to the drawing board and considered building a UI from scratch or trying to find some alternative to handle LeoBridge.
We finally landed on the idea to fork the Uniswap AMM page to handle LeoBridge. It's easier to work with and will handle the functionalities we need for the Bridge. Eventually we may rebuild a LeoBridge UI as a standalone page from scratch, but the Uniswap AMM UI will work great at launch.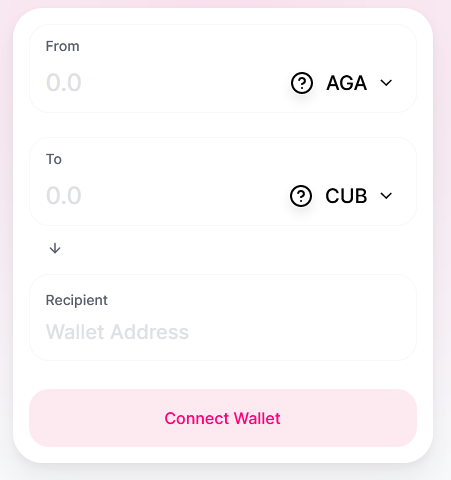 This is what it looks like right now (obviously still rough in terms of design). LeoBridge carries a number of complexities which have made the frontend development longer than expected. It turns out that building a bridge UI which pulls APIs, price feeds, conversion rates and smart contracts from two different blockchains simultaneously is a tough task. Who coulda guessed that?
It feels like we're in the ladder stages of LeoBridge development. After tackling all of the hurtles that got thrown our way - especially scrapping the first week of development time on the PCS fork - we're now on a much faster track to delivering the Bridge UI. Paws crossed that we can roll this out before the end of April.
CertiK Audit is Now Live!
This happened last week but after all the development hurtles, we never got around to an update post about it. CertiK has finally published the Cub Finance audit report!
We hired CertiK to audit Cub Finance before we even launched and it took them a while to deliver their initial audit (about 3 weeks). Once they delivered that audit, we sent back revisions based on their audit - adding functions like a timelock contract for updating APRs on Cub Vaults, etc.
After our updates, CertiK re-audited Cub Finance and then finally published Cub on the CertiK leaderboard. It turns out that Cub is now one of the highest rated DeFi yield apps.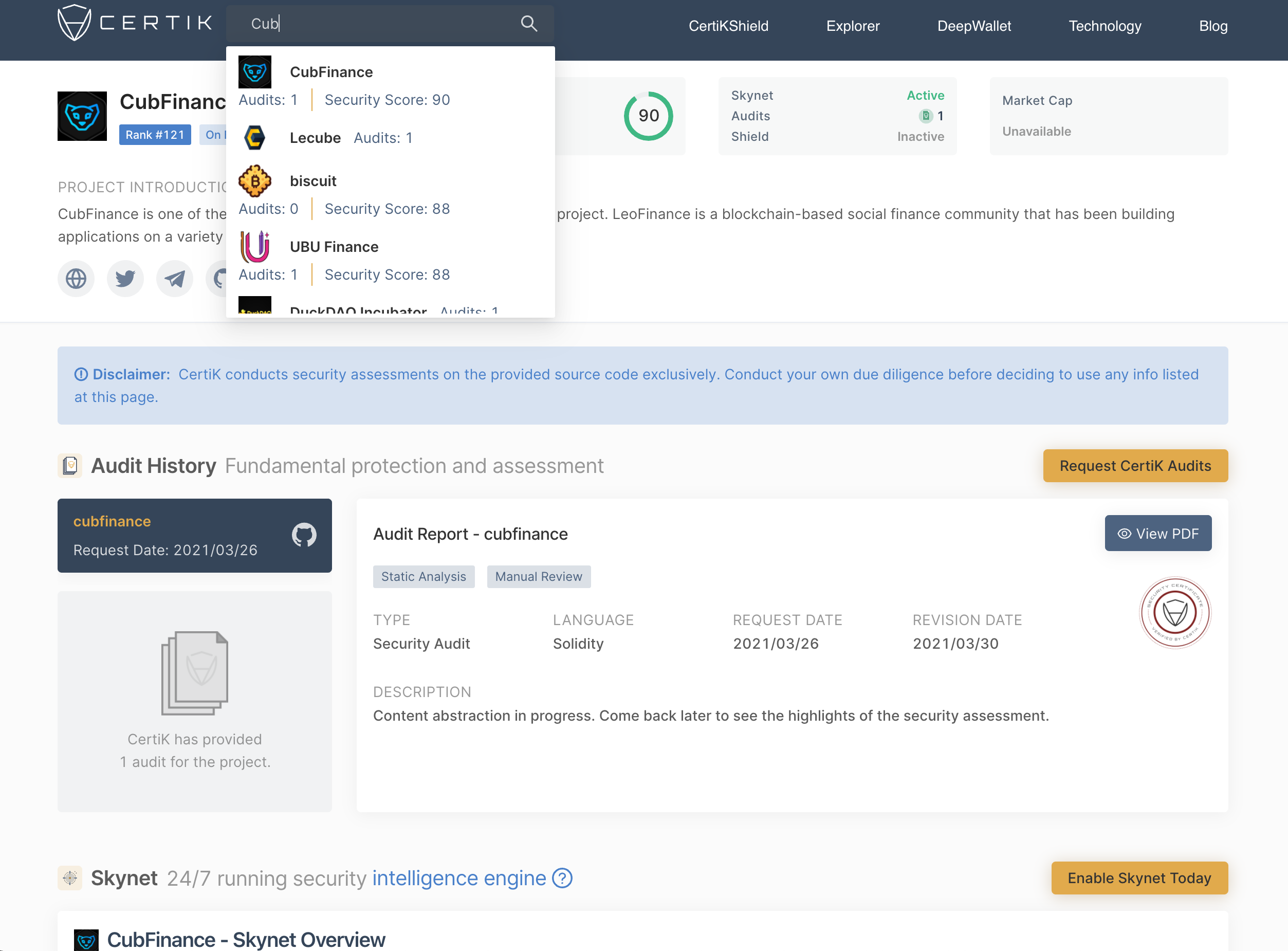 An important note about our audits is that it doesn't include any new contracts that we add. As of right now, all of our smart contracts have been audited by CertiK. As we release new features like Kingdoms, we need to hire CertiK to add those contracts to our total audit package and update our page on their Leaderboards once they've reviewed the security of these contracts.
Kingdoms are just 1 (but a major one) of the new smart contracts we're launching for Cub Finance in Q2 of this year. With many more contracts in the works and planned, we'll need an ongoing relationship with CertiK (and potentially other auditors) to quickly roll out audits of new contracts as they go live.
The smart contracts for Kingdoms are ready and we contacted CertiK earlier today about auditing the new contract. Hopefully the turnaround will be much quicker than our original audit - since we're adding a new contract rather than getting the entire platform audited.
In other wens - yes, #ProjectBlank is still under development and yes, the new LeoFi app is also under development. In terms of timelines, we'll keep that closer to the vest from now on. We'll aim to launch LeoFi in Q2 2021 and hopefully ProjectBlank in Q2 or Q3 at the latest.
We've got some interesting news on the Blank front - especially since we decided to hire on a full-time mobile app developer and build mobile-first. #Soon™️

LeoFinance is a blockchain-based social media community that builds innovative applications on the Hive, BSC and ETH blockchains. Our flagship application: LeoFinance.io allows users and creators to engage and share content on the blockchain while earning cryptocurrency rewards.
Earn a 16% APR on HIVE POWER and Support LeoInfra's Onboarding Efforts by Delegating HP to @leo.voter (Currently at 3M HP). We Use this to Claim Accounts and Delegate RCs to Newly Onboarded Users + Daily LEO Payouts to Delegators
Posted Using LeoFinance Beta
---