CUB Monthly Report | October 2022 - 350k CUB Bought & Burned, bHBD & bHIVE Liquidity Depth Grows 30%
---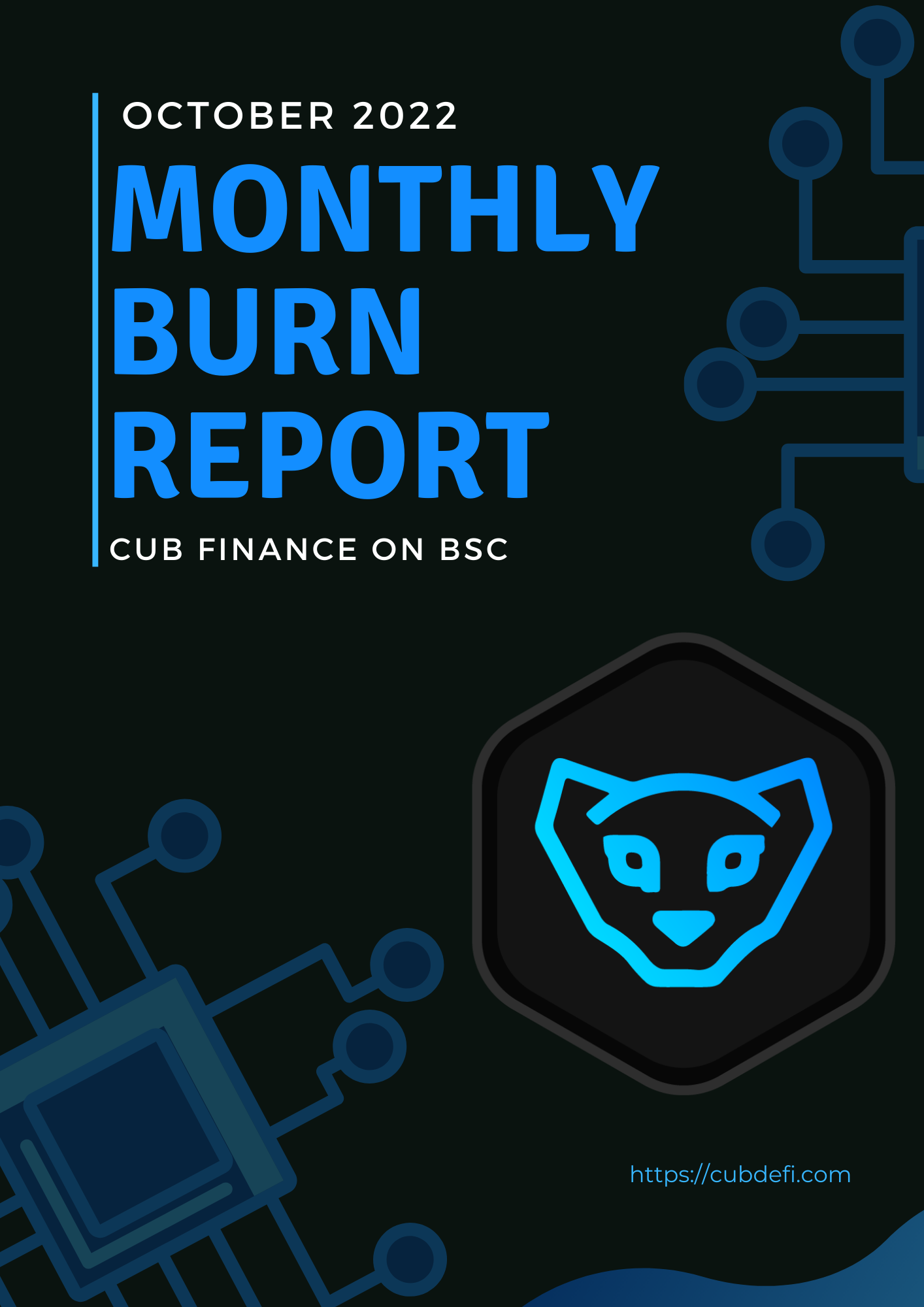 CUB was launched in March 2021 with a simple mission: build a sustainable, reliable and growing yield platform for our community. The LeoFinance mission statement is to democratize knowledge and access to finance and CUB aligns perfectly with that mission.
The original model that CUB was built on was one of unsustainable yields. Realizing that, we set out to add features, new contracts and a disproportionate amount of trial and error in an attempt to discover a sustainable, reliable and growing model of revenue generation for the CUB Protocol.
Since launching the Multi-Token Bridge (MTB) - bHIVE & bHBD - we've finally found the model we were looking for. Throughout the month of October, the MTB generated $7,945 for the CUB DAO. The DAO smart contract used that $7,945 to buyback and burn 350,683 CUB.
---
View the full PDF of the CUB Monthly Report
---
These are some incredible figures. Unlike anything we have ever seen before. We believe that a model of sustainability is now in place for CUB. Our focus is now on scaling bHIVE & bHBD liquidity.
As the bHIVE & bHBD liquidity depth grows, we'll see more and more revenue drive into the CUB Protocol.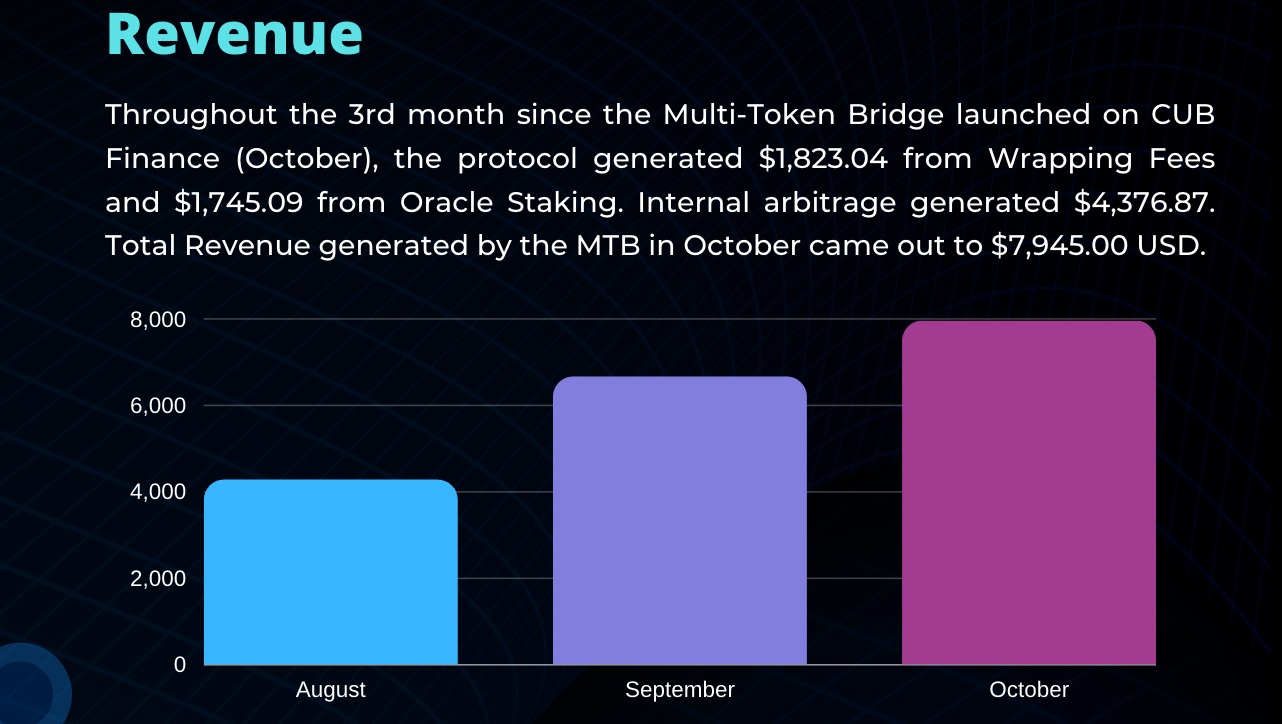 As you can see in this chart, the revenue continues to grow exponentially month-to-month as liquidity deepens. The liquidity for bHIVE & bHBD grew by 30% from September to October and the revenue grew a similar amount.
Meanwhile, the CUB Burns have taken off like a rocket headed for the moon. Take a look at the below chart showing the launch of bHIVE & bHBD and the CUB Burns: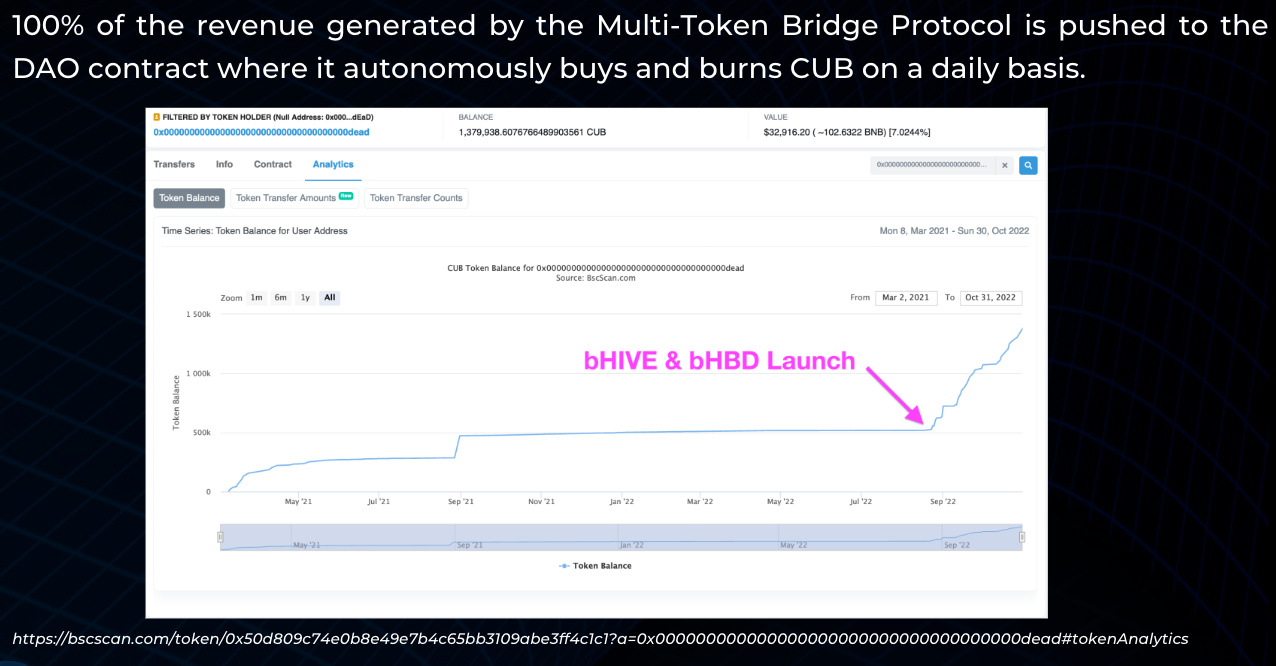 The CUB DAO was forced to buy CUB at increasingly higher prices as each day passed. The MTB Revenue has officially outpaced the amount of CUB being sold on the market each day. In simple terms, this means that the DAO is forced to buy with slippage: pushing the CUB price up by a few basis points each time it buys CUB and burns it.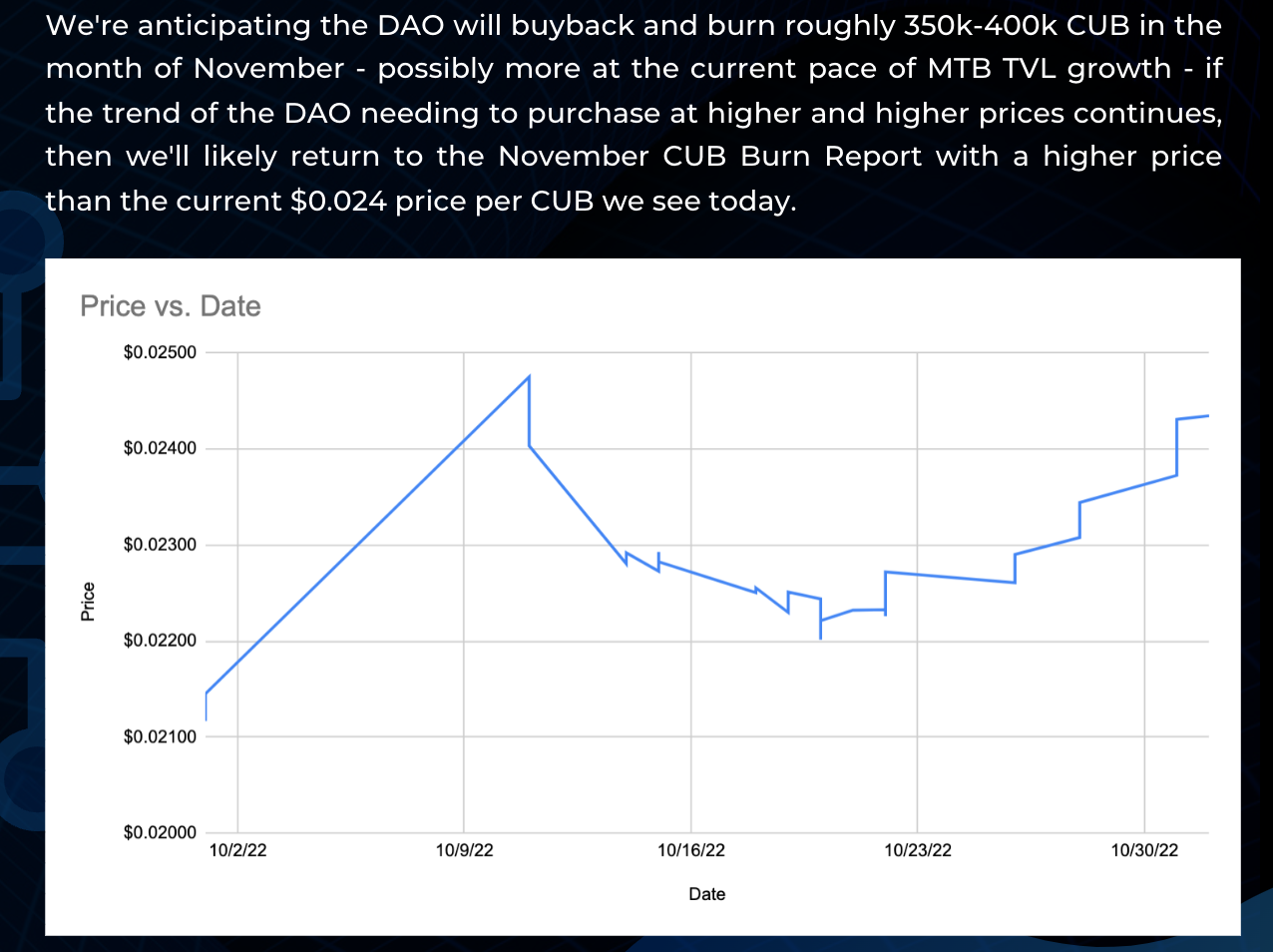 Read the Full Report for the Full Scoop
The Full Monthly Report is now available. We recommend reading it in PDF Format. The images are included in this post as well, but they sometimes get cut off depending on the Hive Interface you're using.
Read the PDF for the best experience.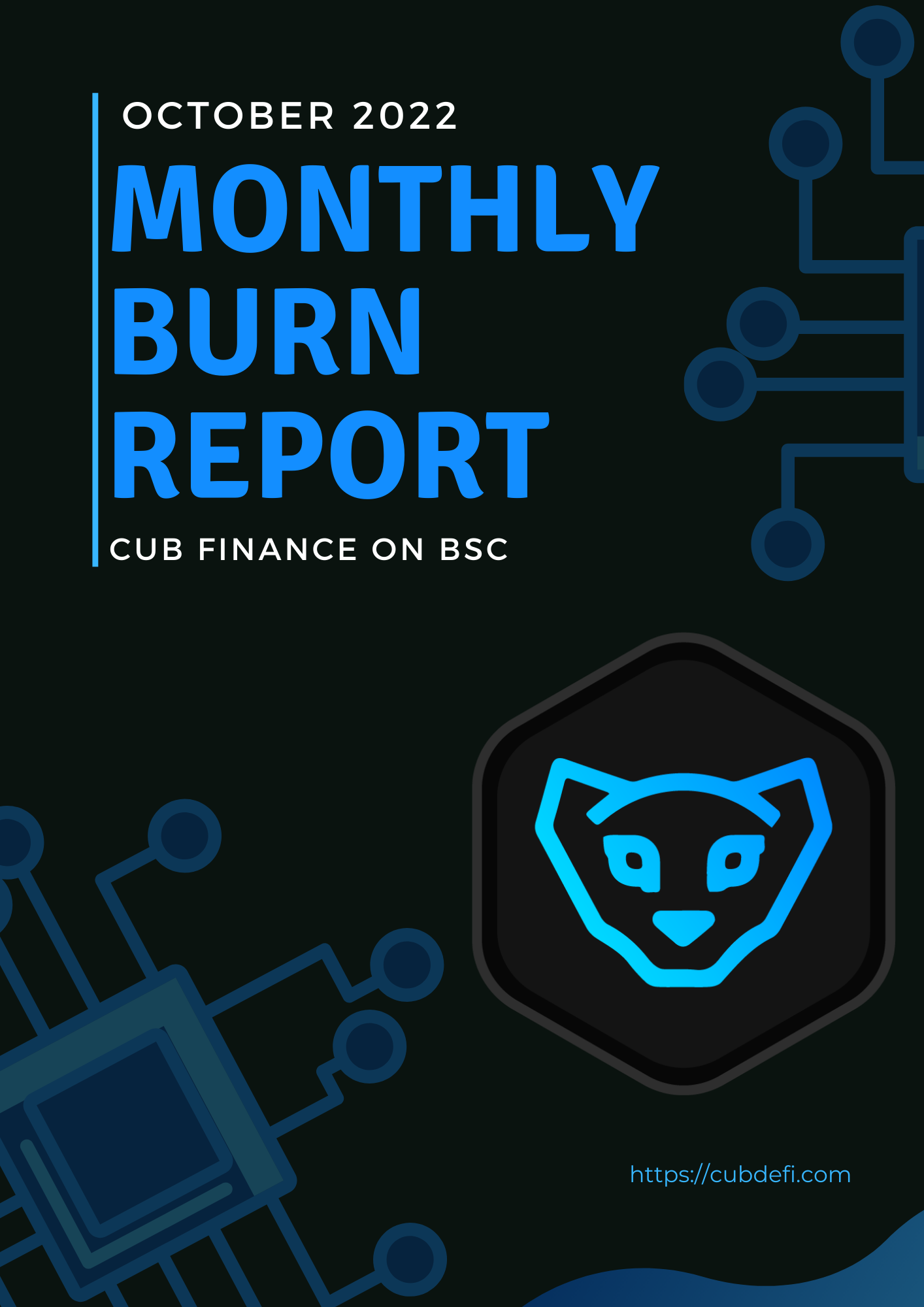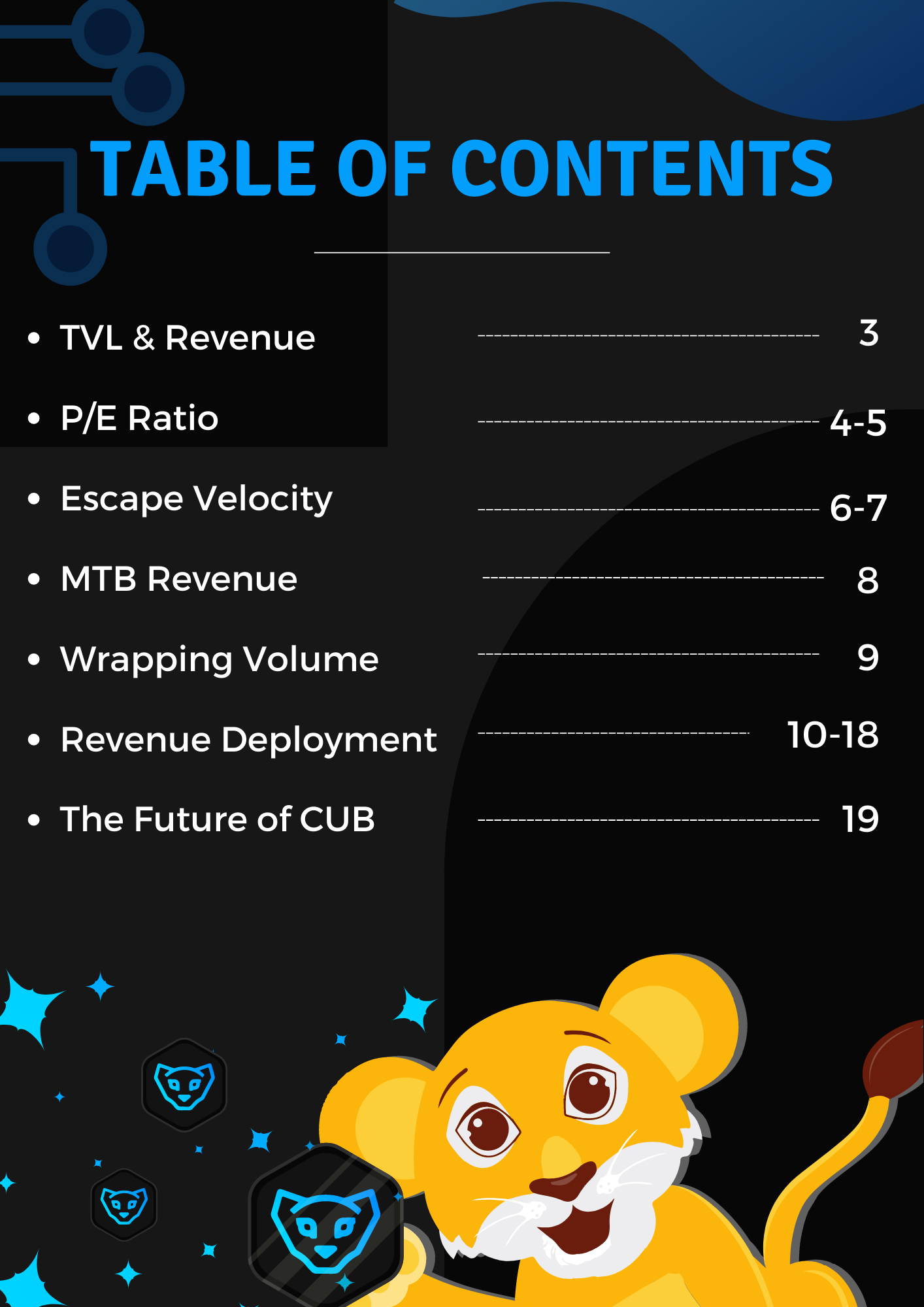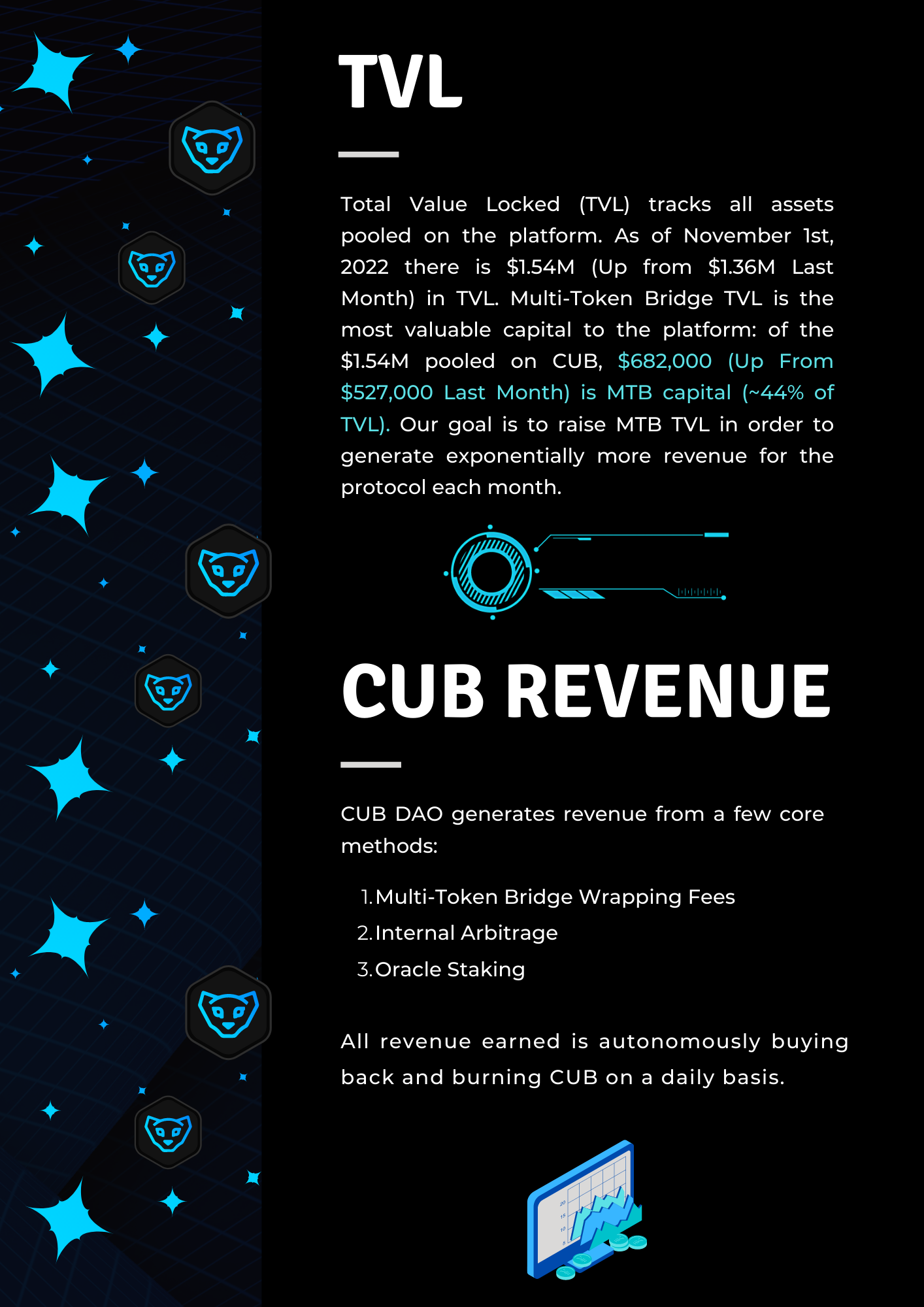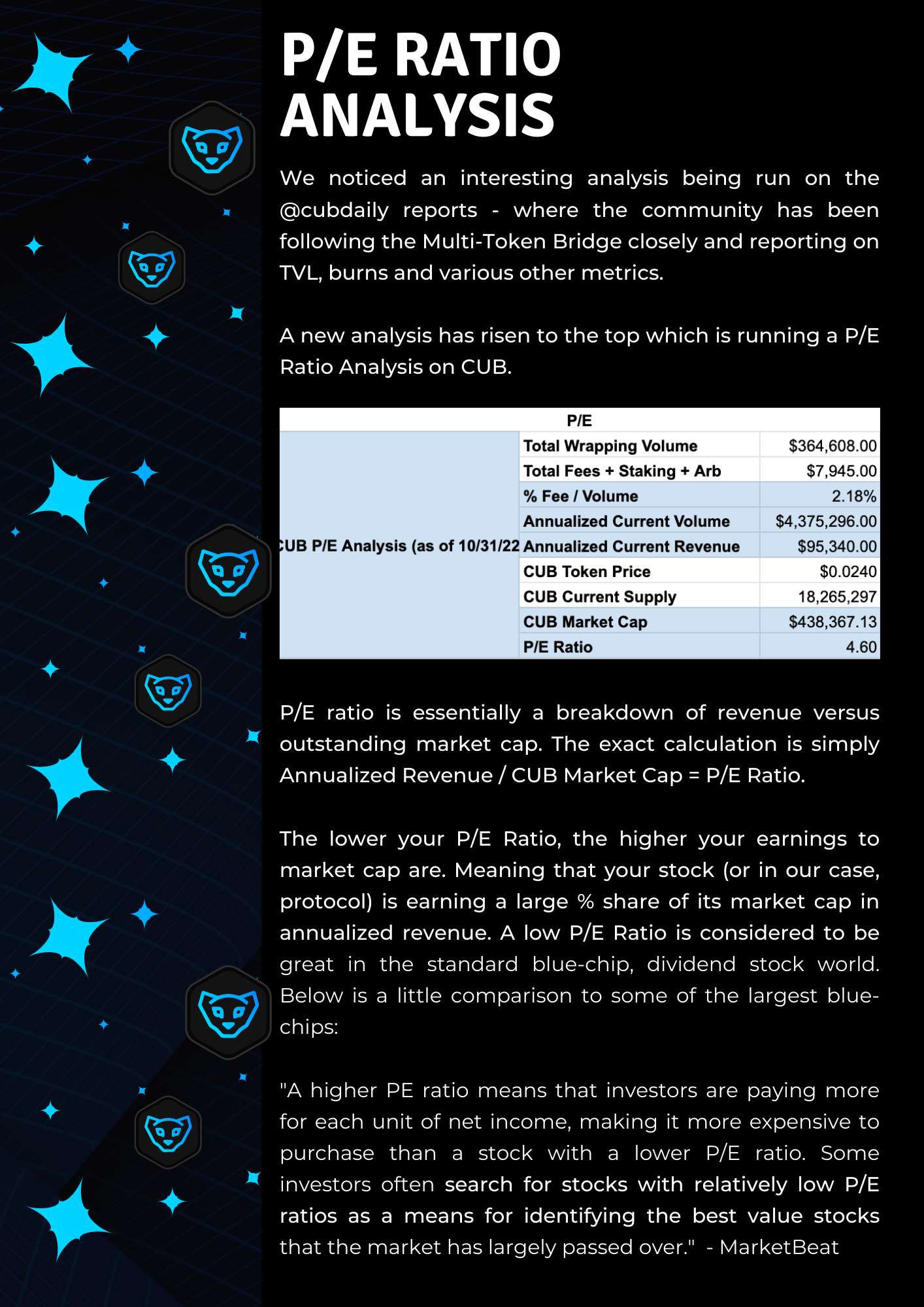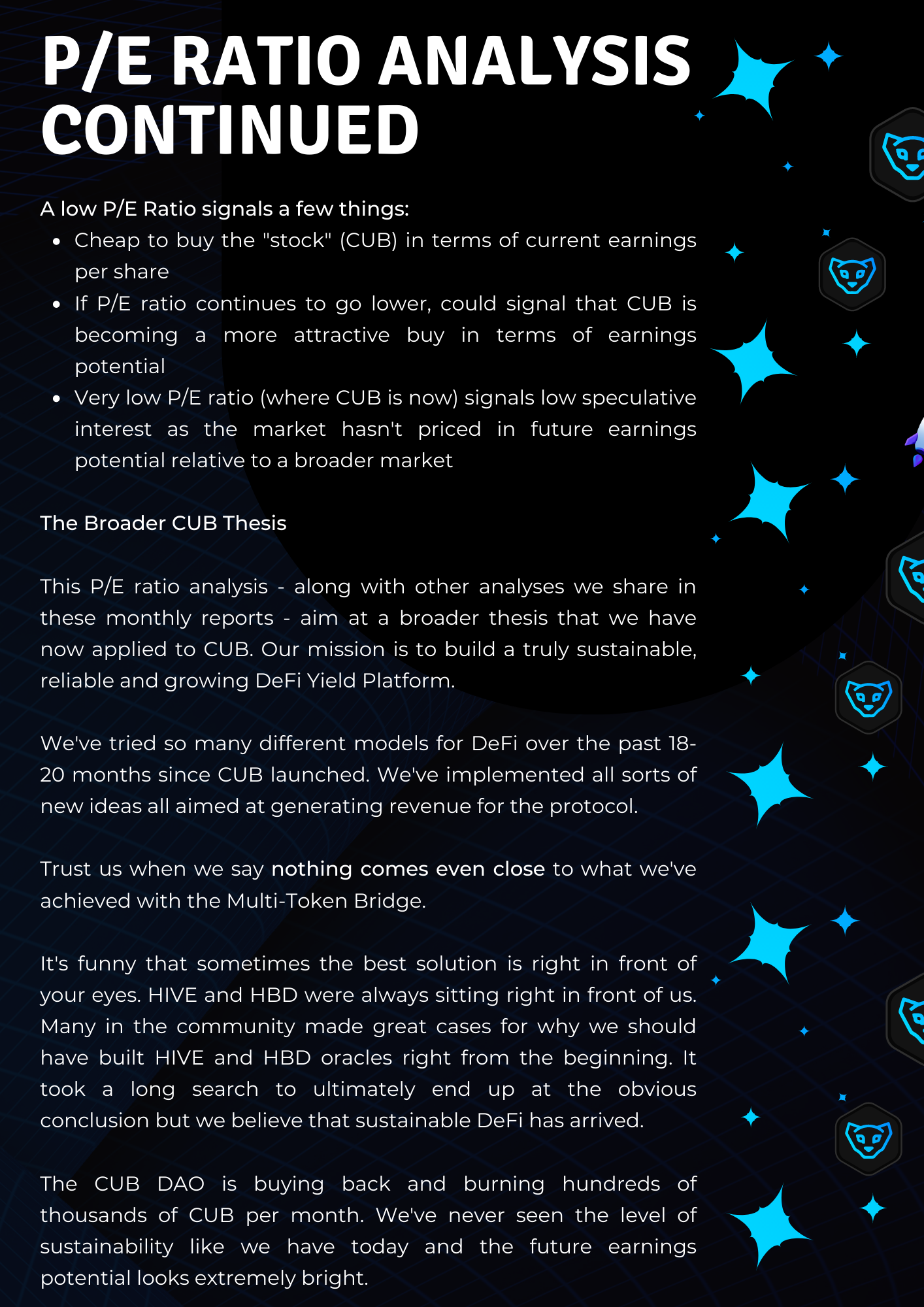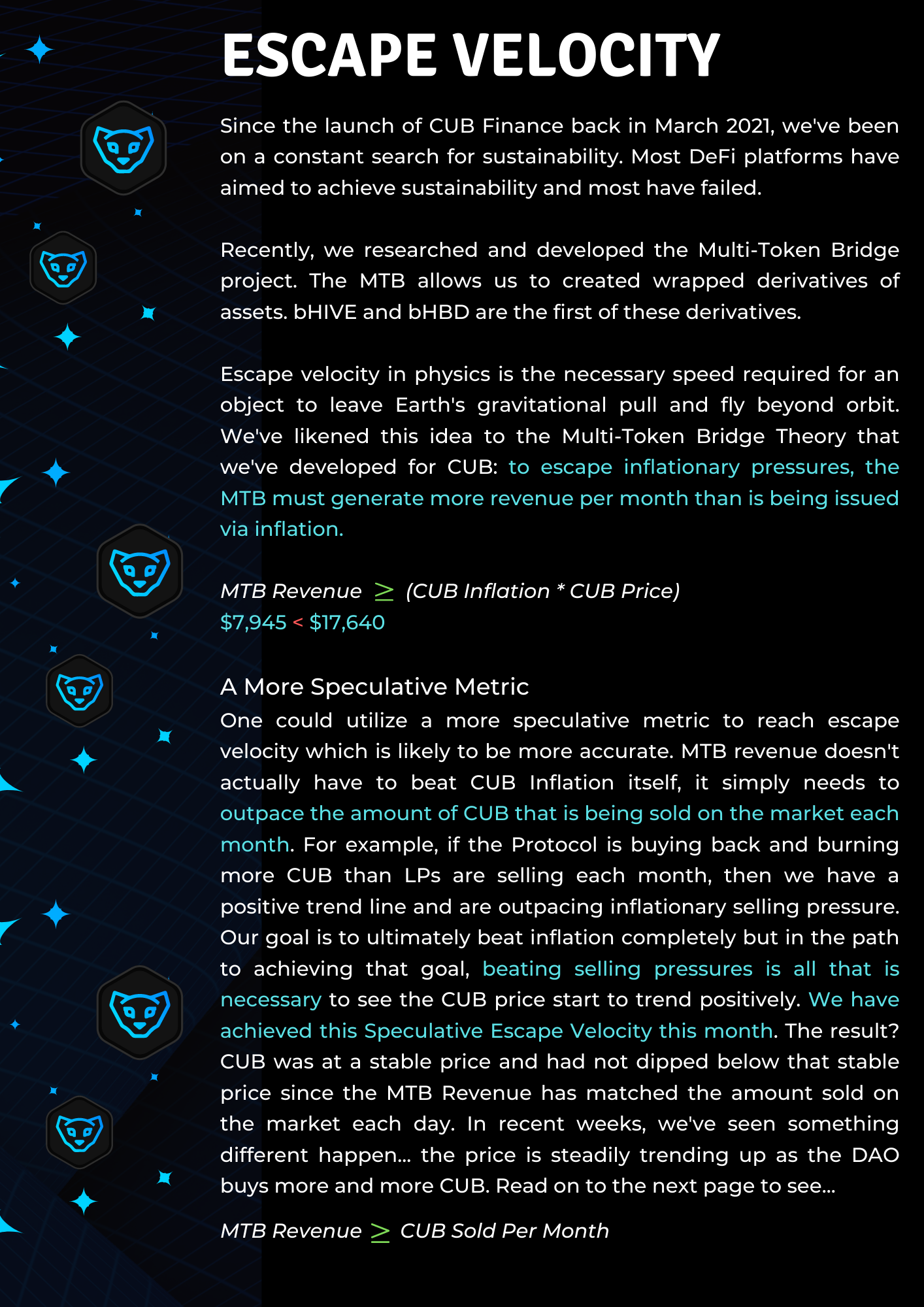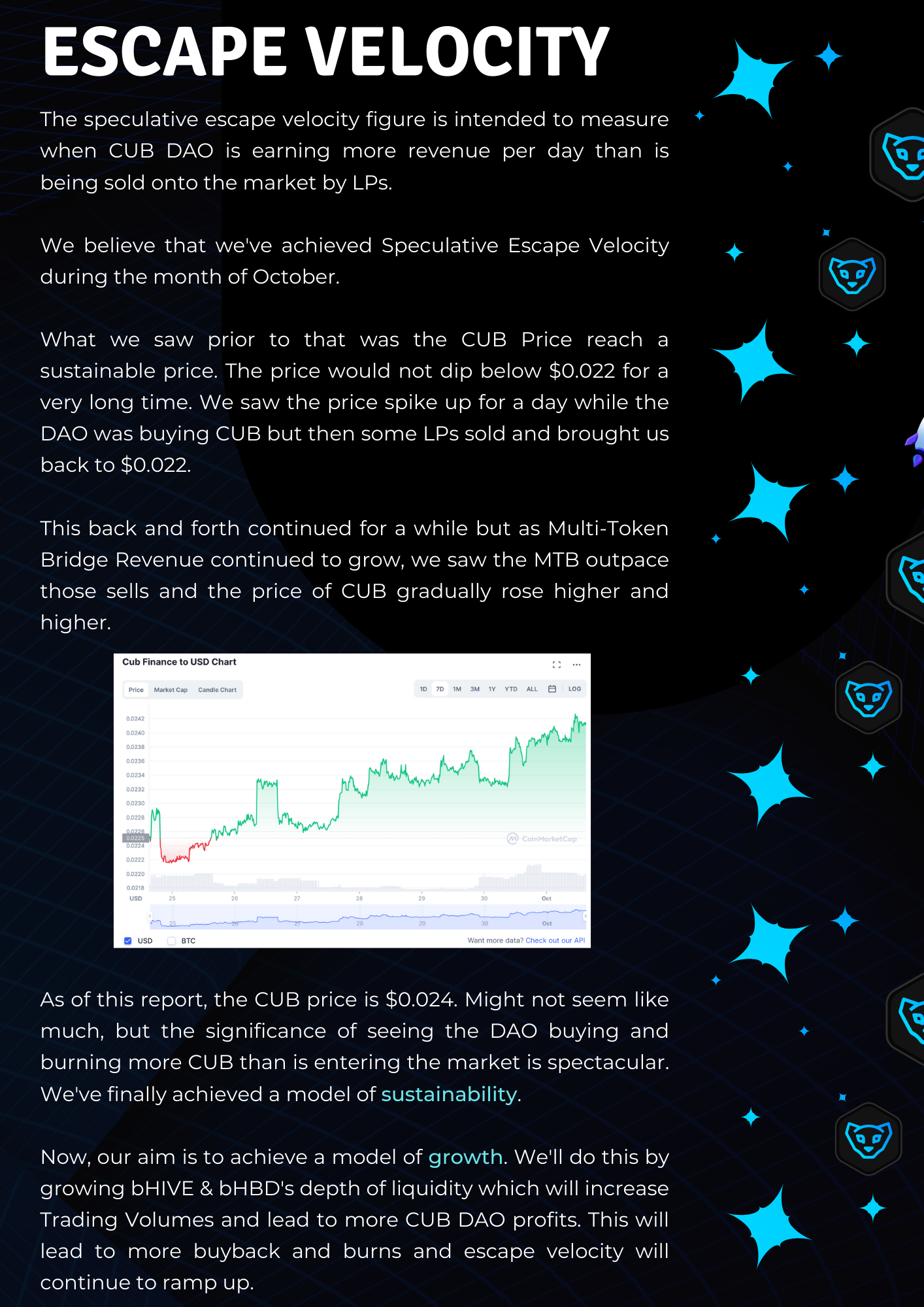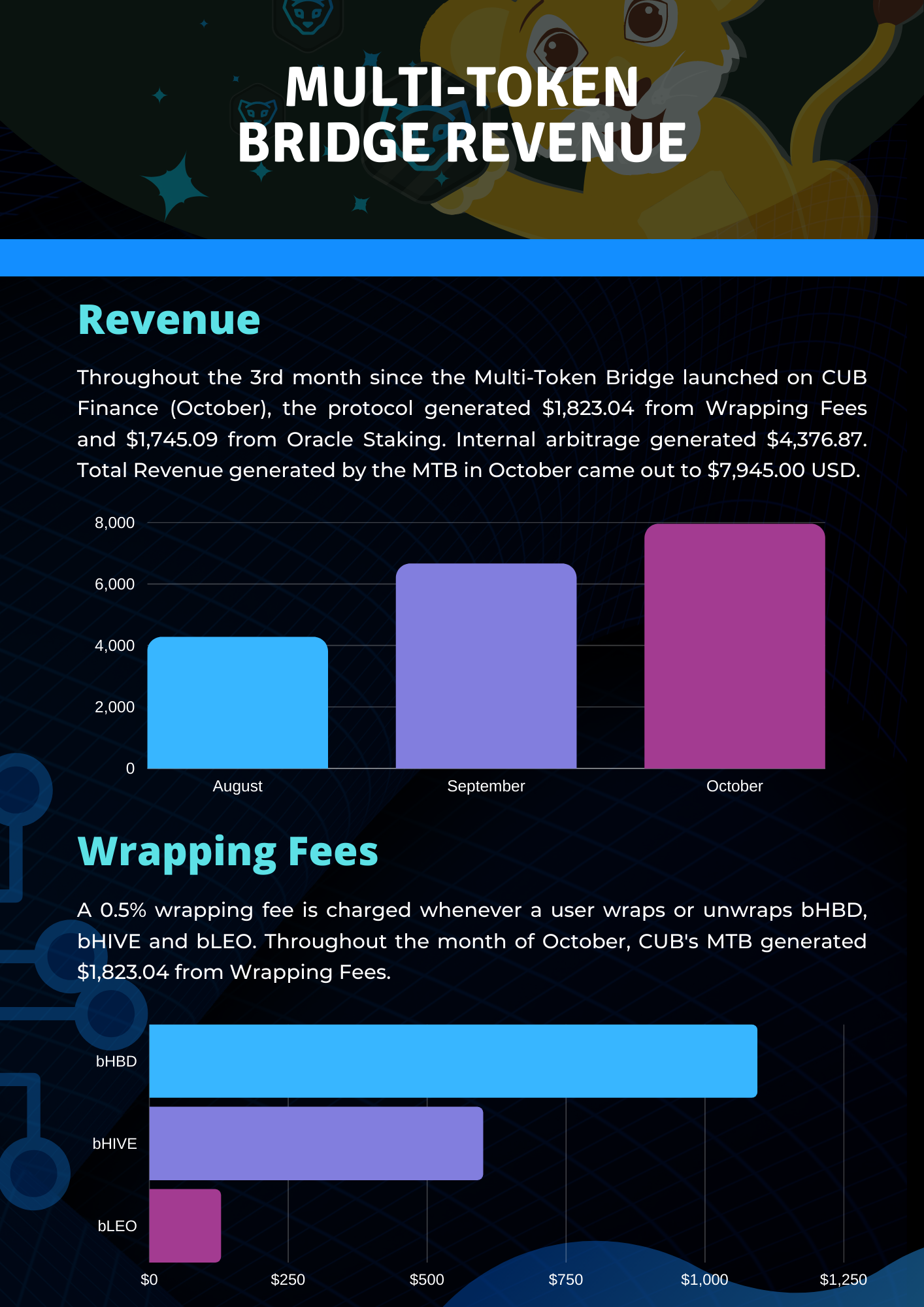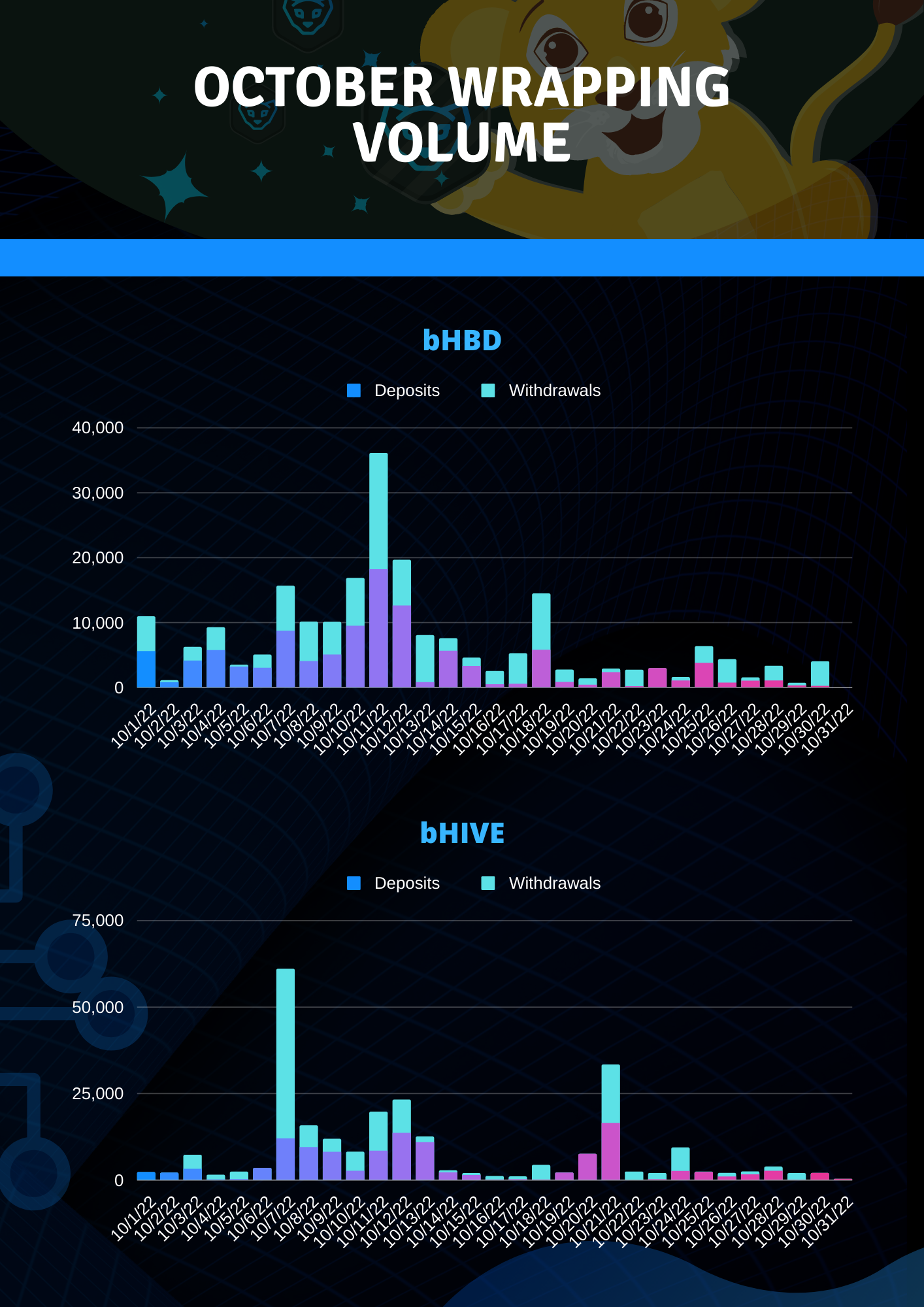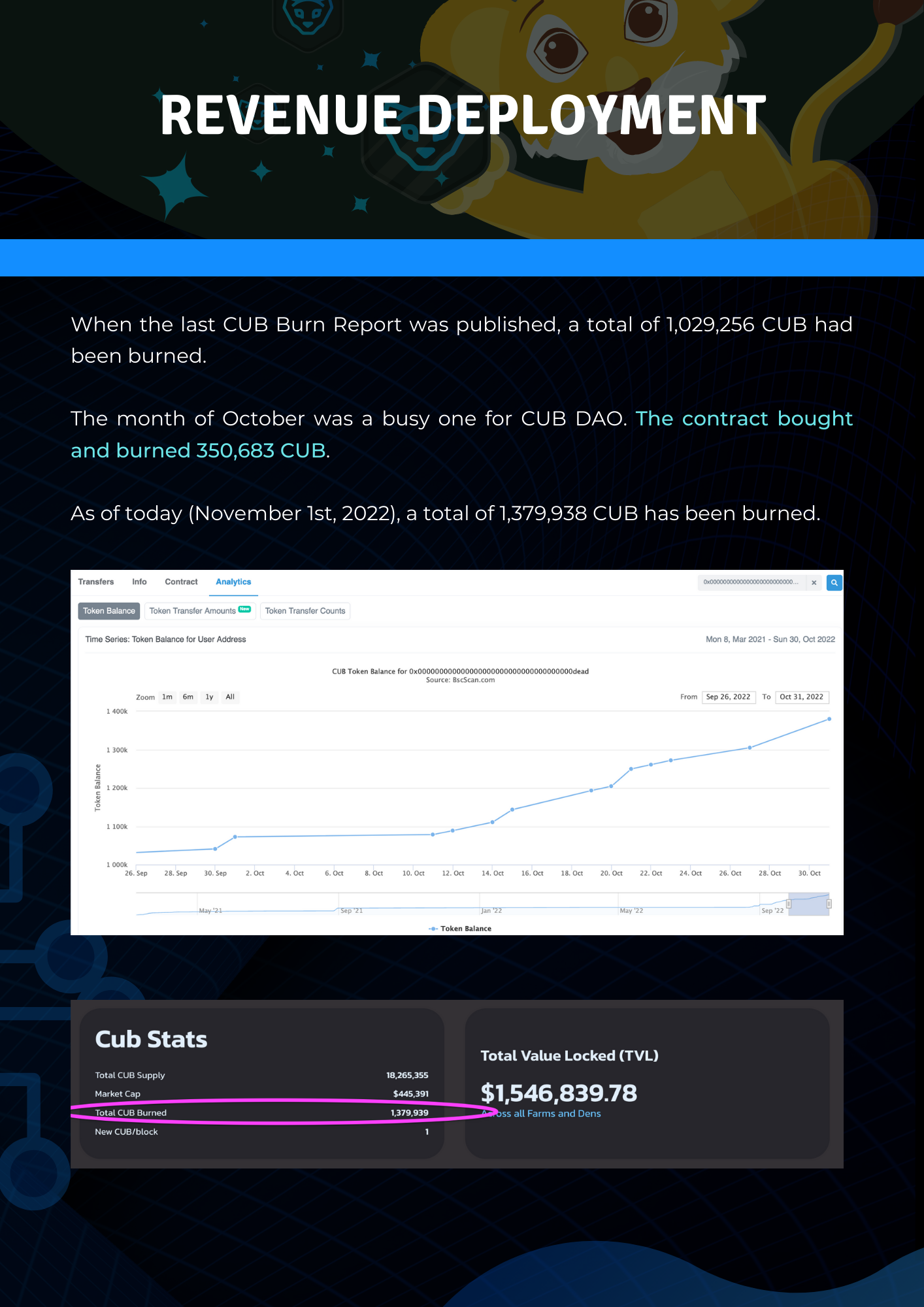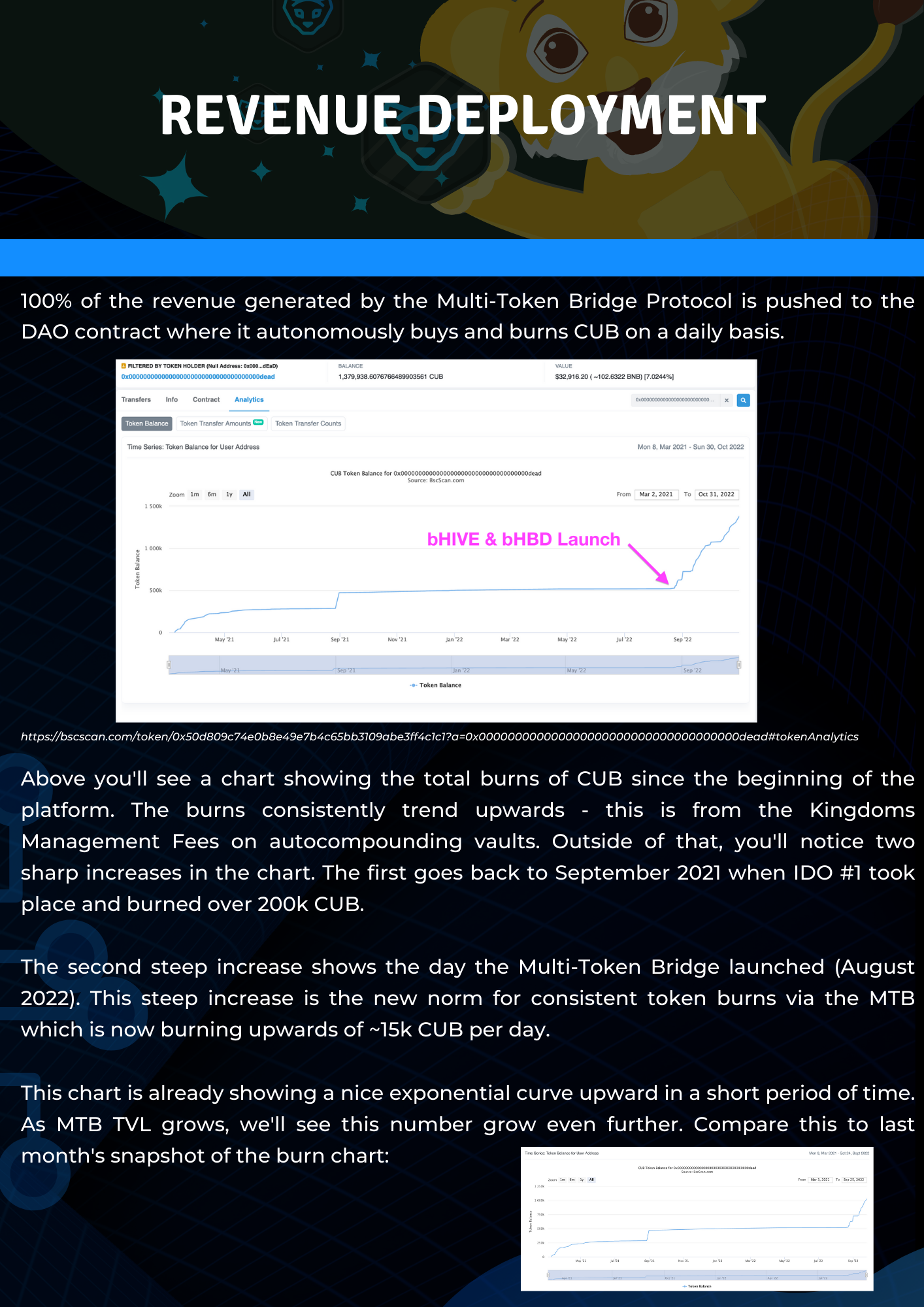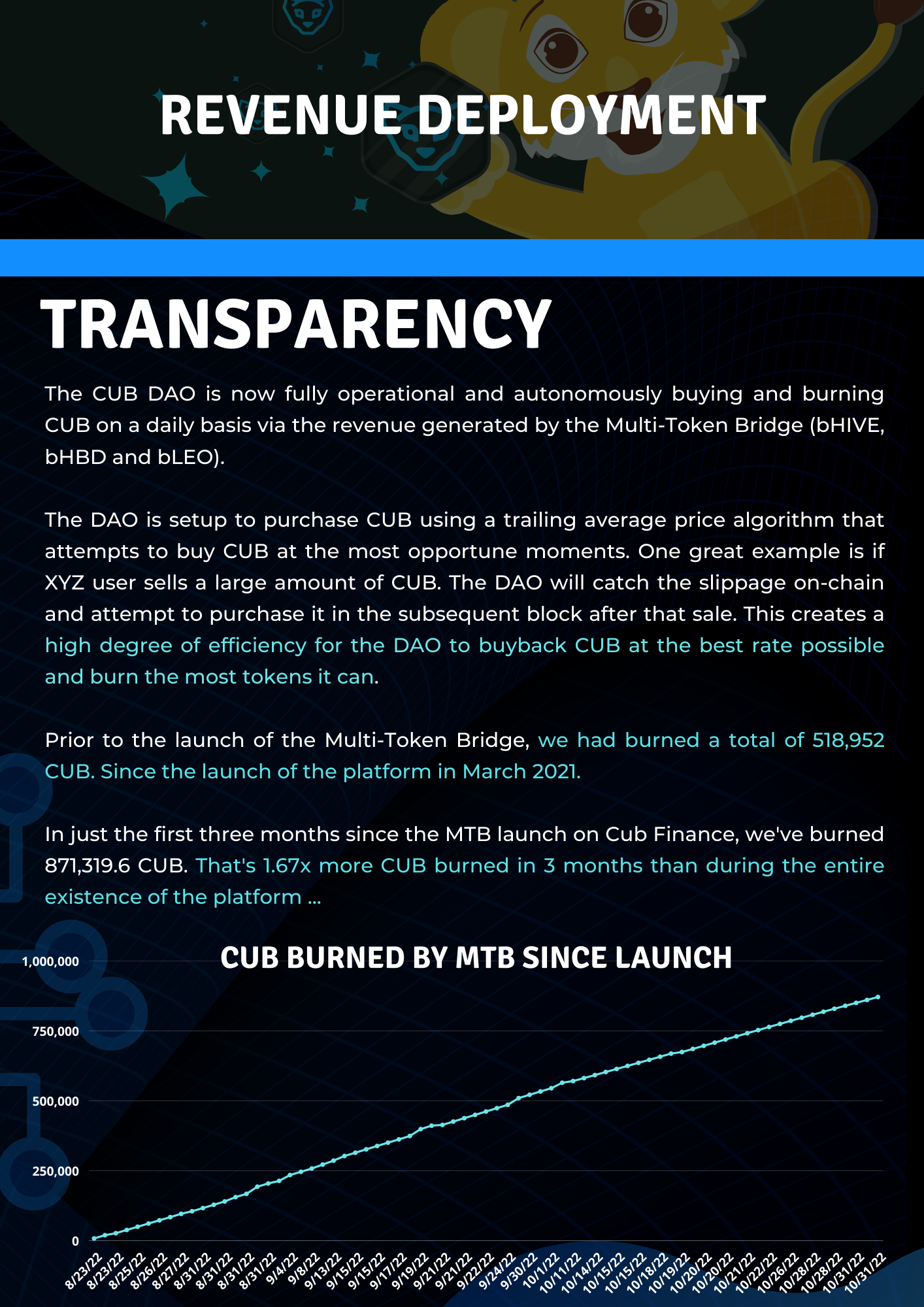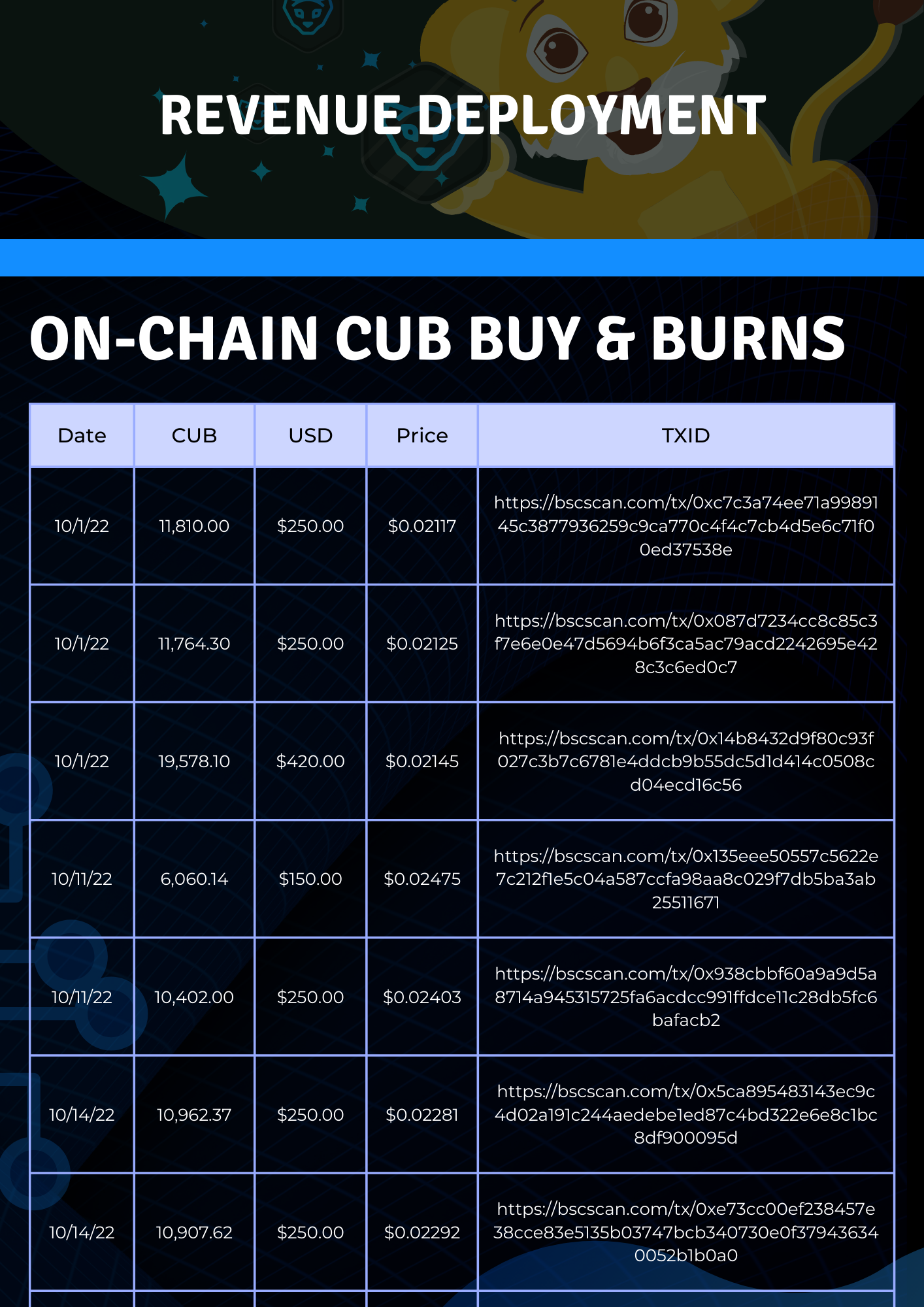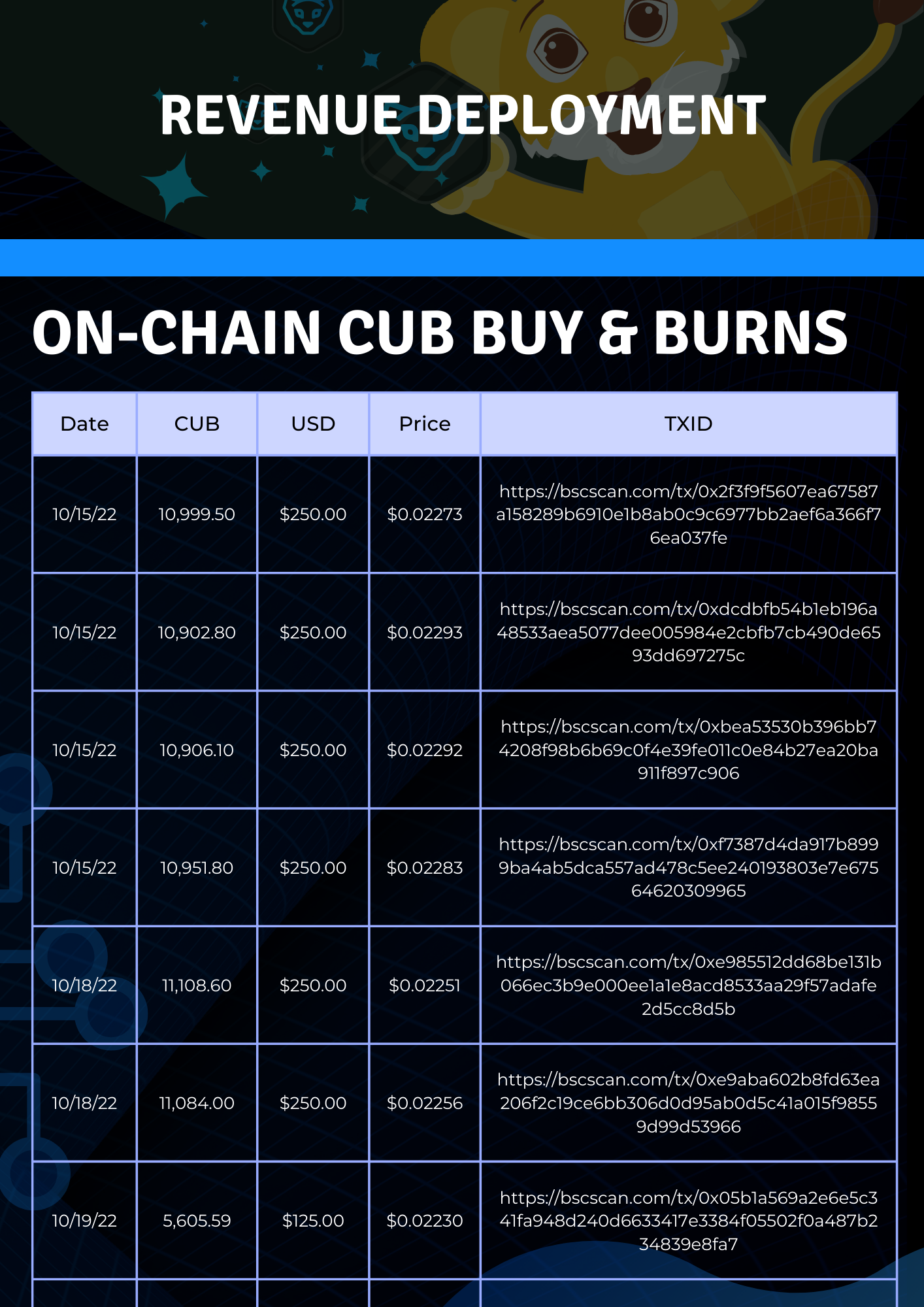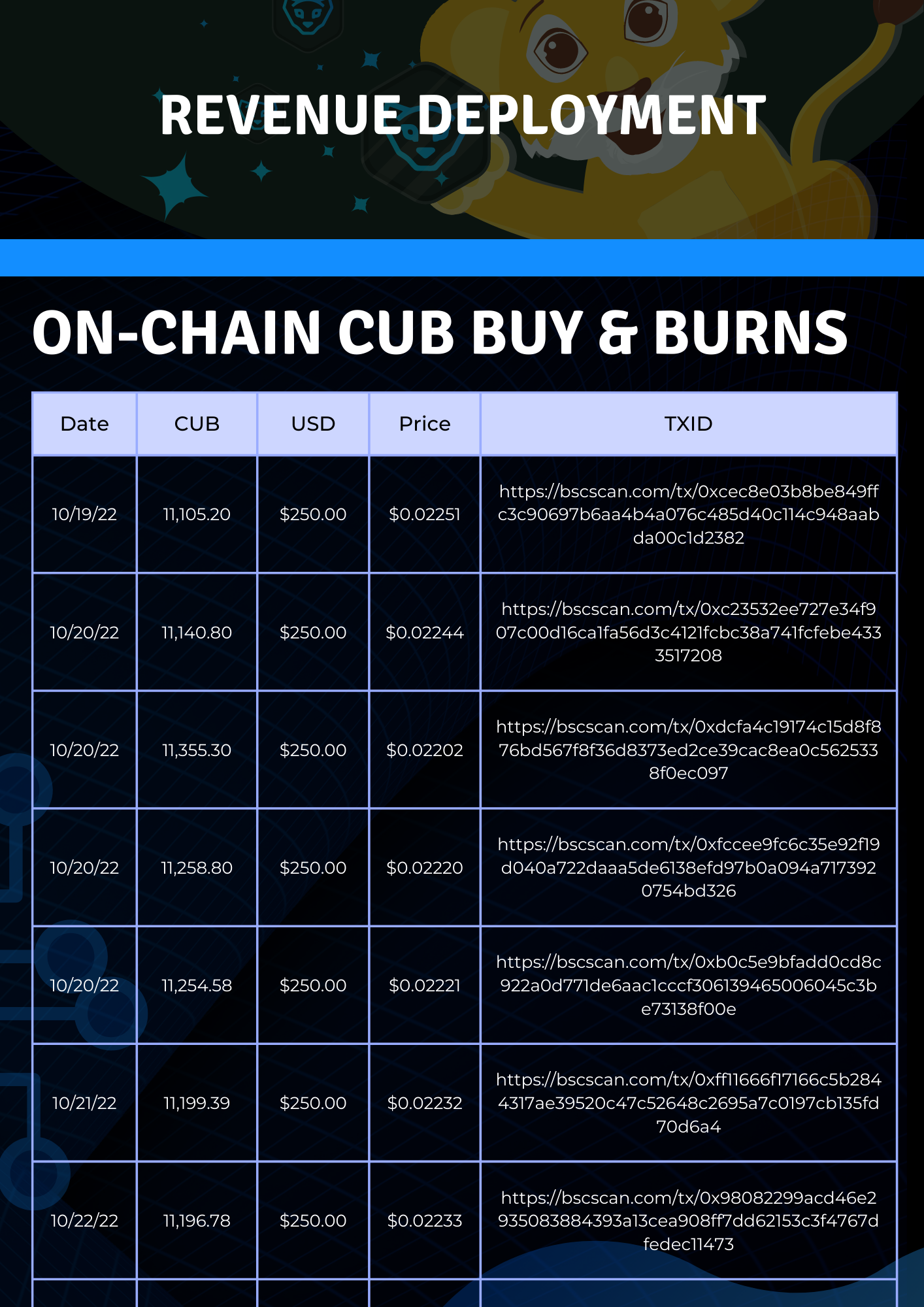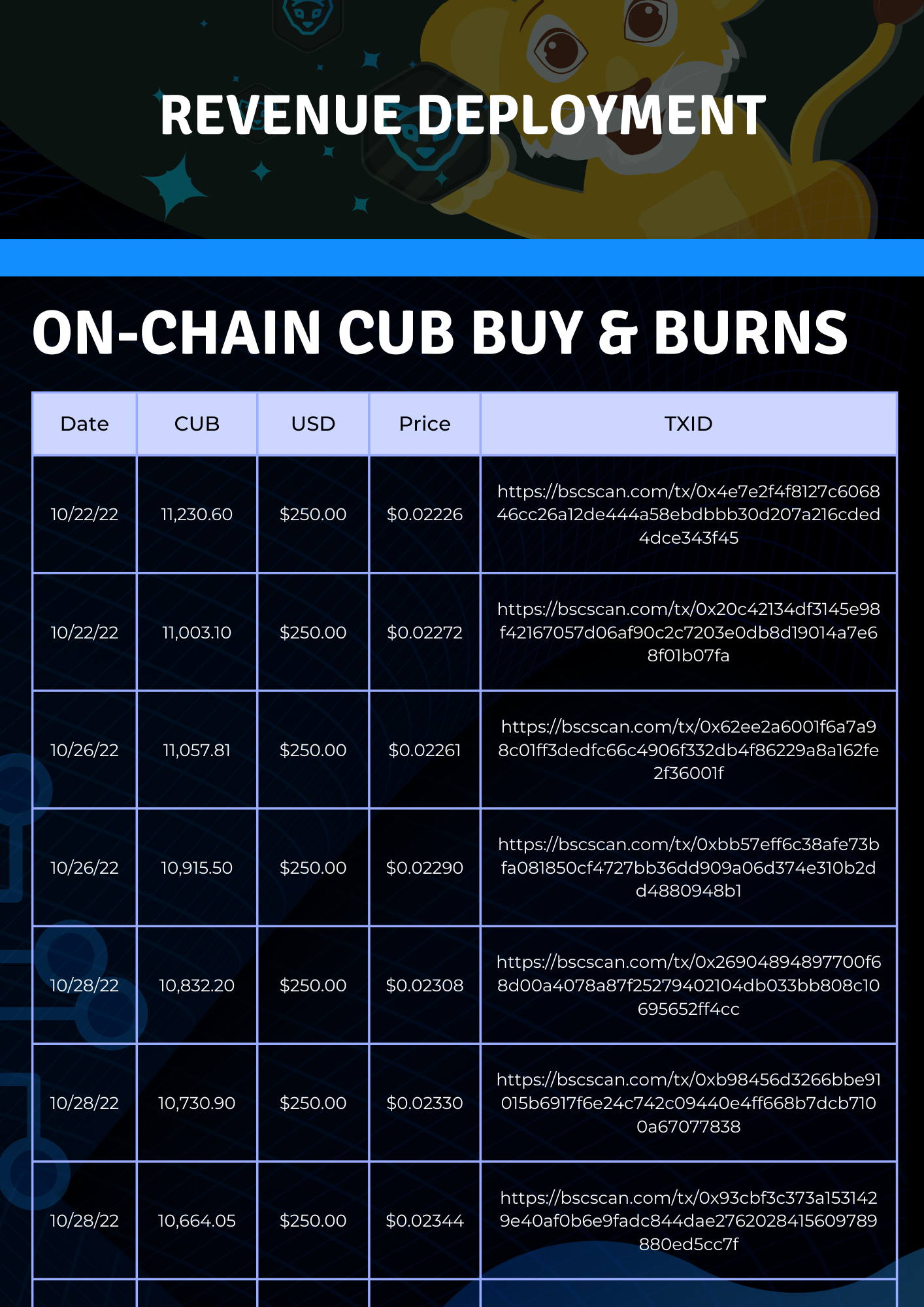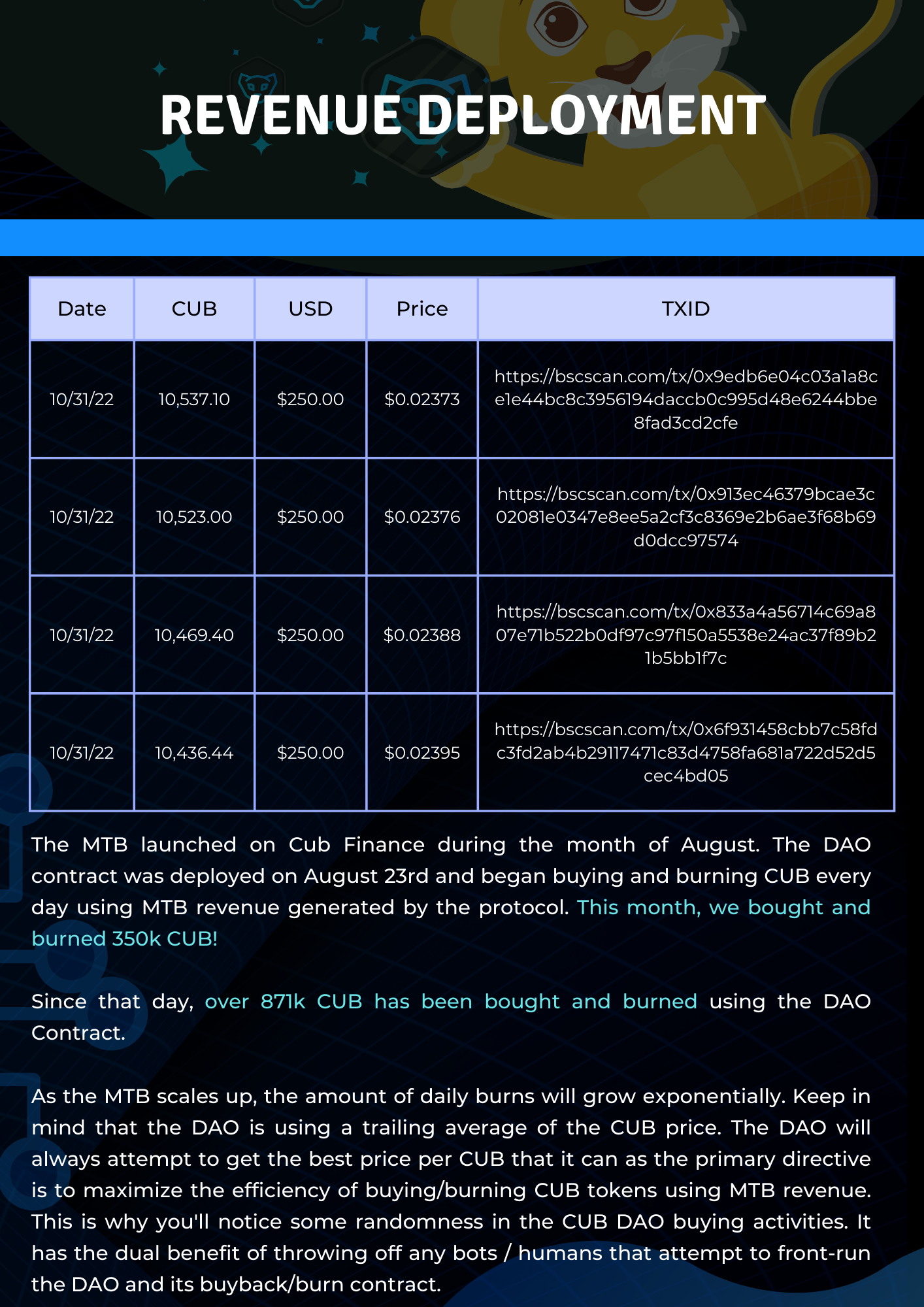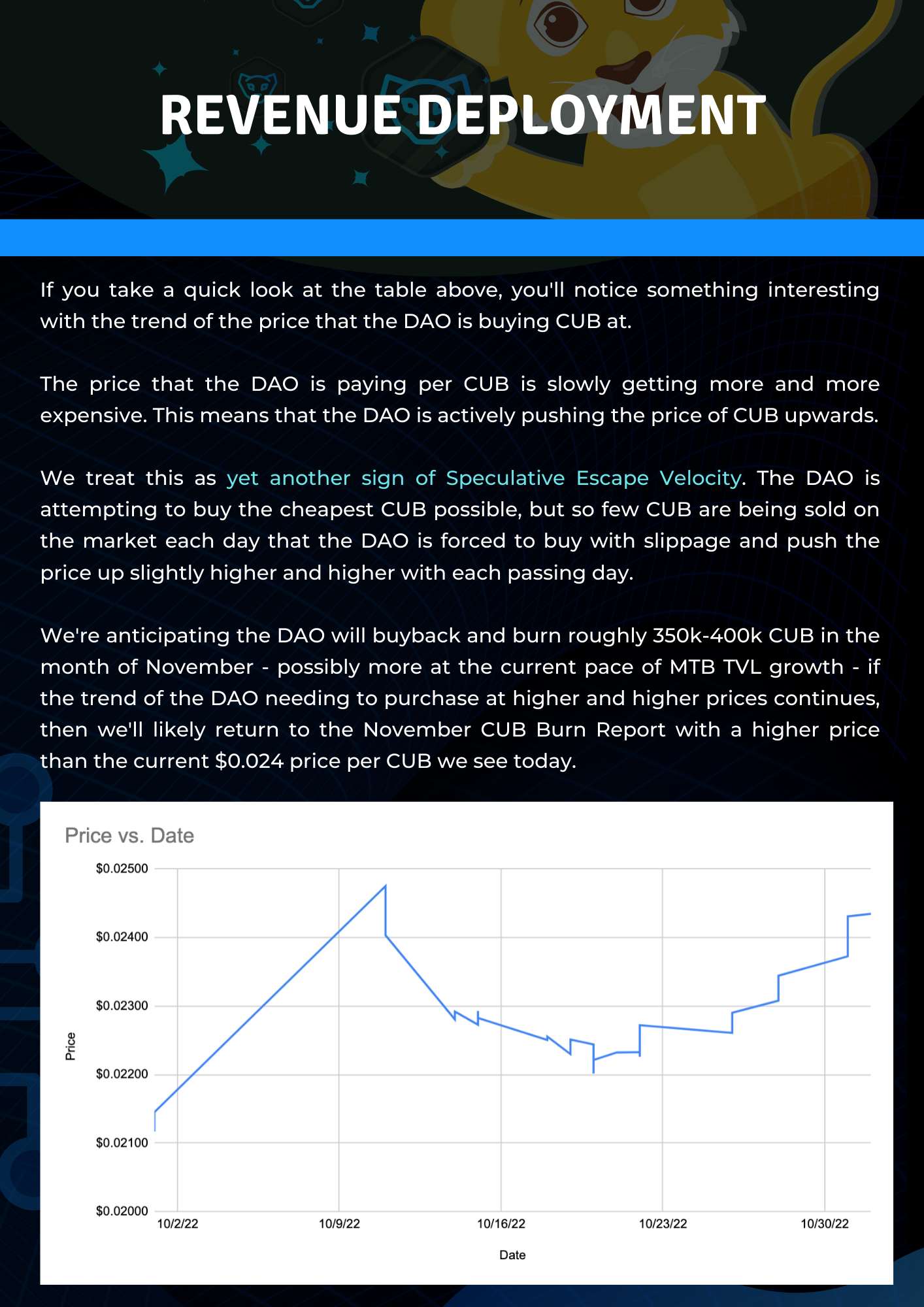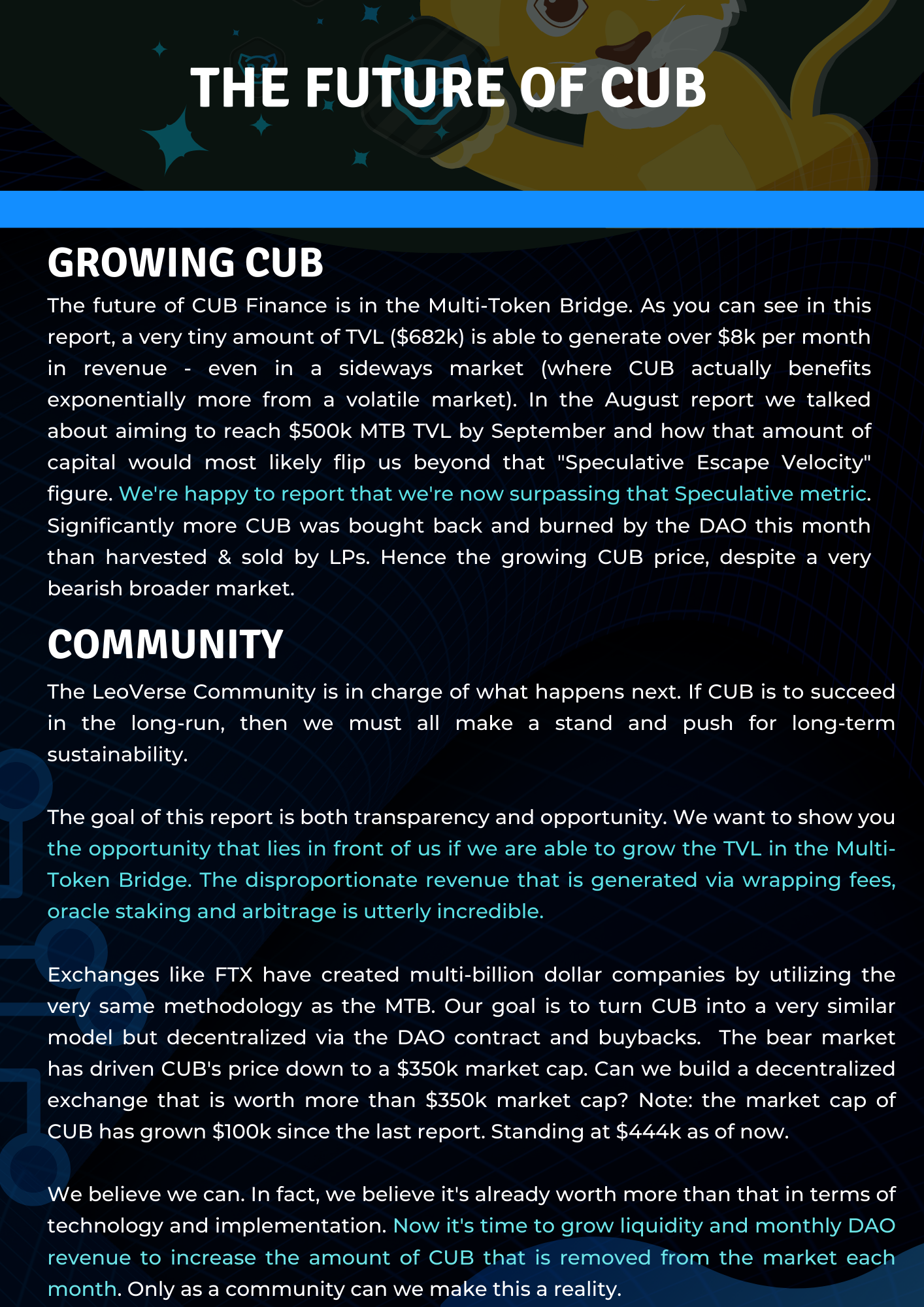 Some items may be cutoff from the image displays here on LeoFinance / Hive. Open the PDF of the CUB Monthly Report to get the full view of the report.

About LeoFinance
LeoFinance is a blockchain-based Web3 community that builds innovative applications on the Hive, BSC, ETH and Polygon blockchains. Our flagship application: LeoFinance.io allows users and creators to engage and share content on the blockchain while earning cryptocurrency rewards.
Our mission is to put Web3 in the palm of your hands.
Twitter: https://twitter.com/FinanceLeo
Discord: https://discord.gg/E4jePHe
Whitepaper: https://whitepaper.leofinance.io
Our Hive Applications
Join Web3: https://leofinance.io/
Microblog on Hive: https://leofinance.io/threads
LeoMobile (IOS): https://testflight.apple.com/join/cskYPK1a
LeoMobile (Android): https://play.google.com/store/apps/details?id=io.leofi.mobile
Delegate HIVE POWER: Earn 16% APR, Paid Daily. Currently @ 2.8M HP
Hivestats: https://hivestats.io
LeoDex: https://leodex.io
LeoFi: https://leofi.io
BSC HBD (bHBD): https://wleo.io/hbd-bsc/
BSC HIVE (bHIVE): https://wleo.io/hive-bsc/
Earn 50%+ APR on HIVE/HBD: https://cubdefi.com/farms
Web3 & DeFi
Web3 is about more than social media. It encompasses a personal revolution in financial awareness and data ownership. We've merged the two with our Social Apps and our DeFi Apps:
CubFinance (BSC): https://cubdefi.com
PolyCUB (Polygon): https://polycub.com
Multi-Token Bridge (Bridge HIVE, HBD, LEO): https://wleo.io
Posted Using LeoFinance Beta
---