First Look At the Full Hivestats Rewrite!
---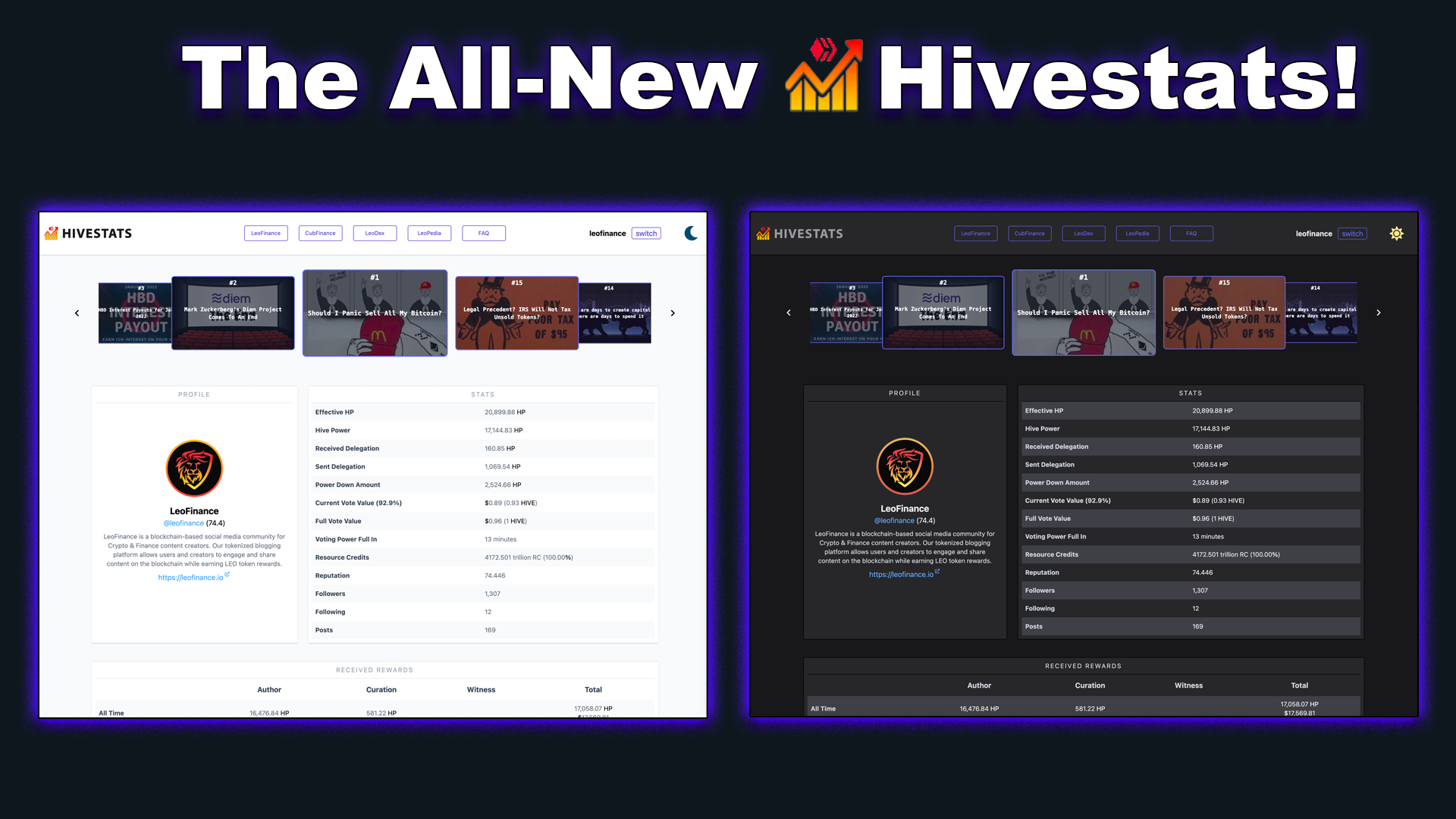 If you follow along with our weekly LeoFinance AMAs, you'll know that we've been working on a completely new version of Hivestats.
This complete rewrite changes the underlying framework of Hivestats. We essentially rewrote the entire app from scratch and just drew general inspiration from the old app.
There are a lot of reasons for this but the main one is that we are setting ourselves up for the future of the Hivestats application. There's a lot on the roadmap for Hivestats beyond V4 and we're going to start rolling out some of those exciting features like LEO-burning memberships and more in the sooniverse.
The All-New Hivestats: A First Look
In this post, we'll give a brief first look at Hivestats. It's radically redesigned in many aspects. Faster than ever and far cleaner. We've also drawn on a lot of suggestions from various community members to build the new Hivestats.
I truly believe this is the application that we've all been waiting for when it comes to tracking, analyzing and optimizing your Hive account!
Hivestats V4
While we worked on this rewrite, we also implemented features from the Hivestats V4 roadmap. Two birds, one stone - as they say.
In V4 we're rolling out awesome features that have LONG been requested by the LeoFinance and Hive community:
Dark Mode
Account Searching
Account Switcher (Multi-Account Login)
Mobile Optimization
...
When the full post goes live announcing the release of Hivestats V4, we'll dive into all the nitty gritty details of the new application and all the new features in V4!
Account Searching: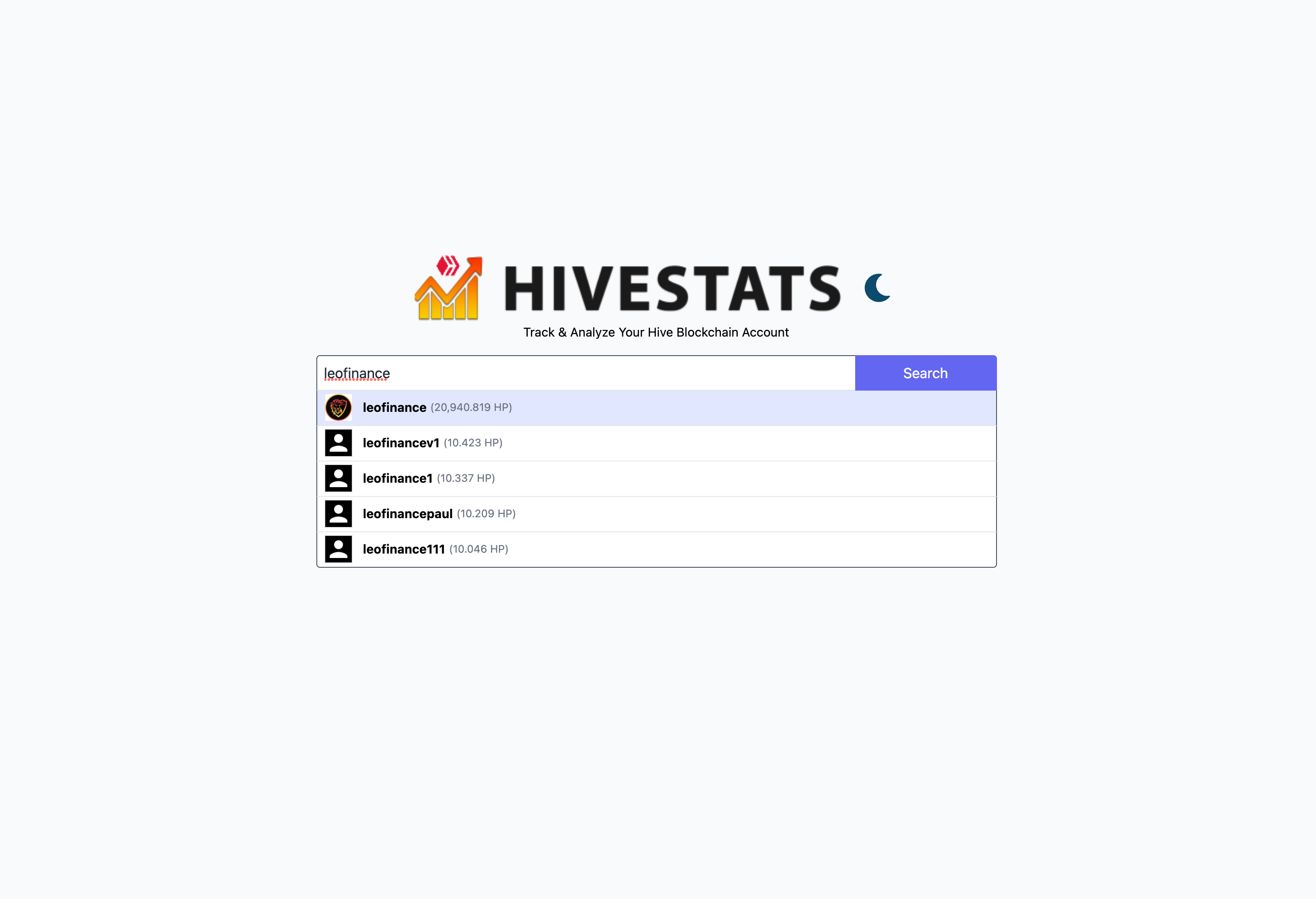 One of the first things you'll notice on the new Hivestats is the ability to search all accounts on the Hive blockchain. When you start typing the name of an account, it will search the database and sort Hive blockchain accounts by the amount of HIVE POWER they have + delegations.
Once you've found your account and it's highlighted, hit enter and you're taking into Your Hivestats.
Optimized and Organized: Setting Up for the Future of Hivestats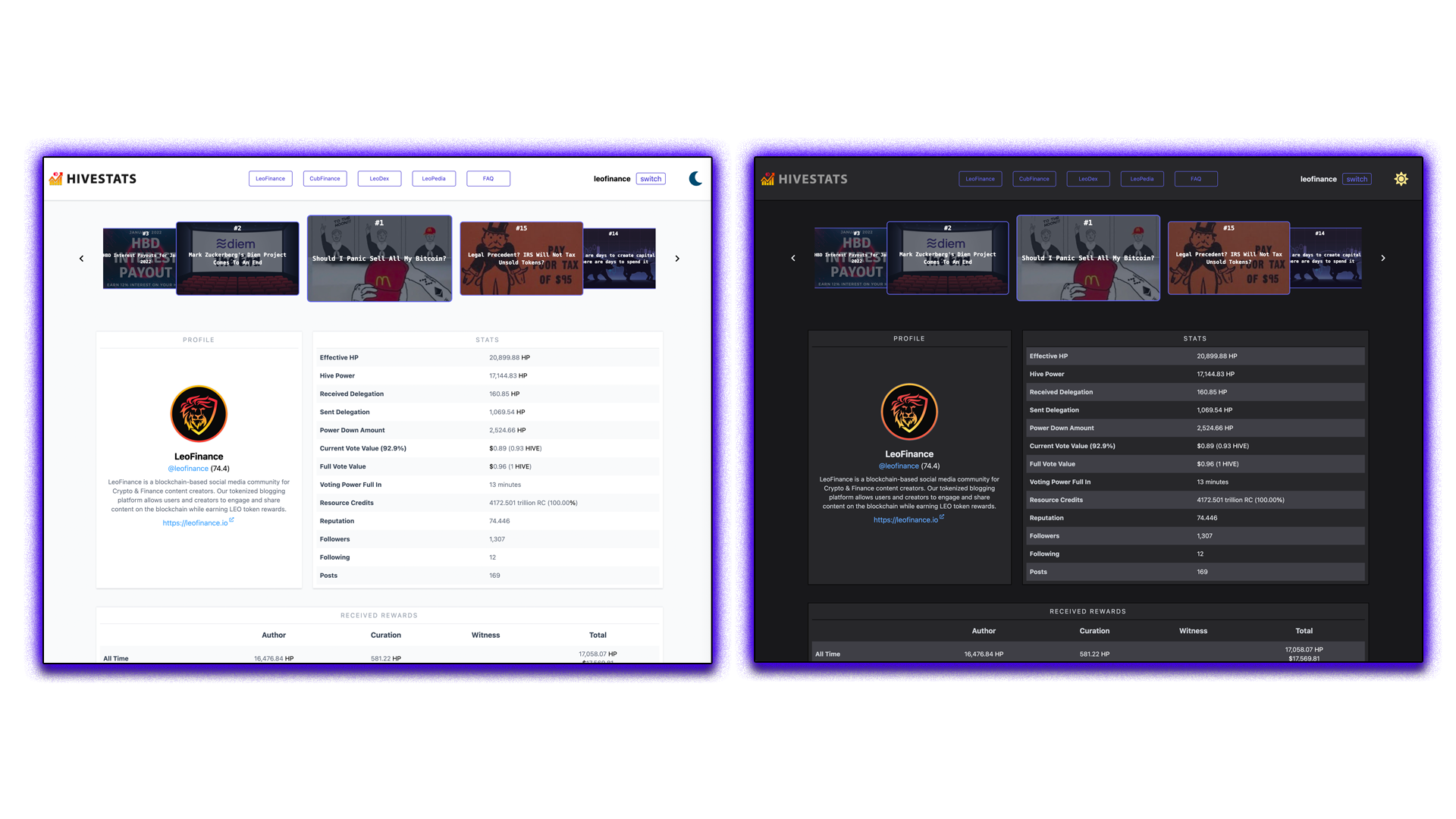 Dark Mode looks amazing!
Hivestats looks amazing in both light mode and dark mode. I think many of us have leaned toward dark mode apps in recent years, so it's an obvious add.
One of the most requested features since the beginning of Hivestats was to add a great dark mode that made viewing stats that much more pleasurable.
With this release, we've got dark mode and light mode built in. You can toggle it using the "Sun" and "Moon" icon in the top right.
Account Switching!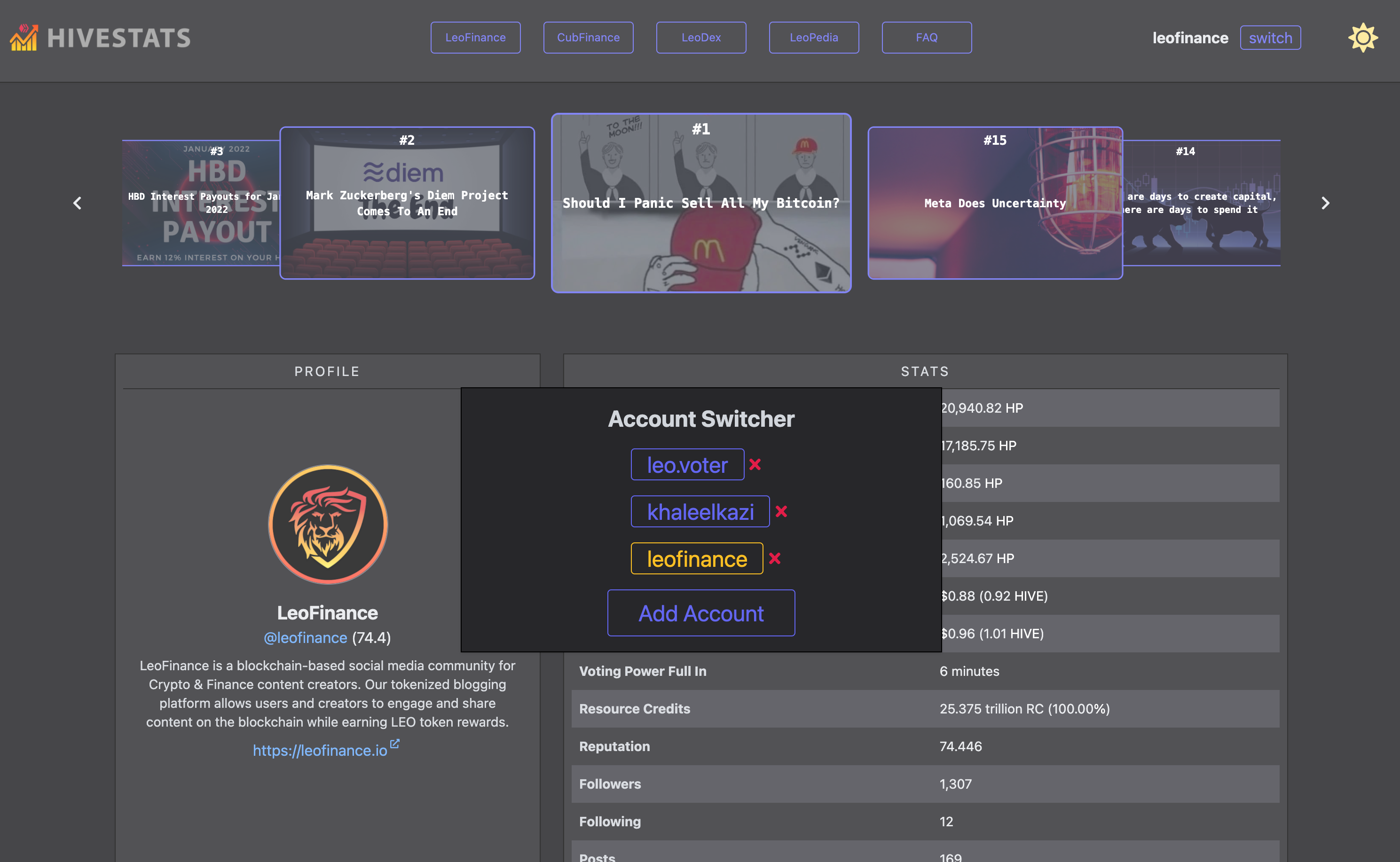 Ah what a seemingly simple but incredibly powerful feature. When I wanted to switch accounts before, I went to the url and just replaced the @username with whatever I wanted to change to.
With the all-new Hivestats, we've streamlined the UX and now you can add all of your accounts to the Switcher and seamlessly jump between them.
If you're a power user like @taskmaster4450, this will probably come in handy so you can save a few seconds each day and get back to writing 300 comments per day!
Only the Sexiest of Displays for the Hive Community!
The new price, wallet and analytics displays can only be described with one word: Sexy. I can't wait for everyone to see these pop up when the load the all-new Hivestats!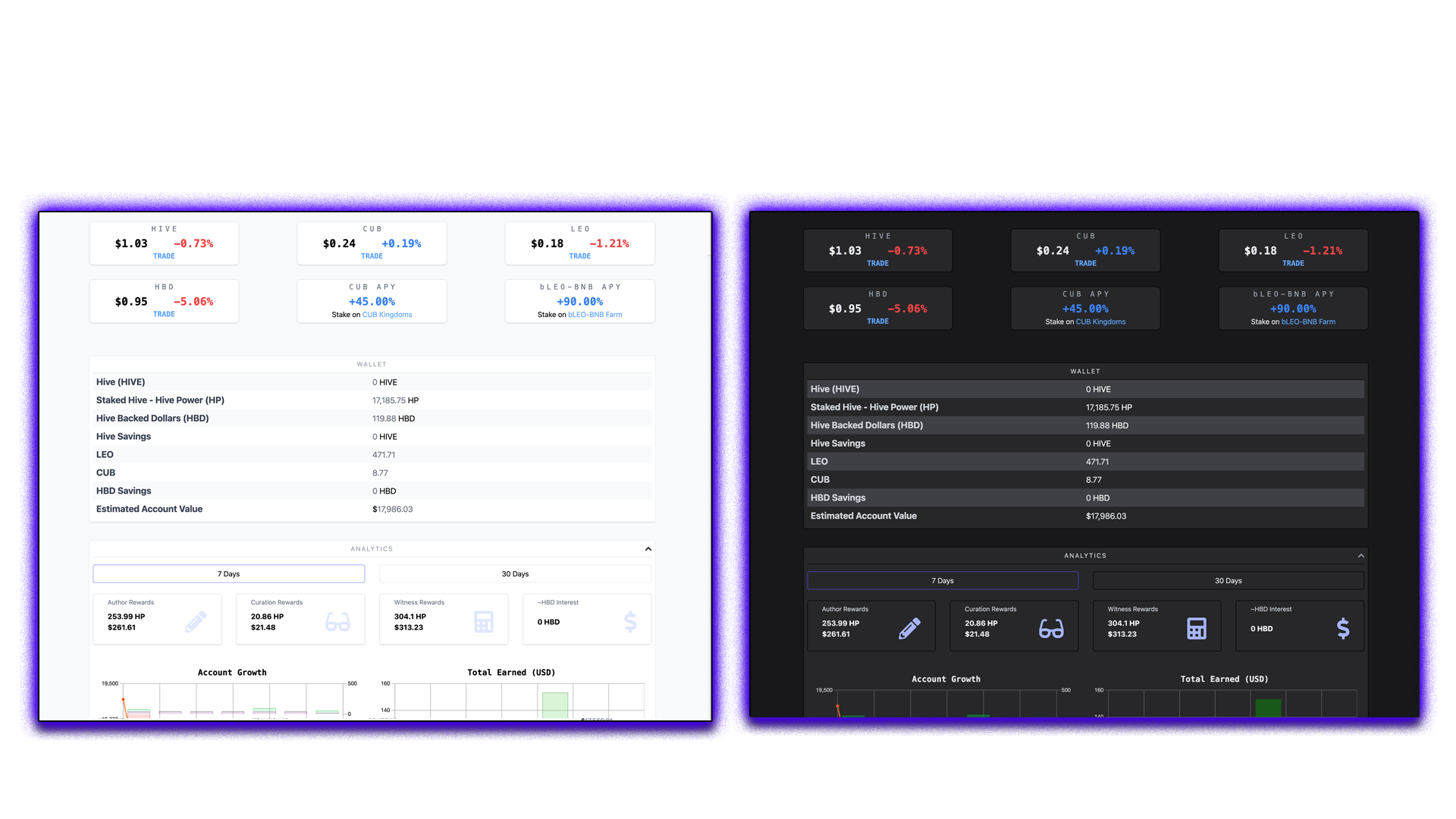 Account Analytics: The Most Shared Aspect of Hivestats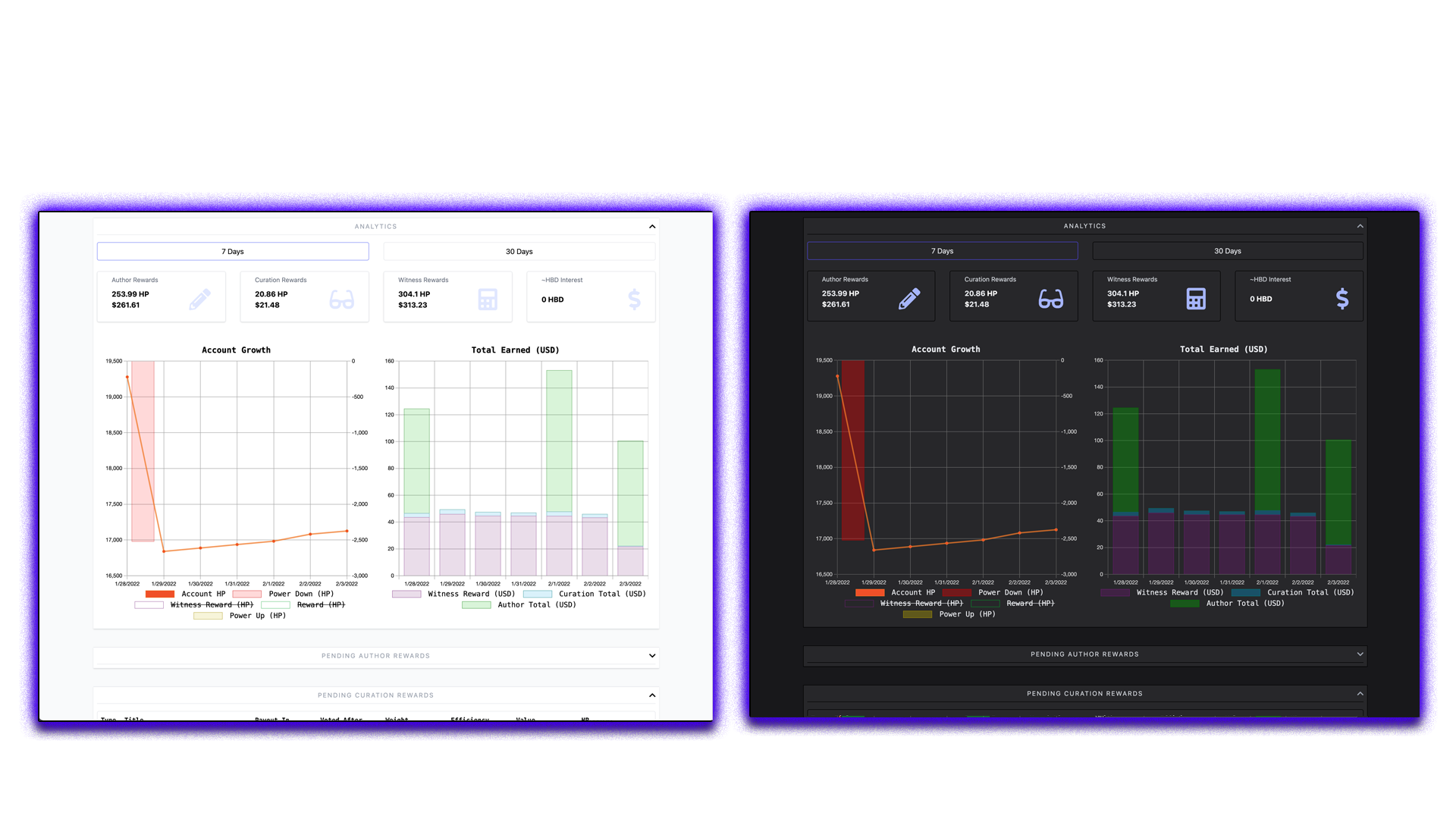 Account Analytics are the most shared aspect of Hivestats, by far. When you go to twitter or look at various posts on Hive, many users right click these charts to save them as an image and then share them across the Hive blockchain.
We've also added some incredible features to the chart page. You can toggle various aspects of account growth and earnings off and on to focus on one or show a few at a time.
Powerful Operations!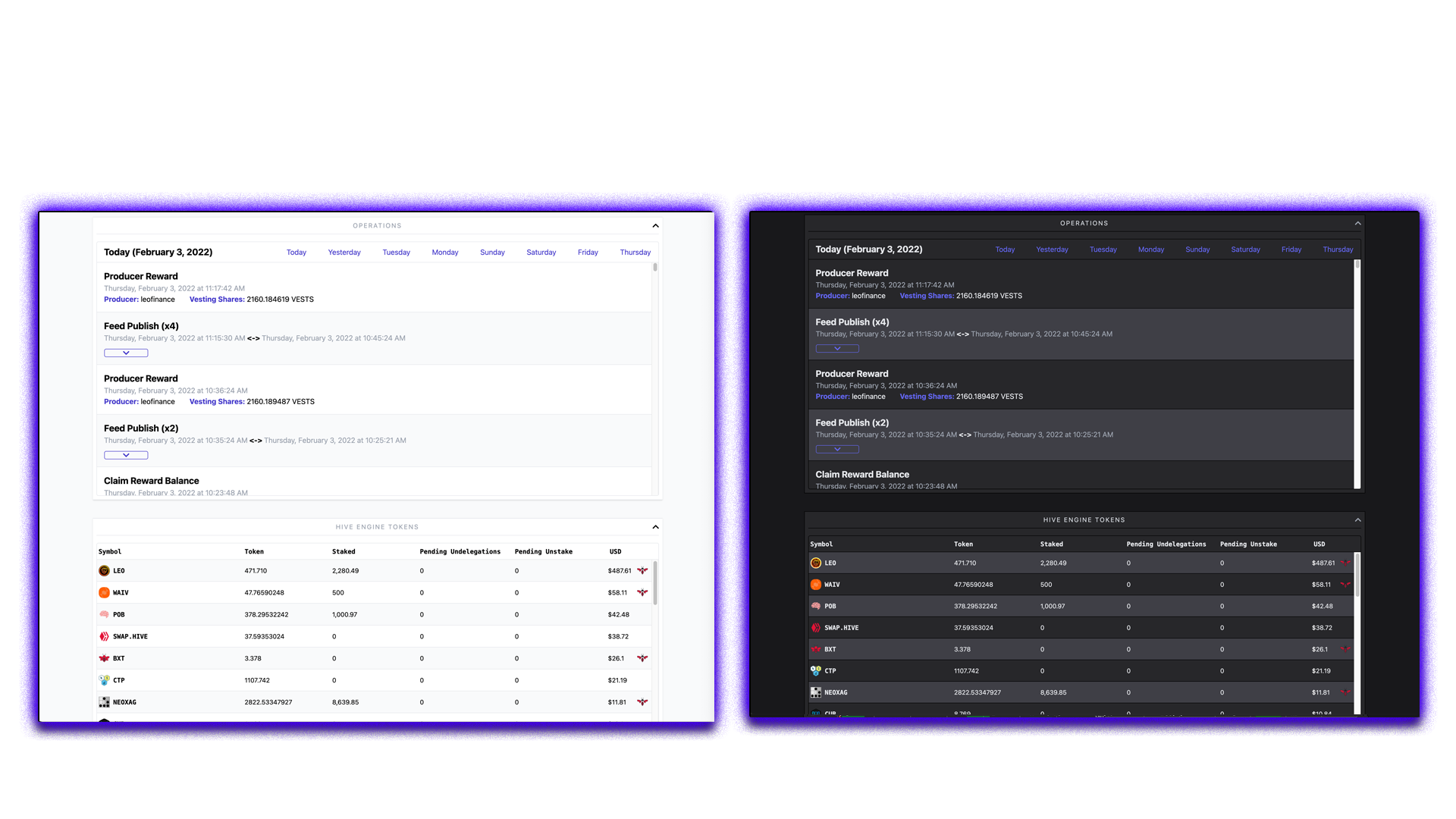 For anyone familiar with the current handling of the operations tab on Hivestats.io, this is gonna be a very welcomed change. The old operations tab was ... sub par to say the least.
The new operations tab is powerful. It organizes your operations and by category and shows more deep analytics about them. It will also autonomously collect and trigger a "toggle-able" menu to display multiple TXs of the same operation at once.
Feedback Wanted!
What do you think of the all-new Hivestats so far? Again, this is just a short preview of a few key features before we roll it out into production.
We'd love to hear your thoughts about it and any suggestions you may have for this iteration of Hivestats and any future versions! Drop a comment 🦁

LeoFinance is a blockchain-based Web3 community that builds innovative applications on the Hive, BSC, ETH and Polygon blockchains. Our flagship application: LeoFinance.io allows users and creators to engage and share content on the blockchain while earning cryptocurrency rewards.
LeoFinance | CubFinance | Hivestats | LeoDex | LeoFi
Delegate HP & Earn 16% APR, Paid Daily. Currently @ 2M HP
---
LeoMobile Open Beta is Now Live! Join The Fastest Growing Web3 Community:
IOS / Android

Posted Using LeoFinance Beta
---