Introducing Cub Finance | LeoFinance Expands Into DeFi on the Binance Smart Chain
---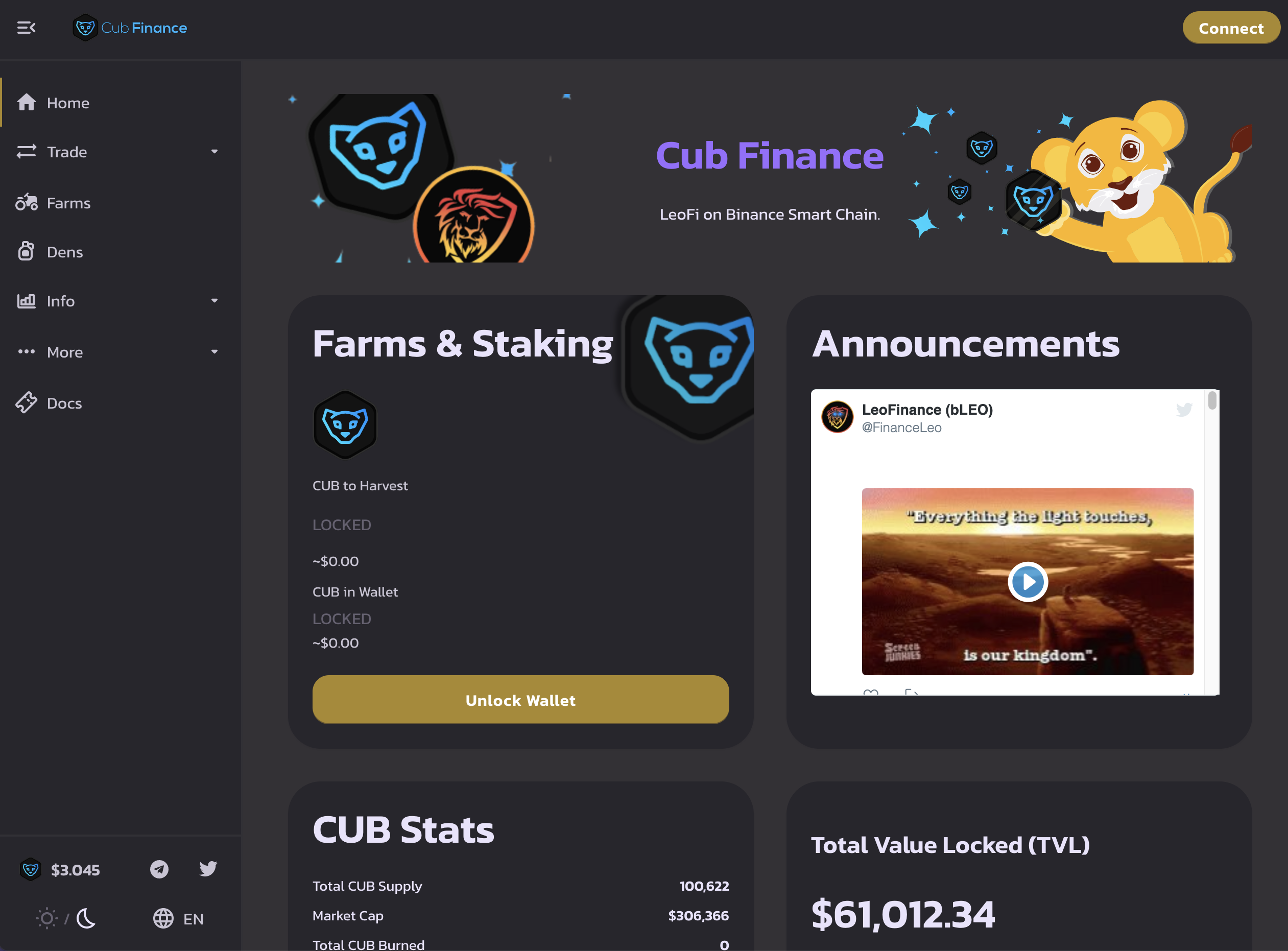 The long-awaited day has finally arrived. Some LEO detectives have already made great guesses at what we're launching today but most people are in for a major surprise.
Over the past several weeks, we've been watching the meteoric rise of Binance Smart Chain (BSC) as it has attracted a lot of capital and trading volume from Ethereum. BSC offers low fees, faster transactions and superior scalability over ETH. With that also come some downsides - not quite as decentralized, less dApps (the chain is less than 6 months old), etc.
Binance Smart Chain has emerged as a major player in the DeFi space. Second only to Ethereum itself.
LeoFinance's mission is to expand the scope and scale of our community and tokenized economy. In November 2020, we release wLEO and supercharged the LEO token economy by plugging directly into the deepest capital market available on the #1 DEX - Uniswap.
Our Uniswap listing has attracted major investors who bought tens of thousands of USD worth of LEO and many who bought well into the hundreds of thousands of USD. These types of purchases are simply impossible on Hive-Engine because the liquidity is so thin.
Docs, docs and more docs. I will be referring people here when there are questions and the answers are available. Our community already does an amazing job of helping each other out, so if you see someone asking a question that is covered in the docs site, please refer them to that page!
---
We're so excited for Cub Finance. After a few hype cycles for good measure, we managed to keep the information flowing but keep it vague enough to keep most of you on the edge of your seats.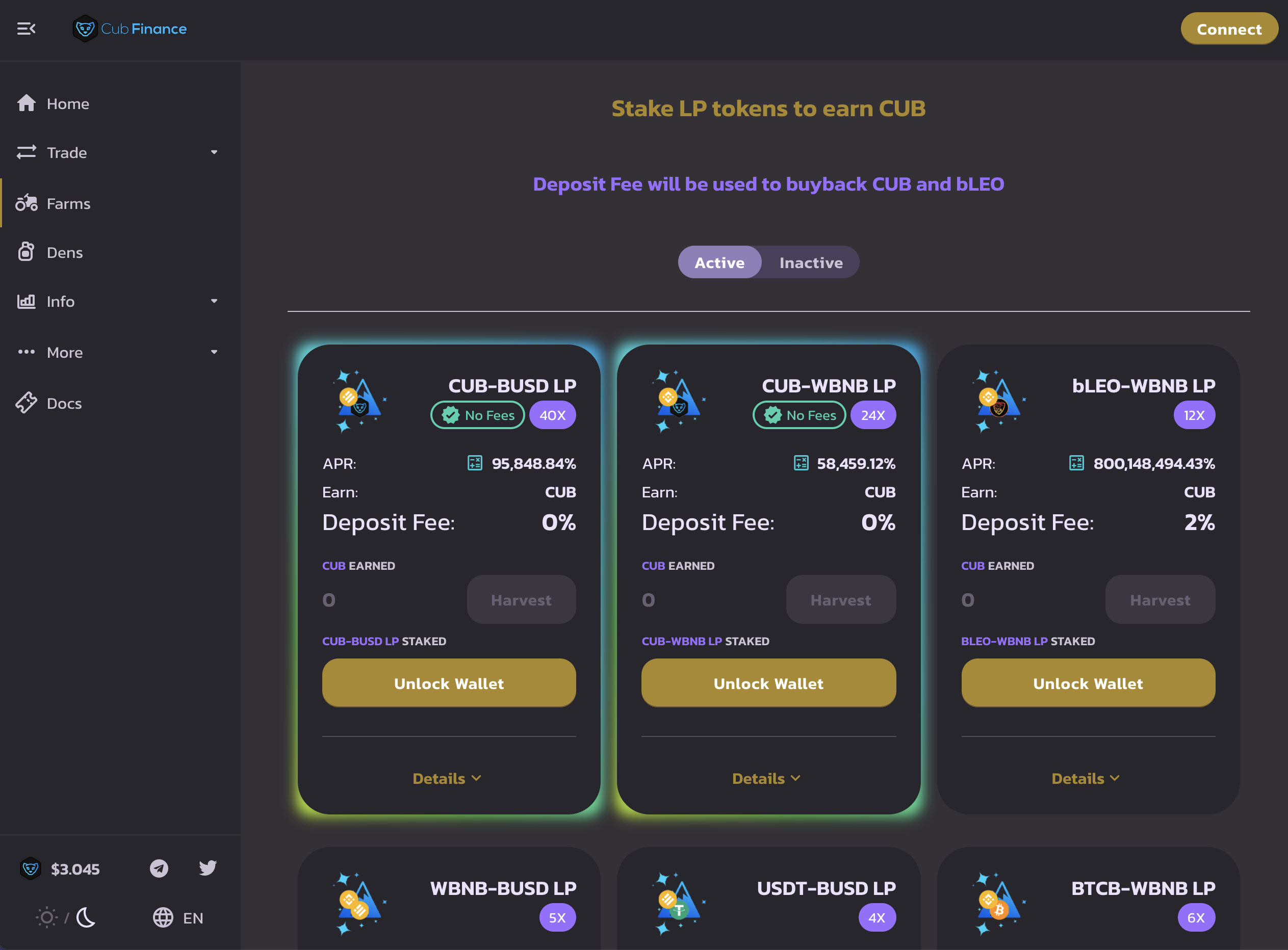 https://cubdefi.com - or Cub Finance - is a next generation DeFi yield farming platform. We adapted the smart contracts and base layer application of many yield apps on the Binance Smart Chain to create our UI, the CUB token and "Dens" which allow you to deposit and earn yield.
What Makes Cub Finance Unique?
The #1 question - what makes Cub Finance different from other yield apps on BSC.
The fundamental difference is who is behind Cub Finance. When you look at other yield apps, they are built by anonymous devs and groups of whales who coordinate to launch a dApp. There's nothing necessarily wrong with that, but many will argue that there's major upside to having LeoFinance be the owner of this application. A 2 year old project with a lengthy track record of building apps in the blockchain space.
We're using these smart contracts and our new application as a base layer. We've got an endless pool of ideas for new smart contracts, vaults and adaptations from other DeFi platforms.
Similar to our other apps like LeoFinance.io, what you see on Cub Finance today is just a glimpse of what is to come in the future. In our roadmap you'll find a few of our ideas that will be developed on top of the Cub / bLEO platform. Amongst them are the bLEO bridge for converting ERC20s into BEP20s and vice versa, adding layered farming applications, Curve style vaults, synthetic assets and more.
Cub Finance brings reputation and long-term thinking to a space that lacks both. We view CUB as the perfect base layer to build sophisticated smart contract applications on the Binance Smart Chain.
Burning LEO
The docs explain everything in much more detail. Cub Finance generates revenue via vault burns. Most BSC yield projects take a cut for the dev team from every token burn.
Instead of doing that, LeoFinance is burning 100% of vault revenue.
80% of all vault revenue buys & burns CUB
20% of all vault revenue buys & burns LEO
Other applications of this nature (i.e. Goose Finance, Viking Swap, etc.) have generated hundreds of thousands of USD on the low end and tens to hundreds of millions of USD on the high end.
LEO's current market cap is $5m. We started CUB off with a low market cap (relative to other similar apps) at $300k.
We'll let you run the math on how this could play out.
Update: a few bots and DeFi whales have already sniffed out the platform. Before even releasing this announcement post, $15k USD has been collected in revenue on Cub Finance. 100% of this is burning CUB and LEO.
Math is fun.
What Gives CUB Value?
This platform collects revenue from every deposit into CUB vaults and den contracts. That fee is used to burn both CUB and LEO.
The Cub Roadmap outlines a few of our long-term ideas. Creating a bLEO BEP20-ERC20 bridge, layered farming, Curve-style vault contracts and more.
Cub Finance is a great base layer for us to adopt more intricate layers of smart contracts that will attract capital and ultimately lead to more fees generated and CUB + bLEO burned.
Introducing BEP20 LEO (bLEO)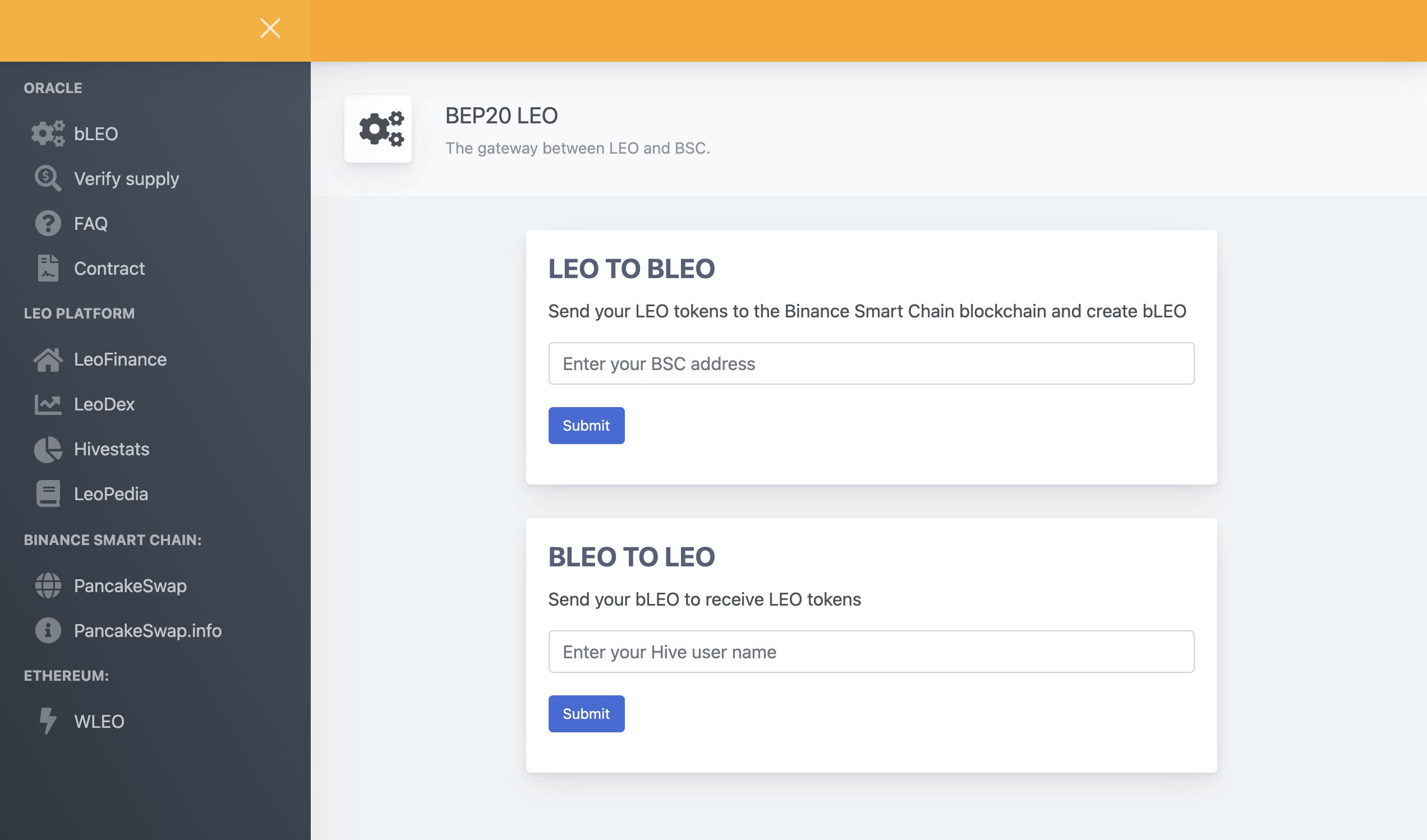 BEP20 LEO (or bLEO) is our new wrapped token on the Binance Smart Chain. You can now wrap and unwrap LEO into bLEO via https://wleo.io/bsc.
Last time we launched a wrapped token, it was it's own launch event entirely. WLEO received a lot of attention and new capital inflows as we expanded onto the Ethereum blockchain.
Today's launch marks the largest event on LeoFinance to date. We're launching Cub Finance as an entirely new application along with the BEP20 wrapped LEO token on the Binance Smart Chain.
bLEO functions very similarly to wLEO - almost identically, in fact.
The key difference is that BSC has what amounts to essentially 0 fees compared to ETH. A simple TX on BSC is only $0.15 compared to $20-$30 on the Ethereum blockchain per TX.
It took us over 150 TXs to setup Cub Finance and bLEO over the past week. Those 150 TXs cost us $30 which is about the cost of 1 TX on Ethereum.
Many of our users said they struggled to participate in wLEO, the wLEO pool, Geyser, etc. because the fees made it inefficient for small amounts to be pooled.
Now, any amount can be pooled on Binance Smart Chain.
Want to wrap, pool and deposit $50 worth of bLEO? Expect to pay less than $1 in fees to do all of it.
Huge shoutout to @fbslo who was instrumental in so many different aspects of this project. @cadawg is another dev and friend who stepped up when we needed help with some of the UI glitches. They're both witnesses here on the Hive blockchain, so make sure to give them your votes as well.
How to Use Cub Finance
So now you're ready to use Cub Finance and jump into the DeFi space?
By popular request, we created an extensive docs section with tutorials about everything from setting up Metamask to wrapping bLEO to swapping BEP20s, depositing liquidity in CUB vaults and more.
Check out the new docs site and give it all a read if you want to learn more about this project, our future plans and how DeFi is going to play a much larger role in LeoFinance and the LEO (LEO, bLEO, wLEO) token economy from this day forward.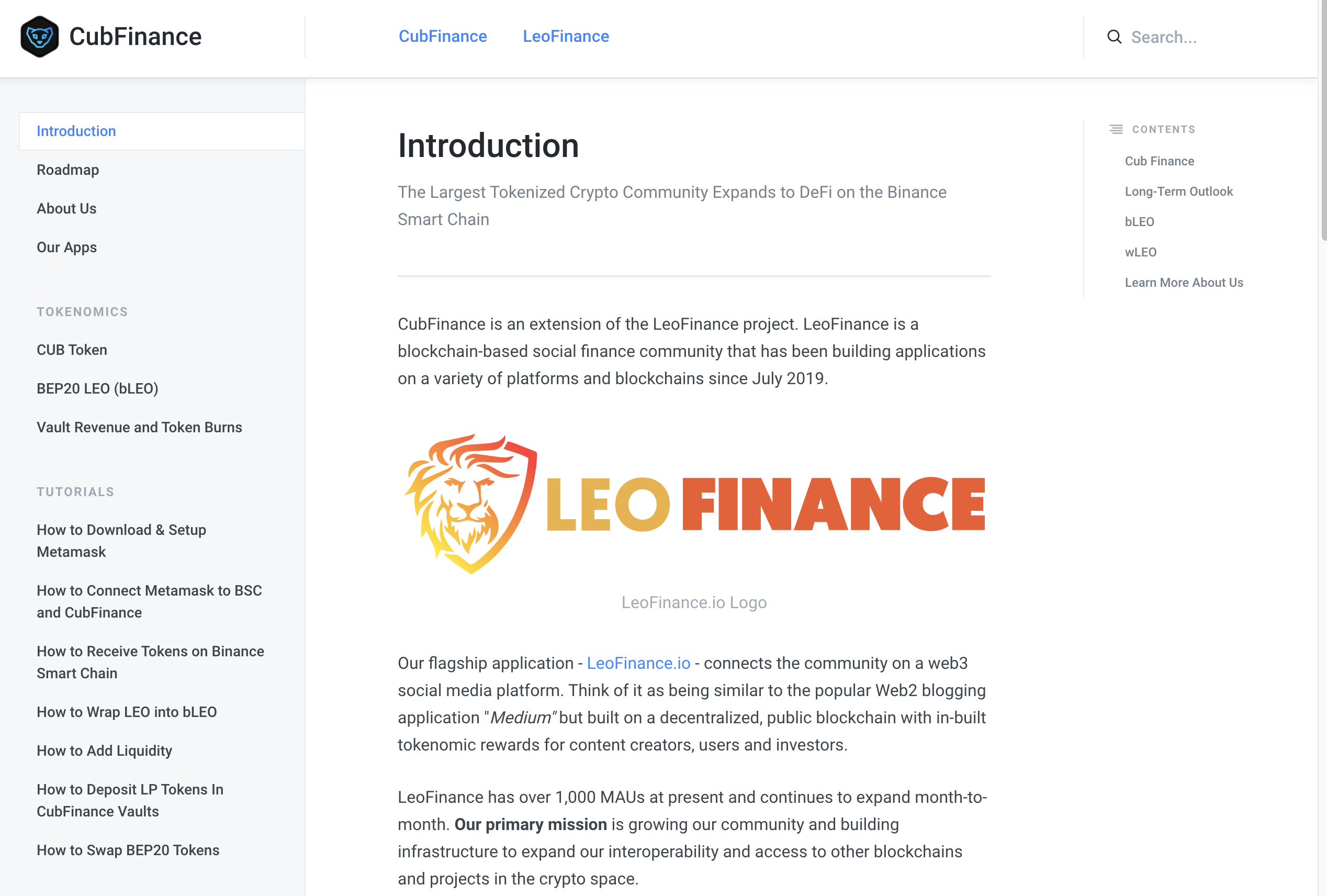 Growing Our Community and Onboarding Users to LeoFinance
This lies at the core of LeoFinance. It is and will always be our primary directive to find new users to add to our growing community of crypto users, investors and financial bloggers.
Binance Smart Chain is extremely popular - especially in terms of non-whale users (because of the low fees). This is the perfect platform to position our community as an onramp to LeoFinance x Hive blockchain.
Wen Airdrop
With over 8,000 recipients and the first ever cross-blockchain hybrid claimdrop, it's going to take some time for the drops to roll out and process. Please wait up to 24 hours after this post to receive the CUB in your Hive wallet and then follow the instructions to wrap HE CUB into BEP20 CUB.
Details are being updated in real time... you guessed it, on the Docs!! https://docs.cubdefi.com/tutorials/cub-claimdrop-tutorial
Got Questions?
But ser, the docs!
After the last post, I spent a lot of time designing the docs. If you have questions, need tutorials and want to know our future plans for both the CUB token and bLEO (LEO) token economy, please refer to the docs.
The docs know all! We'll also add more info continuously as other questions roll in that we might have missed.
Many more posts to follow. Stay tuned for the roundtable podcast and more posts from this account. There is a ridiculous number of releases, updates and info to process here. Please give us some time to organize more announcements of actually products (see what I did there).
See you on the DeFi.

LeoFinance is a blockchain-based social media platform for Crypto & Finance content creators. Our tokenized app allows users and creators to engage and share content on the blockchain while earning cryptocurrency rewards.
Support LeoInfra's Onboarding Efforts by Delegating HP to @leo.voter (Currently at 2.4M HP). We Use this to Claim Accounts and Delegate RCs to Newly Onboarded Users
Posted Using LeoFinance Beta
---